reviewed
The Legend of Zelda Skyward Sword Review
Finally getting motion controls right, the franchise's gripping origin story is at last told.
Storytelling Overview
Over the years, we've grown to expect colorful characters, gentle humor, and a compelling narrative from Zelda games. Skyward Sword manages to deliver perfectly on almost all of these points. With the series' distinctive sense of humor and beautifully realized supporting characters, it delivers a story whose only flaw is that it just doesn't feel as dire or epic as the other large-scale games that have come before.
Writing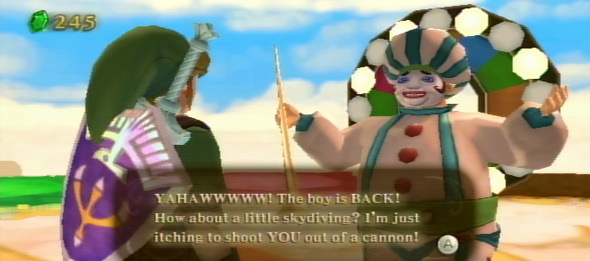 The story has historically been one of the most important elements of a Legend of Zelda game, and Skyward Sword is certainly no exception. It's no secret now that Nintendo has confirmed Skyward Sword is the first of all Legend of Zelda games, chronologically speaking, and setting up the basis for all those stories is no small task. Allusions to the "later" games, such as the presence of Impa, or the creation of some of the more iconic items and weapons, are peppered throughout the entire game. They both add to the stand-alone story of Skyward Sword and serve as exciting moments of recognition for long-time gamers that have been playing Zelda for years. Like all good works in a series, it stands both on its own and as a supporting part of the whole canon—full of adventure, mystery, and the tongue-in-cheek humor so often seen in Zelda games.
That said, it's hard not to compare this to its large predecessors—especially Twilight Princess and Ocarina of Time. Both of those games struck a balance between the comfort and safety of friendly areas with the fear and trepidation felt when exploring a new dungeon or a corrupted portion of the overworld. In Skyward Sword, however, we never really felt the grand sense of purpose that permeated the writing in those earlier titles. It never felt as dire as it has in the past, primarily as a result of the nature of Skyloft.
This safe, secure, tranquil hub world is so free from the troubles of the surface that, as long as you're up there flying around on your Loftwing and harvesting pumpkins or collecting heart pieces, you never feel any real sense of urgency. At Hyrule Castle in Ocarina of Time, once Ganondorf took over and ReDeads roamed the city streets, the side-quests became related to weaponry or money and could make you feel like you were part of some sort of underground resistance. People in Skyloft, on the other hand, are concerned when Zelda falls below the clouds, but after the first time Link flies down and makes it back up safely, dialogue becomes more of the "Oh, Link, now that you're looking for her, I know she'll be alright" vein, and folks just carry on with their daily lives. It makes sense—Skyloft itself is never actually threatened—but it also detracts from any sense of danger that the epic opening prologue instills regarding the surface world, which sets it up as a place of mystery and terror to the people of Skyloft.
Advertisement - Continue Reading Below
Plot & Player Choices
As is the case with Legend of Zelda games, the plot is very much a Point A to Point B endeavor. There are no branching paths, no alternate endings; it's a linear adventure, plain and simple. There are still tons of things to do, but the side quests only increase your strength; better weapons and more hearts may allow you to tackle harder dungeons with ease, but having an upgraded bow has nothing to do with the final act of the game. In a pleasant little nod to player choice, though, Nintendo has included some dialogue options which allow Link to respond to questions posed by NPC's, usually with two or three options. These are mostly included for potential comic effect, and have little to no impact on the resulting conversation after the next immediate line of text.
Acting
In today's gaming environment, which places a great deal of emphasis on hyper-realism and breaching the uncanny valley, it can be difficult to adequately gauge the "acting" in a Nintendo game like this. Except for some voice sound effects, all the dialogue comes in text format. Characters aren't necessarily designed to be life-like—some of them aren't even human! That said, the characters in Skyward Sword essentially fall into three categories: main characters, secondary characters, and outlandish characters.
The main characters, such as Zelda and the demon Ghirarim, are very carefully written and have real personalities. Zelda exhibits genuine concern for Link, and an affection that grows without feeling forced or stilted. Ghirarim came off initially as being over-the-top and unimpressive as an antagonist, particularly after the terrifying Zant from Twilight Princess. As the story progresses and you have more interactions with him, however, the writing really does make him seem quite threatening, with his power and lunacy bubbling to the surface through the use of subtle facial expressions and vocal sound effects. Like Kabuki-style Japanese theater or any sort of puppetry, the majority of the "acting" done by the main characters is movement-based—hand gestures, postures, and the like—and all of it is done exceptionally well.
Minor characters, like Zelda's father or the mysterious old woman that sets Link on his journey, are all unique and have interesting personality quirks. Even some of the lesser characters that you only find through optional detours feel unique and full of life, with families and personal problems that Link may or may not be able to help with. Characters that border on the ridiculous never cross the border into being annoying or creepy (unlike the infamous Tingle), and are a testament to the effort Nintendo has made in crafting a thriving, bustling world to explore.
Cinematics
The in-game cinematics are really limited to two types, and both of them occur quite infrequently. First, every time you enter a new area, the camera takes you on a panoramic, bird's eye view of the land below. It serves two purposes: it gives you a handle on the area's layout, and it gives you a chance to appreciate the new gorgeous vista which you'll then have to explore. It can excite, amaze, or impose, depending on the nature of the land.
The second set of cinematics are story-based. These essentially involve losing control of Link for a moment while he talks to another character. The ensuing scene is then set up, as is the case with any character-driven narrative, to create some sort of emotional response in the viewer, whether it be fear, concern, or affection. There's no voice over and it's all done with the in-game engine. Some of these scenes employ interesting camera work, which can, for instance, make the main villain seem more unhinged. His ability to pose a real threat is exemplified when he magically appears behind Link without him knowing it, using the classic horror cinema technique of revealing something to the audience before the protagonist in order to build suspense.
Our editors review and recommend products to help you buy the stuff you need. If you make a purchase by clicking one of our links, we may earn a small share of the revenue. Our picks and opinions are independent from any business incentives.
Sections
Our editors review and recommend products to help you buy the stuff you need. If you make a purchase by clicking one of our links, we may earn a small share of the revenue. Our picks and opinions are independent from any business incentives.
Advertisement - Continue Reading Below
Our editors review and recommend products to help you buy the stuff you need. If you make a purchase by clicking one of our links, we may earn a small share of the revenue. Our picks and opinions are independent from any business incentives.
Get Our Newsletter
Real advice from real experts. Sign up for our newsletter
Thanks for signing up!