Cast iron Dutch ovens are a go-to option for slow cooking. They retain and radiate heat, which is perfect for braising meat or making soups, roasts, and casseroles. That's why Le Creuset's iconic Dutch ovens have become kitchen staples and even family heirlooms.
But an investment in a high-end Dutch oven can cost hundreds of dollars—a price tag too high for many everyday consumers. Fortunately, if you don't think you'll be using one often enough to justify the cost, there are plenty of cheaper options out there.
Most of the more affordable cast iron alternatives are considerably heavier than—and don't have the same fit and finish as—the venerable Le Creuset. (Most of them are also made in China.) They're all a similar shape, are (almost) all oven safe up to 500ºF, and can be used on all cooktops—even induction.
While nothing can stack up to the high-end brands, these Dutch ovens do a great job coming close.
Updated January 04, 2018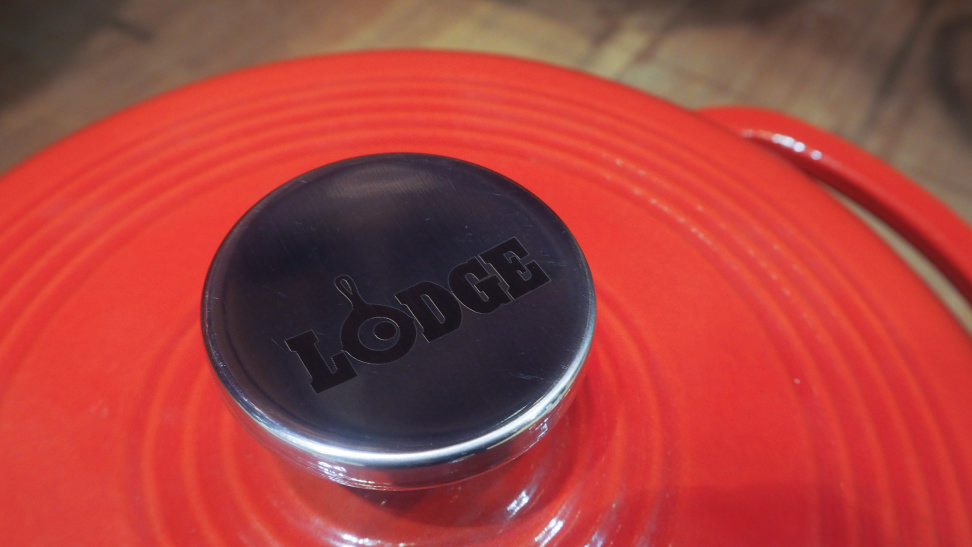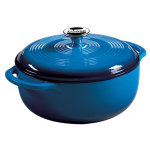 Best Overall
Lodge 4.6-qt. Dutch Oven
Our favorite Dutch oven comes from Lodge, a company well known for making cast iron cookware in the U.S.A. Lodge's enameled Dutch oven, however, is made in China, only comes in three sizes, and feels a lot heavier than competing models from Le Creuset and Staub.
It also costs significantly less: We found it on sale for just $59.97, which makes it one of the least expensive enameled cast iron pots on the market.
That value proposition has made it a hit with consumers, who praise the Lodge for even cooking, moisture retention, and durability. Additionally, Lodge offers a limited lifetime warranty on its enameled cookware.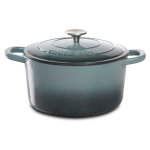 Crock-Pot 5-qt. Dutch Oven
For under $60, Crock-Pot lets you choose from seven colors and offers a lifetime limited warranty. The interior enamel finish is smooth, and the pot itself is a bit lighter than some of its competitors.
Crock-Pot got the cost of its Dutch oven down through machine molding (others are formed over a sand mold). Other corners have been cut, too: The metallic handle can discolor if it's heated to 500ºF, and the manufacturer recommends keeping the pot out of the dishwasher.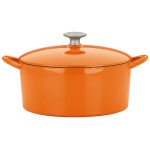 Mario Batali by Dansk 4-qt. Dutch Oven
Well-known chef Mario Batali put his name on Dutch ovens that come in both chianti red and a persimmon orange—the same color as the chef's iconic clogs.
Unfortunately, the price tag on this pot is more Babbo than Eataly, and there's not enough else to distinguish this model from the competition.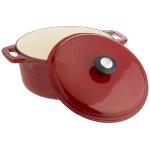 Rick Bayless by Lenox 4-qt. Dutch Oven
Like all the other Dutch ovens we tested, this one (named after famed chef Rick Bayless) has a lifetime warranty and can be heated up to 500ºF.
However, there were two things we didn't like about it: First, the handles were too small to hold with oven mitts. Second, even though the Dutch oven itself was extremely similar to the Crock-Pot model, the sale prices we found were a little higher.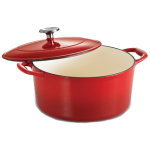 Tramontina 5.5-qt. Dutch Oven
With nearly all Dutch ovens benchmarking Le Creuset, we were surprised to see that the Tramontina Series 1000 is only oven safe up to 450ºF. It has a lifetime warranty and a sleek, modern exterior, but is only available in two colors. Even on sale, it still costs more than models from Crock-Pot and Lodge.
Related Video