Whether you're cooking dinner over an open fire or an induction burner, no other cookware offers the simplicity of cast iron. Though some modern home chefs may be intimidated by caring for cast iron, the difficulty is greatly exaggerated. Cast iron is excellent for slow-cooking and baking, and though it takes a while to get fully hot, once at temperature, nothing sears a steak like good cast iron.
One company—Lodge—is by far the most famous brand available, but there are plenty of other cast iron pans on the market. From budget to heirloom, here are five popular picks.
Updated January 05, 2018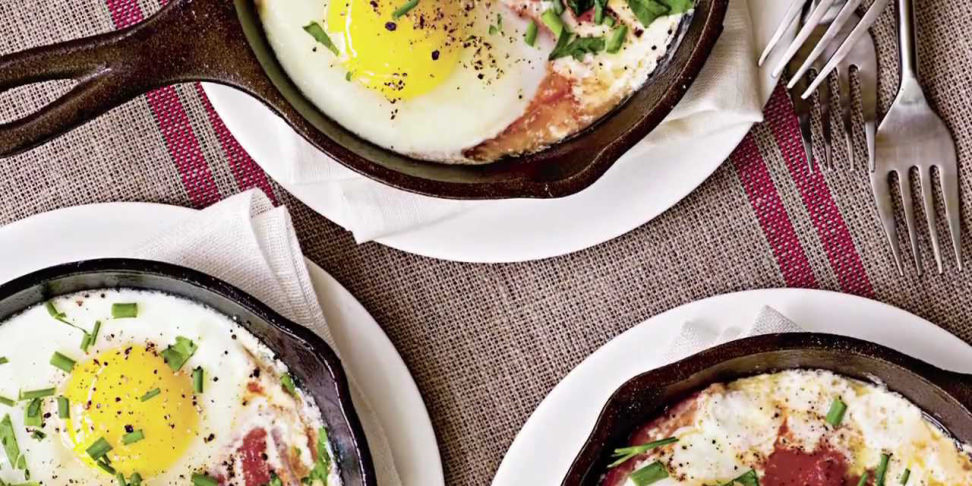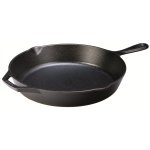 Best Overall
Lodge
Lodge has been making its cast iron cookware since 1896, and still makes its whole cast iron line in Tennessee. But heritage isn't the only reason Lodge remains popular with consumers. Durability, history, and availability at multiple retailers explains why Lodge has become a household name—and why they make our favorite cast iron pan.
The Lodge Logic 12-inch skillet sells for just under $20 on sale, but it's likely to last for generations to come. Our only complaint? It comes with no written warranty, though Lodge claims it will always stand behind its products.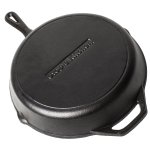 Utopia Kitchen
Similarly priced to Lodge, but made in China, this is one of the top-selling skillets on Amazon. Why do so many customers love it? Well, a clue might be the text of some user reviews: "I received this product free or at a discounted price n exchange for my honest and unbiased review."
In other words, it's a fine skillet—but chances are there wouldn't be nearly as much buzz about it online if Utopia Kitchen weren't giving it away for free in exchange for reviews.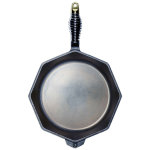 Finex Cast Iron
The story of Finex might sound like a Portlandia sketch, but that's okay—the founders of the artisan cookware company are proud of the attention they pay to detail.
For instance, the skillets are handmade in Portland, OR. Their octagonal shape is ideal for pouring, and the spring handle is designed to cool quickly. The skillets are highly polished, then preseasoned with organic flaxseed oil. It gets better: the remaining oil is reclaimed, added to birdseed, and fed to chickens at local farms near the factory. So, if you live in Portland, the chicken you're sautéing might have eaten the very oil that preseasoned your pan.
If you haven't inherited an heirloom skillet that your great grandparents brought with them on a covered wagon, this is the one to get. Of course, it's many times the price of a basic Lodge—a 12-inch model sells for $195—but for some folks, a skillet's story is just as important as its quality and design.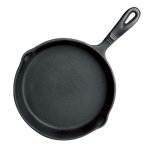 Universal (S119)
If Finex verges on a parody of artisan craftsmanship, Universal is its polar opposite. Low-cost manufacturing has helped the company move skillets by the truckload on websites like Amazon and Wayfair, where a three-piece skillet set sells for less than some individual Lodge skillets.
Universal's pans are small—6.25 inches, 7.825 inches, and 10 inches—and manufactured in China. User reviews have some complaints about rough finish and overall quality, but generally agree that the skillets are perfectly serviceable for the price. Universal cast iron skillets are backed by a lifetime warranty, but require the user to include $10 for return postage.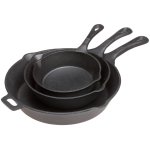 Old Mountain
Like Universal, Old Mountain's skillets come in a three-pack and are made in China. The only difference is that Old Mountain's are slightly more expensive, and come embossed with the company's logo on the bottom. A few are available as open stock.
They feel sturdy, but that's the point of cast iron. We only recommend Old Mountain cast iron skillets if you can find them on a substantial sale.