Have you gone pillow shopping lately? There are a LOT of options on the market: different shapes, sizes, and materials, all claiming to give you the best night's sleep. They can't all be right, so we put them to the test. We gathered the most popular and highest-rated pillows and tested them side-by-side over many naps and nights.
Our top pick is the Xtreme Comforts Shredded Memory Foam Pillow (available at Amazon), thanks to its adjustability and soft bamboo cover that keep things cool and comfortable all night long.
It's worth pointing out that pillow preference is high subjective, based on your body type, sleep habits, and a host of other factors. Consider this our attempt at an objective analysis based on two specific bodies (mine and my fiancé's), a bunch of pillows, and a whole lot of Z's. Here are our top picks for the best pillows for a good night's sleep.
Updated November 20, 2017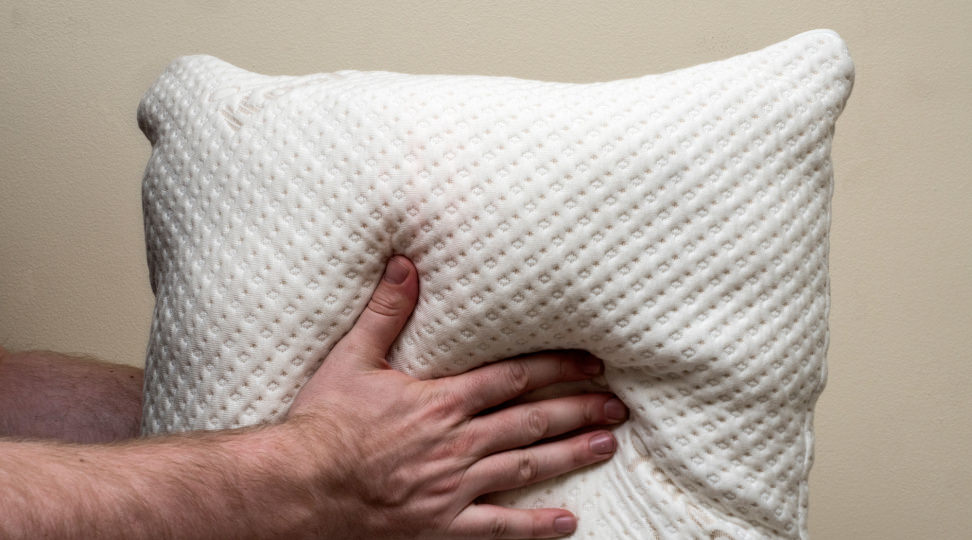 Xtreme Comforts Shredded Memory Foam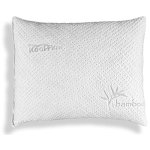 Xtreme Comforts Shredded Memory Foam
Best Overall
The Xtreme Comforts pillow, despite its ominously overzealous name, is the pillow we're happiest to recommend for most people.
The pillow arrives rolled up and compressed, but once it's out of the packaging it fluffs up to full size quickly. (Keep in mind that some memory foam pillows take longer to adjust in colder temps and tend to stay firmer in cold environments.)
The Xtreme Comforts really shines when it comes to adjustability. The pillow's packaging states that is is intentionally "overstuffed," so I removed about a quarter of the bamboo shredded memory foam and kneaded the pillow until the foam was evenly redistributed and it felt comfortable to lie on. Since the foam is shredded, you don't feel lumps and bumps—the contents mold around your head, neck, and spine so you feel supported.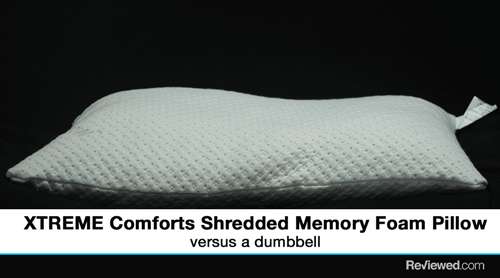 My partner is a back sleeper accustomed to two stacked pillows, so I put the shredded memory foam fill back into the pillow to test it at full capacity. He woke up the next day without his customary neck pain. Xtreme Comforts' website claims that the pillow helps with proper alignment of your cervical nerves, so maybe there's some truth there.
The pillowcase is made with a Kool-Flow Micro-Vented Bamboo Cover, a feature you may particularly relish if, like me, you wake up hot in the middle of the night.
Other things we like: The pillow is hypoallergenic and dust-mite resistant, and the pillowcase is machine washable.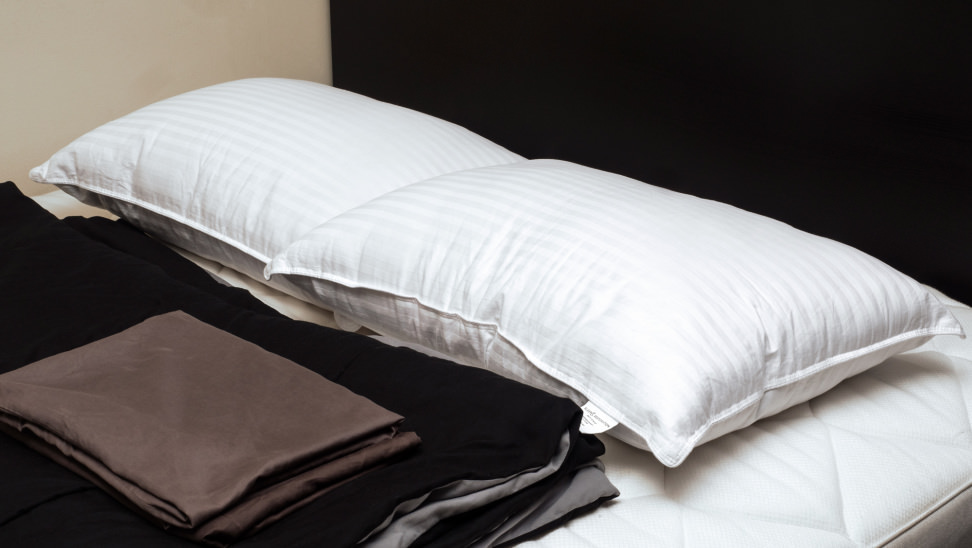 Sleep Restoration Gel Fiber Filled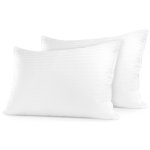 Sleep Restoration Gel Fiber Filled
Best Value
These gel-fiber filled pillows feel supportive yet fluffy and comfortable. It's named our "Best Value" because you get two pillows for less than the cost of our top pick, the Xtreme Comfort. The Sleep Restoration pillows felt comfortable without needing an adjustment—which is good because you can't remove the super plush gel-filled fiber at all if the pillow is too high or fluffy for you.
You wouldn't lay your head on this pillow and think it's made with "gel" at all until you rub the pillow between your forefinger and thumb to feel the gel fiber. They seemed lofty, but settled down to a comfortable height whether I slept on my side or my partner slept on his back.
Other things we like: It's dust mite and stain resistant.
Why it didn't win: The cover is not machine washable and the pillow is not adjustable.
How we tested
After researching some of the top-rated and best-ranked pillows on the Internet, our team looked at the reviewed pillows on Sleepopolis.com and SleepLiketheDead.com. I slept on each pillow in our experiment (I'm 5'6") and gave them to my partner to sleep on (he's 6'3"). I also napped on each pillow, had pillow fights with my partner (I lost all of them), and folded them with a weight on top to see if they bounced back to their original shapes or need fluffing. Here are the top pillows, in order of their rank, and why they made the grade.
Who am I?
I've been a health journalist for over a decade and have likely written at least 50 articles about sleep and health, so I know the importance getting quality sleep. I've worked both sides of the editorial divide, contributing to review sites and writing for the sleep companies themselves at various times.
So when my editor asked if I'd like to sleep, nap, and burrow into pillows for hours in the name of research, I was on board. I love sleep. When I have a great night's sleep, I feel like I can check off all of my work to-dos, exercise at my full potential, make healthy food choices, and act kinder and more patient to others. And when I don't sleep well, picture the opposite of all of that. I've even jokingly called myself a "napportunist" in the past—when an opportunity to nap arises, I try to take it. If that makes me sound lazy, so be it. I just got to call napping and going to bed "work" for two weeks and I'm pretty happy about it.
---
Other pillows we tested
Parachute Home Down Alternative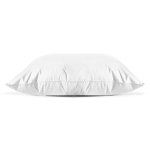 Parachute Home Down Alternative
Parachute offers soft, medium, and firm densities at various price points, and they actually recommend the medium firmness for back sleepers, with the high firm for side sleepers. Since I was enjoying my experiences with memory foam pillows, I was surprised that a softer, loftier medium-density pillow turned out to be one of the top-ranked pillows on this list.
The "down alternative" made from a hypoallergenic microfiber fill felt softer and more comfortable to sleep on than the partial down pillow I tried later with real feathers and down. While it wasn't my partner's top pick due to it's softness while he was sleeping on his back, I found him hugging it a few times while sleeping on another pillow. I slept just fine on this overnight, but its lightness and fluffiness made it perfect for me to toss on my couch for a nap. Since it's lightweight, this would be a nice pillow to fold in half and rest your head on against the window during a long car ride nap. I call shotgun!
Coop Home Goods Premium Adjustable Loft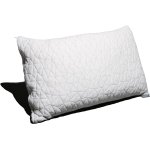 Coop Home Goods Premium Adjustable Loft
This pillow is made with shredded Visco elastic memory foam that made it feel quite high and lofty when it was filled to capacity. The pillow's soft casing is comfortable. There's an inner cover as well, so the filling didn't get stuck in the zipper when removing it and adding it back in. Many memory foam pillows get bad raps for feeling "hot" while you sleep, but this shredded foam version seems to help me stay cool, just like the our winner, the Xtreme Comforts, did.
We like that it's hypoallergenic, dust-mite resistant, and you can wash the pillowcase.
Nest Easy Breather Natural Latex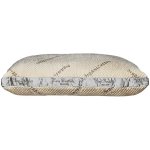 Nest Easy Breather Natural Latex
The Easy Breather is filled with a unique blend of shredded latex and fiber that you can take out to adjust to your preferences. This isn't a unique feature in this roundup—our winner, the Xtreme Comforts, offers it too— but that adjustability is definitely something I've come to appreciate. Unfortunately, the Easy Breather filling proved harder to redistribute evenly.
As a side sleeper, I sunk deeper into this pillow than I did on the Coop and Xtreme Comforts pillows, which makes me think it wasn't as supportive. My partner thought it was fine, but we both agreed that it wasn't worth the high price tag.
National Sleep Products Down-like Personal Choice Density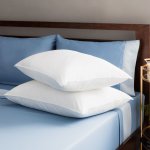 National Sleep Products Down-like Personal Choice Density
The National Sleep Products Premier pillows (this is another 2-pack) are high and fluffy, but quick to bounce back if you squish them down. Filled with a hypoallergenic down alternative, it's comfortable and a decent value for the price, though it did seem to retain heat more than other pillows on this list. My back-sleeping partner liked that it was soft and comfortable (perfect for propping your head up on the couch and watching TV) but not as supportive on his neck and upper back as the memory foam pillows. Also, the cotton seemed to be coming out in tufts around our home.
Malouf Z Zoned "Dough" Memory Foam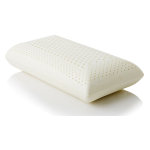 Malouf Z Zoned "Dough" Memory Foam
Malouf produces a huge line-up of pillows that can be customized by material, density, size, shape, and feature. There's probably a Best Malouf Pillows You Can Buy Right Now article at some point in our future. But for now, we limited ourselves to one of their most popular items, the Z Zoned Dough in both High Loft/Firm and Low Loft/Plush configurations.
This futuristic-looking pillow has a 75% polyester/25% rayon-from-bamboo cover with a 100% polyurethane foam fill. According to Malouf, the "larger holes in the center of the pillow cradle your head, while smaller holes around the perimeter create a supportive zone for your neck." When you rest your head on it, your neck feels supported but you don't sink down at all. The covering itself was silky, cool and comfortable, likely due to the open cell technology that is supposed to promote breathability and keep you feeling cool. Sleepopolis.com ranked Malouf pillows high for their cooling abilities. My fiancé and I both preferred the Low Loft version (4.5" high) better than the High Loft (7" high) version. As a back sleeper, this, too, was one of the pillows he liked for its supportiveness and he woke up without neck pain. We should point, however, that this pillow can't be adjusted.
East Coast Bedding Luxury Goose Feather and Down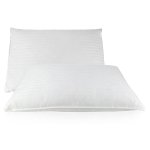 East Coast Bedding Luxury Goose Feather and Down
If you're like me, when you think of "down," you think of a luxurious, soft, fluffy hotel pillow. Feather and down combos are different, particularly in this pillow, which has a ratio of 15% goose down and 85% goose feather. If you're seeking that downy feel, it doesn't deliver. This pillow was somewhat comfortable but the crunchy texture of the feathers was distracting. You don't feel the feather stems while sleeping, but this pillow is crinkly to touch. As a result, this was my least favorite pillow. That said, feather pillows aren't my preference in the first place. However, this pillow ranked high with user reviews.
The East Coast Bedding Feather and Down is a 2-pack, but at close to $80 it's not a great value when compared to the Sleep Restoration pillows we loved.