The Best Bookcases You Can Buy Online and Assemble Yourself
By Kevin Oliver
Whether you're moving into a new place or adding additional storage, ready-to-assemble bookshelves are essential for organization.
But with hundreds of build-it-yourself bookshelves on the market, how do you know which is best for your home? Luckily, we've done the leg work for you. After extensive research—including weight tests and timed assembly—we whittled to the seven distinct bookshelves on the market today. Our top pick is the IKEA Brusali (available at Ikea for $89.99) due to its simplicity and good looks. But there were some other standouts as well that may find a way into your home.
Updated January 05, 2018
IKEA Brusali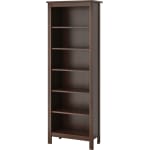 IKEA Brusali
Best Overall
Very few bookshelves in this price range combine quality materials, a simple build process, and a sturdy and elegant look to boot. But the Brusali from IKEA manages to do just that.
We tested two bookshelves from IKEA: Billy and Brusali. While the Billy was strong in its own right and more affordable, the Brusali eked its way to the top through slightly higher quality wood and a sturdier finished product. What both IKEA bookshelves had in common, however, was the stellar quality of the literal nuts and bolts that hold them together, as well as how those small pieces were organized.
Putting the Brusali together was a breeze
Tweet It
Thanks to IKEA's attention to detail in the assembly aspect, putting the Brusali together was a breeze. Those oh so easy to lose pieces were clearly labeled in the instructions and nothing was missing from the parts bag. Frustratingly, all of IKEA's manuals are void of any written instructions, but thankfully their cartoonish images were simple enough to follow and assemble the piece in 75 minutes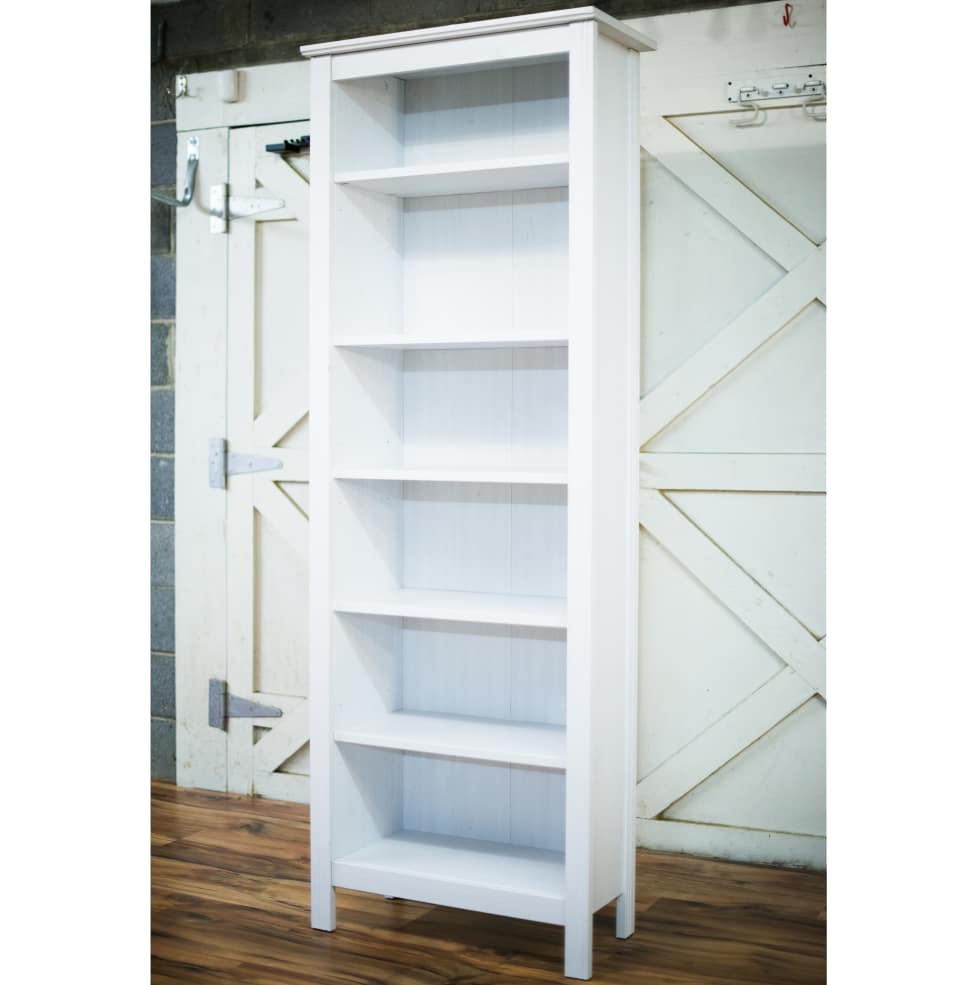 Brusali is more narrow than most of the other bookshelves it competes with, but it doesn't really affect the economical space overall. While it's designed to be wall anchored—and we certainly only recommend using it that way—it was surprisingly well balanced on its own for its height. It has a max weight limit of around 44lbs per shelf and it withstood our weight tests with flying colors.
Although we're keeping personal preferences on appearance out of the equation for the most part, it's hard to ignore just how stunning the finished product here is. Color and design preferences aside, the individual pieces were noticeably more substantial than virtually all of the competition, with an elegant wood grain finish and chiseled trim work around the edges. The Brusali is simply too much of an eyecatcher to completely ignore in this review.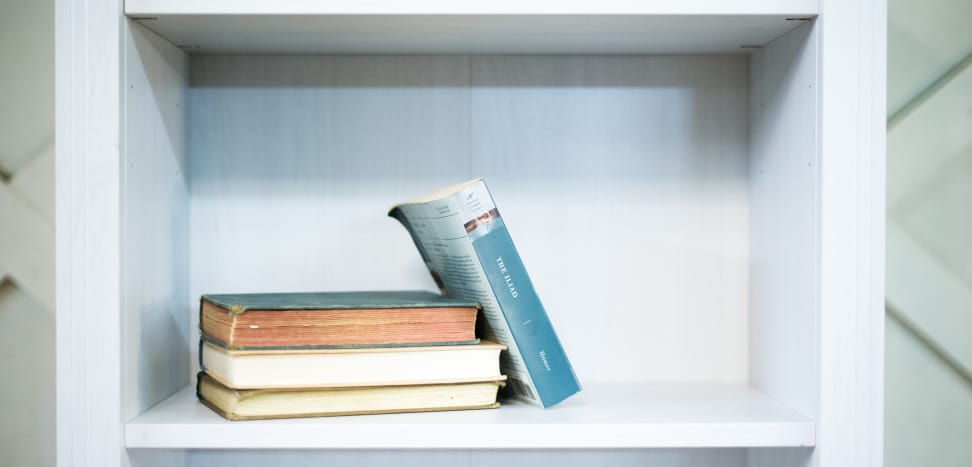 In the end, the Brusali from IKEA has a premium yet minimalist look, a rock-solid build, and at $89.99, it's got an affordable price tag too. We can't think of much else you'd want out of a bookshelf.
Better Homes and Gardens Crossmill Bookcase with Doors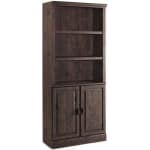 Better Homes and Gardens Crossmill Bookcase with Doors
This functional bookshelf with doors is on the pricier side of our list (currently $129), but stood out as an easy to assemble, strong, and well designed piece of furniture from Walmart. For those of us on the messier side, the added door capability is an excellent add-on for stashing junk you wouldn't want guests to see.
On the assembly side, this bookcase took a bit longer (clocking in at an hour and 45 minutes) because of the extra pieces involved in the doors. Despite that, the process was simple with clear and easy to follow directions. The pieces were easy to separate and never got lost in the process, which is no small feat.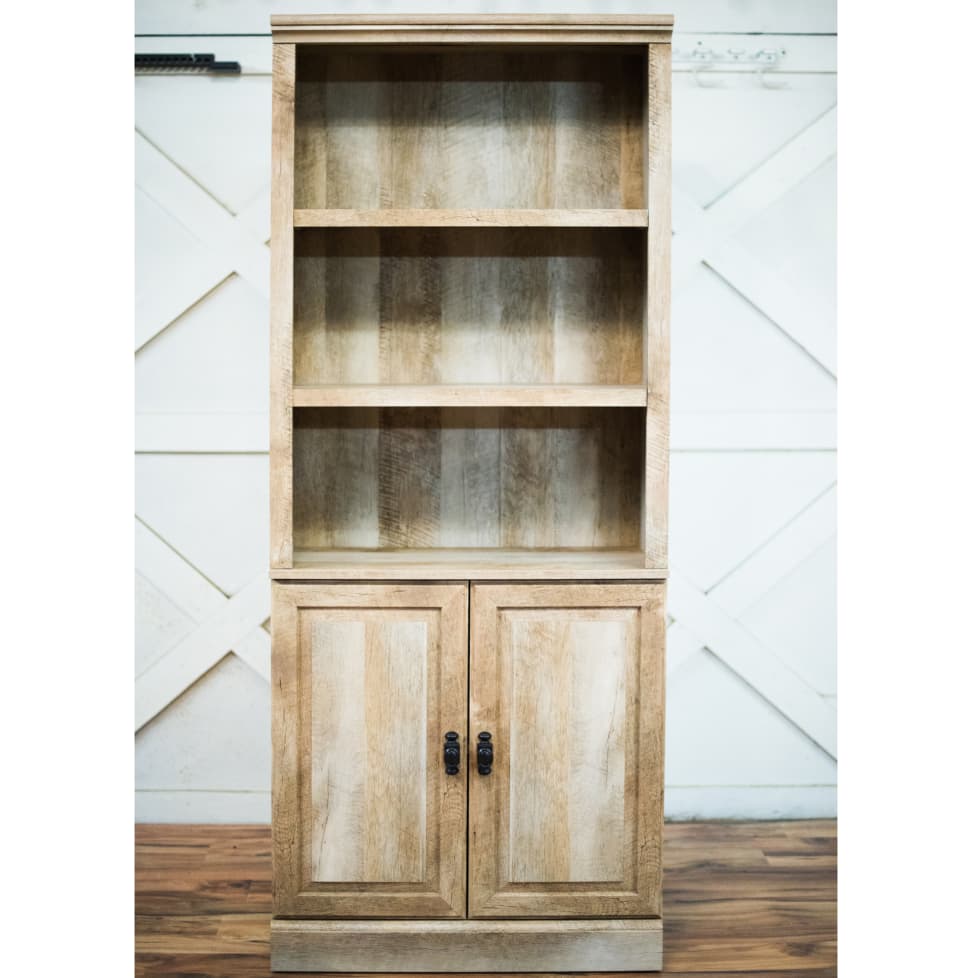 The material quality was amongst the highest we tested, down to the last screw. Once it was assembled, it stood up to its weight test, ranging from 30lbs at the top shelf to 50lbs at the bottom shelf.
While the double door design may not be for everyone, the doors themselves are well-built and surprisingly heavy, complete with with high quality hinges and knobs. In the end, this piece from Better Homes and Gardens doesn't have the universal appeal of a traditional bookcase like the IKEA Brusali and is noticeably more expensive, but none of that detracts from the fact that this is a stellar bookshelf that would look great in any home.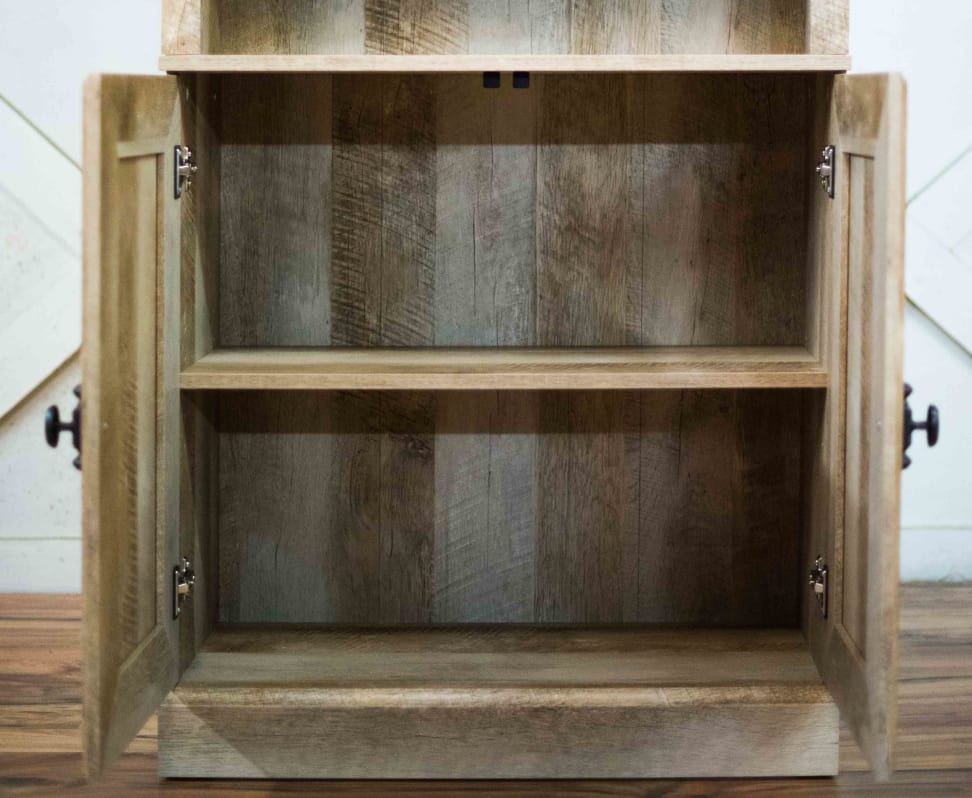 ---
How We Tested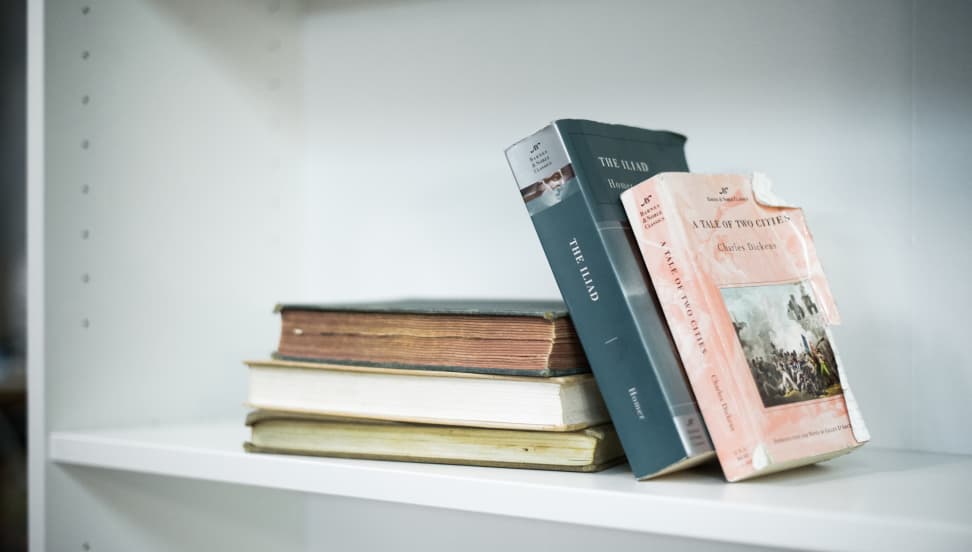 Over the course of a few weeks, we put each bookcase through its paces, beginning with careful analysis of the manufacturer's packaging and parts organization.
Once the box was opened, we started the timer to determine how time and labor intensive the assembly process would be for the average customer, timing how long it took for one person to build each bookcase.
While we put the bookshelves together, we made note of the feel and design of the raw materials to judge their quality. After all, assembly furniture can only be as good as the parts that make it.
After the shelves were completely assembled, we used weights to test the manufacturer-stated limits on each shelf, leaving them on for two hours to ensure there was no potential bowing or compromise to worry about. Finally, we used books of all shapes and sizes to test the balance and efficiency of each bookcase.
---
IKEA Billy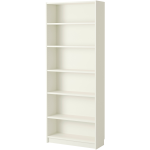 IKEA Billy
The IKEA Billy is easily one of the most widely recognized bookshelves in the world—and for good reason. Like most pieces that come from the Swedish retailer, it's minimalist in design and created for a singular purpose: in this case, to hold books.
While the Billy won't likely wow your house guests, it does serve its function well. Much like the Brusali, the Billy bookshelf is rock-solid and easy to assemble. As we mentioned above, if there's one thing IKEA knows, it's assembly. The nuts and bolts are just as strong as those found on the Brusali, the only detraction being that the Billy's particle board pieces don't have the weight that the Brusali had, making the whole product feel slightly less stable.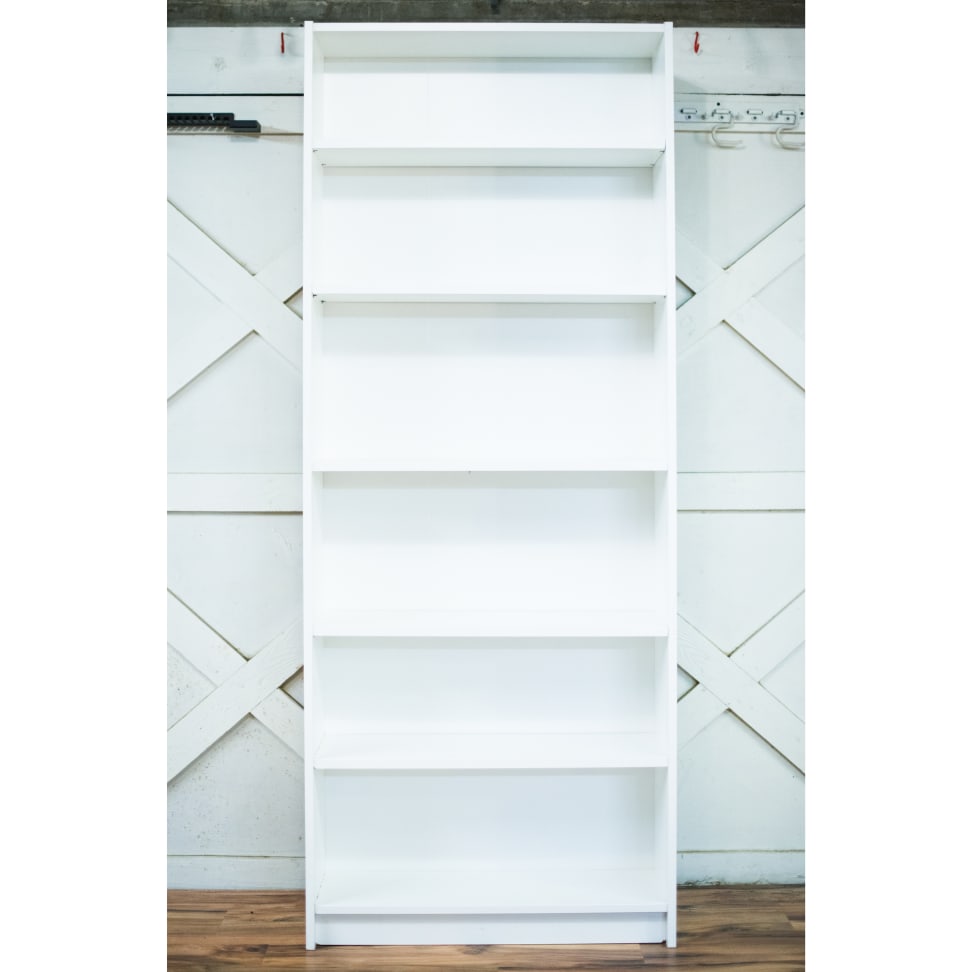 Still, the finished product came together in a jiffy and stood up to every test we could throw at it. It showed no signs of weakening when we tested the weight capacity to its limits and slightly beyond (although we don't recommend trying that with your books at home). It stood fairly well balanced, although you should never use it without its included wall anchor.
Compared to the slightly more premium Brusali, the Billy holds its own in function, but feels and looks noticeably cheaper than its IKEA brother. Still, at $69.99 this no-nonsense bookcase can certainly hold its own and has earned its spot as our top value pick on the market.
Threshold Darley 4-Shelf Trestle Bookcase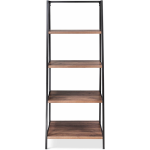 Threshold Darley 4-Shelf Trestle Bookcase
The ladder style is certainly in vogue these days. If you want one for your own home, we recommend this model from Target.
While these freestanding shelves lack the functionality of traditional bookshelves (ahem, they have no back), they are becoming popular for their industrial style and ability to effectively showcase not just one's book collection, but their coolest personal effects as well.
With that in mind, we wanted to really push this piece's balance and weight distribution to its physical limits. We're happy to say that it stood its ground (literally) when pushed against its 30lbs per shelf limit with no balance issues whatsoever.
Part of the reason this shelf is so well balanced is in its refreshingly assembly. Altogether, there were less than 10 pieces to assemble straight out of the box, including the shelves themselves. In less than an hour, we went from a sealed box to putting books on the shelves for testing. While ease of assembly is never a product's biggest selling point, its refreshingly simple design reflects well on the bookshelf as a whole.
Again, unless you're placing it flush against a wall, ladder style bookshelves don't have the same book-holding functionality that their traditional counterparts have. But if this style is up your alley, Target's Threshold Darley trestle bookshelf comes highly recommended at $94.99.
Sauder 5-Shelf Bookcase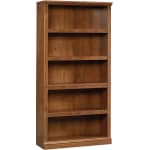 Sauder 5-Shelf Bookcase
For a more traditional look, the Sauder Five Shelf Bookcase is sturdy, well-balanced, and timeless. Unfortunately, it's also fairly expensive at around $130.
Sauder is a well-known name in ready-to-assemble furniture. While the individual pieces on this shelf were somewhat unwieldy, they all fit together with perfection, including every connector, screw, and nail. Combined with detailed instructions and well organized odds and ends, this heavy duty bookshelf came together in an hour's time.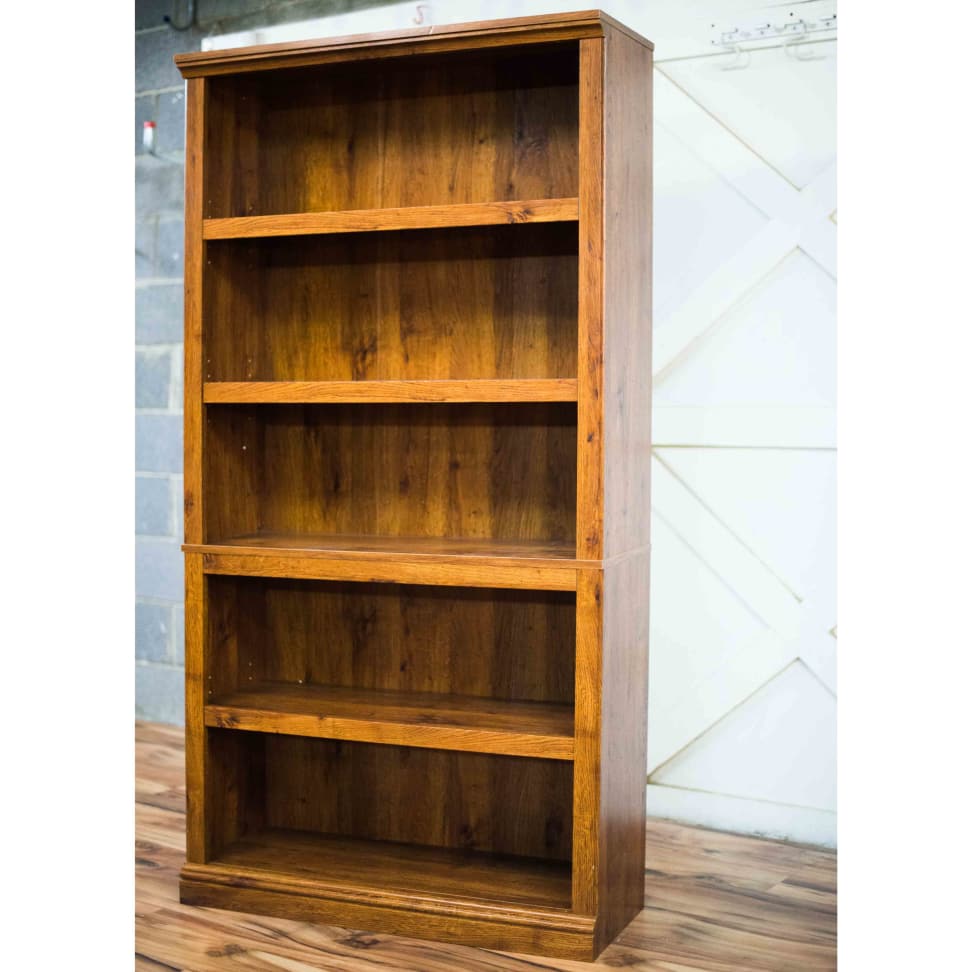 When it came to testing the weight capacity and balance of the individual shelves, the Sauder didn't disappoint, withstanding its weight capacity and demonstrating decent balance when the weights were stacked on one side. As for design, the Sauder bookcase isn't going to be featured on the cover of any home design magazines anytime soon, but its look is timeless enough that it could likely blend into just about any home.
In the end, the Sauder's price tag kept it from being higher on the list. Had it been under $100, it likely would have competed with the IKEA Brusali, simply because its wider design is more functional than our top pick's tall and narrow build. Still, if you're looking for a rock-solid traditional looking bookshelf, we have no qualms sending you Sauder's way.
Altra Lawrence 4 Shelf Ladder Bookcase Bundle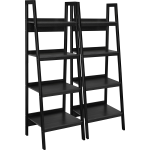 Altra Lawrence 4 Shelf Ladder Bookcase Bundle
This ladder style bookcase is unique in that it's actually a bundle of two smaller ladder style shelves, making it perfect for someone looking to expand their storage in a small space without spending too much out of pocket.
The end result was over 3 hours of intensive assembly.
Tweet It
While the final assembled product was two sturdy and capable bookshelves, the assembly involved was the most frustrating of all of the shelves we tested. Unlike Target's streamlined frame design on the Darley trestle bookshelf, the Altra Lawrence shelf came disassembled in as many pieces one could imagine. Seriously, break out the knee pads and back brace for this one, because not only do you have to assemble an overly complicated bookshelf -- you have to do it twice. The end result was over 3 hours of intensive assembly.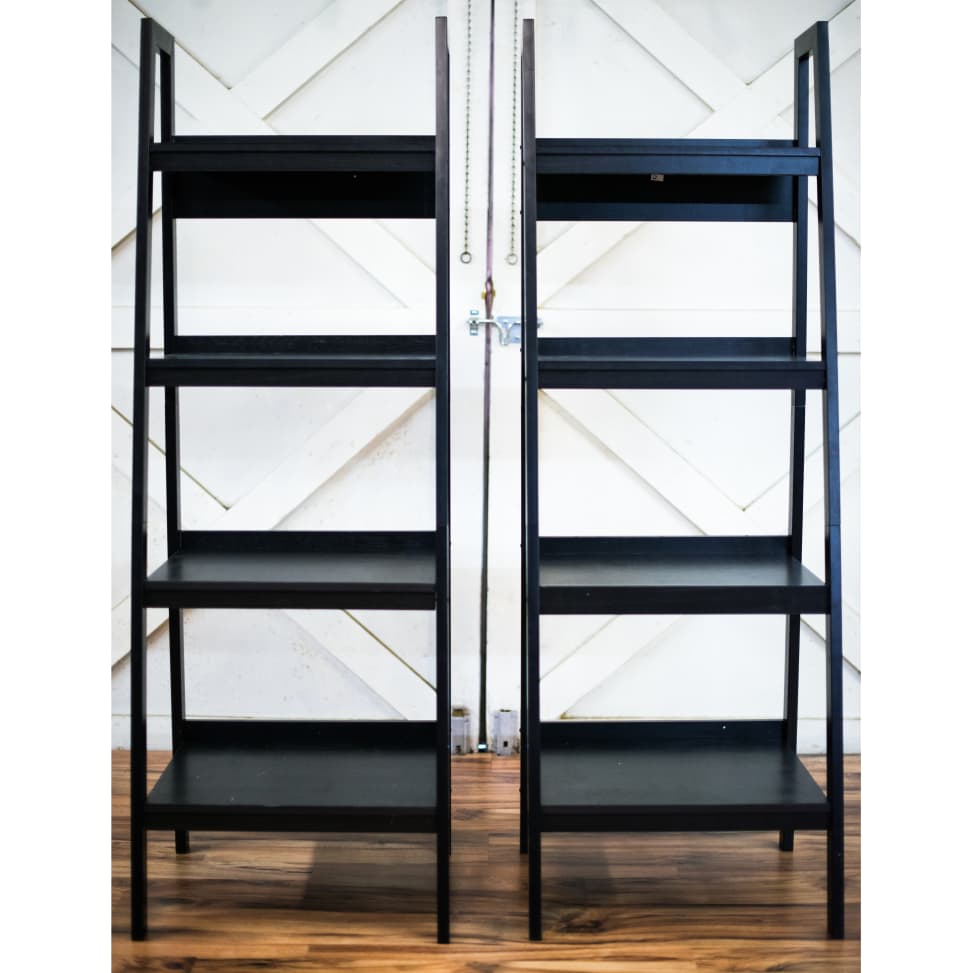 To Altra's credit, the instructions were easy to follow, but the overcomplication of what could have been a much simpler design cannot be overstated.
After they were fully pieced together, the end result was two well-balanced ladder-style bookshelves that were industrial and stylish in design. If you're into the ladder style, want to make the most of the space you have, and don't mind a long assembly process, the Altra Lawrence bookcases are a solid option at $89. If you're not into all the assembly frustration, take a look at our top ladder pick above.
South Shore Axess Collection 5-Shelf Bookcase
South Shore Axess Collection 5-Shelf Bookcase
Avoid
The cheapest bookshelf we reviewed was unfortunately the worst performer. South Shore's Axess Collection bookcase is one of Amazon's most popular assembly bookshelves and is currently listed at the affordable price of $63.94, putting it in the same price range as IKEA's Billy. In terms of quality however, it wasn't even in the same ballpark.
Out of the box, South Shore's materials had a noticeably cheaper feel, right down to the loose-fitting plastic pegs that hold the entire weight of the shelves. The assembly process itself wasn't complicated per se, but it certainly wasn't as streamlined as most of the others reviewed. The instructions however were simple to follow and never steered us wrong. The issue here was the materials themselves.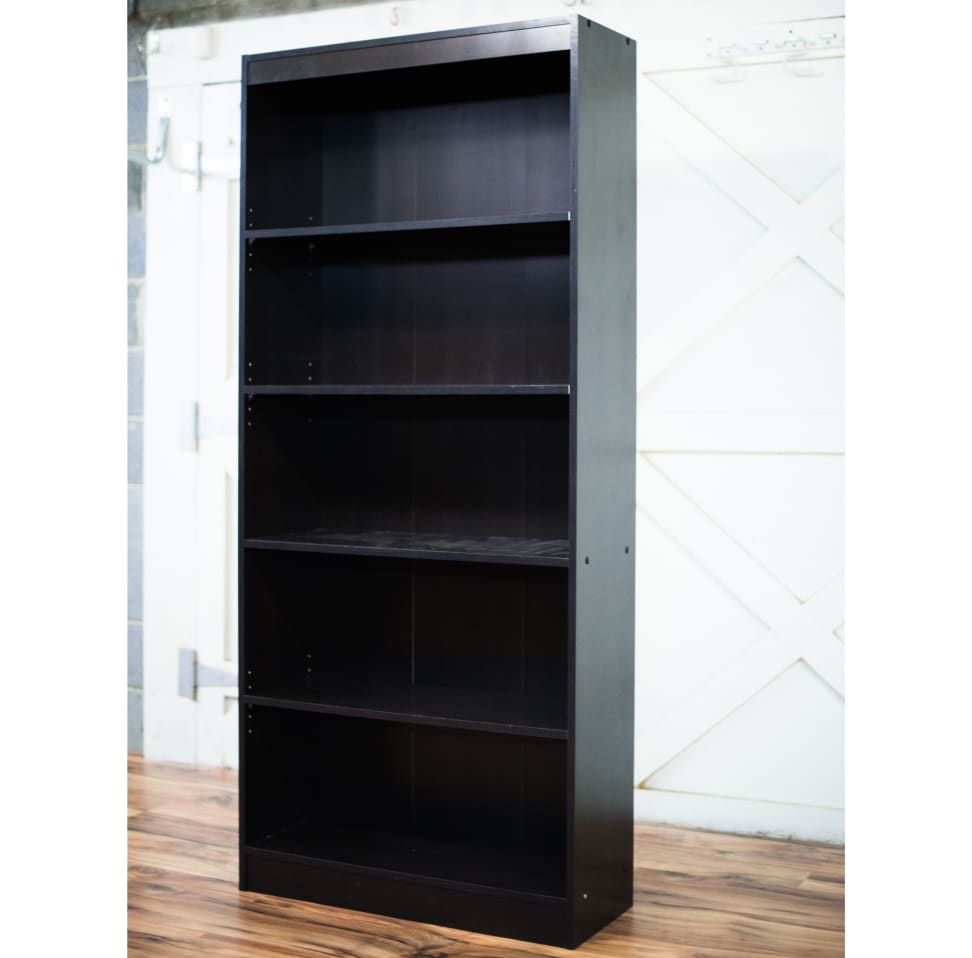 When it came to testing the strength of the shelves, those loose-fitting plastic pegs we mentioned earlier came back into play. Immediately, the slightest addition of pressure caused one of the shelves to collapse due to a peg that had inverted. Granted, it's likely that we just got a faulty piece, but with no replacements in the box, it wasn't a positive reflection of South Shore's attention to detail.
From an aesthetic standpoint, this bookcase is nothing special, but is certainly far from an eyesore. Its minimalist design would make it fit in any modern home. Unfortunately, the South Shore gets an "avoid" tag due to cheap parts that caused a failure in the testing process. If you're looking for a cheaper option, we recommend you take another look at the IKEA Billy reviewed above.