Whether you're an avid runner or just hoping to move more during the workday, it can be hard to stay motivated. Luckily, fitness trackers can help you stay on track with an active lifestyle by tracking your steps and prompting you to move after periods of inactivity. But with so many fitness trackers to choose from, how can you know which one should you buy?
Over the past two months, I became workout buddies with ten of the most popular fitness trackers on the market. My favorite ended up being the Fitbit Charge 2 (available at Amazon for $148.95).
I took a lot into account when testing the trackers: ease-of-use, in-app experience, motivational prompts, and comfort. I wore the trackers to work. I took them to fitness studios, from Pure Barre to Soul Cycle. I even wore them to sleep. I became one with these fitness trackers, and they became one with me. Here are our picks for the best trackers—and how to find which one is right for you.
Updated February 28, 2018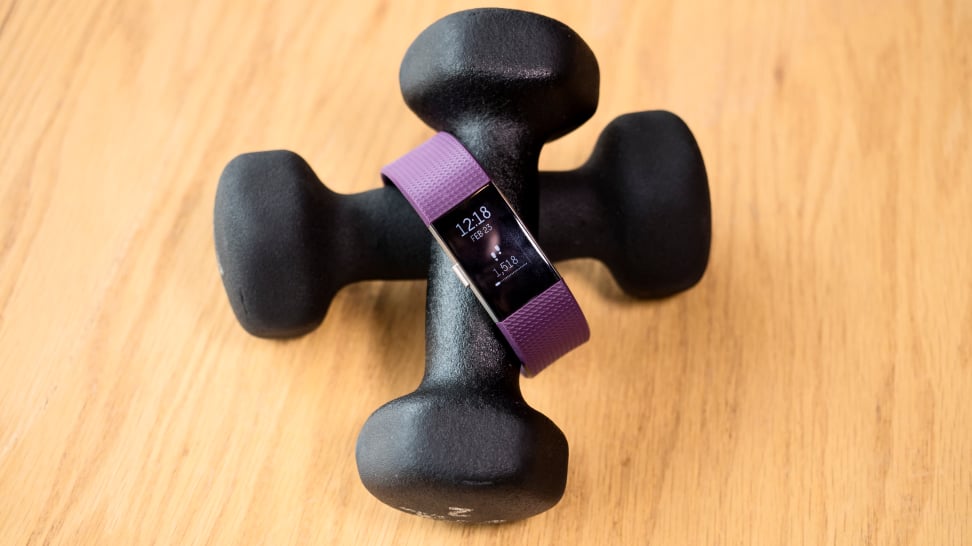 Fitbit Charge 2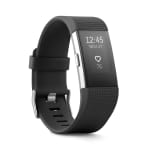 Fitbit Charge 2
Best Overall
Who it's for:
Anyone looking for a tracker to motivate them into more activity. Fitbit's constant notifications to move, its community of users in-app, and the app's usability make it top-notch.
Ease of use:
Very easy. You can view all of your stats (steps, heart rate, calories burned, distance moved, etc.) on the tracker, and its side button makes it easy to switch between what is shown on-screen. These stats also sync to the Fitbit app, so you can track everything there too.
Comfort:
I made no adjustments while wearing it because I barely noticed it was there.
Pros:
The app! I love that it shows all the stats for your daily performance right on the main page. I also love watching the hour-by-hour breakdown of my heart rate.
Cons:
The biggest flaw of this fitness tracker is the buggy experience when you try to choose your type of workout on the display screen. After a few days, I got better at tapping the screen, but it took time to get used to it. Also, swimmers beware: this device is not waterproof.
Bonus perk: Mindfulness
Not only does this tracker promote being active, but it also helps relieve you of stress. This tracker has "guided breathing sessions," which sounded ridiculous to me at first, but I ended up loving them. During the day, it alerted me to practice controlled breathing for a couple minutes. It was like having a yoga teacher with me at all times.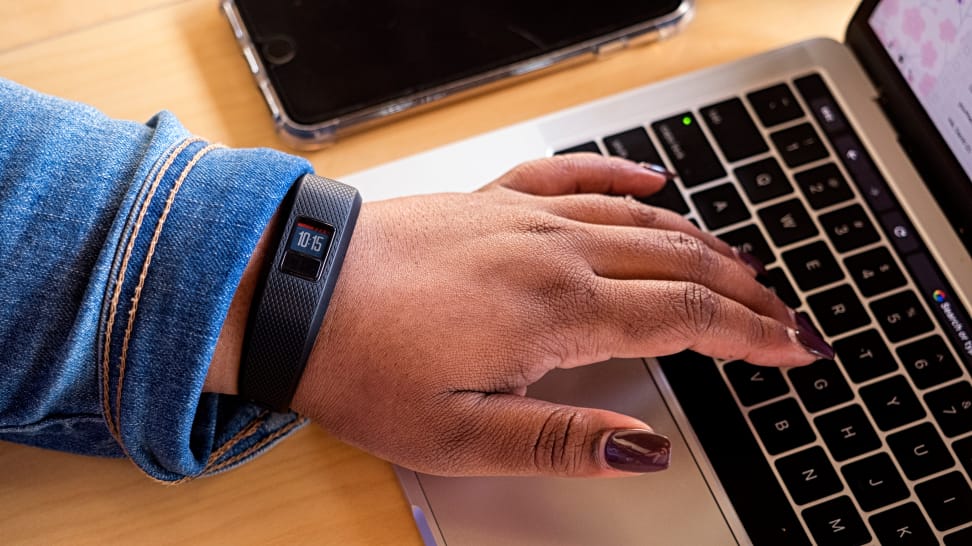 Garmin vívofit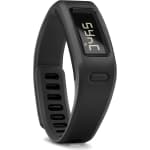 Garmin vívofit
Best Value
Who it's for:
Anyone looking for a basic tracker to monitor their daily steps. The Garmin Vivofit is perfect for someone who isn't great with technology, since you don't need to use an app with it (and the battery lasts forever!).
Ease of use:
The easiest to use of all the trackers I tested. All you have to do is press the button to switch between your activity stats on the display screen.
Comfort:
The tracker is comfortable to wear, but it fell off three times while I was working out due to sweat and movement. However, this tracker is great for tracking casual activity—so if you're not using it to track rigorous workouts, it's a fine pick.
Pros:
The battery life. It lasts a full year. One full year of glorious battery life. I hate having to charge these things, making the Vivofit is a great option.
Cons:
Other than the fact it kept falling off my wrists during workouts, I wish it tracked heart rate. It's also not waterproof, so you have to remove it to shower.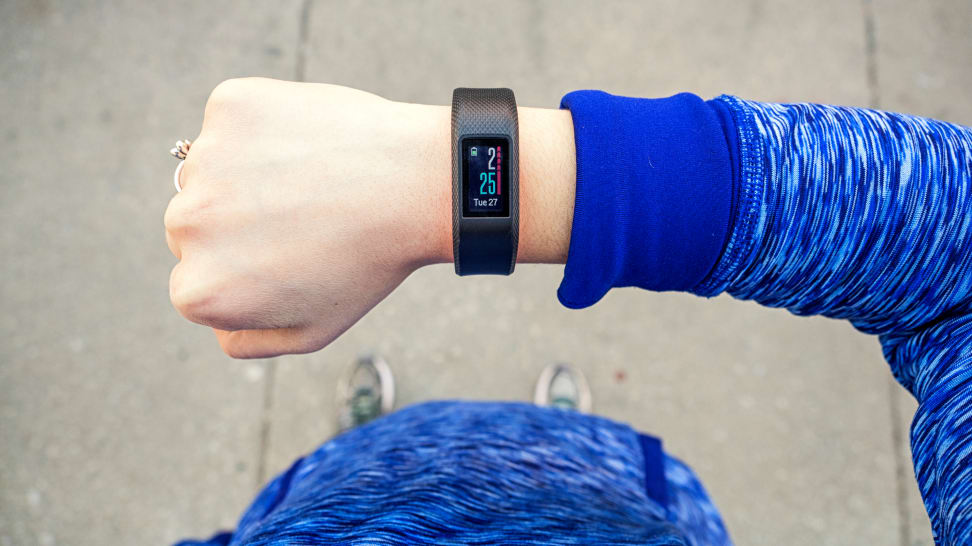 Garmin vívosport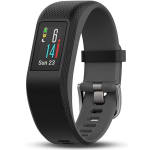 Garmin vívosport
Who it's for:
A very close runner-up to our Best Overall, the Fitbit Charge 2. Anyone looking for a sleek, inconspicuous fitness tracker for both casual use and working out.
Ease of use:
I had no issues scrolling through the tracker's display with my finger, and my activity and heart rate stats synced to the app perfectly. I wish the app was a little easier to navigate.
Comfort:
This tracker is the perfect size. It's smaller than the Fitbit Charge 2, but it's still big enough to have a display screen that is easy to read and navigate. It was so comfortable that I forgot it was there.
Pros:
It's waterproof! This means you won't forget to put it back on after you shower—and you won't miss out on shower steps.
Cons:
Unlike Fitbit's app, the stats for your daily activity are not all shown together on the app's main screen. You have to click go into each tracked item separately to view it.
Fitness trackers compared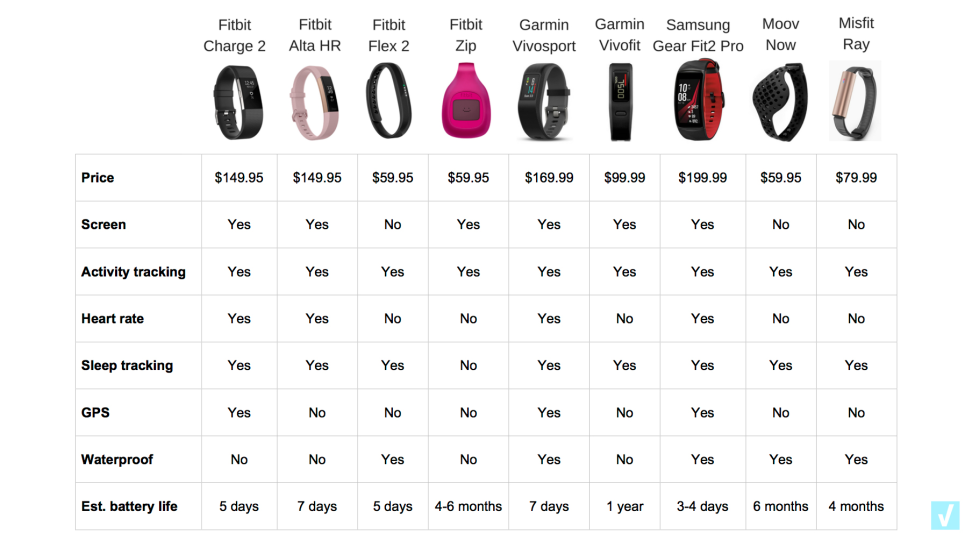 ---
How we tested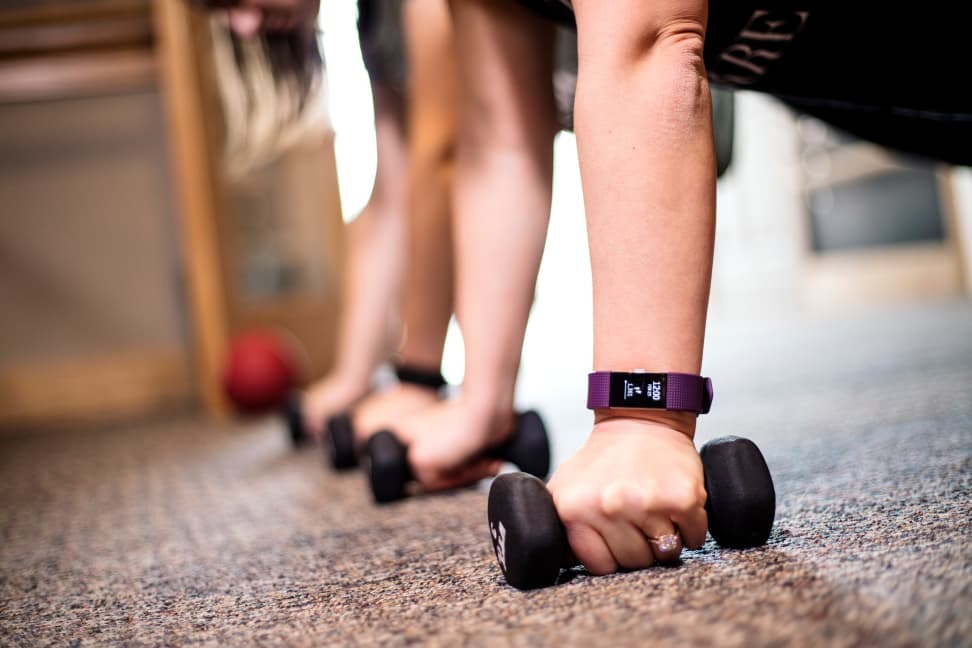 As a former cheerleader and dancer who had practice daily from childhood through college, dedicating time to working out each week is ingrained in my lifestyle. In fact, it's something I have to make time for, since being active helps relieve my chronic neck and back pain from fibromyalgia.
But with a 9-5 desk job that keeps me seated most of my weekdays and an always-packed schedule that often leaves me too exhausted to function, it can be hard. I know I need to be more active: I just need the motivation.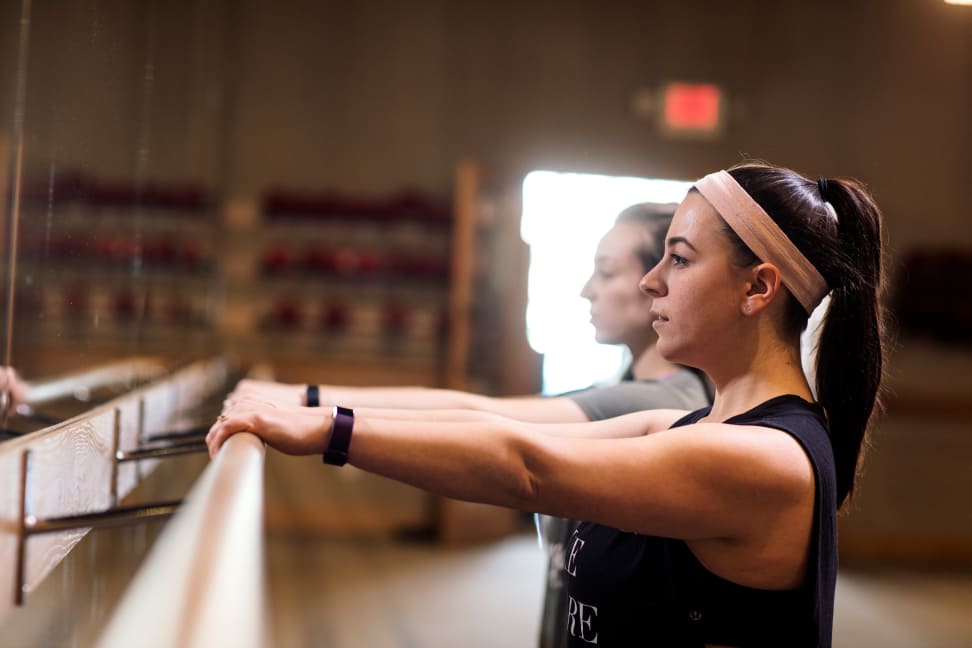 That is how I tested fitness trackers: as an average consumer looking for extra motivation to be more active and fit. But unlike an average consumer, I teamed up with our senior scientist to test and score fitness trackers on a calibrated rubric to find out which one really was best.
I first narrowed down the field to 10 of the most popular fitness trackers on the market, all at different price points. Then, I spent a few days wearing them. I didn't just test them during my workouts, though. I tested them casually too, even while sipping on iced coffee and scrolling through my phone (my specialty).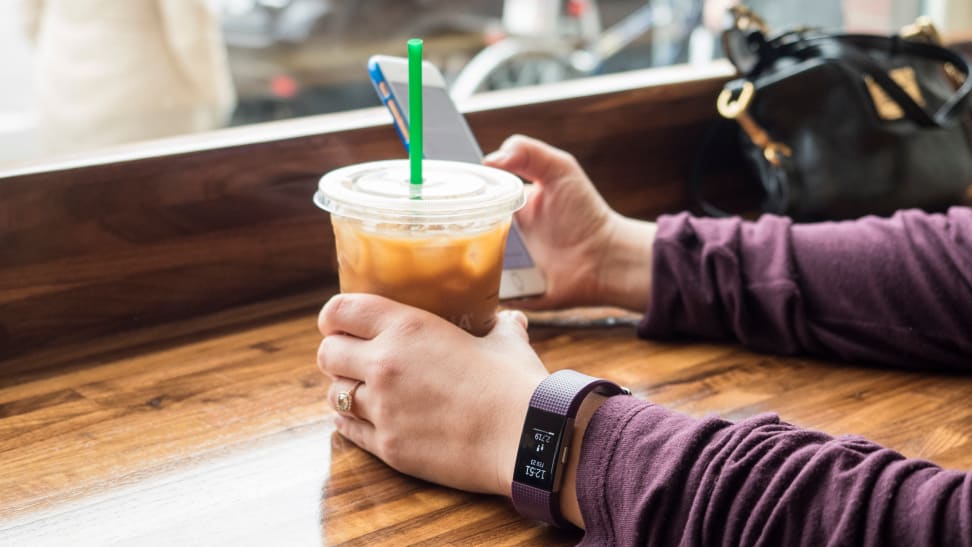 While wearing them, I paid attention to usability, fit, and app experience. I wore them during Soul Cycle classes, on long walks, and at Pure Barre.
After I was done, I gave each tracker a score, weighing certain aspects higher then others. For example, the usability of each tracker was weighed the highest, while the look and feel of each tracker was weighed lowest. After each one was fully scored, the Fitbit Charge 2 and Garmin Vivosport pulled ahead of the pack—with the Charge 2 coming in first place because of its phenomenal app experience.
---
More info on the other trackers:
Fitbit Flex 2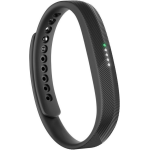 Fitbit Flex 2
The Fitbit Flex 2 is perfect for anyone who wants to track activity without wearing a bulky tracker. It has no display screen, meaning you can only view your activity stats on the app. If you're tech-savvy, it's extremely easy to use. You just wear it and sync it to the Fitbit app on your phone. It's a comfortable fit, but it did fall off once when I was working out because I was sweating and moving around a lot.
For that reason, I wouldn't recommend this as a tracker for intense, rigorous work outs. However, it's a great basic tracker for those who don't care about being able to view stats on your wrist. It's also waterproof, which is a huge perk for swimmers (and those who shower).
Fitbit Zip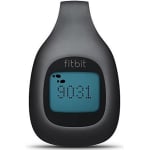 Fitbit Zip
The Zip is great if you're looking to track casual activity and don't want to wear a band on your wrist. You can clip the Zip to a belt or bra or put it in your pocket to keep it hidden. It has a long battery life, is easy to use, and you don't have to sync it to your phone unless you want to use the extra perks of the app, like being able to see the history of your activity and adding your daily food intake.
The clip was difficult to use: During a spin class, the tracker flew out of the clip attached to my shirt and slid across the room. I also had trouble opening the back to insert the battery. It took me two hours with multiple people helping to get it open. A bonus perk of the Zip: it looks like a Tamagotchi, so I give it extra points for nostalgia (I'm just kidding—I didn't really give it extra points).
Samsung Gear Fit2 Pro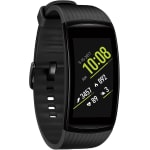 Samsung Gear Fit2 Pro
Samsung's Gear Fit2 Pro is great for people who want to have the look and feel of a fitness watch without the enormous size. My favorite thing about it is that you can easily log your workouts right on the display.
I had two big problems with it, though: the fit was extremely uncomfortable and you have to download two apps in order to connect it to your phone. Also, the app is not as intuitive as the Fitbit and Garmin apps.
Fitbit Alta HR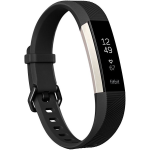 Fitbit Alta HR
I wanted to like the Alta. It's fashionable, loved by Oprah, and between the sizes of the Charge 2 and Flex 2.
However, I didn't love its touchscreen display. I had to tap it about five times to get it to switch out what was on the display. If I could navigate the display by swiping or pressing a button, I would potentially love it, but we recommend the Charge 2 for now.
Moov Now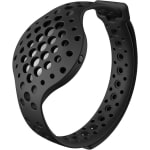 Moov Now
The Moov Now is an affordable, comfortable tracker made for monitoring workouts—not steps and casual activity. I love that it offers tailored coaching for activities like running, indoor cycling, swimming, and boxing. It comes with two band sizes, so you can choose to wear it on your wrist or ankle.
I really wish it had a screen, but it's also lacking in style: covered in small holes, it is the Crocs shoe of fitness trackers.
Misfit Ray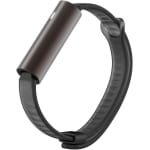 Misfit Ray
The Misfit Ray is for people looking for a stylish bracelet first, and a fitness tracker second. However, even at a hefty $80, Misfit Ray's app is not easy to use—and you have to use it to view your stats since the tracker lacks a display screen.
Fitbit Ionic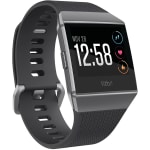 Fitbit Ionic
The new Fitbit Ionic is a smart watch—not a fitness tracker—but we checked it out anyway. With a gigantic display and wristband, it was extremely uncomfortable to wear: I wanted to take it off the minute I put it on. Worse, the display's functionality is not worth the discomfort.
Everything I want to track (steps, heart rate, calories burned, etc.), I can track on the smaller Fitbit Charge 2. If, in the future, I want a smart watch to track my workouts, pay for my coffee, and hold all of my music, I would still only consider the Ionic if it were more comfortable.