Whenever my stylist wields a round brush and dryer, my hair transforms into something fresh out of a magazine; a silky cascade of smooth, bouncy locks. But whenever I try to blow dry my own hair, it's a nightmare of sweat, frizz, and fatigued arms. I'm not alone: Many women struggle with achieving salon-level blowouts at home. That's why we tested top-rated dryers at all different price points to see if the secret to great hair at home lies within the blow dryer.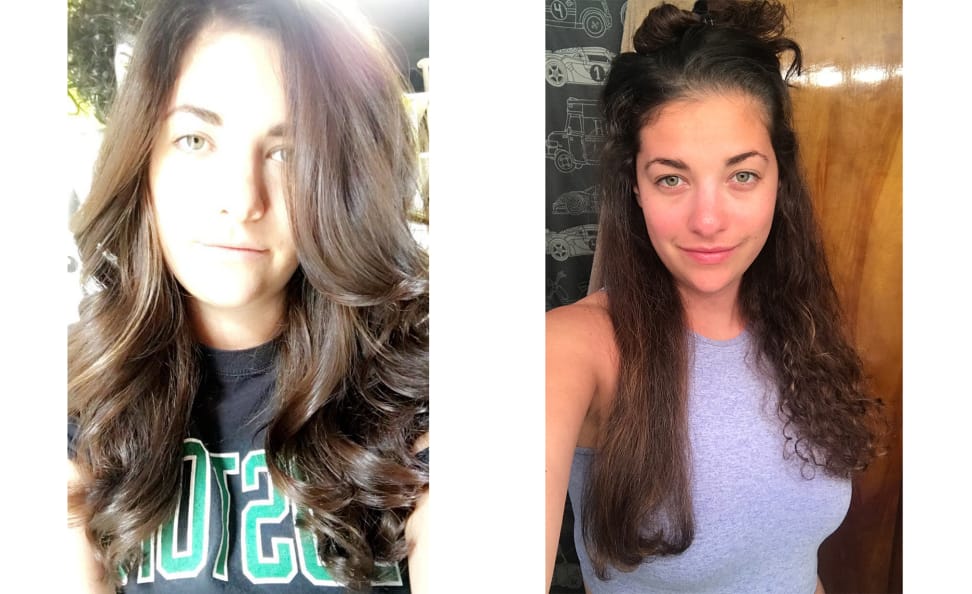 We ended up loving the Harry Josh Pro Tools Pro Dryer 2000 ($199), but thought the Revlon 1875W Infrared Dryer was a steal for what it offers. To learn how we tested and selected the dryers, scroll to the bottom of the article or click here.
Updated February 07, 2018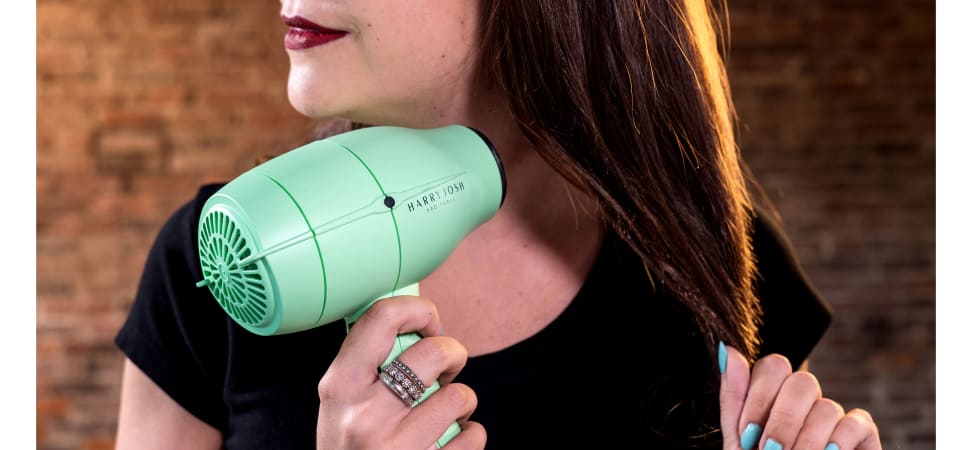 Harry Josh Pro Tools Pro Dryer 2000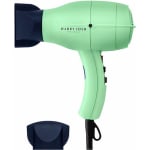 Harry Josh Pro Tools Pro Dryer 2000
best overall
Why we picked it: Allure Best of Beauty winner 3 years running, word of mouth, tops many "best of" lists.
Noteworthy claim: "In a class above every other hair dryer on the planet."
The bottom line: The best performing hair dryer of the bunch. A speedy dry time that results in a smooth, sleek blowout with a nice, long cord.
The details: The compact size of this retro mint-colored dryer proves that great things come in small packages. At $300, this French-made dryer is certainly no bargain—it's even venturing into investment territory. But the resulting blowout was the sleekest I've ever seen my hair at home, and at 22 minutes, it was also among the fastest with the strongest air flow of the lot.
At 1.2 pounds, it's the heaviest dryer we tested which was surprising, considering that it didn't fatigue my arm at all while drying due to its design and because it's small enough to act as a travel-sized dryer. The small size can take a little bit of getting used to since the weight is distributed differently, but once you do, this dryer is a gem.
The dryer has a lengthy 9.7-foot cord which is great if your outlet isn't right next to your mirror. It comes with two concentrator nozzles and an ion switch for smoother styling, but if you want the diffuser attachment, expect to spend another $30. The controls are on the back of the handle, which can make turning the dryer on and off a little cumbersome but the tradeoff is that they're out of the way, so you won't accidentally hit them while you're drying. Best of all, I stayed cool throughout the entire blowout.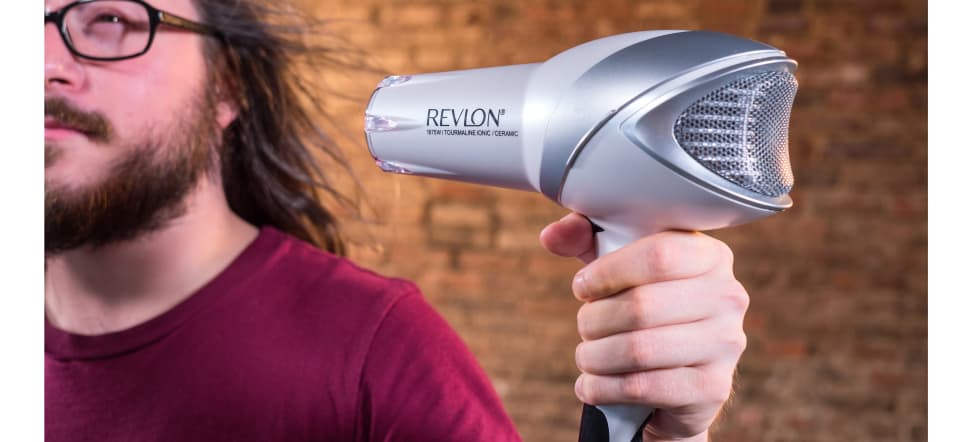 Revlon 1875W Infrared Hair Dryer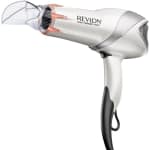 Revlon 1875W Infrared Hair Dryer
best value
Why we picked it: Amazon's #1 best-selling dryer, excellent ratings across retailers.
Noteworthy claim: "Helps condition, smooth and make hair shinier while reducing frizz and static."
The bottom line: A steal, and far and away the best budget dryer we tested at an absurdly low price for what it offers. Offers an impressive dry time and resulting blowout.
The details: At first glance, I thought this dryer would be cheap and unimpressive. The cool shot button was loose with a distinctly plasticky rattle, and a light-up ring at the end of the nozzle glows red during use—both of these seemed foreboding for the blowout to follow. Imagine my surprise when this dryer delivered a quick, pretty blowout with reasonable ease and aced our lab tests.
The dryer is a little uncomfortable to hold, as it's top-heavy and awkwardly long (I hit my low ceilings with the butt end of the dryer a few times before acclimating). But at 0.8 pounds, it's among the lightest dryers we tested, so even with the poor design, it wasn't too strenuous on my arm. The cord is only 5.6 feet long, so make sure you have an outlet next to your mirror before buying this one.
Like the Harry Josh, the heat and power lever-style buttons are on the back of the handle, which can take some getting used to but keeps them out of the way when you're styling your hair. It's a great trade-off.
This Revlon clocked in as our quietest dryer by a slim margin of.1 decibel, but to my ear it sounded just as loud as the competition. While it measured an unimpressive maximum temperature of 96.3ºF, that was hot enough to burn my head a couple times. My hair was completely dry in a speedy 21 minutes and 44 seconds, which is actually just a hair faster than with our number one pick.
This dryer's awkward weight distribution kept it from the top slot, and because the resulting blowout wasn't as sleek as the one I got from the Harry Josh dryer. But it's far and away the best budget dryer we tested. It comes with a concentrator nozzle and a diffuser. At $16, it's the second-cheapest dryer on our list and is staggeringly cheap for the quick, effective blowout it offers.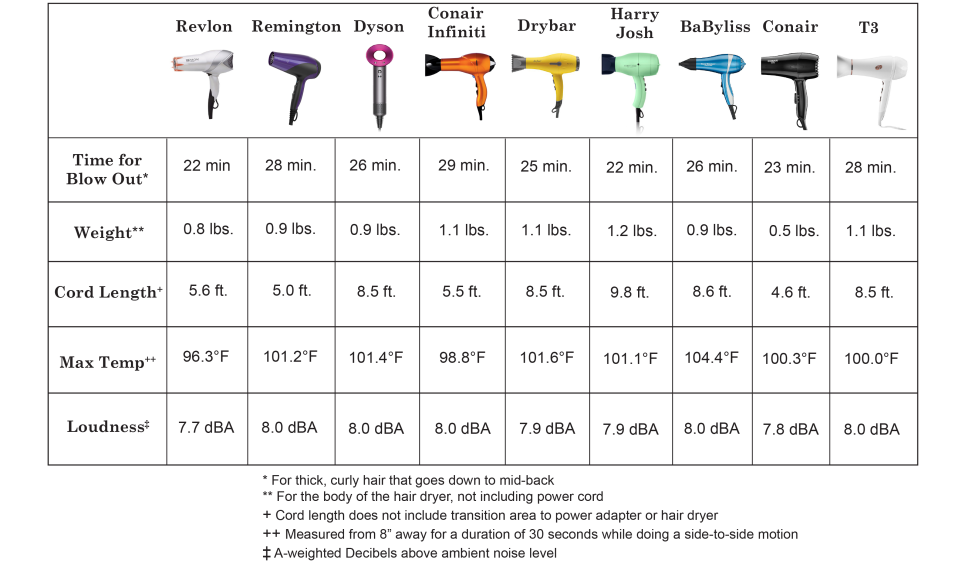 Dyson Supersonic Hair Dryer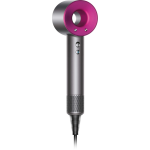 Dyson Supersonic Hair Dryer
Why we picked it: #1 best-selling dryer on both Sephora and Ulta, "the Tesla of hair dryers."
Noteworthy claim: "Measures temperature 20 times per second to regulate heat. Six times faster than other hair dryer motors."
The bottom line: A good dryer with impressive technology and innovative design, but not worth the hefty investment.
The details: Dyson completely redesigned the hairdryer, and you'll definitely need the user's manual to get started since it looks nothing like a typical dryer.
What's so innovative about it? Its much-smaller motor lives in the handle instead of the head with the intention of a lighter-weight and balanced dryer. At a middle-of-the-road 0.9 pounds, its design does feel a little lighter than the competition. The trade-off is a thick, non-contoured handle that looks sleek but feels bulky to hold.
The buzz around this dryer had me expecting a remarkably quick, gorgeous blowout at a quiet decibel but I found it comparable to most other dryers in ease of use. It certainly made my hair feel smoother and softer—one coworker commented on how shiny my hair looked. But it didn't make my hair easier or faster to style.
This dryer has been billed as "silent," which is simply untrue. It sounds somewhat quieter than other hair dryers, but not by a particularly impressive margin. It has a bit of a high-pitched whine to it, much like Dyson's vacuums. In our tests, the dryer measured in at 79.5 decibels, landing it among the loudest dryers we tested. The difference is that its tone is much softer than the competition, making it seem quieter to the average ear.
I love that the buttons are on the head of the dryer, which keeps you from accidentally switching modes while you're drying. It has a self-locking cool mode to set your blow-out and saves you from a sore forearm and hand from squeezing the oft-awkwardly place cool shot button.
It comes wth three magnetic styling attachments (two smoothing nozzles and a diffuser). However, the cord is ridiculously bulky, like an extension cable, with a half-pound adapter that makes the dryer heavy and difficult to store. The fact this dryer also comes with a non-slip mat speaks to its price: You don't notice or care how often your dryer crashes to the ground until you spend $400 on it.
At the end of the day, this Dyson is without a doubt a great hair dryer, but I don't necessarily see the value in its $400 price tag—Particularly when I found comparable and better results in less-expensive dryers.
BaBylissPRO Nano Titanium Dryer
BaBylissPRO Nano Titanium Dryer
Why we picked it: Amazon's choice dryer, top-rated BaByliss dryer at a midlevel price.
Noteworthy claim: "Nano Titanium distributes heat evenly, leaving hair silky smooth and healthy looking."
The bottom line: A lightweight, easy-to-maneuver dryer that gets too hot and resulted in a fried-looking style.
The details: The amount of times I've almost purchased a BaByliss at TJ Maxx is staggering. I was surprised when I finally used this one. With 3 heat settings and 2 speeds, this dryer blasted my hair straight, the straightest of any dryer we tested. However, the resulting style looked roughened and a bit fried, not sleek and smooth like the more expensive dryers achieved. It's the only style that required a hefty dollop of smoothing serum.
It comes with a concentrator attachment that got scarily hot during use. Sure enough, in our tests, this dryer topped the heat charts, clocking in at 104.4°F. I fear that extended use with this dryer would fry my hair more than dry it.
This BaByliss is designed well, with a thin head and nozzle that's easy to control and makes for a comfortable hold—it weighs 0.9 pounds, but doesn't tire out your arm. The lever controls on the front of the handle were a little annoying, since they got in the way and kept flipping during use. Because of the awkward handling, the crazy-hot temperatures, and fried result, I'd pass on this dryer.
Drybar Buttercup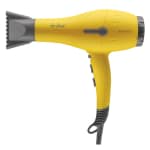 Drybar Buttercup
Why we picked it: Drybar is synonymous with a killer blowout, and this dryer is the #2 best-selling dryer on Ulta and Nordstrom.
Noteworthy claim: "Dries hair up to 20% faster, dramatically improves the condition of the hair."
The bottom line: Beautiful aesthetic, but not a great value for what it offers.
The details: I once got a blowout at Drybar, and I was absolutely shocked at how straight and smooth the stylist was able to get my hair using just this hair dryer. I didn't even need a flat iron, which is unheard of with my hair. I knew I needed to try this dryer for myself.
This dryer's claim to fame is that it's ultralight to keep stylists from becoming body-builders, but it was weightier than I expected—My arm still got tired and at 1.1 pounds, it's actually among the heaviest dryers we tested. The dryer's design felt a little bulky to use, like the head of the dryer was too long or heavy—my arm felt fatigued halfway through the dry. I also wasn't a fan of the lever buttons on the front of the handle, which caused me to repeatedly change the settings by mistake mid-style. It comes with two smoothing nozzles, but no diffuser.
Even on high, the air speed didn't feel strong but it dried my hair a bit faster than the ultra-powerful Dyson, though the resulting blowout wasn't as shiny or smooth. The bottom layer of my hair began to frizz and curl by the time I was finished with the rest of my style. I love the sunny color and the smooth matte finish, but this dryer performed just fine, and certainly was not a standout among the bunch.
Conair Infiniti Pro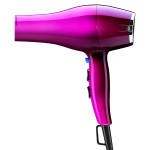 Conair Infiniti Pro
Why we picked it: A gussied-up classic with positive reviews across retailers.
Noteworthy claim: "50% faster, smoother, less frizz."
The bottom line: A mediocre drugstore dryer that takes more effort than it's worth.
The details: If I were in a drugstore in search of a new dryer, this is likely the one I'd choose: Conair is synonymous with hair dryers, and this is an upgraded classic at a reasonable price, but jazzed up enough to appeal to a consumer searching for a dryer with a little more power.
However, this dryer is emblematic of the difference between a high-end dryer and a budget one. It was noticeably heavier, seemed louder, and had a weaker air stream than its competition. It comes with a diffuser and a concentrator nozzle that's too wide, with side vents that muss up already-styled hair. The air in the room was hot enough that I had to take a break while styling, and I also had to switch hands while drying because my arm was so fatigued, which has to do more with its design than its 1.1 pound weight.
The resulting style wasn't great either. My hair was frizzier and bigger than the above dryers, and took almost 29 minutes to achieve. The cord is only 5.5 feet long, which is pretty typical for lower-end dryers. It offers 3 heat settings and 2 speeds, but none of them were powerful enough to keep my hair tame.
T3 Featherweight Luxe 2i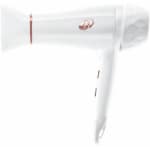 T3 Featherweight Luxe 2i
Why we picked it: #2 best-seller on Sephora, two-time Allure Best of Beauty winner.
Noteworthy claim: "Healthier than air drying."
The bottom line: A high price tag that only offers an unimpressive, budget-level blowout.
The details: This dryer felt unwieldy and long, but its unique acute angle design definitely helps distribute its 1.1 pound weight—It feels light and ergonomic to use, although you might smack yourself in the head a couple times while you get used to its shape. It comes with a concentrated nozzle and was the only dryer to come with a round brush, which seems like a great add-on, but I found it more difficult to use than my typical brush.
I found it very difficult to smooth a lot of the errant waves in my hair, even after almost 28 minutes of styling. The room also heated up quite a bit while I styled, so I was sweaty and irritated by the end of the process.
This dryer is priced at $250, but the resulting style was comparable to the cheaper dryers in the bunch, like Remington and Conair. Since I even preferred the cheaper Drybar Buttercup and the $16 Revlon to this model, I don't see the value and I wouldn't recommend splurging for the T3.
Remington Damage Protection Dryer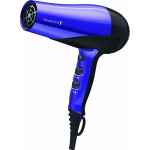 Remington Damage Protection Dryer
Why we picked it: Amazon's choice pick for hair dryers, #2 best-selling dryer.
Noteworthy claim: "Reduce frizz and static and help to dry hair faster... prevent damage and maximize shine."
The bottom line: A lackluster dryer that requires a lot of effort for a subpar result.
The details: I was excited to try this dryer. It's Amazon's second best-selling dryer and felt lightweight at 0.9 lbs with a stronger airflow than the other cheaper brands we tested. It offers 3 heat settings and 2 speeds, and I had high hopes for it, but as I continued, it became clear that this dryer was lackluster in performance and result.
The resulting style was really frizzy and poofy, and the room was so much hotter than when I started that I had to take a break to stand in front of the A/C, which isn't surprising since it reaches around 101.2° F and took 27 and a half minutes to achieve a blowout. To make my hair as smooth as it was with the Harry Josh or even the Revlon, I'd have to put in quite a bit of work with a flat iron. That extra step, paired with the discomfort of the drying process makes this dryer a pass.
Conair 1875-Watt Mid-Size Styler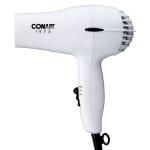 Conair 1875-Watt Mid-Size Styler
Why we picked it: This tried-and-true classic dryer is a great benchmark with high user ratings.
Noteworthy claim: "This simple and dependable hair dryer is an essential tool."
The bottom line: Extremely barebones and comparable to a hotel hair dryer.
The details: This dryer is as barebones as it gets. There are two settings, high and low, no cool shot, and no adjustable temperatures. On high, the dryer produces very hot air—over 100º in our testing—but the air power isn't strong enough to get through a mass of hair like mine, leaving my scalp damp and hot which led to greasy-looking roots. The cord is a measly 4.5 feet, so make sure your outlet is quite close to your mirror.
This Conair is by far the lightest dryer we tested at a feather-light 0.5 pounds, but comfort is a trade-off: For as easy it is to wield this dryer, the end of the nozzle is wide and since it doesn't come with an air concentrator nozzle (or any other attachments), you will get quite hot during your blowout as hot, unregulated air blows onto you. The resulting style was a bit fried and a lot frizzier than I typically like to see. It was also near-impossible to pull a brush through my hair after. This hair dryer is fine to use in a pinch, but I'd never reach for it to style.
How We Tested
We combed through user reviews on Amazon, Sephora, Ulta, and scores of beauty websites and blogs to settle on 9 top-rated dryers from $12 to $400. Our goal? To see if a pricier dryer results in a better style and drying experience, or if a hefty price tag is just from brand notoriety.
In our search and resulting tests, we wanted dryers that do more than just make your hair not-wet. Regardless of how you plan to use your dryer, a controlled blowout tells you everything you need to know about a hair dryer. I subjectively tested each one to see how long it took to achieve a smooth blowout and recorded data on the resulting style and its texture. I also took notes on the weight and balance of each dryer, and how loud it seemed compared to the rest.
An important thing to note: I have thick, long, curly hair, and the goal for this test was to accomplish a smooth, straight blowout. That's no easy feat, considering my natural hair.

THE WASH
At home, I took to 9 different dryers in the same way. I double-cleansed my hair, first using this clarifying shampoo and then this moisturizing shampoo, and then conditioned with a hydrating conditioner. I towel-dried my hair and combed through a controlled amount of Marula oil cream to aid in the smoothing process.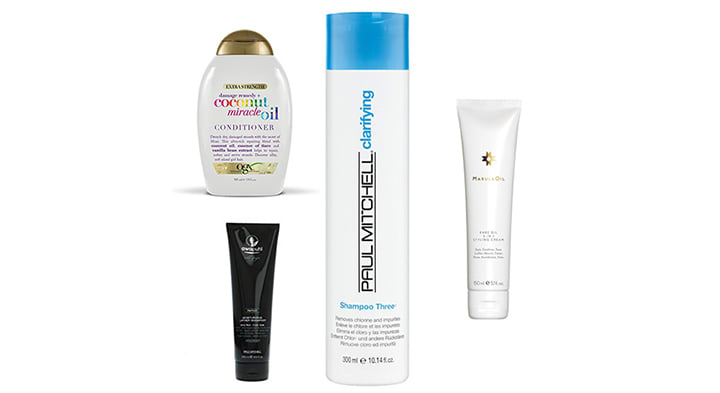 THE STYLE
Next, I pointed the dryer down and rough-dried my hair on high speed, high heat to remove excess moisture and encourage smoothness. Once my hair was about 80% dry, I sectioned it, attached each dryer's thinnest nozzle, and used a round brush to blast my curly hair straight. To keep results consistent, I waited three days between washes and I conducted each test in the same air-conditioned room.

Lab Testing
We couldn't just stop at subjective testing: We needed to scientifically test the claims and technology on each dryer. In the lab, we put each dryer through a gamut of tests for maximum speed, heat, weight of the dryer, and sound.
STRENGTH
To test each dryer's wind current, we balanced a ping pong ball on the nozzle. We then turned each dryer on its highest speed and heat setting, and recorded the speed and height of the ping pong ball.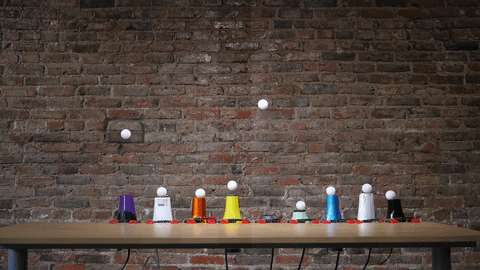 The Harry Josh and the Dyson aced these tests, sending ping pong balls soaring far above the rest. But in our at-home testing, we found that the strength of the wind current doesn't necessarily dictate the best or fastest dry. Our favorite Revlon had the weakest air stream of all, but dried my hair the fastest. On the other hand, the Dyson's current was so strong that I had to use it on a lower speed setting to keep my hair from wildly whipping around into a nest of tangles.
HEAT
We pointed each dryer at thermocouples adhered to cardboard and simulated the back-and-forth motion of blow drying from 8 inches away to see how much heat each dryer throws.
We found that hotter isn't always better. The BaBylissPRO Nano Titanium was the hottest dryer we tested, and it also resulted in a noticeably frizzy, fried-looking style. The best option is a dryer that has adjustable heat settings to keep your hair from sizzling.
WEIGHT
We weighed each dryer without its cord on a sensitive postage scale. Though most dryers claim to be lighter-weight than the competition, they all weighed between 0.8 and 1.2 pounds (not including the barebones Conair, which weighed a mere 0.5 pounds). One dryer claims to be "featherweight," and it's one of the heaviest that we tested, which speaks to the stretched truth in a lot of these marketing campaigns.
The comfort of using a dryer has some to do with its weight, but a lot to do with its weight distribution. The Harry Josh, despite being our heaviest dryer, has a very compact design that doesn't fatigue your arm. The Dyson's heaviest piece is in the handle, which makes maneuvering the dryer a little easier than say, the Conair Infiniti, which has a long head that houses a heavy motor that will quickly tire out your arm.
LOUDNESS
To measure sound, we brought the dryers into our soundproof headphone lab, measured the ambient sound, and then powered the dryers all the way up and measured sound again.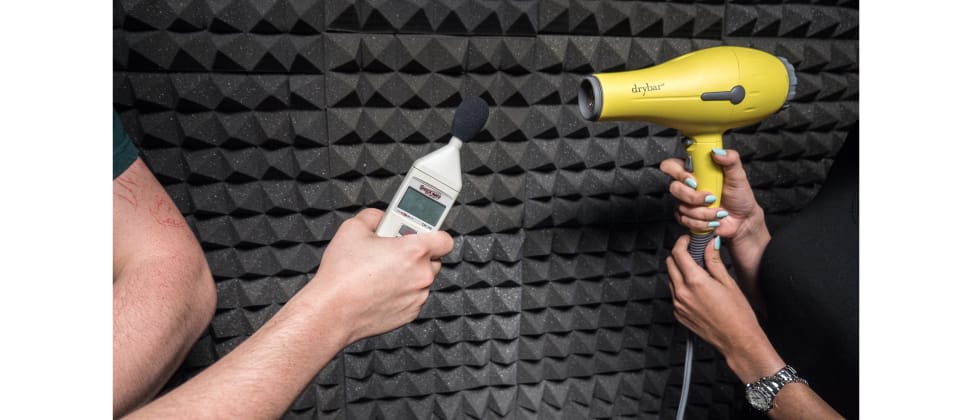 Shockingly, all of the dryers hovered around the same volume, between 7.7 and 8.0 dbA. This was surprising since each dryer sounds markedly different than the next. We found that what makes one dryer seem louder is the pitch and speed of the motor. Regardless, every dryer we tested claimed to be quieter than its competition, and we disproved that theory. Even in practice, none of the dryers were quiet enough to have a conversation over.
Conclusion
What makes a great dryer is not how hot it can get, or how far it can rocket a ping pong ball into the air: It's how effectively and easily it can provide a beautiful blowout. We love the Harry Josh and the Revlon 1875W Infrared dryers for their fast drying times and ergonomic handling, but regardless of the one you choose, look for:
• A dryer that is comfortable in your hand
• Adjustable temperature settings, including a cool shot to seal in your style
• At least two speed settings for varying styles
• Attachments that make sense for your style (concentrator nozzle for smooth styles, diffuser for curly/wavy)
• A cord length that will reach from your outlet to your mirror (often overlooked, very important)
• Avoid getting distracted by bold manufacturer claims—they're often confusing and sometimes baseless
And remember—a great dryer can come at any price point, from $16 to $300.