Nothing shatters the zen-like calm that comes in the wake of an amazing vacation or productive business trip faster than unexpected baggage fees.
Your luggage might have been light enough to avoid getting fleeced on your outgoing flight, but that bottle of duty-free scotch and the souvenirs you snagged for your nephew were heavy enough to get agents at the check-in counter salivating on the way back.
The best defense against overage fees is to invest in a portable luggage scale, like our favorite Dr. Meter Digital Luggage Scale (available at Amazon). To help you find the best scale for your personal needs, I considered dozens of different models and then called in 10 of the best for some intensive testing.
Here are the best luggage scales, in order:
Dr. Meter Digital Luggage Scale
Nonzers Digital Luggage Scale
Samsonite Manual Luggage Scale
Etekcity Digital Hanging Luggage Scale
AmazonBasics Digital Luggage Scale
Travelon Stop and Lock Luggage Scale
Go Green Power Analog Luggage Scale with Hook
Tariss Jetsetter Digital Luggage Scale
Dunheger Digital Luggage Scale
Saitec GO110 On-the-Go EZ Grip Hanging Scale
Updated February 28, 2018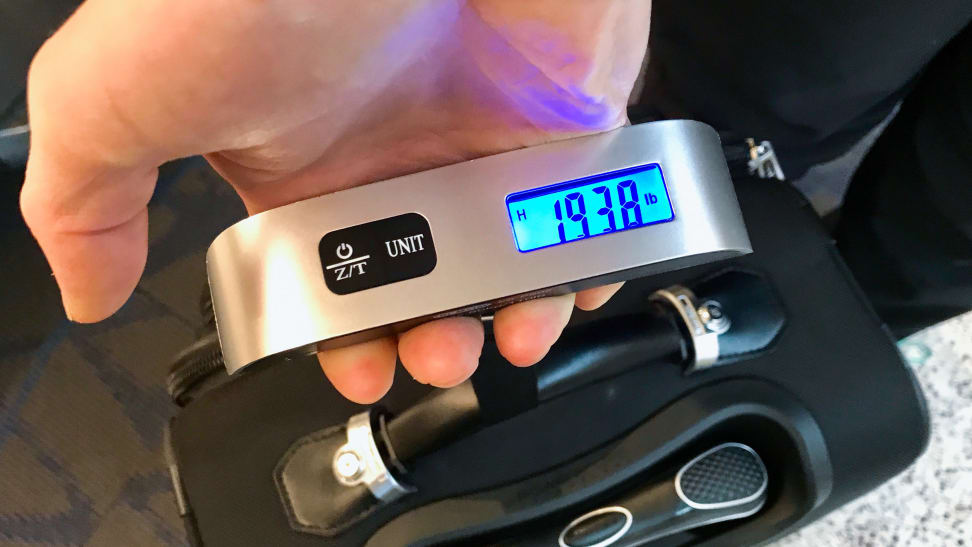 Dr. Meter Digital Luggage Scale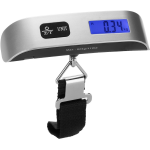 Dr. Meter Digital Luggage Scale
Best Overall
The Dr. Meter Digital Luggage Scale is our pick for the best luggage scale, and it wins on a number of fronts. Most importantly, it was able to accurately measure all of the weights I threw at it to within a few decimal places, and it can do so in either pounds or kilograms. It comes with a bright and easy-to-read backlit display, its buttons are well placed, and its aluminum and plastic body feels tough enough to provide years of service. Since it only weighs 3.25 ounces, you'll never even notice that you have it with you until it comes time to put it to use.
To use it, you simply turn it on, attach it to the handle of your luggage, and lift. Easy. Once it obtains a solid reading, the measurement shows up solidly on the display.
How We Tested
The Tester
I'm Seamus Bellamy. I've been working as a tech and travel journalist for close to a decade. As a full-time digital nomad, I travel constantly across North and Central America, and also take frequent trips to Europe and Asia. I like to travel light when I take to the skies, but I've been hit with ugly baggage fees just like any other frequent traveler. In other words, I'm extremely motivated to find the best luggage scale possible.
The Tests
The most important requirement for a great luggage scale is accuracy. After all, if it can't provide a reliable reading of your bags' weight, you'll be on the hook for fees at the airport.
To make sure your scale doesn't leave you high and dry, I started with three different types of luggage—a hockey bag, a soft-sided suitcase, and a hard-sided suitcase—and used a household digital scale to determine their empty weight. I then weighed each bag again, using the 10 scales I called in for testing.
Next, I prepared test weights. The first group of weights consisted of 25-, 50-, and 75-pound increments made up of solid stuff like flats of canned goods and car batteries that wouldn't shift while being weighed. The second group used the same increments, this time composed of items you might actually travel with—clothing, booze, a laptop, backpacking gear, and SCUBA equipment—to simulate the more unbalanced bags found in the real world.
Finally, I placed the test weights inside our three pieces of luggage and obtained baseline weights for each combo, then measured them again using each luggage scale. Most of the digital scales produced readings within a few decimal points of the baseline. However, I was able to eliminate one model right away due to inaccurate readings. Mechanical scales are considered to be inherently less accurate, and our testing certainly bore that out. However, for some shoppers a few pounds of variance might be a worthwhile trade-off for near-instant measurement. After all, not everyone is able to dead-lift and hold a 75-pound bag long enough to get a reading from a digital scale.
But accuracy isn't the only requirement for luggage scales: they should do their job in a timely manner, too. With this in mind, I gave each scale a time limit of five seconds to return a solid reading. This rule immediately knocked out two more contenders.
With my list of seven finalists in hand, I then examined build quality, extra features, ergonomics, and the weight of the scales themselves to determine the best of the best.
---
Other Luggage Scales We Tested
Nonzers Digital Luggage Scale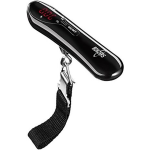 Nonzers Digital Luggage Scale
If you can't get your hands on our main pick, the Nonzers Digital Luggage Scale is a solid backup choice. It costs less than the Dr. Meter scale, yet offers solid build quality and a softly rounded design that's comfortable to hold, even while lifting heavier weights.
The one area where the Nonzers scale comes up short is visibility. The display's red LED numbers might be readable in a dimly lit hotel room, but you'd struggle to parse them on the tarmac of a remote airfield on a bright summer's day.
Samsonite Manual Luggage Scale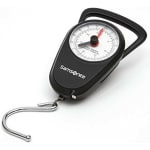 Samsonite Manual Luggage Scale
Of the analog luggage scales I tested, this one was the most accurate. With its rounded sides, collapsible handle, and 5.78-ounce weight, it's the lightest and most compact, too. Like the other mechanical scales I tested, the Samsonite Manual Luggage scale comes with a built-in tape measure that makes staying on the right side of airline size restrictions a cinch.
I wasn't thrilled with the Samsonite's build quality; its shell is made from brittle feeling plastic, and I'm not sure it would survive a drop on a hard surface. For the price, though, I don't think you'll find a better analog option.
Etekcity Digital Hanging Luggage Scale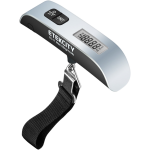 Etekcity Digital Hanging Luggage Scale
This digital luggage scale looks identical to the Dr. Meter digital scale I recommend—so much so, that I'm willing to bet they were built by the same original manufacturer. Still, there are a couple significant differences between the pair that make the Etekcity model a lesser choice.
First, the Etekcity scale is usually priced higher than the Dr. Meter scale despite its near-identical feature set and accuracy. Second, this scale doesn't come with a backlit display, making it more difficult to use in some lighting conditions. End result? It's not a terrible product, but it's not that great, either.
AmazonBasics Digital Luggage Scale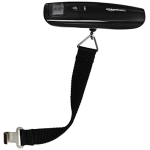 AmazonBasics Digital Luggage Scale
I've generally been a fan of AmazonBasics products in the past, but I think you should give the online shopping giant's luggage scale a pass. While it's as solidly built as the budget-friendly Nonzers Digital Luggage Scale, it costs around a buck more than our main pick and doesn't offer a backlit display. Your money is better spent elsewhere.
Travelon Stop and Lock Luggage Scale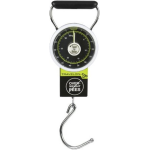 Travelon Stop and Lock Luggage Scale
The Travelon Stop and Lock worked about as well as you can expect for an analog scale, but I still can't recommend it. Beyond the inaccuracy inherent in any mechanical luggage scale, the Stop and Lock suffers from weak build quality and a bulky design. It's on the heavy side at 6.24 ounces, and its rest knob also sticks out far enough to get snagged on clothing in your suitcase—something that drives me more than a little nuts.
It does have a built-in tape measure, though. So, there's that.
Go Green Power Analog Luggage Scale with Hook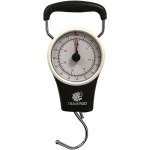 Go Green Power Analog Luggage Scale with Hook
This mechanical scale has a tape measure baked into it, too. This, and the fact that its hook clips onto the back of the scale when not in use are really the only things I liked about it.
Most annoyingly, I found the beveled plastic dome made it difficult to read how much my luggage weighs. And like the Travelon Stop and Lock, the Go Green Power scale is made from brittle-feeling plastic, making me question its long-term durability. I get that it only costs around seven bucks, but inexpensive things needn't feel cheap.
Tariss Jetsetter Digital Luggage Scale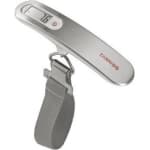 Tariss Jetsetter Digital Luggage Scale
Avoid
I liked the sturdy feel of this handsome-looking piece of hardware, but I didn't much care for the fact that it costs a few bucks more than our top pick, or that the placement of its power button makes it easy to turn on accidentally.
But neither of these points are really consequential in light of the fact that it was disqualified for being unable to confirm the weight of my luggage, under a 50-pound load, in less than five seconds.
Dunheger Digital Luggage Scale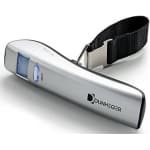 Dunheger Digital Luggage Scale
Avoid
The Dunheger Digital Luggage Scale is most notable for having graced the gift bags given to the celebrities who sat through the 2016 Golden Globes. It wasn't out of place there, either. It's a sharply designed luggage scale with a seemingly ergonomic handle and backlit display. I thought it would be a serious contender in this competition, but in this case, looks don't add up to ability.
While the Dunheger Digital had no problem accurately weighing my baggage at the 25-pound mark, it quickly went off-track as the weight increased. While weighing my soft-sided suitcase with a 50-pound load, the scale returned weights that were one to two pounds off the mark. I tested it twice more to make sure that it wasn't a fluke. Sadly, I was able to reproduce the errant result both times.
Saitec GO110 On-The-Go EZ Grip Hanging Scale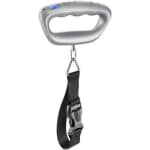 Saitec GO110 On-The-Go EZ Grip Hanging Scale
Avoid
This scale was disqualified from testing for a number of reasons. While testing it with our hard-sided bag and 50 pounds of weight, the plastic buckle that attaches luggage to the scale popped out of its housing. Had it come undone completely, I could easily have been injured.
After fixing the buckle, I gave the test another spin. This time around, I found that it was unable to zero in on my luggage's weight in under five seconds. Kicked to the curb.