Whether you're an outdoors enthusiast, a homeowner, or simply someone who exists in the world, a sturdy multitool is a must. But if you're going to pick just one knife-meets-tool kit to serve many purposes, you're going to want to look for the absolute best—like our favorite Leatherman Wave (available at Amazon).
Multitools are great for backcountry campers or anyone who needs their tool kit to be compact enough to fit in a small space—or in their pocket. Maybe you need to quickly fix a bike, screw something to the wall, or cut up a brick of cheese when you're on-the-go. Whatever the task, you want your multitool to be up for it.
With that in mind, we designed a series of tests to find out which pocket-sized collection of screwdrivers, files and scissors is really worth your cash. We tested 7 of the top multitools on the market to determine whether they were easy to use, versatile, and comfortable to carry. And after two weeks of non-stop tinkering, we're confident we've found the best multitools you can buy.
In order, these are our favorites:
Leatherman Wave
Gerber MP600
Victorinox Swiss Army Tinker
The Original Pink Box PB1MULTI Multi-Tool
Victorinox SwissTool Spirit X
Leatherman Rev
Mossy Oak Camo Multi Tool
Updated January 05, 2018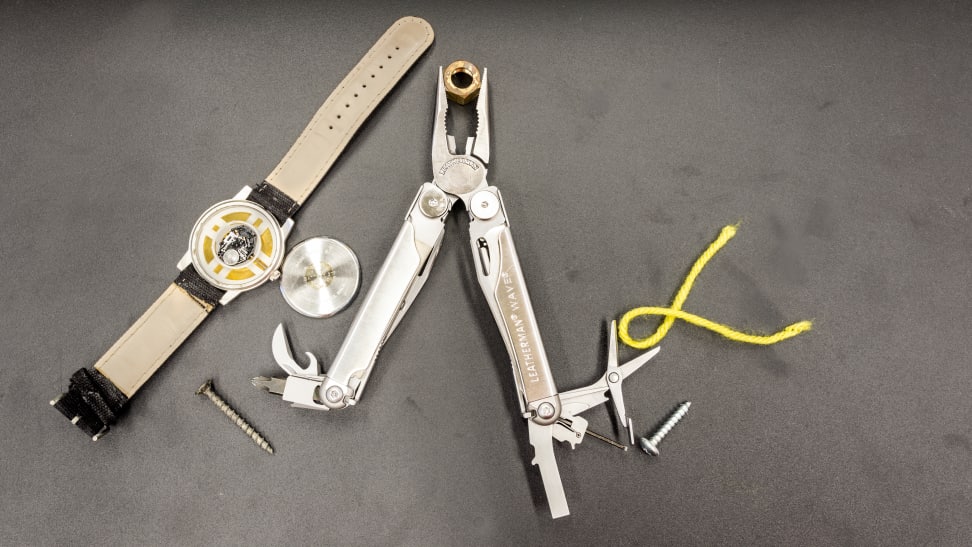 Leatherman Wave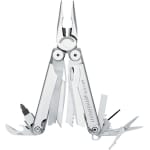 Leatherman Wave
Best Overall
Why we picked it: This American-made multitool is a balance of sleek form and impressive functionality.
What it comes with: Needlenose and Regular Pliers, Hard and Regular Wire Cutters, Wire Strippers, HC420 Serrated and Straight Blades, Spring-Action Scissors, 8-inch and 19-cm ruler, Can and Bottle Opener, Large and Small Bit Drivers, Flathead Screwdriver
The details: The Leatherman Wave checks all the right boxes, from convenience to quality. All the tools on the Wave exceeded our expectations when we tried them out, including the diamond-coated file and the two high-carbon blades.
The Wave has a smart design, with thick and rounded sides that prevent the multitool from cutting into your palms, even when you're squeezing the pliers as hard as you can. We also liked the fact that all the tools lock firmly into place, but can be released by pressing down on a textured button.
When we used the multitool to install a dishwasher, take apart a watch, and perform other household tasks, we found a lot of additional conveniences. For example, you can tell the serrated and straight blades apart without unfurling them because they have different spines–bumpy for serrated and smooth for straight. We also think the fact that you can operate the scissors with just your thumb is pretty clever.
We threw a lot of tasks at the Wave, and it handled all of them with ease.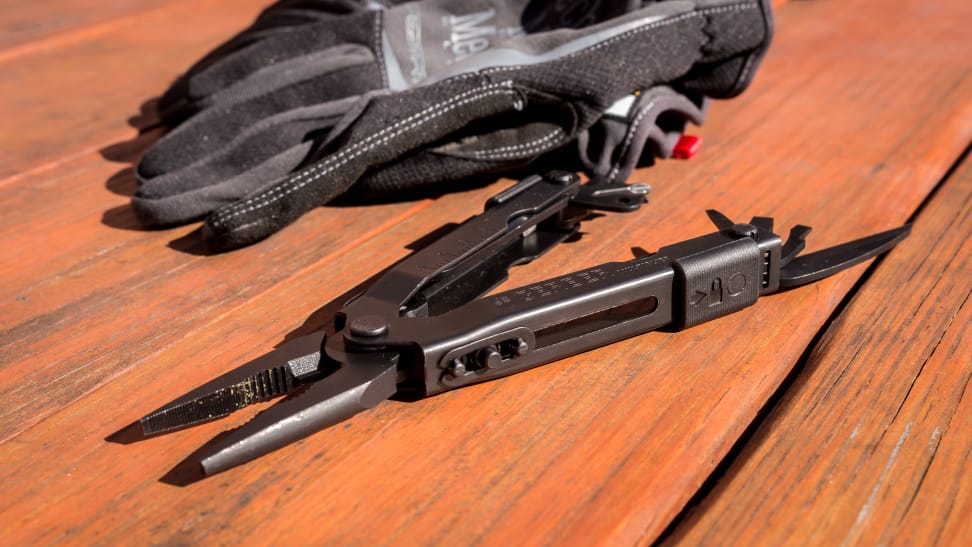 Gerber MP600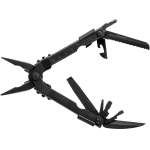 Where To Buy
$34.44
Amazon
Buy
$34.44
Home Depot
Buy
$34.44
Walmart
Buy
Gerber MP600
Best Value
Why we picked it: The Gerber MP600 provides no-frills functionality, giving you a lot of bang for your buck.
What it comes with: Needlenose and Regular Pliers, Pinch Cut Wire Cutters, Lanyard Ring, Serrated and Fine-edged Knife, Can and Bottle Opener, Cross Point, Ruler, Wire Crimper, File, Small, Medium, and Large Flathead
The details: Gerber is best known as a major supplier of tools to the US military, and the designers definitely kept that customer in mind when creating the MP600. This multitool is stark, cost-effective, and utilitarian.
The MP600 really held its own when we put it through its paces. Compared with all the multitools we tested, the MP600's pliers have the widest span, meaning they can deal with a wider variety of situations. We also really like the fact that you can deploy the pliers with a flick of your wrist.
However, the MP600 is definitely designed for less precise work. The various screw driver heads are a great showcase of this: They're all too big to deal with the screws on your glasses, but any screw on the wall is fair game. It's also not as comfortable to grip as the Leatherman Wave, nor does it have as many tools. Still, despite these flaws, it's a great budget option that any handy person will love.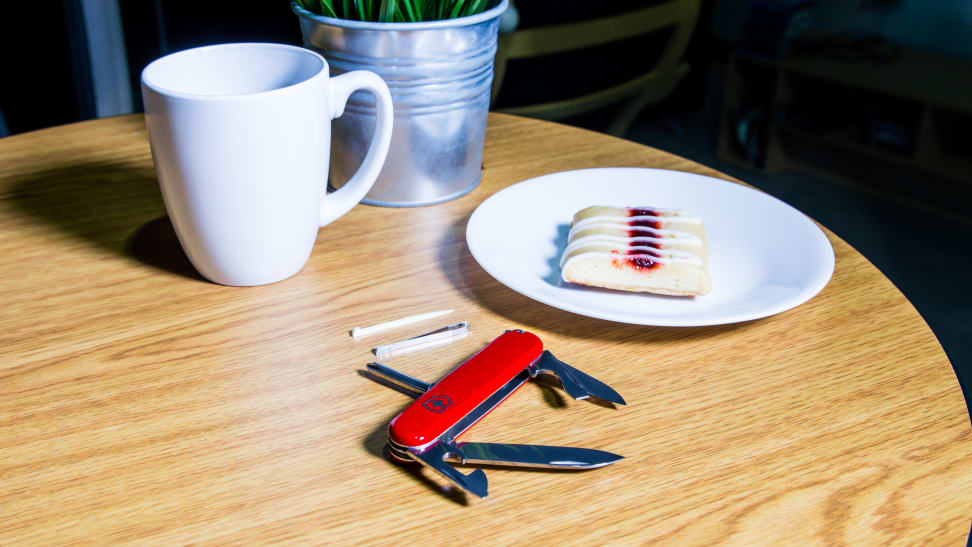 Victorinox Swiss Army Tinker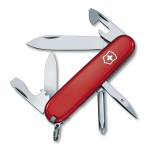 Victorinox Swiss Army Tinker
Best For Everyday Carry
Why we picked it: It's light, classy, and useful.
What it comes with: Large and Small Blade, Screwdriver, Flathead, Can Opener, Tweezers, Toothpick, Ream, Punch, Awl, Key Ring
The details: There's something to be said about sticking to the classics. While the Tinker isn't the first "Swiss Army" knife, it's manufactured in Switzerland by Victorinox, one of two manufacturers that supply the Swiss military with its famed multitools.
While testing the Tinker, we became enamored with its classy red case and compact design. Tipping the scales at just half an ounce, it's the lightest of the multitools we've tested. However, the Tinker's svelte build meant it wasn't as robust as the competition, lacking heavier-duty tools like a pair of pliers or a serrated blade. Even without these tools, we think this Swiss multitool will satisfy anyone who's looking to be just a little more prepared. Plus, unlike some of the heftier tools, it can fit comfortably in your pocket.
Our favorite feature is the pair of tweezers and toothpick hidden on each end of the Tinker. It speaks to the tool's more urbane sensibility, which the MP600 or Wave can't match.
How we tested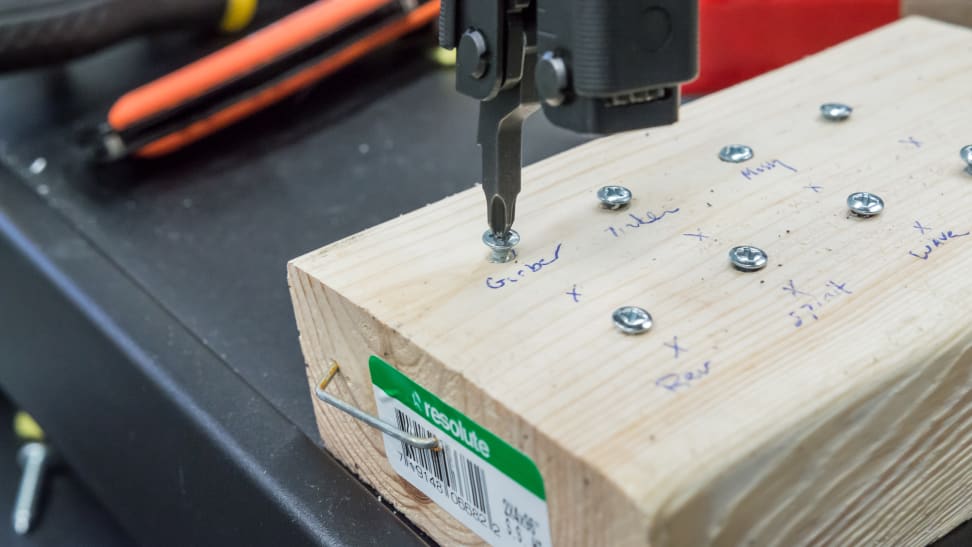 The Tester
I'm Jon Chan, a product technician, everyday carry enthusiast, and staff writer. A huge portion of my job involves unpacking, installing, and unhooking large appliances like washing machines and fridges in Reviewed.com's test labs, which makes a multitool fairly essential for me. To be perfectly honest, I volunteered to test all these multitools so I could find one that could make my day-to-day easier. My own search for a high-quality, practical multitool that could work in many situations helped inform the testing process.
Testing
We tested for three major categories: whether the tools were portable, whether they were comfortable and effective to use, and whether they were durable.
To test portability, we weighed, measured, and recorded the number of tools on each model. At their core, multitools are supposed to be portable toolboxes, so more tools for less space calls was the ideal.
After noting the specs, we subjected each multitool to a series of very basic tasks: loosing a 1/4" and 1" hex nut, removing a screw from a block of wood, and cutting through a braid made of three strands of yarn. During this portion, we paid close attention to how comfortable our hands were and how easily the multitool could handle the situation.
We then took time to do some hard weather testing. Each multitool was subjected to 30-minute dip in an ice bath. The cold temperature test was to ensure each model could still function in bad weather. Not to leave out warmer climates, we conducted a similar test with a heater.
The front runners from the basic usability tests were then subjected to a round of practical scenarios. To cover large, medium, and small jobs, we used only the multitools to deal with: cutting tangled carpet strands off a vacuum brush, installing a dishwasher, and replacing a battery on a watch.
---
Other Multitools We Tested
The Original Pink Box PB1MULTI Multi-Tool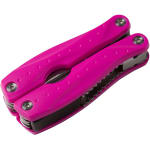 The Original Pink Box PB1MULTI Multi-Tool
What it comes with: Needle Nose Pliers, Wire Cutters, Can and Bottle Opener, File, Awl, Large and Small Flat Head, Philips Head, Serrate and Straight Knives
The details: If you've ever thought multitools were too tough on your hands, then the Original Pink Box has the answer. The California-based company has a multitool encased in thick plastic. It's also bright pink, which just might jive with your style. While it isn't the most versatile, the Pink Box is the most comfortable to hold of all the multitools we tested. All the tools are situated far apart, so you don't have to rake at them to use them. The pliers are spring loaded, meaning you can adjust them simply by loosening your grip.
Our major issue? The quality. The steel showed signs of pitting right out of the box. This lack of workmanship was more apparent when it came time to test the individual tools. The knife wasn't as sharp as we'd like. Also, the pliers did not have the same span as some of its competitors.
With its included pouch, stylish looks, and comfortable grip, the Original Pink Box Multi Tool gets a pass from us, especially since it only costs around $20.
Victorinox SwissTool Spirit X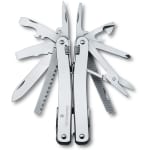 Victorinox SwissTool Spirit X
What it comes with: Needle Nose Pliers, 2mm and 6mm flathead screwdrivers, Wire Cutter, Cap lifter, Crate and Can Openers, Combi-edge Blade, Scissors, File, Metal and Wood Saw, Punch, Philips Screwdriver, Chisel/Scraper, Long and Circular Cable Cutters, Wire Bender, Wire Stripper, Hook
The details: The Victorinox Spirit X looks more like a museum piece than a multitool. The metal is so refined and polished that you don't want to place your grubby fingers on it. Alas, perhaps it sacrifices utility for looks: Retailing for over $100, the Spirit X is more beautiful than functional.
The pliers don't open as wide as the competition. The tool release is a slide that's more than a little cumbersome at times. After spending a week with the Spirit X, we found the thin design dug into our palms. With these gripes combined, we'd rather look at this than use it. However, since it's so beautifully made and it can be purchased with a sweet leather pouch, the Spirit X makes the perfect Father's Day gift.
Leatherman Rev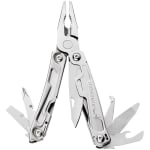 Leatherman Rev
What it comes with: Needle Nose and Regular Pliers, Hard-wire cutters, Wire cutters, 420HC Knife, Package Opener, File, Can and Bottle Opener, 1.5-inch ruler, Philips Head, Medium and Small Screwdriver, Wire Stripper
The details: The Leatherman Rev is the smaller sibling of the Wave. It also costs about half as much and lacks a bunch of the Wave's premium features. Where the Wave has a diamond-coated file, the Rev makes due with one made of plain steel. However, you're not loosing any of that American-made quality. The straight-edged knife is still razor sharp, acing our cut tests with the same effectiveness.
The bottom line is if you want a lighter and more affordable Leatherman, this is the one to get.
Mossy Oak Camo Multi Tool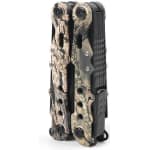 Mossy Oak Camo Multi Tool
What it comes with: Needle Nose Pliers, Wire cutter, Fish scaler, Hook Remover, File, Ruler, Saw, Medium and Small Screwdriver, Serrated and Straight-Edged Knife, Bottle and Can opener, Phillips Screwdriver, Awl
The details: Rounding out our testing was the Mossy Oaks Multi Tool. It's the most affordable of our selection, retailing for under $10. When we took it out of the box, we noticed that there was grit inside the joint of the pliers. That same lack of quality was found throughout. All the tools were stiff and hard to deploy or put back. The knife was duller than the competition, and the pliers had a constant oil ring on them. However, we can't advise you to absolutely avoid this multitool because it performs up to its price point.