When it comes to kitchen essentials, a good nonstick pan is a must. Cast iron and stainless steel pans might be great for searing and caramelizing, but a nonstick pan is your secret weapon when you're frying eggs or flipping pancakes. The slippery coating means your food will slide effortlessly out of the pan—and hopefully be easier to clean.
But which nonstick pan is the best one for you? This isn't an area where you should spend a fortune, because nonstick pans aren't meant to last a lifetime. Still, you don't want to buy one that's flimsy or scratches too easily. The best pans are sturdily built and effortless to use, but it's hard to tell in the store what will have staying power in the kitchen.
That's where we come in. We selected seven of the best nonstick pans on the market and put them to the test. A trained cook (that's me!) flipped dozens of eggs, cooked way too many pancakes, and came away with a ranked list of pans and a solid recommendation: the Calphalon 10-inch Omelette Pan (available at Amazon for $31.77), a high-quality nonstick pan that's just right for the day-to-day tasks of your kitchen.
Updated January 05, 2018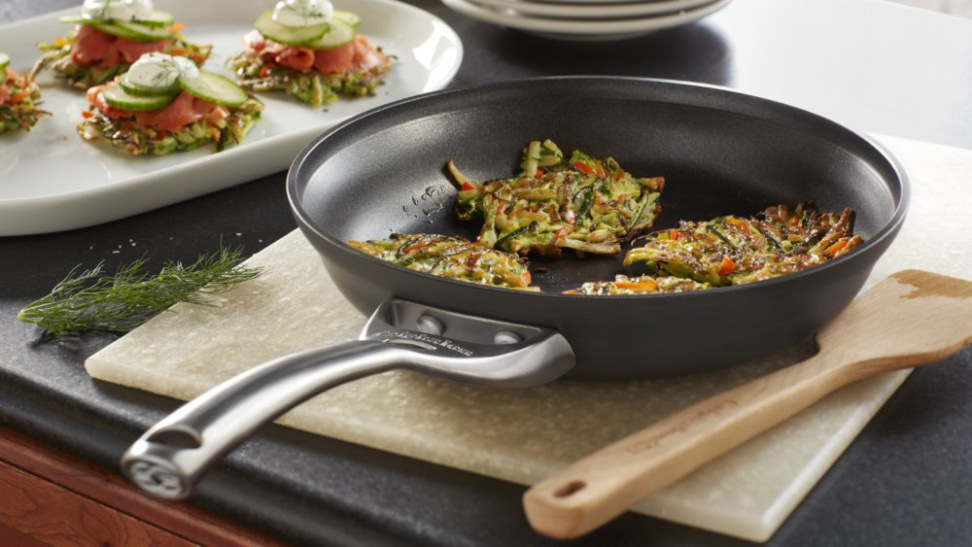 Calphalon Contemporary Nonstick 10" Omelette Pan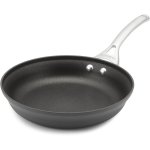 Calphalon Contemporary Nonstick 10" Omelette Pan
Best Overall
The Calphalon Contemporary Nonstick Omelette Pan is not only beautiful to look at, but it also performs like a charm. I used it to cook pancakes and an omelet, all of which slid easily on the PFOA-free nonstick surface. In fact, flipping eggs felt absolutely effortless on its smooth interior. The stainless steel handle is rounded and angles up, assisting with flipping motions while keeping your hands far away from the heat.
I loved the pan's perfect balance and thick anodized aluminum base, which provide both sturdiness and ease of movement. At $39.95, you're not breaking the bank—but you're not sacrificing any durability, either.
All-Clad 4110 NS R2 Non-Stick Fry Pan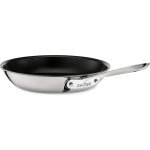 All-Clad 4110 NS R2 Non-Stick Fry Pan
The All-Clad brand is well-known for producing bonded stainless steel pans that top everyone's performance list. The Non-stick Fry Pan features their renowned All-clad stainless steel bottom with a PFOA-free nonstick coating on top.
Of all the pans we tested, the induction-compatible All-Clad was the quickest to warm up and provided the most even heating, browning both sides of the pancake nicely. While the All-Clad has a weight that's almost identical to the Calphalon, it feels much heavier because of the straight handle design. This put the balance towards the far edge of the pan, making it slightly too hefty to flip eggs comfortably.

Still, our only significant complaint is the $134.95 price tag, making it our high-end recommendation—although it's not really worth spending that much cash on a pan that scratches just as easily as its less-expensive competition.
How We Tested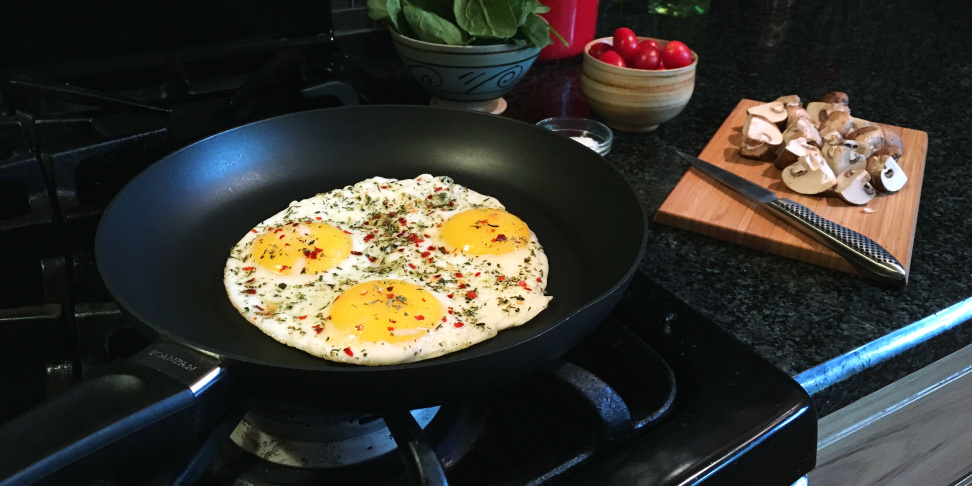 What should a good nonstick pan do well? It not only has to release your food without sticking, but should also be properly balanced and weighted. If it's too heavy, it'll feel cumbersome and hard to clean. It's also important that your nonstick pan heats evenly, otherwise there's no chance your fried egg will look Instagram-worthy.
We tested seven 10-inch nonstick pans and rated them on three major criteria: nonstick coating, construction, and distribution of heat.
To test the pan's nonstick coating, we cooked French omelets—no cooking oil allowed—to see how the released from the pan. Smooth omelets passed; rough and jagged omelets not so much.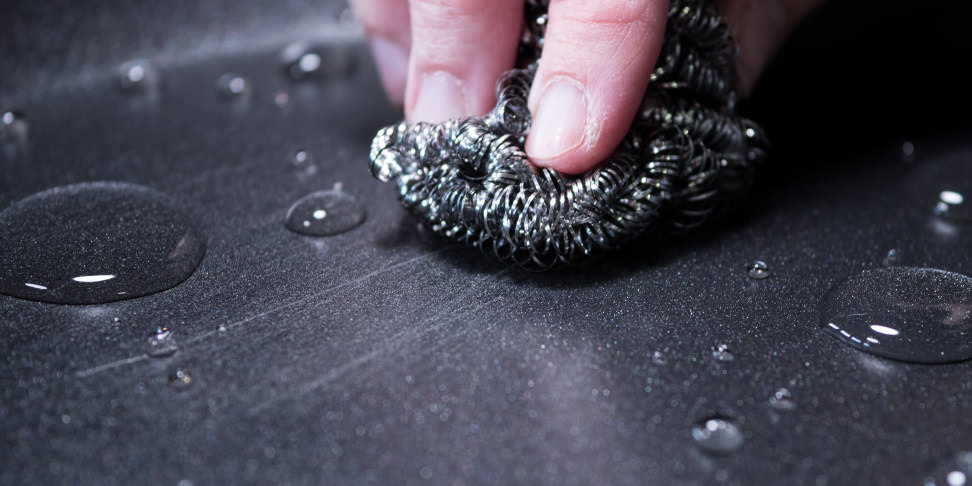 We tested construction by examining whether the pan was balanced and shaped so that one could flip eggs with an easy flick of the wrist. We examined the handle shape and positioning to see if the handle became too hot or wobbled annoyingly during use.
We tested distribution of heat by cooking pancakes to see how the pancake browned on each side. We looked for a pan that could cook the batter's first side without sticking and retain enough heat to brown the second side.
Finally, we used steel wool and metal cutlery (which you should never use on a nonstick pan, unless the manufacturer states otherwise) to get a sense of how each pan's nonstick coating would hold up over time.
Other Pans We Tested
Scanpan Classic 9.5 Inch Fry Pan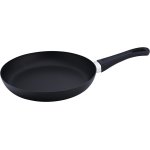 Scanpan Classic 9.5 Inch Fry Pan
This Danish-made nonstick pan features PFOA-free ceramic titanium, making it unique amongst the pans we tested. This type of nonstick coating is said to be safe for use with metal utensils, which is typically a big no-no with nonstick pans. Sure enough, the Scanpan Classic Fry Pan was the only pan to pass our scratch tests with flying colors. Visible marks were apparent after we scoured it with steel wool and scraped it with metal utensils, but none of the scratches penetrated the surface. However, it was the only pan we tested that warped when heated and placed in cold water
During testing, the pan felt light in my hands, and its short handle made it easy to maneuver—although the handle's plastic material did get hot after extended use. It was the only pan we tested that didn't have rivets connecting the handle to the inside of the pan, which made for easier cleaning. Unfortunately, the pan's heavy base made it the slowest to preheat.
While it's not quite as affordable as the Calphalon, the Scanpan Classic Fry Pan is definitely an appealing purchase, thanks to its ease of cleaning and scratch resistance. The pan could last a long time, so long as you're careful not to expose it to extreme changes in temperature, like placing it in the sink while it's still hot.
Cuisinart 6422-24 Contour Hard-Anodized 10 Inch Skillet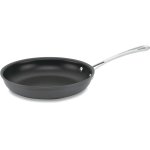 Cuisinart 6422-24 Contour Hard-Anodized 10 Inch Skillet
The Cuisinart Contour Hard Anodized Skillet is a favorite on Amazon, and it's easy to see why. The pan's heavy weight is well balanced by a contoured handle that angles up, so it's really comfortable to hold and use. While the pan's tall, sloped edges make it slightly harder to flip eggs, it performed well overall. It browned our pancakes a bit unevenly, but returned quickly to its preheated temperature when we added room-temperature ingredients to the pan.
Overall, this pan is solidly constructed and gets the job done. It also comes with a limited lifetime warranty, which won't cover any damage you do to the nonstick surface but will cover manufacturer's defects.
Tramontina Professional Restaurant 10-in. Nonstick Frypan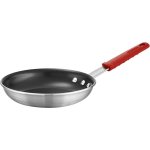 Tramontina Professional Restaurant 10-in. Nonstick Frypan
The Tramontina Professional Nonstick Restaurant Frypan has a long, rubber handle that is hard for me to love. While it did keep my hands away from the heat during testing, the balance and grip felt weird and uncomfortable to use.
On the flip (heh) side, the pan has an exceptional nonstick surface, producing a perfect omelet and fried eggs that flipped without clinging to the pan at all. Less sticking should mean quicker cleanup, but the handle has three rivets connecting it to the pan instead of the classic two-rivet system. While it's not a deal breaker, it does make the pan slightly harder to clean, forcing you to really dig your sponge into the sides.
Farberware Restaurant Pro Aluminum Nonstick 10-Inch Skillet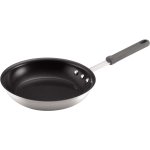 Farberware Restaurant Pro Aluminum Nonstick 10-Inch Skillet
The Farberware Restaurant Pro Aluminum Nonstick Skillet has a ridiculously long handle with an uncomfortable plastic cover that makes it feel awkward to hold. It browned pancakes a bit unevenly, but once again I had no complaints about the pan's nonstick surface.
Despite being the least expensive pan we tested, the Farberware's nonstick abilities can absolutely compete with those of much pricier pans. It was one of the lightest pans we tested, but also has the smallest cooking surface area—a full inch less than the competition. And, like the Tramontina, the Farberware features three rivets that make this pan a little more difficult to clean. All in all, I didn't love it but I didn't hate it, either.
T-Fal E93805 Professional Nonstick 10.25 Inch Fry Pan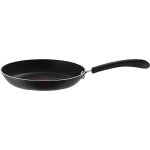 T-Fal E93805 Professional Nonstick 10.25 Inch Fry Pan
From one of the most well-known names in inexpensive nonstick cookware, the T-Fal Professional Nonstick Fry Pan seemed poised to perform. The pan's claim to fame is the Thermo-spot indicator, an area of the surface that displays a solid red spot when the pan is preheated, but unfortunately, this feature didn't work well on my gas cooktop. While it did heat up quickly, T-Fal's nonstick abilities paled in comparison to the other pans, producing the worst omelet of the group.
The contoured silicone handle provided a nice grip, with a shape that makes flipping motions easy. The silicone material on the handle extends all the way up to the base of the pan which causes the whole handle to heat up very quickly. While I liked the pan's shape and compatibility with induction cooktops, its performance fell disappointingly short.