I'm lousy at folding clothes—I've grown beards faster than I can pack a bag for a week-long adventure. So, when I arrive at my destination, it's a little disheartening to open my suitcase and discover that its contents aren't as neatly organized coming out as they were going in.
That's why I love packing cubes, like our favorite model, the eBags Six-Piece Packing Cube Value Set (available at Amazon): they're like little suitcases you put inside your suitcase! If you pack your carefully folded clothes into a good set of packing cubes before loading them into your luggage, they're practically guaranteed to come out neat and ready to wear.
To help you find a great set of cubes to use on your next trip, I spent days researching what makes a great packing cube before calling in the 10 best sets on the market to test.
Here are the best packing cubes, in order:
eBags Six-Piece Packing Cube Value Set
Shacke Pak - 4 Packing Cube Set
Arc'teryx Index Packing Cubes 10 + 10
Eagle Creek Pack-It Original Cube Set
Eagle Creek Pack-It Specter Cube Set
AmazonBasics 4-Piece Packing Cube Set
Pro Packing Cubes Lightweight Travel Organizers
Bagail 4 Set Packing Cubes
Travelwise Durable 5 Piece Weekender+ Set
Mossio 7 Set Packing Cubes with Shoe Bag
Updated February 28, 2018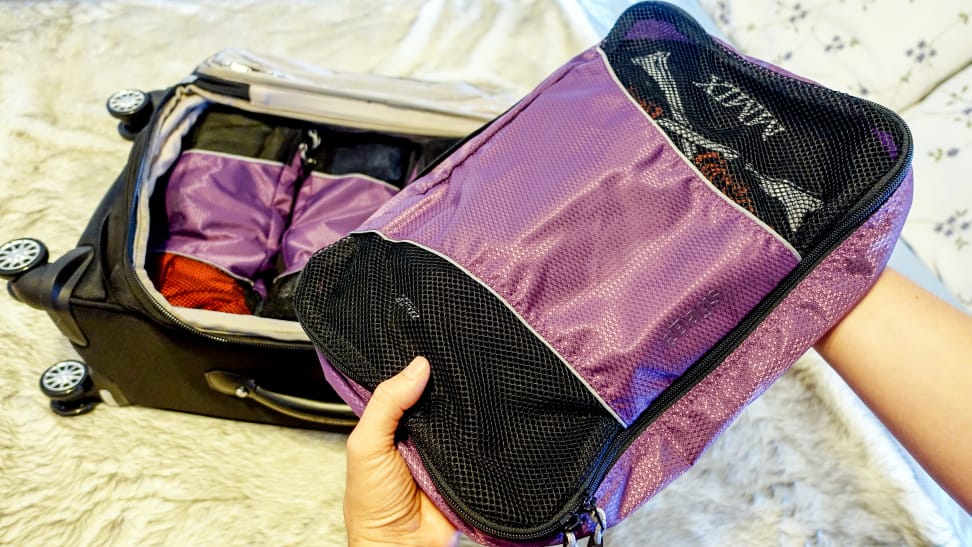 eBags Six-Piece Packing Cube Value Set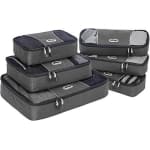 eBags Six-Piece Packing Cube Value Set
Best Overall
This set of six packing cubes from eBags is a great choice for anyone looking to organize the contents of their suitcase or carry-on.
For just under $50, you get a large 17.5" x 12.75" x 3.25" cube that's good for bulkier items like sweaters or dresses, a 13.75" x 9.75" x 3" cube that's ideally sized for packing dress shirts, an 11" x 6.75" x 3" and 3" cube that I found worked great for underwear, and three slim 2.8" x 14" x 5" cubes that can be used for organizing small items.
The cubes are made of lightweight nylon and boast durable, fully finished interior seams, along with YKK zippers that open and close easily. eBags also sells similar cubes in a sets of three and four, in case you usually have more or less stuff to pack.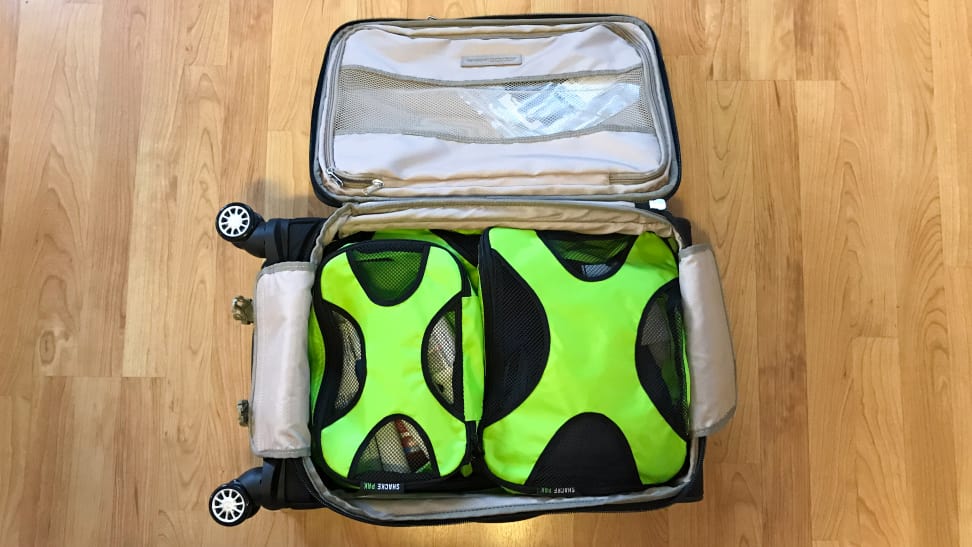 Shacke Pak - 4 Packing Cube Set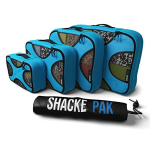 Shacke Pak - 4 Packing Cube Set
Best Value
Shacke's set of four packing cubes isn't as well made or as versatile as our main pick, but it's a good choice for travelers on a budget.
For around half the price of the eBags set, you'll get a 17.5" x 12.75" x 4" cube that's perfect for pants or larger items like a hoodie, a 13.75" x 12.75" x 4" that's suited to folded dress shirts, a medium-sized 13.75" x 9.75" x 4" cube that can handle things like t-shirts or swimsuits, and a smallish 11" x 6.75" x 4" cube for undies and socks. When the cubes aren't in use, they squish down flat for storage and can be kept together in the kit's included laundry bag until it's time for your next trip.
My only gripe with this set is that the smallest cube is still too big to use for things like toiletries, and almost too small to fit all of the underwear I'd need for a seven-day trip.
How We Tested
The Tester
My name's Seamus Bellamy. I'm a full-time digital nomad, spending my life on the road. As a consequence, I've become passionate about tracking down technology and accessories designed to make travel more rewarding and less stressful. I think anything that can make packing and unpacking your clothes easier rates pretty high on that list.
The Tests
What makes a good packing cube is hard to objectively quantify, since they're all basically just zippered boxes made of fabric. So long as they're not grossly flawed, just about any of them will keep the clothing you travel with organized.
So, instead of looking at data sets and other serious science-based stuff, I decided to focus on subjective tests. I began by choosing clothing and sundries to take on two hypothetical trips:
A three-day beach getaway. For this trip, my packing list included a beach towel, three pairs of underwear, three t-shirts, two pairs of shorts, a set of swim trunks, and my toiletries.
A seven-day vacation. Ditching the beach towel, I set out seven days' worth of underwear, three t-shirts, two button-down shirts, three pairs of shorts, my e-reader, a pair of jeans, and some more presentable slacks, just in case I decided to treat myself to a fancy dinner on an imaginary night out.
I chose two pieces of luggage to take with me on these imaginary road trips: one hard-sided and one soft-sided carry-on bag. Then I collected the clothing for each scenario, folded it up as neatly as I could, and placed it into one bag and then the other.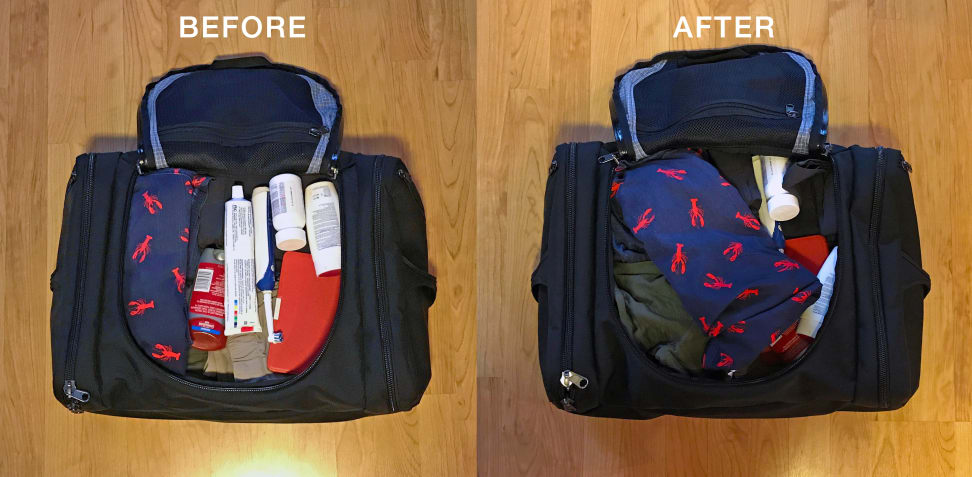 In each instance, I vigorously shook and flipped the suitcase in order to simulate how the luggage is tossed around in transit. Then I opened each case to photograph the disheveled state of my belongs. This provided me with a baseline for how badly the contents of my suitcases could be messed up without the benefit of packing cubes.
Next, I packed my two sets of clothing into each of the 10 sets of cubes I was testing. I immediately eliminated any cubes that couldn't accommodate both sets of clothes, and also nixed any that couldn't fit into my luggage without being folded or squished.
I gave each set of remaining cubes the same thrill ride as my cube-free clothes. All of them did their job almost perfectly. So, to determine the best, I turned to other, more specific factors—including quality of materials, quality of construction, bulk, price, and zipper smoothness—to choose the best of the best.
---
Other Packing Cubes We Tested
Arc'teryx Index Packing Cubes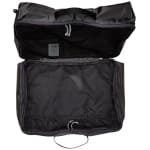 Arc'teryx Index Packing Cubes
Arc'teryx's Index packing cubes aren't cheap, but they do more than keep your stuff neat inside your suitcase. The larger cubes, such as the Index 10 + 10, can serve double-duty as a satchel for day trips or shopping excursions. Empty them of clothing, attach the included shoulder strap, and you're good to go.
Better still, you can opt to use one as an extra carry-on bag on your return home, stuffed full of mementos from your trip. These are the packing cubes that I use when I travel. I love them. Still, I can't recommend them for most people. If you only travel a few times per year, it's hard to justify paying as much for a single packing cube as you'd pay for a whole set.
Eagle Creek Pack-It Original Cube Set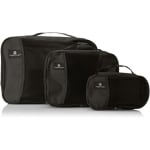 Eagle Creek Pack-It Original Cube Set
Eagle Creek gear comes highly recommended by well-regarded websites and travel experts, and for good reason—it's very well made, using tough materials and smart design. When I ordered this three-piece set for testing, I thought it would wind up winning tops marks. Unfortunately, this wasn't the case.
Sure, you get carefully sewn 300D poly micro-weave construction and reliable zipper pulls, but quality construction isn't enough to make them a smart buy. See, the largest cube in this set wasn't wide or tall enough to allow me to pack a dress shirt or pants. You can purchase an Eagle Creek cube that's large enough to pack your jeans, shorts, and dress pants for around $14, but that nearly doubles the price of this set. Even then, your piecemeal collection of cubes is still missing an organizer cube properly sized to deal with smaller sundries.
To sort this out, you'd need to invest in the company's extra-small cubes, which tack on roughly another $7 apiece. Adding three of these extra-small cubes, along with a cube sized to fit your larger items, would give you the kind of versatility that our main pick affords, but at a significant price premium. In my opinion, they're not any better than our main pick, so save yourself the money and hassle.
Eagle Creek Pack-It Specter Cube Set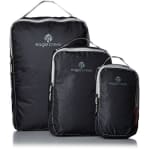 Eagle Creek Pack-It Specter Cube Set
This three-piece packing cube set boasts the same dimensions as Eagle Creek's Original Cube Set but is made of significantly lighter materials and comes with a significantly higher price tag.
Despite their lightweight design, these cubes are incredibly resilient. This would make them ideal for use on a backpacking trip, where extra weight is a liability. But in order to get all of the cubes you might need to organize your clothes, you'd have to go through the same rigmarole as you do with the heavier Original Cube Set, at an even higher cost.
I can see how these lighter cubes could be attractive to some people—myself included—but they're not the right ones for most people.
AmazonBasics 4-Piece Packing Cube Set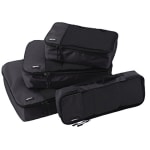 AmazonBasics 4-Piece Packing Cube Set
There's nothing really wrong with this four-piece set, but there's nothing great about it, either. I found that the cubes' zippers were fine, but not as easy to pull as those on our eBags or Shacke picks. The cubes were also bulkier and not as well-sewn as some of the other models I tested in the same price range.
More importantly, the stitching on the inside made it difficult to remove a single item of clothing without having to fully unzip the cube and remove everything else. That's not cool.
Pro Packing Cubes Lightweight Travel Organizers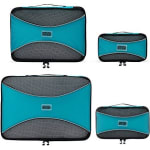 Pro Packing Cubes Lightweight Travel Organizers
The price is right for this four-piece set, but a couple of issues kept me from giving it my full-throated recommendation.
First, none of the cubes in this set are appropriately sized for packing folded dress shirts or blouses. So, even though your shirts will emerge from the cubes in the same disposition as when you packed them, you'll still need to iron them before they can be worn. Additionally, the zippers are merely acceptable—they easily got bound up when I used them.
Bagail 4 Set Packing Cubes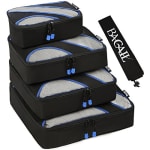 Bagail 4 Set Packing Cubes
This four-piece set can be found at Amazon for a few bucks less than our value pick, and, just like the four-piece set from Shacke, the Bagail comes with a laundry bag. But these cubes aren't as nicely sewn as Shacke's, and their zippers don't zip or unzip nearly as smoothly.
Travelwise Durable 5 Piece Weekender+ Set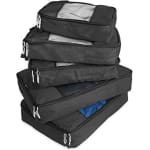 Travelwise Durable 5 Piece Weekender+ Set
Avoid
"Durable."
Travelwise uses this word, but I do not think it means what they think it means.
I was able to tear the mesh in the lid of one of this set's cubes with the tip of my finger—a test that every other set of packing cubes with mesh tops passed with flying colors. Avoid.
Mossio 7 Set Packing Cubes with Shoe Bag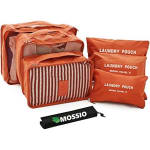 Mossio 7 Set Packing Cubes with Shoe Bag
Avoid
The zippers on these packing cubes were the lowest quality of any that I've tested. While sealing up the largest cube in the set, the head of the zipper broke off in my hand. You should steer clear of these things.