Single-serve espresso machines let you knock out a great espresso at home without mastering all the ins and outs of grinding, measuring, and tamping. In addition to requiring absolutely no skill on your part, these pod-based espresso makers are quick, neat, and give totally consistent results. Shot after shot comes out with a beautiful layer of crema, the signature of a true espresso.
To find the best bang for your buck, we chose seven espresso machines that work with capsules, all priced under $350 and put them to the test. We examined temperature, timed how long a brew took, rated the affordability of capsules, and measured crema. I can drink coffee any time of day (or night) so I was able to down cup after cup in the quest of a machine worthy of a place in your kitchen.
Our winner, the Nespresso Citiz (available at Amazon for $249.00) wasn't the cheapest in the pack but has features that make it worth the splurge. If you need to compromise on price or space but not espresso quality, we have a machine for you too.
Here are the best single-serve espresso makers, in order:
Nespresso Citiz
Nespresso Essenza Mini
Nespresso Pixie
Nespresso Expert
FrancisFrancis for Illy X9 iperEspresso
Nescafe Dolce Gusto Esperta 2
Illy Y3.2 iperEspresso
If you're looking to make coffee and espresso, check out our guide to the best pod coffee makers.
Updated January 05, 2018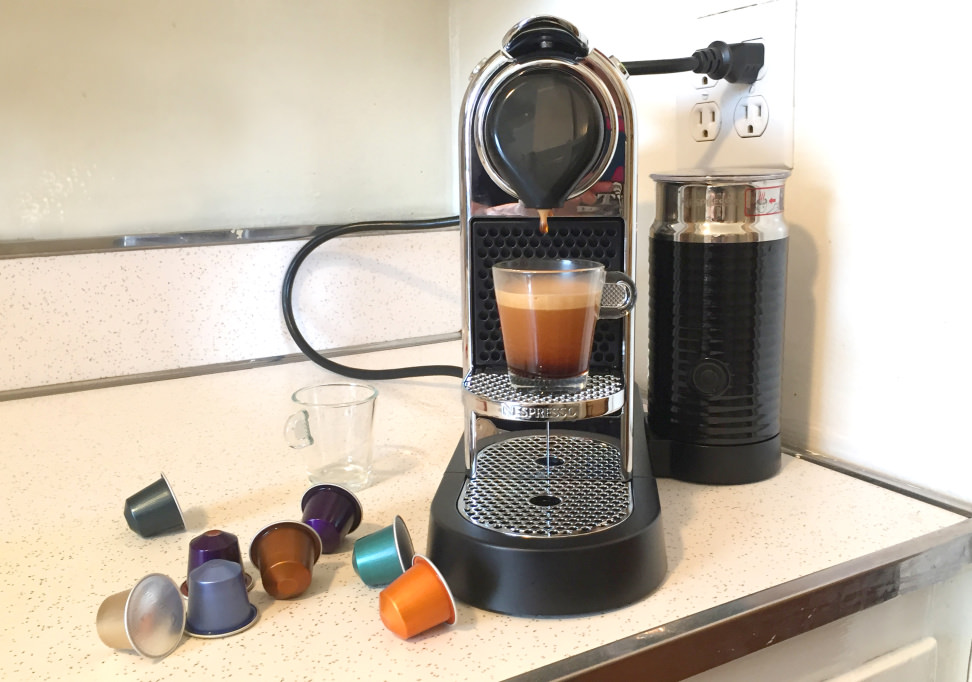 Nespresso Citiz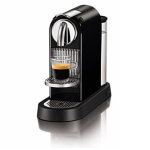 Nespresso Citiz
Best Overall
The Nespresso Citiz by DeLonghi is just plain gorgeous. While not compact, it's narrow so it doesn't take up a wide swath of countertop space. As the tank (which easily detaches for filling at the sink) holds enough water for about 17 cups, this brewer is perfect for espresso-loving households that feed their habit throughout the day.
The Citiz uses OriginalLine capsules, which only brew espresso. (If you want an 8 oz. cup of coffee, you'll have to buy a VertuoLine machine.) Each time you pop in a new capsule, the last one is automatically dispensed into an internal chamber which you empty after nine cups. With a lever to lock the capsule in place and just two buttons—one for espresso and one for the larger lungo (Italian for long) it couldn't be easier to operate. If you want to brew into a tall cup for a double cap or an iced beverage, you flip up the espresso cup holder.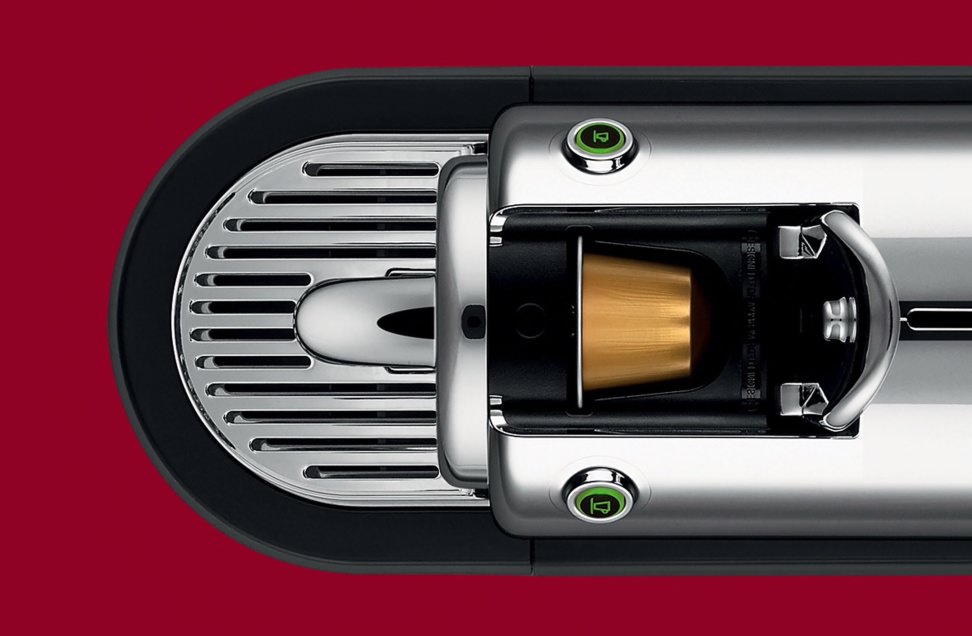 Every cup of espresso brewed in less than 25 seconds, was 2 ounces or less, and was hot enough even if you opt to add a dash of cold milk. If you like your cup shorter (fewer ounces and more intense) or taller (more ounces but less strength) you can set the volume you prefer by holding down the button as it brews and releasing it when your desired amount is dispensed; the Citiz will remember the setting. In cup after cup, Nespresso espressos had the combination of bitter and sweet notes that make espresso so satisfying.
Every cup of espresso brewed in less than 25 seconds
Tweet It
The company offers a large variety of capsules from beans grown all over the world, including special editions and flavored coffees, varying in price from 70 cents to $1.25 per capsule. One objection to Nespresso systems is that the aluminum capsules are discarded after a single use. Nespresso has addressed this by making the capsules recyclable and providing mailers to send them back for processing. You can also buy compatible capsules that are compostable and biodegradable. In our tests we found that they were less consistent than Nespresso-branded ones at delivering a layer of crema and in taste.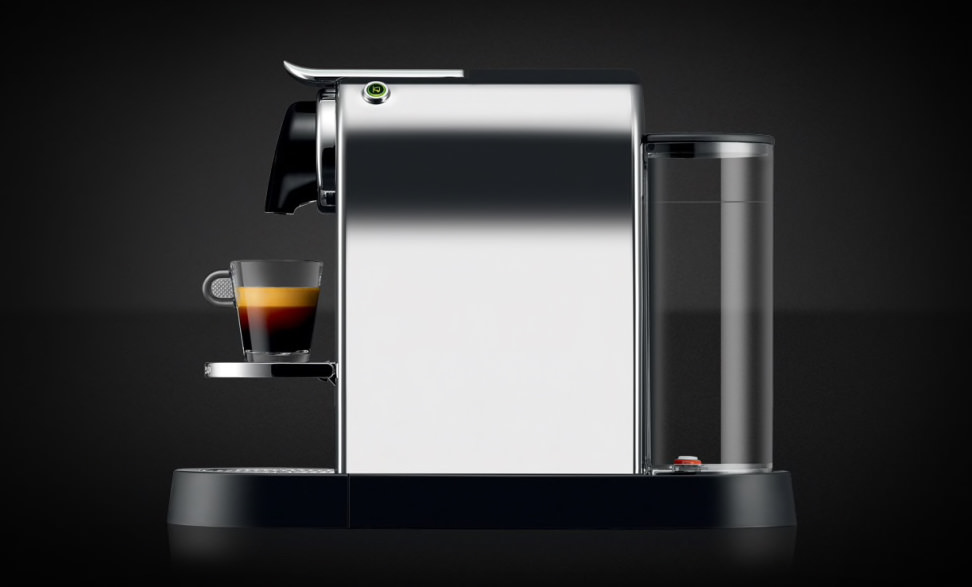 Cleaning is pretty much a non-issue. There are a few parts to rinse off occasionally. Every 3 months or so, more often if you have hard water, you will want to descale your machine according to the instructions in the manual. The Citiz & Milk is available with a red, white, black, or chrome finish.
If you prefer a version with a matching frother, you can buy the Nespresso Citiz & Milk for around the same price, depending on sales. It comes with a Nespresso Aeroccino 3 milk frother that anchors on one side of the machine. Unlike the all-new Aeroccino 4, the Aeroccino 3 does not have a dishwasher safe milk jug.
Nespresso Essenza Mini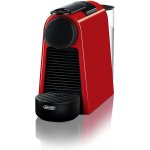 Nespresso Essenza Mini
Best Value
With the new Essenza Mini, you get the same great cup of crema-topped espresso you would from even the largest, most expensive Nespresso machine—but you don't have to give up as much of your kitchen's precious counter space. Wondering what you sacrifice? Although it's attractively designed, the Essenza doesn't quite have the heft of the pricier models.
Its tank only holds enough water for about 10 shots but as it's recommended that you refill the tank with fresh water every day, this won't be a drawback unless you keep yourself super caffeinated. After every 6 brews, you'll need to empty the used capsule holder.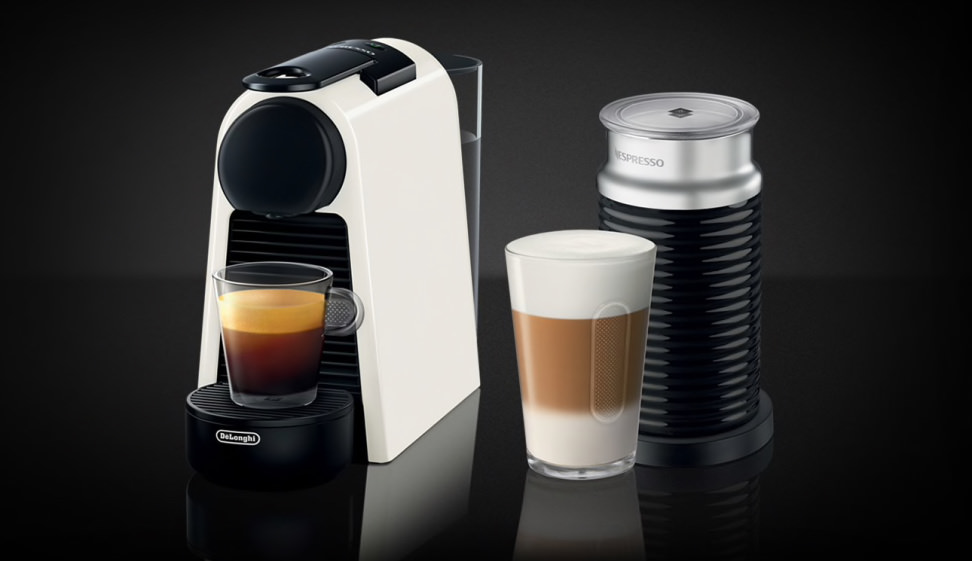 If you buy the Nespresso Essenza Mini Bundle—$179 for the Breville—you get the same Aeroccino 3 frother that comes with the Citiz & Milk—but it will sit on your countertop and not on the machine.
The Essenza comes in 2 styles, both of which are 8 inches deep. The Mini by Breville is 13 inches tall and just 3.5 inches wide, and comes in black, white, and grey. The Mini by DeLonghi is 12.75 inches tall, 4.5 inches wide at its base, and somewhat trapezoidal. It comes in your choice of black, white, green, and red.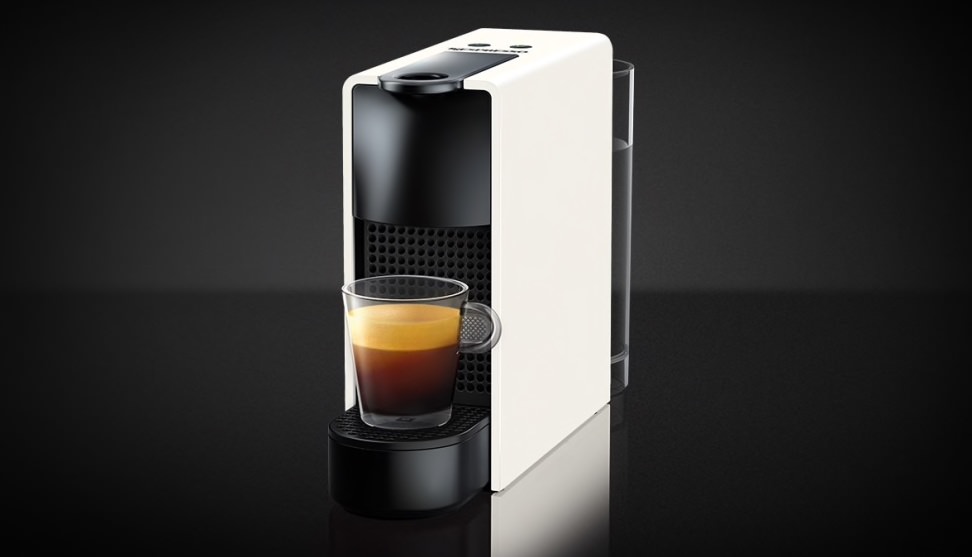 How We Tested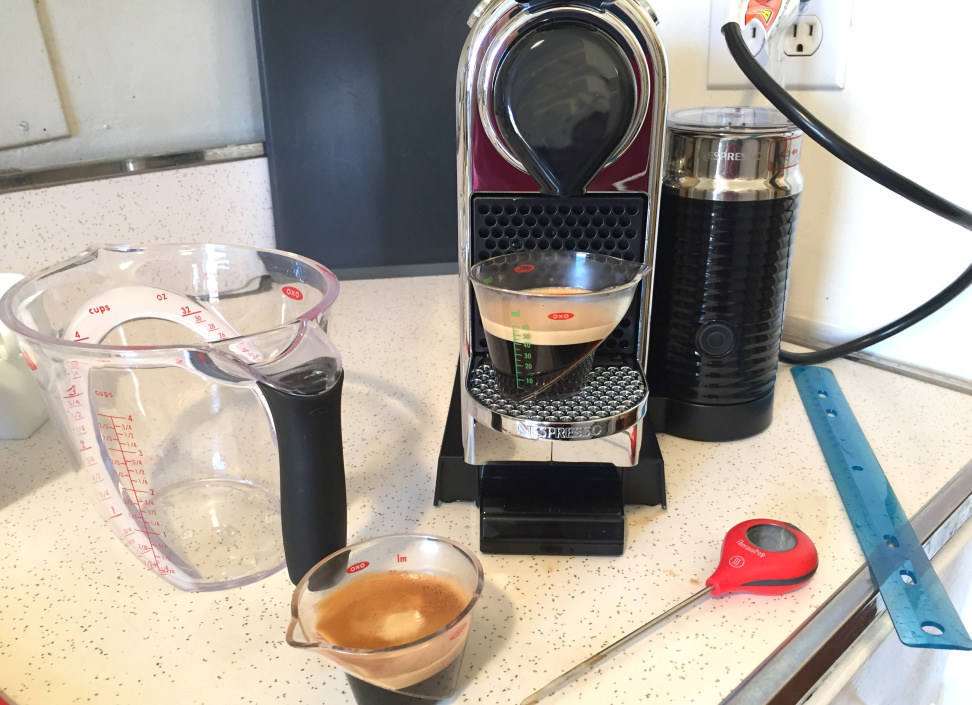 Hi, I'm Sharon Franke, and I've been testing kitchen equipment for the past 30 years.
In addition to reviewing and writing about everything from potato peelers to pots and pans to gas and electric ranges, I'm an avid home cook. Before I became a cooking tools maven, I worked as a professional chef in New York City restaurants for 7 years. If I have one great love (other than my husband), it's coffee. My expertise in scientific testing, skills in the kitchen, and passion for java make me uniquely qualified to judge espresso makers.
I tested seven espresso machines that use capsules rather than ground coffee. Each machine sells for under $350, and was evaluated on design, ease of use, and most importantly the quality of the cup of espresso and/or cappuccino it delivered.
Since this is an appliance that is going to live on your countertop, how it looks and how much real estate it will take up is something to consider. Ultimately it is up to you to decide what appeals to your sense of style and how much space you're willing to dedicate, but we gave high marks to good construction and attractive design and machines that were no larger than they had to be to perform well.
We considered the clarity of the manual, how easy it was to get the espresso maker up and running, fill the tank with water, use the controls, and clean the machine as well as about how many espressos you can expect to brew without refilling the tank.
When it came to brewing, we measured how long it took to deliver an espresso and the volume and temperature in the cup. Ideally, an espresso should brew in 20 to 30 seconds, measure about 2 ounces, and be around 160°F. When a machine included a frother, we looked for milk that was whipped to at least half its volume, and easy to fold into our coffee.
---
Nespresso Pixie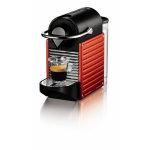 Nespresso Pixie
Until the Essenza Mini came along, this was the smallest Nespresso machine you could buy. It is still a very reliable choice if every single bit of space on your countertop isn't precious.
We found it slightly sturdier but also just a little less easy to use as it is easy to neglect to push the lever all the way down. Do that, and it will pour coffee all over your counter instead of into the cup. The tank holds enough water for about a dozen cups of espresso. You can choose an aluminum or titanium finish.
An Aeroccino 3 frother is included if you buy the Nespresso Pixie Bundle for $269.
Nespresso Expert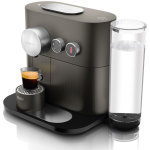 Nespresso Expert
If you like the latest bells and whistles, the Expert is the machine for you. Its basic usability is the same as other Nespresso machines and you get the same consistently good espresso but you have a broader array of settings from small ristretto to americano as well as hot water. Designed for heavy users, the Expert's tank holds enough water for about 18 shots and the interior compartment about 10 capsules.
In addition to being able to control the volume each setting delivers, you can easily adjust the coffee temperature. Because you make all these choices before you press the brew button, you do have to check the settings when you change up your drinks.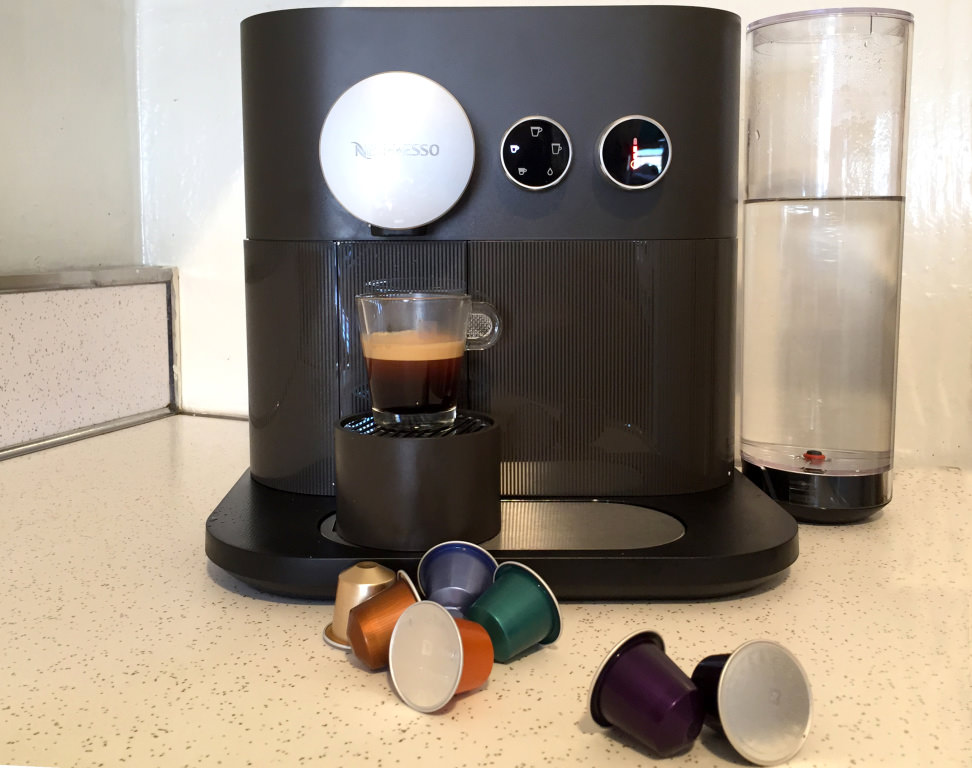 The biggest innovation however is the Bluetooth connectivity which allows you to control your machine and order coffee through an app on your phone as well as receive alerts when the tank is empty or the used capsule compartment is full.
Now we'll be honest, it's pretty easy to order new capsules online without the app. And is it really necessary to start the brewing process from your phone rather than by pressing the button on the appliance itself? We did find it more convenient to adjust the amount of coffee for each setting with the app than on the machine, but still caution you to think hard before purchasing the Expert (which doesn't come with a frother) for more than our other Nespresso picks.
FrancisFrancis for Illy X9 iperEspresso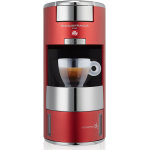 FrancisFrancis for Illy X9 iperEspresso
Many coffee drinkers believe the Italian brand, Illy, is the gold standard in espresso coffee. Using Illy capsules, the handsome sturdy X9 brews a single perfect espresso. In our tests it consistently brewed a very short half-ounce cup of in about 15 seconds or less.
We also found the espresso wasn't as hot as from some of the other machines we worked with. If you like a less intense beverage, you have the option of increasing the volume which will slow down the brew time a bit and up the coffee temp. There's a setting and drip coffee capsules for what Illy calls "long coffee," but anyone looking for a good old cup of Joe will be disappointed.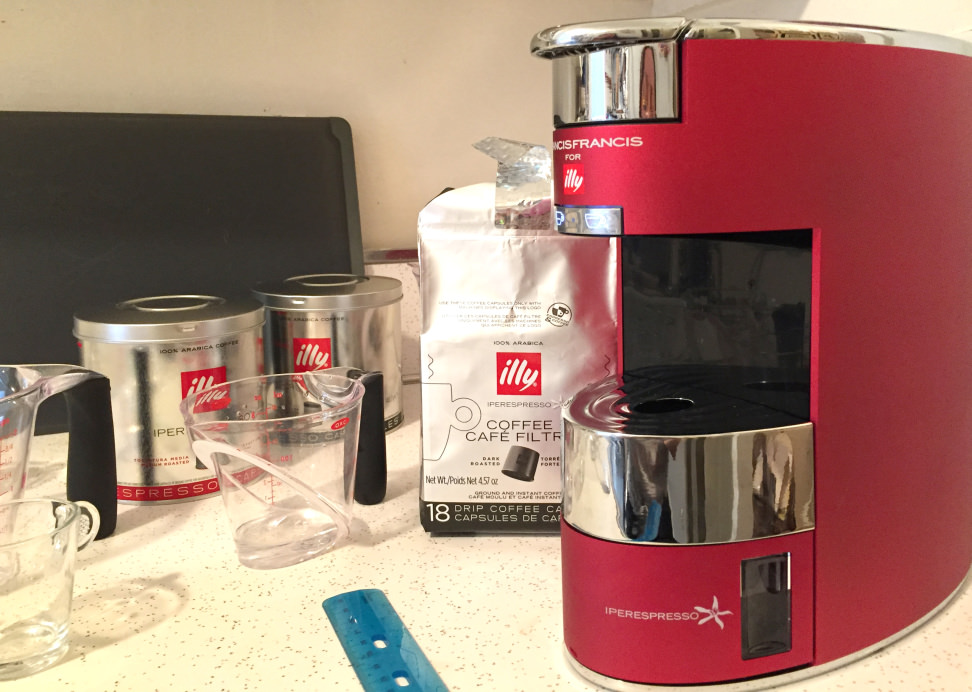 The tank, which holds enough water for approximately a dozen espressos, is housed in the base of the machine. While you can remove it to fill it at the sink, it doesn't pull out smoothly. Because of its shallow profile, replacing it when it's full or emptying it when the water's been sitting for a while can lead to sloshing.
However, the biggest drawback is that you are limited to Illy iperEspresso capsules. Although there is a selection of varieties offered, it's not as large as Nespresso's. If you want to make cappuccinos and lattes, you'll have to buy a milk frother. The X9 is available in red or black with chrome accents or all chrome.
Nescafé Dolce Gusto Esperta 2 by DeLonghi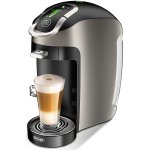 Nescafé Dolce Gusto Esperta 2 by DeLonghi
Think of the Esperta 2 as a drink station rather than an espresso machine. Yes, it makes an acceptable shot with a layer of crema, but what really distinguishes it is its ability to make everything from a vanilla latte macchiato to chai to peach iced tea.
To prepare a milk-topped beverage, you brew two capsules consecutively, changing the setting between each. The toppings are made from a dried powder that's reconstituted and lightly frothed during the brewing process. They definitely don't have the taste or the volume you get from frothing real milk froth, which means this is not the machine for a serious coffee aficionado.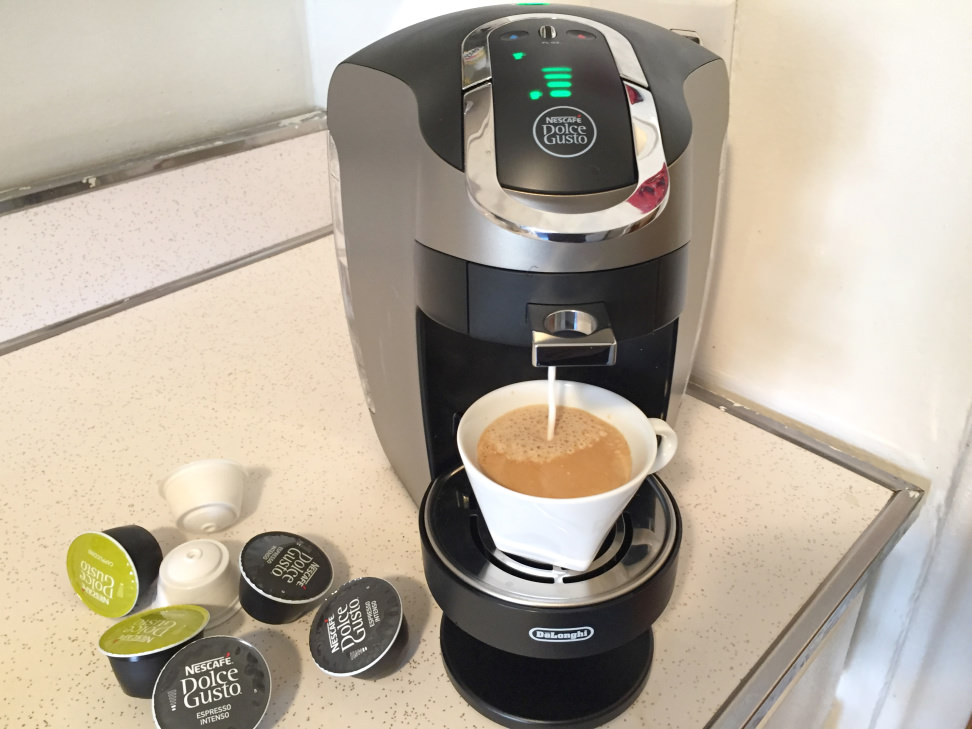 From the clarity of its diagram-filled manual to the grip in the tank, you'll appreciate that this appliance is exceptionally easy to use. However, unlike all the others we tested, it doesn't automatically dispense used capsules into an internal chamber so you have to pop each one out before you use another. A bin is included to hold them if you plan on recycling them but the machine is already bulky to begin with. The tank holds enough water for a whopping 22 cups of espresso, but most likely you'll be using the Dolce Gusto to make larger drinks.
Illy Y3.2 iperEspresso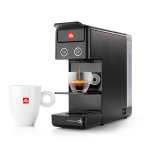 Illy Y3.2 iperEspresso
If you're an Illy fan, this is a less expensive—if less stylish—option than the X9. We also found it brewed more slowly and offered up a longer and hotter espresso. You do have the option of changing the volume but not the temperature. The tank holds enough water for about a dozen shots. For lattes, you'll need to buy a frother.
Our chief objection here is that the Y3.2 seemed "creaky". When you press the lever and remove and replace the tank, the parts don't fit together smoothly and we got the sense that they may break with the mildest abuse.