If your loved one's affection in February depends entirely on the size and grandeur of the Valentine's Day bouquet you bought... you might have some deeper relationship issues.
We can't help with those. But we can help you shop wisely for flowers in February, and earn some extra brownie points without throwing money down the drain—which isn't a very attractive thing to do anyway.
Visit a local florist
If you follow only one piece of advice on our list, make it this one.
Look, it's tempting to feel taken advantage of when shopping for Valentine's Day flowers. But of course what you're really experiencing is simple economics. Namely a combination of low supply (flowers in the middle of winter) and high demand due to the holiday. There are also a number of well-positioned and well-advertised companies that offer more convenience in exchange for even more money.
So your first step should be to cut out these middlemen. Companies like 1-800-Flowers.com do ship their own boxed flowers, but the best bouquets are contracted out to local florists in your area. You can simply call or visit these very same florists.
They'll probably be delighted to see you, too. A direct sale means better profits for them, and better prices for you. Everyone wins.
Don't scoff at the supermarket
Supermarket flowers were once justification for a breakup. Nowadays, local supermarkets around our office in Boston carry orchids, cacti, perennials, and—yes—bright red roses in February.
We're not necessarily talking about Wegmans or Whole Foods, either (although they do carry beautiful cut flowers). Nope, your local Stop & Shop might be all you need.
Worst case scenario: You walk in, you don't like what you see, you don't buy them. Best case: You cross Valentine's Day off your to-do list at a fraction of the cost.
Stack rewards card discounts
If you must go with an online retailer like 1-800-Flowers or FTD, taking advantage of certain credit card point programs can soften the blow.
First off, paying with points certainly makes it feel as if you're not spending any money at all. But beyond that, some programs—like Discover's Cashback Bonus—have additional discounts built right in.


For example, Discover It cardholders can buy 1-800-Flowers gift cards at a rate of $30 in store credit for just $20 worth of points, with an additional $5 added to each card purchased. So that's a total of $35 in flowers for $20 worth of points, and no cash out of pocket.
One more example: let's say you want to buy $120 worth of flowers (hey big spender). You can do that with $80 worth of points, but it'd be even better to use $20 worth of points four times in a row. That way, the extra $5 bonus is applied four times, and now you've got $140 in flowers for $80 worth of points. That's a whopping 43% discount and, again, no cash out of pocket. Check your credit card for similar discounts.
Don't accessorize
Along with your bouquet, some retailers will offer teddy bears or chocolates or special vases, giving you the opportunity to express your love with still more money.
Don't bite. Love comes from selflessness, long conversations, and time. Not stuffed animals. And if you must supplement your flowers with extra stuff, there are surely better, cheaper alternatives at any retailer except the one currently upselling you.
Don't forget the promo code
If you've gone the online retailer route and you're ready to place your order, stop right there. Ten seconds Googling that retailer's name plus "promo code" could save you $20 or more.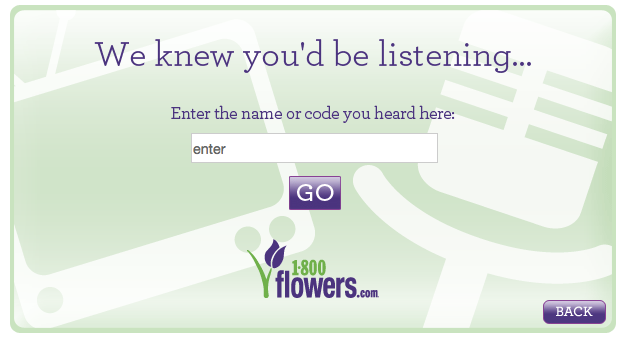 Success or failure here depends on which promotions the company happens to be running. But if you're shopping for roses in the middle of February, you better believe there's a sale or two going on.
Order now
Like right now. This article is over and, until February 14th, prices are going to get higher every single day.
We'll even help you start. Ready? Click this link.
Our editors review and recommend products to help you buy the stuff you need. If you make a purchase by clicking one of our links, we may earn a small share of the revenue. Our picks and opinions are independent from any business incentives.