We've reviewed hundreds of TVs at Reviewed.com. But do you know what every TV seems to have in common, from budget buys to fancy flagships? Crummy built-in speakers. While a full-fledged sound system is the best way to go, even a modest investment can make a big difference.
Generally priced somewhere between a full surround sound system and low-end desktop speakers, soundbars are often the simplest, easiest way to drastically improve your home audio. But which one is the best? While there are some great, expensive soundbars out there, we decided to take a look at the ones that fit a more reasonable budget.
We spent weeks putting the best models on the market through their paces, polling a variety of listeners on everything from sound quality to ease of use to extra features like wireless connectivity. The result? These are the best soundbars you can buy right now for less than $250.
Updated January 11, 2018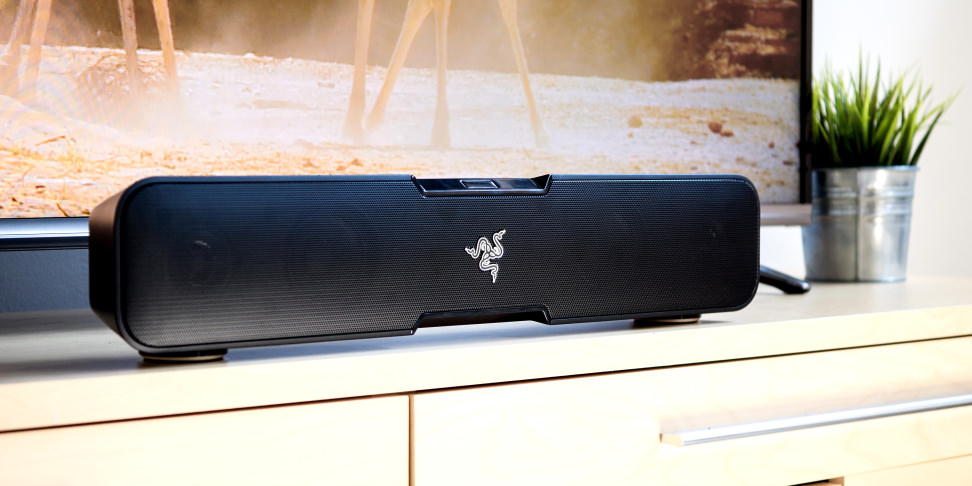 Razer Leviathan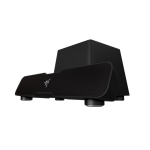 Razer Leviathan
Best Overall
The Razer Leviathan is Razer's gamer-focused entry into the home audio space. Starting at $199, the Leviathan boasts a uniquely tailored design and 5.1-channel support—including an individual Dolby sound mode—and manages to save space while delivering 60 total watts of output.
But as it turns out, you don't need to be a gamer to really love this compact, powerful soundbar. Our surveyors not only loved the Leviathan's rich bass presence during music, many also found that this soundbar adds healthy mid-range and highs, too.
Razer's gamer-focused logo may be a little too "Slytherin" for your tastes, but behind the branding is a sturdy design, intuitive interface, and audio quality that will benefit everything you use your TV for.
Polk Magnifi One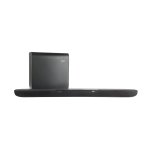 Polk Magnifi One
Though it starts at $299, the Polk MagniFi One is widely available for $249 or less, and includes a wireless subwoofer with a total combined output of 240 watts. The MagniFi is one of the heaviest hitters in this price range, and includes all of the standard audio adjustments and features like Bluetooth connectivity, optical, and analog (3.5mm) inputs to cover all the bases.
The MagniFi One proved very popular amongst our listeners, absolutely blowing away stock TV speakers thanks to its beefy bass presence—especially useful during movie night. The more traditional design should also mesh well with any living room setup, while the design earned props from our panel for its straightforward interface and rich feature set. The only drawback? The included remote is tiny, cheap, and looks like something you'd use to control the air conditioning in a Motel 6.
Vizio SB3821-C6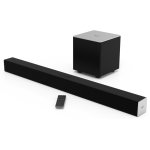 Vizio SB3821-C6
The Vizio SB-3821 is the 2.1-channel version of one of the best-selling soundbars of 2015. You can get the version we tested—which includes the soundbar, remote control, and wireless subwoofer—for $159 online and at various retail locations. This 38-inch soundbar delivers 100 dB of audio power, and supports major formats like Dolby Digital, DTS Studio Sound, and DTS TruSound.
Vizio's sleek, minimalist approach to design appealed to most of our surveyors, but they also found its interface to be a bit confusing. Specifically, the SB-3821 uses a series of side-mounted LED lights to show changes in volume. While this functionality is fine, even basic adjustments like switching audio inputs proved challenging. However, once you've decoded the byzantine controls, the SB-3821 is an excellent value—especially for the $150 online price.
JBL Boost TV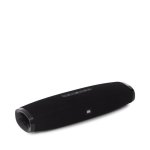 JBL Boost TV
Available for $199, the JBL Boost TV may not be as big and flashy as some of the other soundbars in the roundup, but it is much louder than it looks. Speaker design is definitely in JBL's wheelhouse, and the company has managed to pack plenty of sound into the minimalist Boost TV without sacrificing on features like Bluetooth connectivity.
Though it's easily the smallest 'bar in the bunch, the Boost TV is an excellent choice for smaller TV sets or even in front of a desktop monitor. Unfortunately for the price you don't get a subwoofer or a remote, and our panel wasn't overly impressed with the sound quality. But if you're looking to up your audio game while saving as much space as possible, the Boost TV may be your best choice.
Samsung HW-J355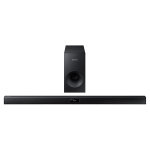 Samsung HW-J355
Samsung's HW-J355 crams a 120-watt, 2.1-channel speaker system into a sleek soundbar/subwoofer combo for as low as $129 online. The wired subwoofer and soundbar offer Bluetooth support, multiple sound customization modes, and functionality with Samsung's "Audio Remote" app.
Our survey group loved the HW-J355's feature set, but our panel found that it was less impactful than the competition. It gets loud, but it tends to produce muddled sounds that weren't as clear as other soundbars. It also is one of the few models in our group that still has a wired subwoofer, restricting how you can set it up in your living room.
Bose Solo 5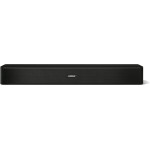 Bose Solo 5
Bose has long been a household name for audiophiles, and the Bose Solo 5 aims to maintain that legacy within the soundbar realm. Starting at $249, the Solo 5 includes a fully fleshed-out universal remote, support for wireless Bluetooth playback, and a proprietary bass enhancement system that aims to deliver a booming audio experience in a minimalist, frills-free package.
The Solo 5's focus on minimalism is appreciated, but for this price we were expecting a slightly more polished experience. The main issue here is the remote, which is a giant universal number that Bose expects you to use for everything in your home theater instead of the other way around. The exclusion of a sub-woofer is also a bizarre choice for the price. The Solo 5 still manages to produce a respectable low end despite it, but we wouldn't pay full price.