Beauty
Fenty Beauty's body shimmer gave my skin the glow of my dreams
One pump transported my skin to a vacation in the tropics.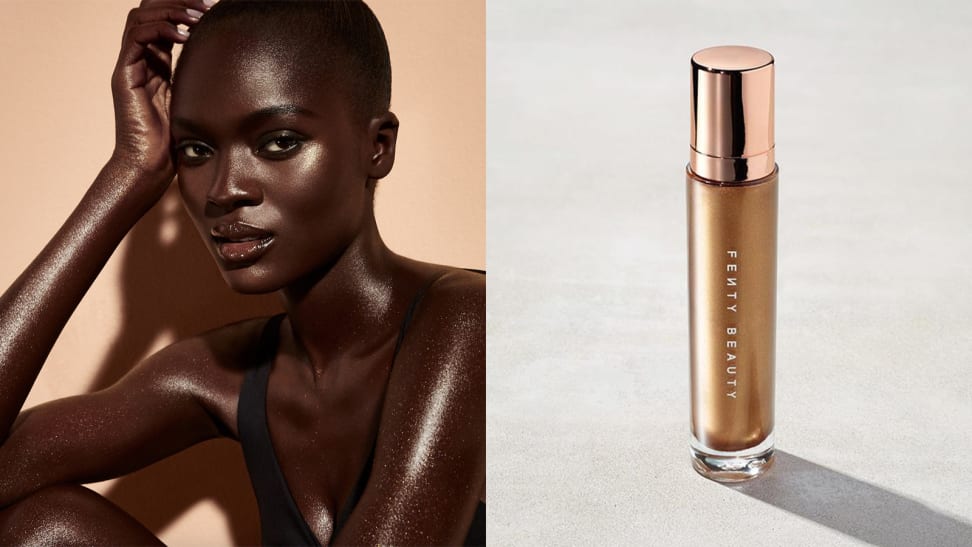 Credit: Fenty Beauty
A great body oil or shimmer is the golden ticket to a summer's glow all year round. These types of products are jam-packed with shimmer or glitter specs that make you look like you just came back sun-kissed from a tropical vacation. I've always loved the idea of getting glowy skin from a bottle, but felt turned off when I'd think of the potential mess that pouring oil on my body could come with. So when Fenty Beauty launched its Body Lava Body Luminizer, which claims to give the dewy skin effect without the mess, I gave into my curiosity.
I recently tested Fenty Beauty's highest-rated products and found some new beauty must-haves in the process, so I went into testing the Body Lava in the shade "Brown Sugar" with high hopes and ready to add another product to my arsenal—and overall I was not disappointed.
What does the Fenty Beauty Body Lava claim?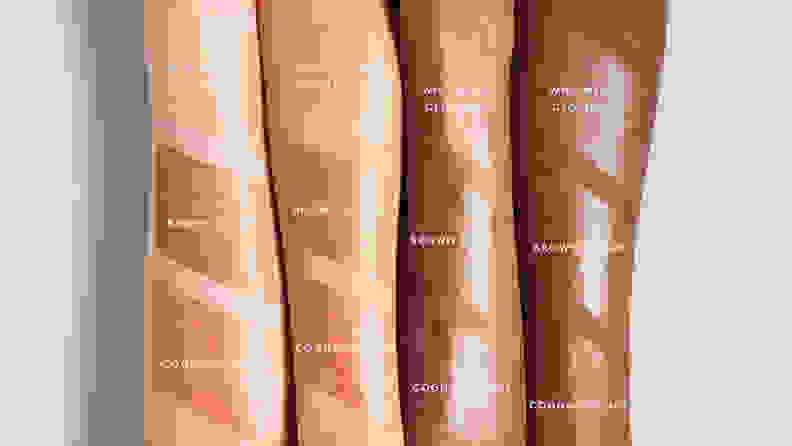 Fenty Beauty's Body Lava Body Luminizer is a "shimmering body liquid to veil skin in a high-shine finish." It comes in three shades: "Who Needs Clothes?!" (rose gold), "Brown Sugar" (bronze), and "Cognac Candy" (copper). It has a gel-based formula that claims to leave the skin feeling dewy with "light-diffusing micropearls" and a "sheer tint of color designed for all skin tones." It also claims to have an "addictive" floral vanilla scent.
How did I test Fenty Beauty Body Lava?
I used the Body Lava over the course of a month during various outings to see how well the product would hold up and if there were any standout benefits or drawbacks. I wanted to determine the following: How would it pair with my sunscreen? Would it "melt" off my skin in the heat and transfer on to—and possibly ruin—my clothes? Would it last through typical summer outings without streaking or wearing off unevenly? Would I look like a sun-kissed goddess, as Rihanna claims?
The first time I tested this product was on a hot Saturday in New York City for a brunch outside with friends. I also wore the Body Lava in the evening to see how it looked on my skin under artificial lights. Lastly, I used the product before a day of lounging around the pool. (Although this product doesn't claim to be waterproof, I wanted to know if it could withstand some splashing around in the water.) I always wore the product for at least three hours to see how long it lasted on the skin and how it felt over time.
What's it like to use the Fenty Beauty Body Lava?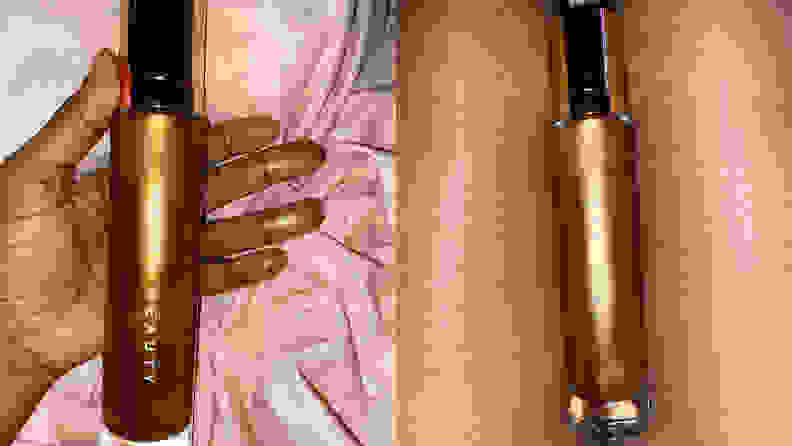 The first thing I noticed about this product was its super-sleek packaging. It comes in a glass bottle with the Fenty Beauty logo across the front and a rose gold lid that reveals a pump once you take it off. Because of the glass bottle, the product has a little weight to it, but nothing that would weigh your bag down if you wanted to carry it with you. The transparent glass packaging and shimmery brown fluid inside it makes the product look gorgeous sitting on my vanity. With its gel-like consistency, it doesn't move around in the bottle when you shake it, as you might expect from liquid or oil body shimmers.
On clean skin, I'd apply sunscreen or lotion, depending on if I was going out in the daytime or at night, and then follow up with the Body Lava.
The bottle's pump disperses a sliver of product about the length of my pinky instead of a glob as you might expect. And that's all you need, as a little bit of this formula goes a long way—one pump covers my entire arm with a bit left over to use on the other arm. Fenty recommends applying the product with its Face & Body Kabuki Brush 160, but I opted for my fingers for my first application and later tried using a similar flat-topped kabuki brush I already owned.
As I began to spread out the product with my fingers, I was a surprised that the product did not look as opaque on my skin as it did in the bottle. For this reason, I avoided thoroughly rubbing the formula into my skin, as I would any lotion or cream, because I wanted the bronzed shimmer to sit on top of my skin and reflect the light for a noticeable glow. Instead, I used my fingers to gently spread this product around to get an even layer in the spot that I was applying it. The whole application process took about three to five minutes to cover my arms, legs, and chest, depending on how much skin was exposed. From there, I'd let the product dry down for about two minutes before moving about my day outdoors.
What did I like about the Fenty Beauty Body Lava?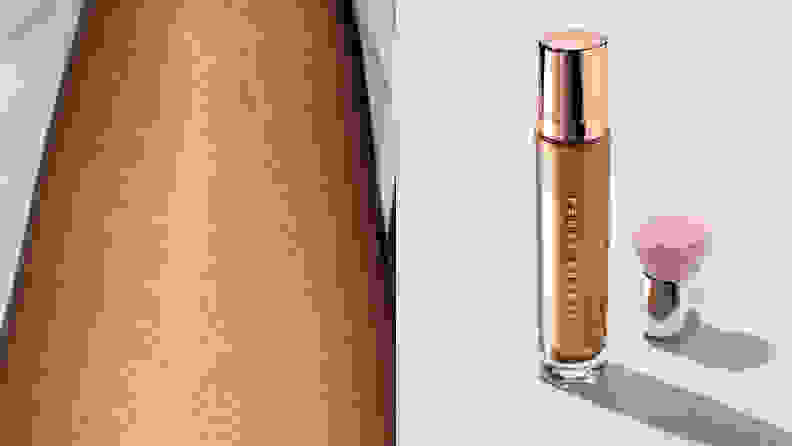 I love the consistency of this product, which pleasantly surprised me because I prefer creams or lotions over gels on my dry skin. The product dries down within a couple of minutes and the result leaves my skin feeling soft and smooth to the touch as if I had used a thick moisturizer.
The first swipe looked intimidating, as it resembled the metallic, bright gold color I saw in the bottle, but it's very easy to blend in and achieve a more subdued shimmer effect on the skin. The scent smells divine—like a floral fragrance with warm, sweet notes. (Fenty, if you see this, I wouldn't hesitate to buy a corresponding perfume.) While in the bottle, the body shimmer has a faint vanilla scent, but it got stronger once I applied it to my skin. While I loved that, you may not if you have a sensitive nose, as the scent lingers all day.
The Body Lava appeared similarly shimmery in both natural sunlight and artificial light. It also didn't budge much after my day at the pool, even after jumping into the water. It left a few sparkle specs on my towel after drying off my legs, but I was pleased that my towel didn't have glittery brown shimmer stains all over it.
What did I dislike about the Fenty Beauty Body Lava?
Although the product dries well, it is not 100% transfer-proof. To be fair, it doesn't claim to be, but I was disappointed to see the product transfer onto my hands or elbows if I touched or leaned onto my legs for a few minutes. Still, it only appeared to transfer tiny glitter flecks rather than the color of the formula onto my body or clothing, so I wasn't too bothered. Plus, this mostly occurred on a hot summer day when I pressed down or rested a hand for a few minutes on a spot where I applied the product. It didn't melt or slide off my skin in the heat. The subtle glowy finish it had in the sunlight and non-sticky feel were worth the small drawbacks.
I can see why the brand recommends using this product with a brush, as my fingers were "shining bright like a diamond," as Rihanna sings in "Diamonds." However, that was easily resolved by washing the product off my hands with soap and water once I was done applying it to where I wanted a glow. That said, I had to be careful about touching anything directly after using this product because it will get onto anything you touch. Wash your hands before getting dressed or doing your hair after using this product. When I used a kabuki brush, there wasn't a major difference in application or the finished look, but it was great that it kept my hands clean. It was also slightly easier to move the product around with the brush due to the dense bristles.
Should you try the Fenty Beauty Body Lava?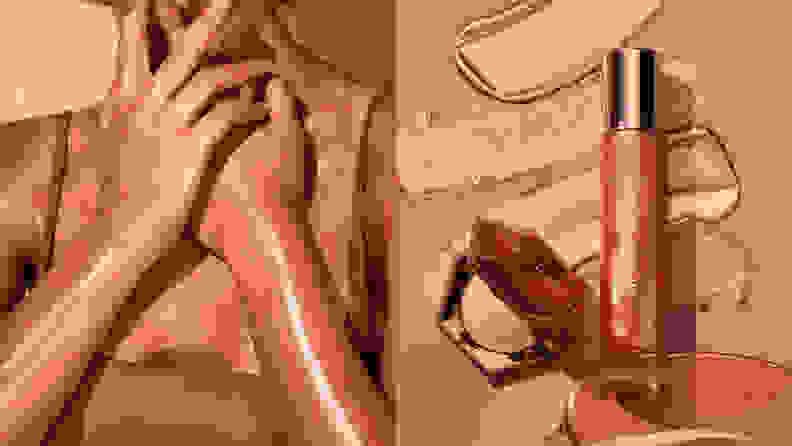 Without having tried any other body shimmers, I have no basis for comparison, but I can't see anyone disliking the creamy, shimmering results this product gives. Still, the $59 price may deter you—and I can't blame you, as a body shimmer is not a necessity. But if you're a Fenty fan or have been looking for a similar item, it's worth the splurge.
The product experts at Reviewed have all your shopping needs covered. Follow Reviewed on Facebook, Twitter, and Instagram for the latest deals, product reviews, and more.
Prices were accurate at the time this article was published but may change over time.