Beauty
I tested Zara's refillable makeup—here's what I'll be going back for
Should you shop for cosmetics at the clothing store?
Credit: ZARA / Sha Ravine Spencer
When most people think of Zara, they imagine racks of fashionable European clothes, shoes, and accessories. Rarely do most, myself included, associate Zara with beauty products. But the brand teamed up with well-known British makeup artist and beauty consultant Diane Kendal to launch its first-ever makeup line, aptly named Zara Beauty.
The line debuted on May 12 in stores and online and consists of eyeshadow palettes, eyeshadow loose pigments, matte and satin lipsticks, tinted lip balms, makeup brushes, blush and highlighter palettes, bronzer, and nail polish, ranging in price from about $8 for a nail polish to about $26 for a face palette, and refills (of eyeshadow) starting at about $5. Across the collection, there are more than 130 colors to choose among. Even more intriguing: All of the packaging is refillable, so you can change up your tube of lipstick and restock it with a new hue each time.
Admittedly, I was hesitant: As Reviewed's beauty writer, I didn't find the idea of a clothing store's makeup line that appealing in a world saturated with cosmetics. However, when I considered the convenience of a one-stop shopping trip for a new outfit and complementary lipstick, I changed my mind. I decided to put the Zara Beauty to the test to evaluate the products' quality and see if I could find any new makeup staples.
How I tested Zara Beauty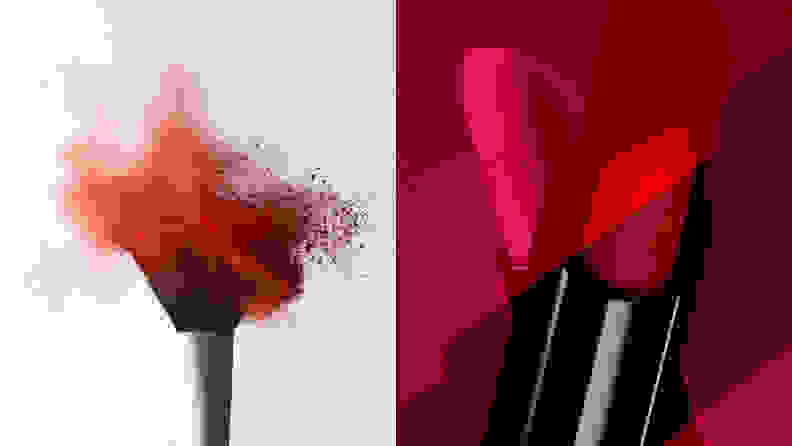 I was sent two matte lipsticks, two semi-matte lipsticks, an eyeshadow palette, a bronzer and cheek palette, and a lip balm. I incorporated all of the products into my "soft glam" routine that consists of a tinted moisturizer, a shimmery eye shadow, and the occasional fluffed-out false lash. I used each one how I would any other product of its type over the course of a few weeks.
The collection does not include a face base such as foundation or tinted moisturizer, so I did my normal routine of priming my face with Fenty Beauty Pro Filt'r Hydrating Primer and applying my Fenty Beauty Eaze Drop Blurring Skin Tint. I then used the Zara Beauty products for my eyeshadow, blush, bronzer, and lipstick. I changed up the combinations of the products to see how I could vary my look, as well.
The line is exclusive to Zara.com and select retail stores. Before you go shopping, consult this list of the products I tested, from my favorite to least favorite, along with whether they lived up to their claims.
1. Stiletto Demi-Matte Lipstick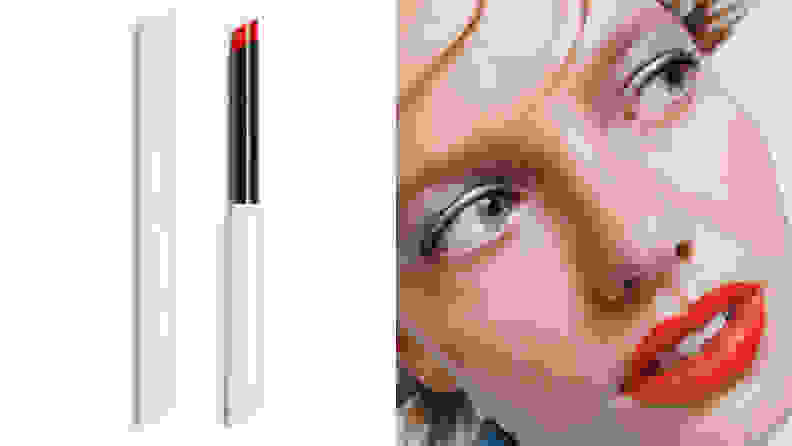 What it claims: The Stiletto Demi-Matte Lipstick claims to have a creamy, satin-like formula that glides onto the lips evenly. It should offer a pigmented color in just one swipe. Much like the other lipsticks in this collection, it also claims to be hydrating and feel comfortable on the lips. The Demi-Mattes come in 10 mostly French-named colors, including the two I tried: "Fou" (berry purple) and "Parfaite" (bright red).
What it's like to use it: The demi-matte lipsticks are my favorite product out of everything I used from the collection. The slim white tube is sleek and easy to use, as you just pop the top off and twist the formula up as you would any a traditional bullet lipstick. Out of the three Zara lip products I tried, these have the creamiest and silkiest texture and glided across my lips with ease. They live up to the demi-matte claim, as they're not as drying as a fully matte lipstick can be, but they're just as pigmented and stay in place throughout the day. I even went to lunch and ate a full meal and my lipstick did not budge. I plan to keep this lipstick in my purse as a go-to for a fuss-and smudge-free pop of color.
Get the Stiletto Demi-Matte Lipstick on Zara for $9.99
2. Ultimate Matte Lipstick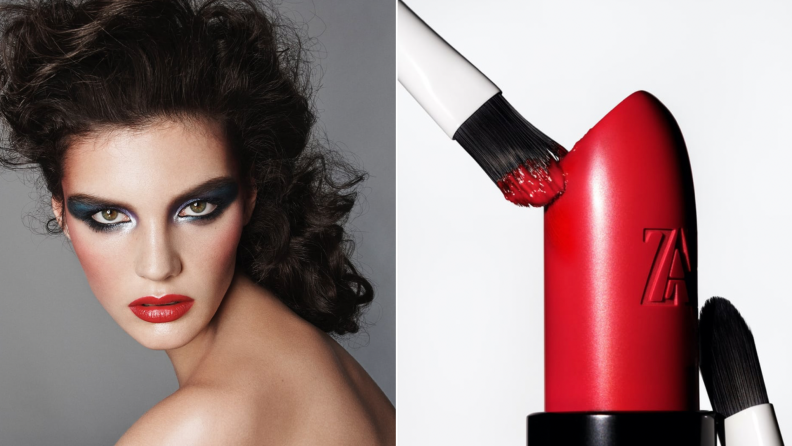 What it claims: The Ultimate Matte Lipsticks come in 14 shades, including "Knockout" (pink red) and "Original" (a vibrant red), which I tested. They claim to have a soft and powdery formula that delivers a great color payoff and lasts for hours with just one swipe. The lipsticks are formulated with fruit oils as a means of combatting the typical dryness that comes with a matte lippie.
What it's like to use it: The first things I noticed was the intensity of the red color of "Original" in contrast to the sleek white tube. This lipstick also has a coconut or cocoa butter scent to it. It's not that strong, but as you can smell it if you hold the product up to your nose and your lips are under your nose... let's just say, I could do without that.
Before applying the lipstick, I used the Bite Beauty Agave Weekly Lip Scrub to remove dry or cracked skin from my lips. I've learned from previous experience with matte lipsticks and paints that they'll emphasize any cracks or peeling once dry. After wiping off the scrub, I swiped the product across my lips and it felt smooth, unlike other matte lipsticks I've tried. It has a creamy texture, but dried to a true matte, powdery finish. It lasted for a couple hours through errands and lunch, with minimal transfer onto my straw or silverware. I preferred the Demi-Matte's finish to the Ultimate Matte's, but was equally impressed by how comfortable and long-lasting both lipsticks were.
Get the Ultimate Matte Lipstick on Zara for $15.90
3.Tinted Lip Balm Lipstick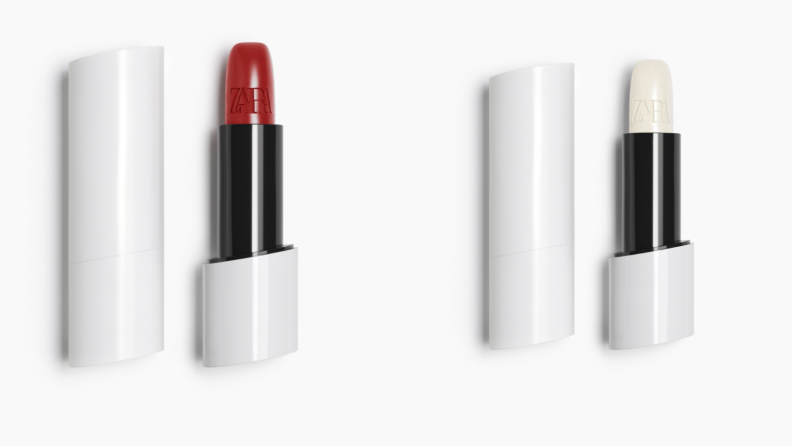 What it claims: The Tinted Lip Balm claims to offer a soft but vibrate tint with just a swipe. It also says it's hydrating enough to smooth the lips and leave them feeling "cushiony." The tinted lip balm comes in five shades: "Slay" (plum red), "Say Cheers" (mauve), "Say Kiss" (deep pink), "Extra" (coral red), and "Holo Balm" (clear).
What it's like to use it: The Tinted Lip Balm has a very soft texture that goes on smoothly. It's almost buttery and very easy to use and apply. I like that it's in a traditional lipstick tube instead of a squeeze tube like other balms, because it makes it easier to control how much product you're using. The formula wasn't super moisturizing and it didn't leave a significant shine, which is what I like my lip balms to do. When I swatched it on the back of my hand, it showed up with a nice sheen and appeared to have tiny glitter specs, but I saw neither of these attributes on my lips. Instead, it gave me a soft shine like when I apply Blistex or Vaseline on my lips. Because I only tried the "clear" shade that was sent to me, I can't attest to if the tinted lip balms actually deliver vibrant color with just one swipe. Overall, I liked the lip balm because of its creamy texture but would use it as a base to moisturize my lips while applying makeup rather than on its own.
Get the Tinted Lip Balm Lipstick on Zara for $15.90
4. Eye Color in 6 Eyeshadow Palette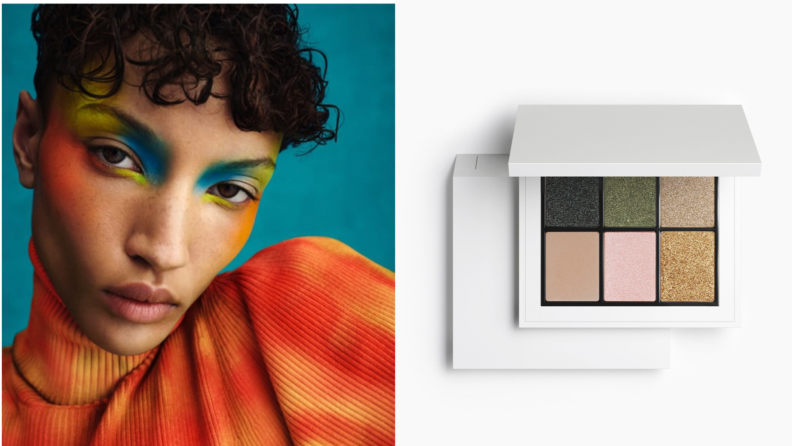 What it claims: The eyeshadow palette claims to be a spectrum of six silky-smooth shadows that "blend easily and wear comfortably on the lid." There are five different palettes that offer a range of shades across golds, greens, nudes, berries, and pinks. Each contains three different eyeshadow types: a matte that claims to be a "sophisticated satin with buildable intensity," a metallic which offers a "wet-looking gleam," and a glitter that claims to be a "radiant color reflected through a crystalline effect."
What it's like to use it: The shadows in this palette were very hit or miss for me, as some of the shades looked beautiful against my warm, deep skin tone and other shades appeared too ashy even after I blended them in. The matte colors in this particular palette showed up too cool-toned on my lids and I believe they would be better suited for someone with a lighter skin tone. Even when I used them as a base color for the bolder metallic and glitter shades, they made the other shades appear duller in comparison to applying them without the matte shade as a base.
If I were to use this palette, I'd stick with the metallic green and glittery gold shades, as one brush stroke in the pan goes a long way on the lids with these. In my normal routine, I tend to choose warm and neutral tones, so I wasn't surprised that these two shades turned out to be my favorite out of the six. All of the shades are buildable, feel soft on the lid, and have minimal fall out from the brush during application. If the colors complemented my skin better, the eyeshadow palette may have been higher on my list.
Get the Eye Color in 6 Eyeshadow Palette on Zara for $25.90
5. Cheek Color in 3, Cheek Palette
What it claims: The cheek palette is a trio that consists of one blush and two highlighters. The first highlighter claims to give a warm bronzer-like glow, the second claims to add a subtle but lighter glow (like a true highlighter), and the blush adds a pop of color to the cheeks. The cheek palette comes in three shade options: "Elysian Glow" (goldish hues), "Impeccable Touch" (neutral tones), and "Signature Blush" (rose shades).
What it's like to use it: The instructions for the cheek palette on the Zara site says to take a large powder brush to grab all three colors and sweep in a circular motion on the apples of the cheeks. I found this technique dubious, because I like to apply my cheese shades separately for more precision in the appearance of, say, the blush's flush color or the highlighter's shimmer. Still, I did what I was told... and I wasn't at all fond of the result. Indeed, I wasn't able to control the application nor balance the colors of each shade. I wiped it off with a makeup wipe and applied them individually so that I could layer the shades and get the product to blend the way that I like it to. This gave me better results, but I ultimately found that the colors I had in the "Impeccable Touch" palette were too light for my complexion. If I had the cheek palette with the warmest and darkest shades called "Signature Blush," it may have worked out better for me, as the blush in the palette I received was too pale and ashy for my skin tone. Although the shades weren't the best match for me, the formula is nicely pigmented, buildable and, like many of the other products I tested, has a soft and comfortable texture on the skin.
Get the Cheek Color in 3 Cheek Palette on Zara for $25.90
6. Face Color in 1 Bronzer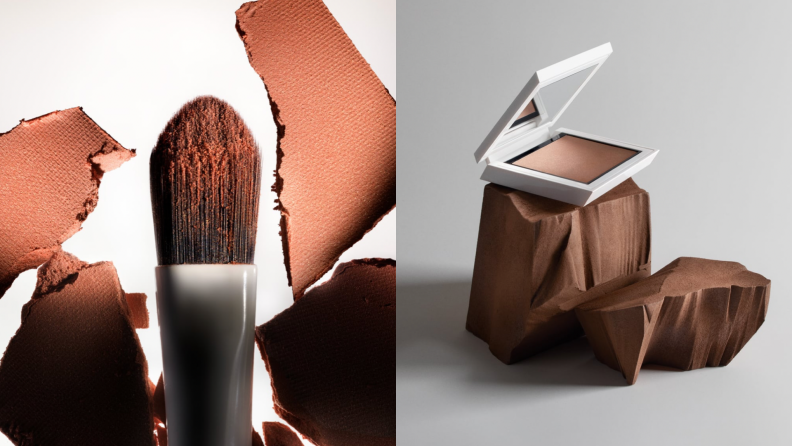 What it claims: The Face Color in 1 Bronzer claims to be a velvety powder that gives the skin an instant boost while subtly warming up its tone. As well as being soft on the skin, the bronzer imparts sun-kissed radiance and a smoothing effect. The bronzer comes in nine shades that run from lightly bronzed to deeply tanned.
What it's like to use it: Admittedly, I was wary about applying this bronzer on my skin, as I typically do not wear bronzer and the shade I received, Medium Tan, appeared like it may be too light and appear ashy on my skin. For the sake of my beauty experiment, I continued on, dusting the bronzer to my cheekbones and around the perimeters of my face using one of the larger brushes Zara Beauty sent over. Instantly, my worst fears were realized as I looked into the mirror and saw the bronzer sitting as if I had sprinkled baby powder on my face. The shade was too chalky and ashy for my complexion and did not blend well into my skin or with my other products. I can give Zara Beauty props for making a powder that feels pillowy soft to the touch and has great pigment with just one swipe, though. Had I received a deeper or warmer shade, it may have changed my mind about bronzer, but I'll stick to my bronzeless routine for now. For those who can't live without their bronzer with the right shade, this could be a great option for a soft powdery finish.
Get the Cheek Color in 3 Cheek Palette on Zara for $14.99
Should you try Zara Beauty?
Zara beauty's collection offers key products, like lipstick, eyeshadow, blush, and bronzer, to achieve an easy, natural face. If you already have a foundation, concealer, and mascara, you can even create a full-on glam look.
The lipsticks are the standout products for me of the collection, as they come in smooth-applying formulas and shades that pop against my complexion. The Stiletto Demi-Mattes were my favorite for their creaminess and ultra-pigmented shades. While the quality was decent for the rest, I found many of the other products to be too ashy for my skin tone. The bronzer and cheek palettes in particular didn't translate well on my face, and I wouldn't recommend either for deeper complexions.
If you're interested in trying out the new Zara Beauty line, whether it's out of sheer curiosity or you're a fan of Zara's clothing, and if you find colors that suit you, there's no harm in giving it a go—if you don't mind spending more than you would at the drugstore on an experiment. There are a few other products in the line that I haven't tested, like nail polish and lip gloss, that can also be found in select retail stores or online.
The product experts at Reviewed have all your shopping needs covered. Follow Reviewed on Facebook, Twitter, and Instagram for the latest deals, product reviews, and more.
Prices were accurate at the time this article was published but may change over time.