Physical Tour
The Nikon Coolpix S610c is a well constructed version of an incredibly familiar design. It's a look we've seen a thousand times before, but with a few distinctive visual accents, like a brushed-metal body, and a concave area on the camera's rear. While not the world's most original design, it struck us as well crafted and good looking, even if the controls are on the cramped side.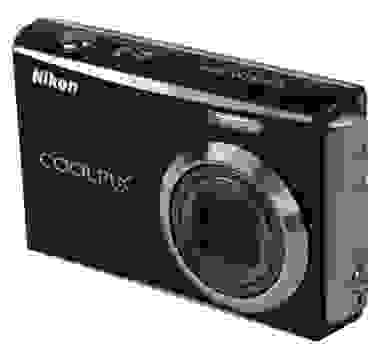 Front(7.50)
The front of the Nikon Coolpix S610c looks like the vast majority of point-and-shoot cameras on the market. It's not an entirely boring iteration of a familiar design, as it has some nice beveled edges and a mock-brushed-metal facade, but it's hardly groundbreaking. The lens, flash and auto focus assist bulb are all on the right half of the camera, and the microphone is just to the bottom left of the lens.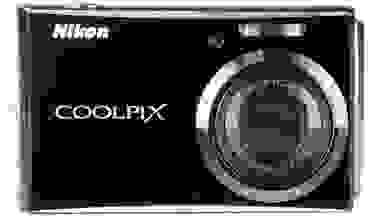 A familiar approach to camera design
Back*(7.75)*
Most of this side of the camera is taken up by the three inch LCD, with the rest devoted to the thin strip of controls on the right. This strip is concave, which makes it easier to hold, though the controls are cramped.  The primary method of navigating menus is a scroll wheel, which you can use to breeze through menus, or else click in one of the four primary directions (Up for flash, left for timer, Down for macro and Right for exposure compensation). The two buttons above the wheel are Mode (on the left) and Playback (on the right). Beneath the wheel is the Menu button and Delete. You can see in the image below that the white icons for the push-button wheel functions are present for Up, Left and Down. The one for the Right button is actually tucked away on the right side of the camera. At the top right of this area is the zoom control, and just below that some raised dots to give you a little extra grip.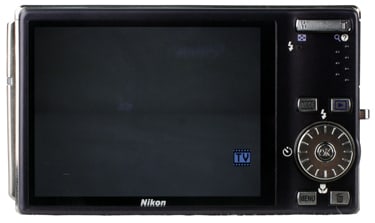 The controls are on the cramped side.
Left Side* (7.50) *We are far more excited than we should be about the prospect of a camera's left side that actually has some interesting features. First, we have a Wi-Fi  logo, with a small LED beneath it which indicates when the camera is connected to a network. There's also a small button near the bottom marked with an envelope, which, if pressed, lets you email images to any address via Nikon's My Picturetown service.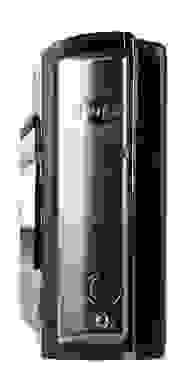 The small button on the bottom is for sending emails.
Right Side*(5.00)*
Half-way up the camera's right side is a small loop for the lanyard, and up near the top is the rather flimsy protection for the proprietary USB/AV/AC port. You can also see the icon for the exposure compensation button, which has been squeezed over onto this side.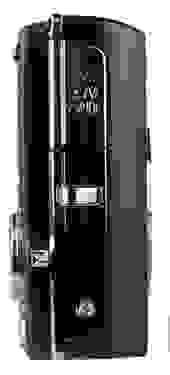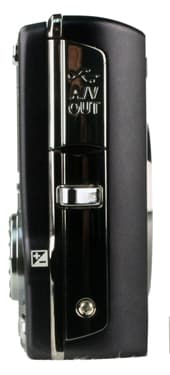 *The USB cover is on the flimsy side

*
Top*(7.00)*
There are only two controls on the top, a small power button (which has a glowing ring around it to tell you if the camera is processing or charging), and shutter control.



Two buttons is all you get
Bottom* (4.50)*
The most interesting feature down here is the tripod mount, flush against one side of the camera rather than being centered under the body or the lens, which would be more common. The other feature of note on the camera's bottom is the door to the battery and memory card compartment.

The tripod mount is squashed against one side
Color and Resolution
In our extensive lab testing of the Nikon Coolpix S610c, the results were a mixed bag. Resolution and white balance were both a disappointments, but the camera did very well for dynamic range and manual noise.
**Color ***(7.62)*
The first round of our testing is for color accuracy, where we shoot the industry standard GretagMacbeth color chart under 1700 lux illumination, and run the results through Imatest, an image testing program that can tell us how close the captured photos are to the original chart colors. In the Imatest chart below you can see the results, where the outer ring of color is what the camera recorded, the inner square is the ideal color adjusted for luminance, and the inset rectangle is the original ideal color.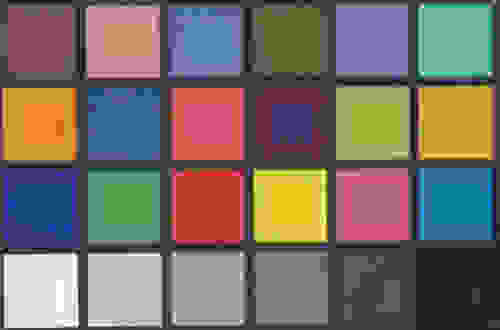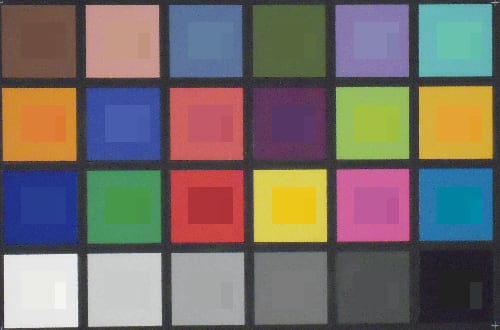 *The captured vs. ideal colors

*

You can also see the same information in the graph below, which shows the ideal color in the square, the captured color in the circle, and the difference between the two as a vector. You can see that the Nikon did well with pinks and blues, but had some trouble in the yellow area.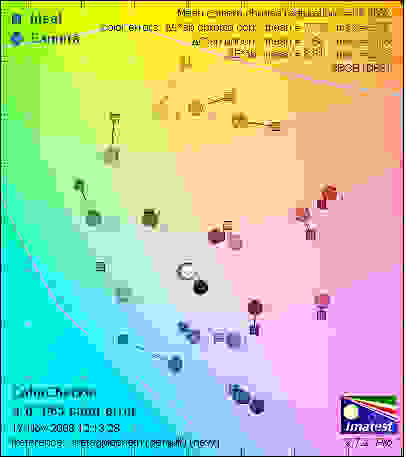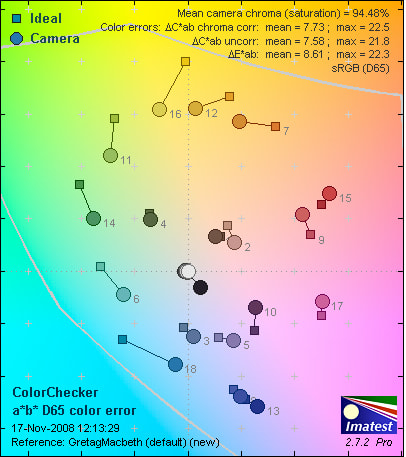 *The camera did very well with pinks and greens

*
For comparison with the S610c, we're looking at a slightly older Nikon point-and-shoot, an inexpensive entry-level camera from Casio, and two sleek little gadget cameras from Samsung and Sony. The Nikon S610c did slightly below average on this test, but not too poorly.



Nikon Coolpix S610c Color Scores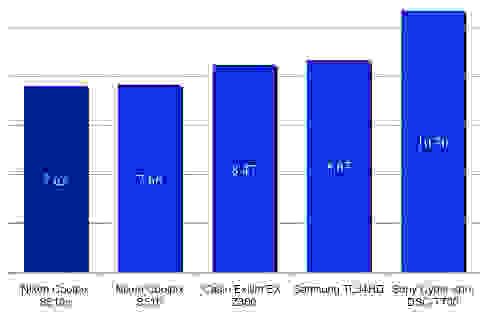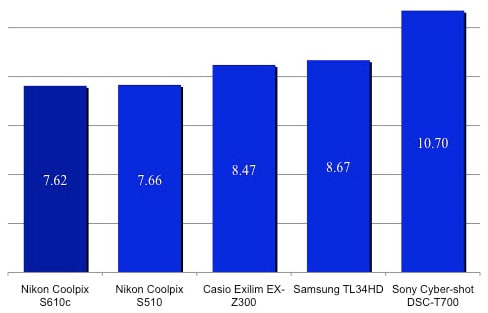 Resolution*(6.01)*
There's more to resolution than just megapixels, it's also about how the camera records the information, and how it compresses it down into a JPEG. We measure this as a count of line widths per pixel height (lw/ph), based on Imatest analysis of alternating black and white lines over a specific area.


A segment of the industry-standard resolution chart that we use for testing
The S610x grabbed an unimpressive 1575 lw/ph horizontally and 1451 lw/ph vertically, and as you can see from the 100% crop chart above, this isn't exactly tack-sharp. It's a slight improvement over the older Nikon,  but not really up to scratch with some of the other cameras on the market.



Nikon Coolpix S610c Resolution Scores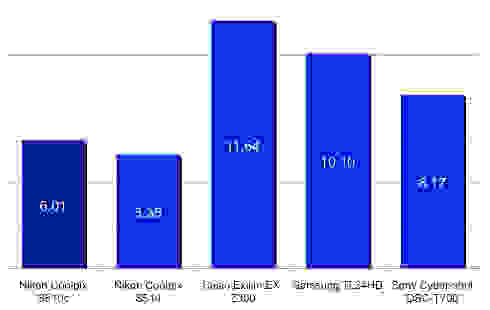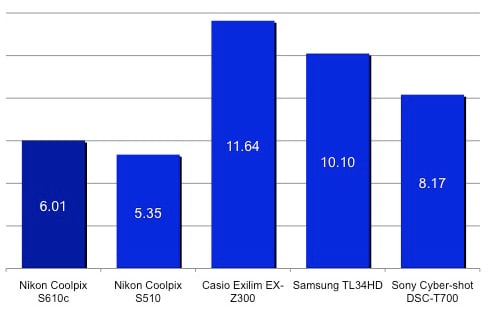 **Dynamic Range***(9.89)*
The dynamic range is a measure of how well a camera records areas of both light and dark within a single shot. If there's a good dynamic range on the camera, both extremes will be exposed properly; where if the range is poor, either end may be dragged into gray. We test this by shooting the backlit Stouffer chart, which has a series of tabs running from black to white, and the more tabs it can distinguish at every ISO, the better the range.


As you can see in the above graph, there is a noticeable drop in dynamic range as ISO increases, but this is typical. The Coolpix did fantastically well on this test, capturing detail across a wide range of brightness, even when shooting at ISO 3200.



Nikon Coolpix S610c Dynamic Range Scores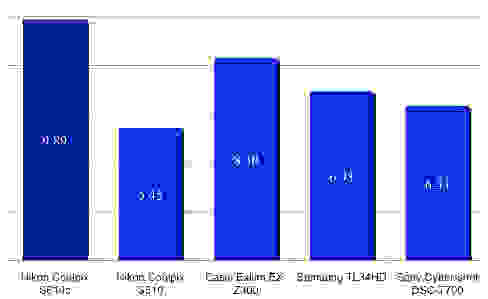 White Balance*(5.23)*

Cameras use white balance adjustment to account for the different colors of illumination cast by different light sources: light from tungsten bulbs, for example, is more yellow than fluorescent illumination. We test two of the camera's ways of handling differing white balances. We shoot on Auto white balance under flash, fluorescent, indirect daylight and tungsten light, and then do the same using the presets for each source. The Imatest charts you see below are significantly exaggerated to show the color shift, and you won't see this level of difference in your own photos.
Auto White Balance (4.68)
The S610c did very well under tungsten illumination on automatic white balance setting, but hit a brick wall for the others. It delivered average performance under flash and fluorescent illumination, but the poor flash result is very surprising, as you would expect a camera to be able to correctly accommodate its own flash. The real letdown was shaded daylight, where the S610c results were abysmal. .
Preset (5.78)
*There was some overall improvement while shooting on presets, with major enhancement on flash and shade settings, but a minor drop under fluorescent and tungsten light sources.
Overall, this was an unimpressive result from this new Coolpix. For important shots, we we recommend usual the manual white balance system to take a live reading under current lighting conditions.



Nikon Coolpix S610c White Balance Scores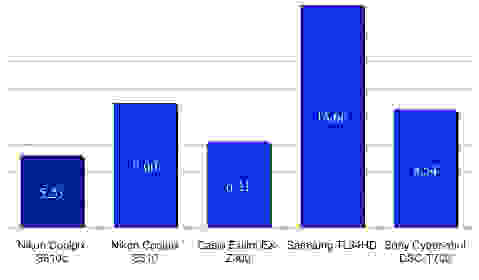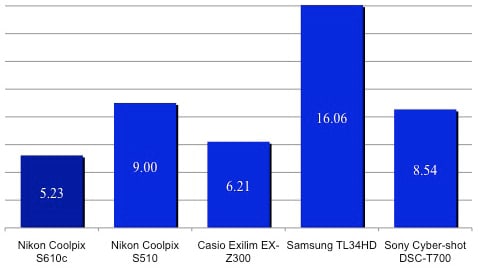 Noise and Video
**Noise

**The speckling that you see across large areas of flat color on an image, especially at high ISOs, is what's known as image noise. On a camera that doesn't deal with noise very well, it can seriously mar the quality of your photos. We test noise levels at every available full-resolution ISO as well as on automatic ISO mode to see just how well the camera deals with this potential pitfall.
Noise – Manual ISO*(12.00)*
You can see in the chart below that the noise levels increase very gradually from ISO 100 to ISO 400, then dip slightly (most likely due to some degree of noise reduction processing) before popping up just a little at ISO 1600. The noise levels hover around 1.2% even at this high level, and only bumps up to 1.9% at ISO 3200.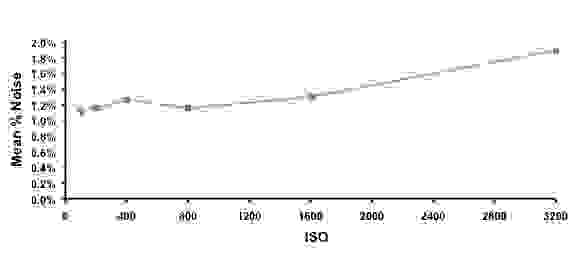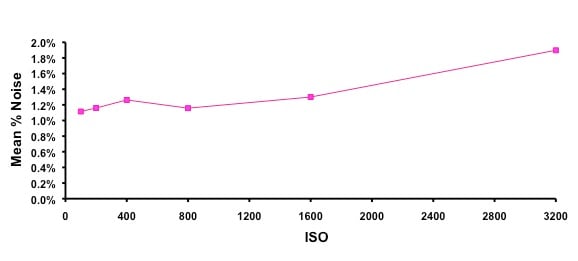 As you can see below, the S610c did very well, keeping noise levels at entirely acceptable levels throughout the test.



Nikon Coolpix S610c Manual Noise Scores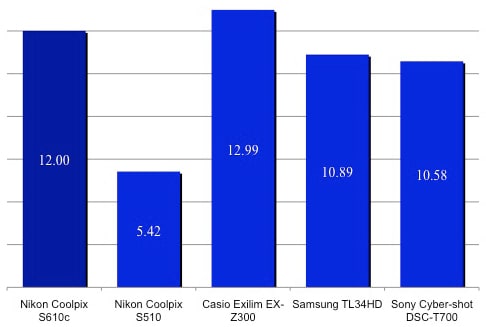 Auto Noise*(2.43)*
The second half of our noise test involves shooting on auto ISO setting, which lets the camera decide for itself what's the best ISO for current lighting conditions.In this case, the Nikon chose ISO 400, which is on the high side for our well illuminated chart. The only reason the camera didn't score more poorly here is its generally first-rate noise performance..



Nikon Coolpix S610c Auto Noise Scores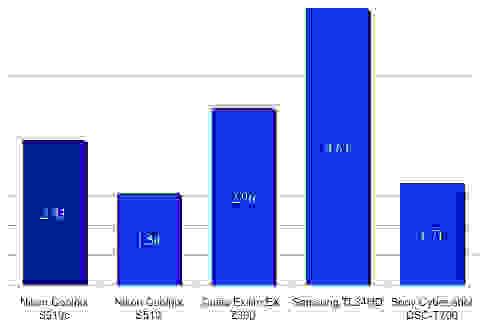 **Low Light ***(5.47)*
While you're most likely to get beautiful shots under good sunlight, lighting situations aren't always that great, and you will undoubtedly have to (or want to) shoot under dim lights or at night time. We, of course, test the cameras under these darker conditions so you can see how well the camera shoots, especially with regards to color accuracy and noise levels.
The first test in this section involved taking photographs of the ever-popular GretagMacbeth color chart under 60 lux (a well illuminated room during nighttime) down to 5 lux (a single candle in a dark room). The S610c did very well in this section, and kept noise levels at about 1.6% or below, with very good color accuracy. It overexposed at 5 lux, but apart from that, it showed itself very competent for shooting in low-light situations.
The second half of this test ideally involves shooting exposure lengths from 1-second to 30-seconds at 30 lux, but the S610c has a maximum exposure length of just 1 second, so we could only shoot for that length of time. The resulting image was unsurprising for the exposure length, slightly under-saturated, but with low noise levels.



Nikon Coolpix S610c Low Light Scores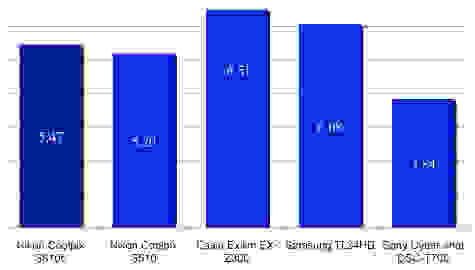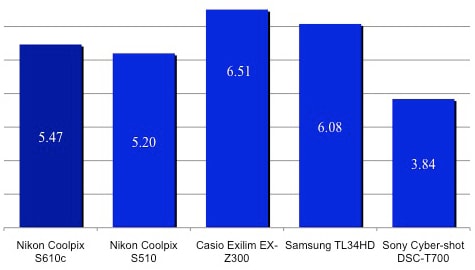 As you can see in the above graph, the S610c did well, if not amazingly, under low-light conditions.
Still Life
To demonstrate the effect of  shooting under different ISOs, we've photographed two still life scenes using every full-resolution ISO, under fluorescent illumination, using the camera's auto exposure system. You can see the results below, and click on these thumbnails to see the full-size version (be aware, though, that these are large images and can take a long time to load).
**Video Performance ***(4.77)*
One of the great features of point-and-shoot cameras is their ability to record video as well as stills. While they might not be able to replace your trusty camcorder, they certainly are handy in a pinch. We test for image quality in video recording much the same way we do with still photography, by recording color and resolution charts and analyzing them with Imatest. We do this by extracting frames from the video files for analysis. 
*Bright Indoor Light - *3000 Lux
The S610c did remarkably poorly under the bright light of 3000 lux. While in video mode, the S610c apparently loses white balance controls, so it didn't compensate for our lighting setup very well, and consequently had poor color accuracy and massive over-saturation.**

****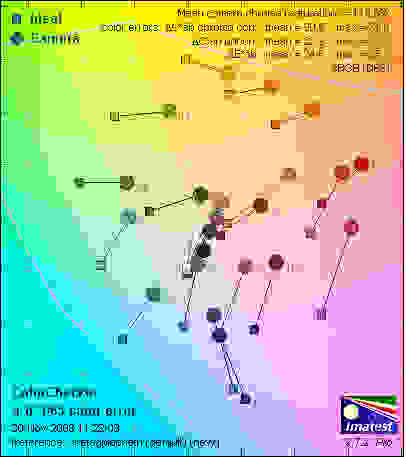 ****

***Low Light - *30 Lux
Under our dimmer 30 lux setup the Nikon performed marginally better, providing results on par with most other cameras we've seen, which is to say a bit under-saturated, but adequate color accuracy.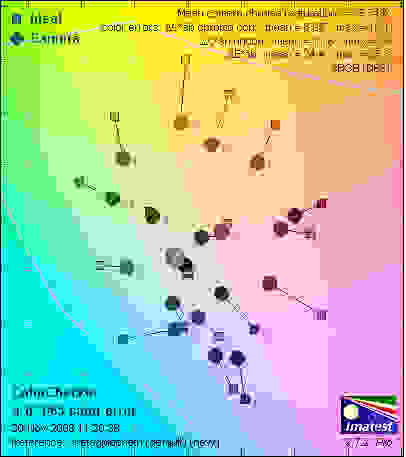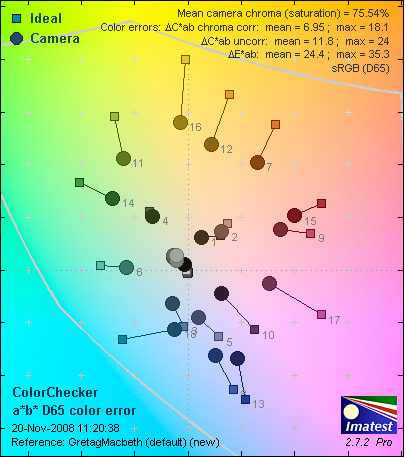 *** *****Resolution ***(1.53)* The video resolution of the S610c was pretty good. It shot 414 lw/ph (line widths per pixel height) vertically and 369 lw/ph horizontally. This isn't bad for this type of camera, and is slightly above average for most point-and-shoot cameras on the market. **Motion ***(1.50)* To get a better idea of how the video mode handles quickly moving objects, we braved the winter cold to shoot moving cars on the streets of Boston. Once again, a slightly above average result from this Nikon, as it managed to keep up with objects in motion with minimal blurring.
Nikon Coolpix S610c Video Scores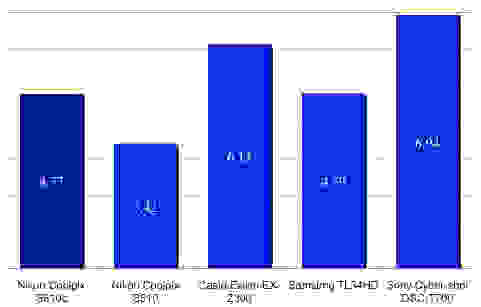 Speed and Timing
Speed/Timing

**In addition to testing for all facets of image quality, we also look at how quickly the camera responds over a number of situations. All of these tests were undertaken with a high-speed SDHC card to minimize the chances of data transfer bottlenecks.

**Startup to First Shot **(*9.00)*
This test measures how long it takes you to turn on the camera and then take a photo. This time is important if you're pulling the camera out of your pocket to grab an unexpeced photo opportunity. As it happens, the S610c is speedy, taking just under a second to startup, which means you won't be stuck waiting for it to warm up before you can start snapping away.**
Shot-to-Shot ***(9.23)*
This is perhaps the most important speed test we run, assessing the ability to take rapidfire shots in sequence. The Coolpix S610cperformed slightly above average for a point-and-shoot at 1.3 frames per second.**
Shutter-Shot***(7.02)*
Our third timing trial is a measure of how long it takes the camera to focus and take a photo, which we test by completely pressing the shutter button once, and measuring the delay between shutter press and photo acquisition. The Nikon took around 0.3 seconds, which is quite fast.**
Processing***(4.74)*The final timing test looks at how quickly the camera can process the data hitting the sensor and store the results to memory. The S610c took 1.8 seconds, which is reasonably fast.
Components
Viewfinder*(0.00)*
This camera has no viewfinder.

LCD Screen(7.50)

The LCD is a standard 3', 230,000-pixel model that avoids solarization from just about every direction. You can bump up the brightness in five steps. On the whole, the LCD seems bright and quite attractive, though pretty run of the mill for sharpness. It kept up with motion well, both under bright light and in darker situations.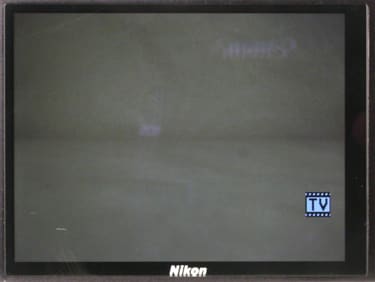 The 3' LCD  offers the typical 230,000-dot resolution
On most cameras, there's a Display button, which will let you alter the information on the LCD during shooting and playback. Not so with the S610c, which forces you to go through the menu system to alter what's shown.  Even then you can only turn the information overlay on or off.**
Flash  (4.00)
The small flash is located just above the lens, a prime location for finger blockage, which is all to easy. Nikon rates the flash up to 26 feet on auto ISO. The flash is bright, and quite even, but a bit slow to recharge between shots.

**


The flash can be easily blocked by fingers.
**
Lens**(6.50)
The S610c lens packs a 4x zoom, which is pretty impressive given the small camera size. The lens has a focal length of 5.0-20.0mm (28-112mm 35mm equivalent), and an aperture range of f/2.7-f/5.4 wide angle, and f/5.8 -f/11.6 at full zoom. F/2.7 is pretty fast for a camera in this class, letting in lots of light, which in turn allows faster shutter speeds. The S610c also has an optical image stabilization system called Vibration Reduction, which you can turn on and off through the setup menu.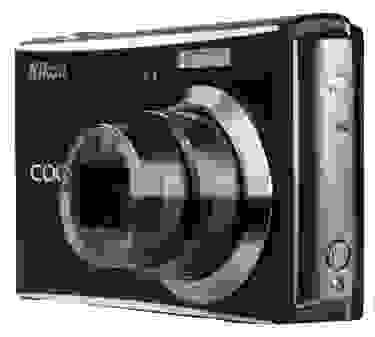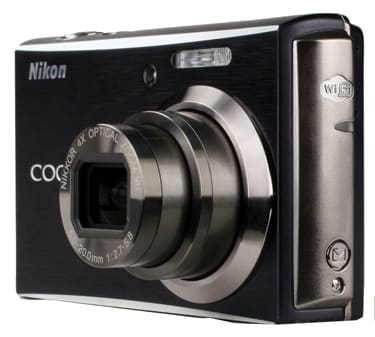 The lens is fast and has a decent zoom.
Design / Layout
Model Design / Appearance*(8.00)*
While the design of the Coolpix S610c isn't anything new, it's a well made version of a familiar body. The use of faux-brushed metal and chrome beveling on the front of the camera, and the concave edge on the rear are little touches that differentiate it slightly from so many other cameras that look almost identical.
Size / Portability*(8.00)*
Without projections, the camera is 3.7 in. wide, 2.2 in. high and 0.9 in. deep (94 x 57 x 22.4mm) and weighs 4.6 oz (130g) without memory card or battery. It's easily small enough to fit in all but the tightest of pants, and weighs barely anything. It's not quite as tiny as some cameras, but it's on the petite side.
Handling Ability(7.00)
The S610c is easy as anything to handle, due to its small size, comfortable weight and familiar design. You can whip it out of a pocket or bag very quickly, and due to its fast startup time, be taking photos in an instant. One little touch that we really appreciate is that the right end of the camera's rear is concave, which makes it noticeably easier to grip.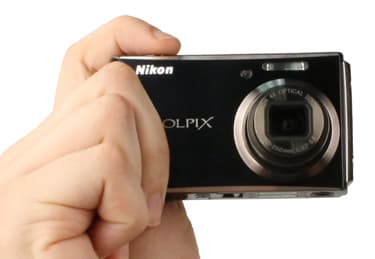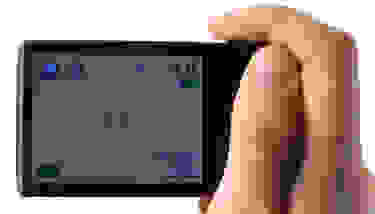 Small and easy to hold.
**Control Button / Dial Positioning / Size ***(5.25)*
We did hit a few problems with the camera's control scheme. First, the shutter button is on the small size, and could do with projecting a little higher, as this would make shooting a bit more responsive. The controls also feel very cramped, and the buttons are tiny. Nikon could have quite easily used some of the empty space on the camera's rear to enlarge the buttons; in their current size, we found changing settings uncomfortable.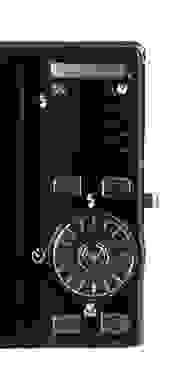 Spinning that wheel for any length of time
is a sure step towards RSI.
Menu*(6.00)*
Unlike most camera manufacturers, who use a system of tabs and lists for navigating menus, the Coolpix has one set of choices accessible by pressing the Menu button, and the rest by pressing the Mode button, and then going into Set Up. This is a slightly less intuitive version, but not too horrible, and having a control wheel means you can go through options very quickly. You can also set the menu system to display  either text or icons, based on your preference. One small factor that bugged us was the inability to exit a menu and return to shooting mode by half-pressing the shutter button, a shortcut found on most cameras.
While taking photos, pressing the Menu button takes you to the Shooting menu. From here you can set ISO, white balance, metering, and other crucial functions. There are only eight options in this menu, though, so if it's not here, you need to go the Set up menu.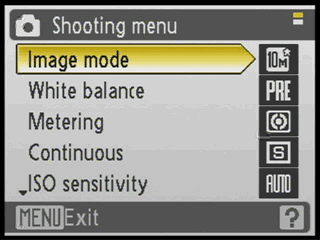 If you're in Playback mode and press Menu, you get the Playback Menu, for printing, slideshows and rotating and resizing images. Once again, there are only eight options here, so it's not exactly an extensive editing suite.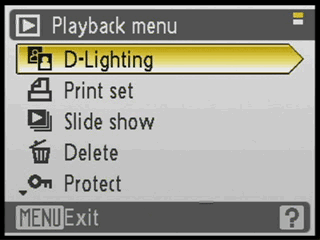 Finally, there's the Set Up menu, where you can change date, monitor and sound settings, vibration reduction, card formatting and wireless setups.
Ease of Use (5.00)
The Nikon Coolpix S610c is quite easy to use, provided you don't bring expectations from previous cameras to bear. For instance, there's no mode dial, no way to shoot in program mode, no quick menu -- in fact, the entire menu system is just a bit different from most other cameras, so it might take a minute or two to adjust. Apart from that, it's quite easy, and once you get your head around the slightly different interface, you'll be able to take photos without any trouble.
Modes
Auto Mode*(7.00)*

The Nikon Coolpix S610c is constantly set on Auto, as there is no manual or program mode. There's no simple auto mode, but there is an auto scene mode, which tries to detect the optimal scene mode for however you're shooting. Since there's only one auto mode, you have to be able to access all your controls from there. White balance and ISO can be set to auto, but you need to set metering and continuous settings.
**Movie Mode ***(6.75)*

The movie mode is almost completely lacking in controls. The only options are resolution (640 x 480 or 320x240, both 30fps), auto focus mode and macro focus. You can't alter white balance, exposure levels, use a self-timer or zoom. The lack of white balance controls are especially problematic, as it means that you can easily record video with noticeably incorrect colors.
Drive / Burst Mode*(7.00)*

This Nikon has two types of high-speed photography. The first is continuous, which Nikon rates as 1 frame per second, but in our testing we found marginally faster at 1.3 frames per second. The second is Best Shot Selector (BSS) which takes 10 full-resolution photographs in quick succession, but only keeps the sharpest one, which is good for low light conditions, or if you're worried about camera shake.
**Playback Mode ***(6.00)*

Zooming during playback takes you up to 10x zoom, or out to 9, 16 or 25 thumbnail views. If you go into the Mode menu, you can also list your files by date. While zoomed in, you can press the Menu button to crop the image down to what's on screen at that moment. We would have liked to see the control wheel used for quickly browsing through pictures while zoomed, but that control isn't implemented.
Zooming during playback
Editing controls are minimal on the S610c. In addition to the aforementioned crop tool, you can use a dynamic range tool (which Nikon calls D-Lighting) to adjust exposure, rotate an image or copy a photo between internal memory and the memory card. One extra we did appreciaste was the option to attach a voice memo to a file just by pressing the OK button while viewing the file.
Custom Image Presets*(9.00)*

There are three image modes that can be accessed directly via the Mode menu, and then a further sixteen in Scene Mode. From the Mode menu you can chose Smile mode (which takes a photograph when it detects a smile); Active Child (which tracks the focal subject, which technically doesn't have to be a child); or Scene Auto Selector (which can automatically chose night landscape, portrait, close-up, landscape, backlight or night portrait). When in scene mode, you get direct access to portrait; landscape; sports; night portrait; party/indoor; beach/snow; sunset; dusk/dawn; night landscape; close-up; food; museum; fireworks show; copy (for text); backlight and panorama assist. This last option overlays a portion of your previous image over the far left of the LCD, allowing you to string together multiple pictures into a panorama.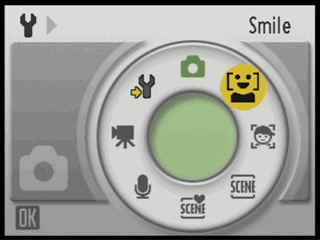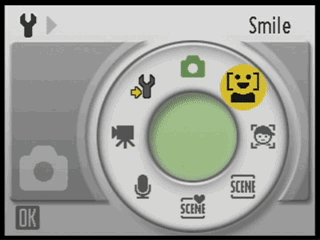 Control Options
Manual Control Options

The Nikon Coolpix is pretty skimpy on manual controls, most obviously in the lack of any way to set the shutter speed or aperture. You can manually set the white balance, and can chose ISO settings, metering modes and the like, but this all very standard stuff which you see on almost every camera. **

**
Focus

Auto Focus*(7.75)*

You can chose to set the auto focus on face priority, auto, manual (which lets you chose any point over the majority of the camera's frame) or center. If you're shooting in Active Child mode, the camera will try to track your subject as it moves. You can also set the auto focus mode to single AF, which focuses once when you half-press the shutter, or full time AF, which continually re-focuses.
Manual Focus*(0.00)*

The S610c has no manual focus option.
ISO*(7.00)*

The S610c has a respectable range of ISOs, running from 100 to 3200 as well as auto.
White Balance*(5.50)*

The S610c has white balance presets for flash, cloudy, fluorescent, incandescent and daylight. This is a pretty good selection, though it would have been nice to see settings for shade or multiple fluorescent bulb types. There's also Preset Manual, which lets you take a reading off a white or gray card to set the ideal white balance for the current light source.
Exposure*(2.50)*

Exposure compensation can be set to ±2 EV in 1/3 stops via the right button on the click wheel.
Metering*(5.50)*

There are only two metering options with this camera, center-weighted and matrix. The former looks primarily at the middle of the frame, where the latter takes the entire scene into account. We would have appreciated spot metering as a choice for situations where you need to precisely control the metering.
Shutter Speed*(0.00)*

There is no way to directly control shutter speed, but the range of exposure lengths runs from 1 second to 1/1500 second (or up to 4 seconds in fireworks mode). This is a fairly mediocre range, especially at the fast end, where many other point-and-shoot cameras can get 1/2000 second or faster.
Aperture*(0.00)

*As with shutter speed, there is no direct control over aperture. The aperture runs f/2.7-f/5.4 at wide angle, and f/5.8 -f/11.6 when fully zoomed, which is a pretty fast lens.
Image Parameters
Picture Quality / Size Options*(8.33)*

For still photography, the Nikon Coolpix S610c can take images at a number of sizes. JPEG image compression is available at two settings only at the highest resolution (high or normal); at other resolutions you're locked in at normal.
Picture Effects Mode*(2.00)*
This Nikon camera isn't loaded with editing modes or picture effects for you to tweak your images. The only effects available are six color options: standard, vivid color, black-and-white, sepia, cyanotype or pastel, which take effect while you're shooting.
Connectivity / Extras
Connectivity

Software*(3.00)*

The included software from Nikon is an image transfer application and photo-stitcher. The first is needed on a Macintosh, as the Nikon doesn't appear as an external drive if you plug it in directly to a Mac, and the application can be used to automate the download process. Strangely, there's no included editing applications, so you'll have to look to other sources to tweak your pictures.
Jacks, ports, plugs*(1.00)*

The S610c uses a single proprietary port for USB connections, AC connection and battery charging, necessitating the purchase of expensive unique cables should you lose one. 
Direct Print Options*(4.00)*

The camera supports both PictBridge and DPOF, the two primary forms of getting prints from your camera without requiring an intervening computer. The first lets you plug directly into a printer, and select which images you want. The second lets you tag your photos with the number of prints and a date imprint (if desired), at which point you can hand your memory card over to a print professional, who can fill your order based on the information in the DPOF file.
Battery*(6.00)*

The S610c has a small, rectangular lithium ion battery that Nikon rates for approximately 290 shots. The battery lasted well through normal use, though if you use the Wi-Fi  heavily, you can expect battery life to take a hit. Strangely, the camera didn't ship with a battery charger, instead requiring you to plug your camera directly into the wall to charge it. *Memory**(4.00)*

The Coolpix uses both SD and SDHC cards, both of which are inexpensive and easy to find, with large capacities available.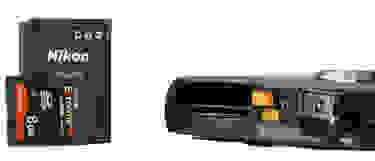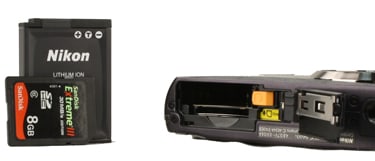 SDHC cards are inexpensive and plentiful.
Other features*(8.00)*

*Wi-Fi  *– The major drawing card of this camera is the inclusion of a wireless service, which allows you to upload your images and email them to your friends using Nikon's My Picturetown. Setting up an account is relatively straightforward, but entering all your details on the camera is slow due to individually picking letters on screen for names and passwords, though it does remember them after the first time. Once you've got everything entered, you can just press the mail button on the side of the camera to send your photo to an email address, or directly upload it to your account.
On the plus side, you can connect to any open network or passworded network to which you have access, and can use the normally fee-required Wayport™ Hotspot service from the camera at no charge until August 31, 2011. Wayport is found in many hotels, airports and McDonalds, which means you should be able to find a place to upload your photos fairly easily as you wander. Even though AT&T just purchased the Wayport network, we couldn't get the camera to work with the wireless at our local Starbucks, so we assume you won't be able to jump on any AT&T network.
The downside to this system, is that you can't use it on commercial networks that aren't part of the Wayport network. Most of these require you to enter a password on a web page rather than just when connecting to the network, which is an ability the S610c doesn't have. So if you're in an airport in Asia, good luck getting your images online from your camera.
Overall Impressions
Value*(6.50)*
The Nikon Coolpix S610c currently goes for $299.95, the very tip of that sweet spot of what most people want to pay for a small point-and-shoot. It's a pretty competent camera for that price, if a bit short on manual controls. However, you can get the same camera for $50 less (the Coolpix S610, for $250) if you don't want the Wi-Fi  option. If the Wi-Fi capability appeals, by all means spend the extra money, but keep in mind that otherwise these two models are identical.
Comparisons
Nikon Coolpix S510 – This slightly older model from Nikon will set you back a mere $150, but you won't have the sexy Wi-Fi  functionality, and you'll be shooting at 8-megapixels instead of 10. The older camera also scored lower almost universally across our tests, most noticeably in dynamic range and manual noise (though it did do a bit better on white balance). This is definitely a less expensive choice for a still quite full-featured camera, if you don't need the Wi-Fi , and aren't worried about the 2-megapixel difference.
 **Casio Exilim EX-Z300– **A $300 point-and-shoot from Casio, much like the S610c, this camera has a 4x zoom and a 10-megapixel sensor. The Casio scored better for color, resolution, noise, low light and video, but in general these were only minor differences. One problem we had with the EX-Z300 was an annoying interface that really detracted from the overall experience. Considering it's the same price, the Nikon strikes us as a stronger value thanks to the additional functionality of the Wi-Fi  system.
Samsung TL34HD**–** The same $300 you'd spend for the Nikon gets you this 14.7-megapixel touch-screen camera from Samsung, which we chose as our point-and-shoot of the year. While you won't get to upload over Wi-Fi , there is a significant megapixel advantage, a good user interface, responsive touch screen, HD video, and better scores for auto noise, white balance, color and resolution. If you're happy using a touch-screen camera, it may be worth seriously considering the Samsung over the Nikon.
Sony Cyber-shot DSC-T700** –**If you really want a fantastic looking point-and-shoot camera, and don't mind paying a premium for the looks, then perhaps this Sony is more your taste. For $400 you get a beautifully designed device with a laege touch-screen display and a full 4 gigabytes of memory for use while shooting and showing off your photos. The T700 is a much better looking camera, with higher color, resolution and white balance scores than the Nikon. On the other hand, its touch screen is imprecise, and it had very poor noise and low light test scores.
**
Who It's For ***
Point-and-Shooters* – This camera is definitely aimed at the point-and-shoot crowd, as evidenced by its limited controls and extensive scene presets. It's a small point-and-shoot that can be pulled out a moment's notice, and take decent photos, which you can then upload to the Internet if desired.
Budget Consumers – At $300, this camera is at the high end of the budget range, but not untenable. Most likely, those looking after their wallets will be interested in purchasing the version of the camera sans Wi-Fi , and save $50 on the overall price.
Gadget Freaks – Gadget freaks will love the Wi-Fi feature that, thanks to the Wayport deal, is far more practical than previous wireless-enabled models. Uploading your photos for free from a hotel in France is pretty damn cool, especially at an eminently reasonable $300 price tag.
Manual Control Freaks – Manual control nuts will be instantly turned off by the complete lack of aperture and shutter controls. There really isn't much here for anyone who wants to fiddle with the minutiae of the camera.
Pros / Serious Hobbyists – The Wi-Fi feature might intrigue some serious photo buffs, but once again the lack of manual controls will cause problems.
Conclusion
**
Conclusion**


The Nikon Coolpix S610c is a decent camera in a small package with a couple of distinguishing features. First is the Wi-Fi system, a definite improvement over some others, but still lacking the web browser that would make it fully functional. At the very least this makes emailing photos relatively straightforward, assuming you can find a participating hotspot. The S610c  also has some solid shooting credentials behind it, with very good manual noise and dynamic range scores, and a very fast startup speed. We were much less impressed with the resolution and white balance performance however. This camera is definitely short on manual controls, lacks spot metering, and offers no adjustments at all while shooting video. If you're looking for a simple point-and-shoot that handles well with a nifty additional feature, then maybe this $300 camera is for you. If you like the camera, but don't need the Wi-Fi, you can save $50 by purchasing the sibling model, the S610.
Sample Photos
**Sample Photos
Click on any of the images below to view the full-sized original image. However, please note that some of the images are extremely large (up to several megabytes) and could take a long time to download. **
**

**You can find examples of photos taken with the Nikon Coolpix S610c on the following websites:






Specs / Ratings
**Specs Table

**