Cameras
Samsung NX200 Review
Smart changes yield impressive performance from this Samsung NX200.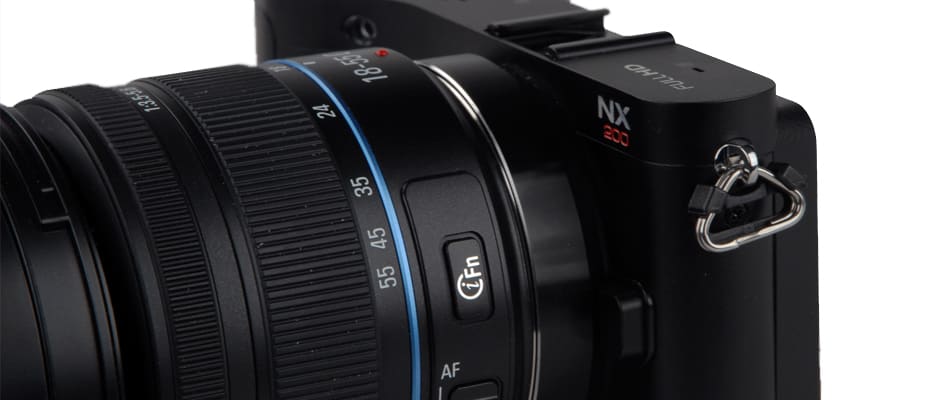 Credit:
Introduction
The Samsung NX200 is a major step forwards for the Samsung NX line of compact system cameras, with a 20.3-megapixel image sensor that will place it among the heaviest hitters in the category. The Samsung-designed sensor complements a number of smart, intuitive changes to both the physical design and camera menus that mean the NX200 will appeal to both novice and experience shooters. It's not a perfect design, but compared to the NX100 released in 2010, this might be the biggest advancement—in a single generation—we've seen from a camera model this year. The NX200 is available now in black with an 18-55mm kit lens for an MSRP of $899.
Design & Usability
Smart design, but handling is less than luxurious
The NX200 traded in the smooth, curvy edges of the NX100 for a smaller, more industrialized design, although still one with a rounded grip that handles just fine. It lacks the plush feeling that we'd like from a $900 camera (with kit lens) though, and a little bit more comfort would go a long way. We like the relocation of the mode dial to a more traditional corner position, and the combination of rear and top control dials work very well, especially with the camera's "Smart Panel" menu, brought about by pressing the camera's "Fn" function key. It's one of the easiest control schemes we have seen.
The NX200 does not feature a viewfinder, so you'll be required to use the 3-inch rear AMOLED screen for framing.
For those unfamiliar with previous Samsung NX-series, the NX200 features the same innovative i-function control button, which allows the user to control shooting functions with the left hand by pressing the dedicated button and rotating the focus ring. In the menu users can assign a variety of options to this function, including ISO, Shutter Speed, Aperture, White Balance, Exposure Compensation, and "iZoom." The NX200 also comes with a lens priority mode, which turns the iFunction button into a scene mode selector. Altogether, it's another way to control specific functions, and if you're a manual shooter it came be of particular use. All of the buttons on the NX200 feel purposefully and intelligently designed, and the inclusion of a full hot shoe (and external flash) is nice, but it should be noted that the NX200 does not feature a viewfinder, so you'll be required to use the 3-inch rear AMOLED screen for framing.
Features
Casual photographers will love the silly extras while enthusiasts will appreciate the optional level of manual control.
The NX200's dual control dial setup works very well to navigate all the options in the camera, and we are big fans of the smart control panel, which allows near-instant access to all major shooting settings. Another great asset is the set of explanations that appear on the LCD, which provide information on each selection on the mode dial. This strikes a nice balance between enthusiast-level control and more amateur-driven needs.
There are a wide variety of picture settings and filters available. Standard color modes are kept under the Picture Wizard heading, nine altogether that range from Vivid to Forest, plus three custom options. These Picture Wizards allow users to add a color cast or alter sharpness, saturation, and contrast on a +/- four stop scale. Additionally, there are 13 preset Magic Frames that allow users to position various laughable backgrounds behind their subjects (try putting your house cat on the moon). Smart filters such as vignetting and old film are available too, and a handful of in-camera editing options as well. The NX200 shoots JPEGs at a maximum resolution of 20 megapixels, though quality and ration are alterable.
Performance
A solid performer
The Samsung NX200 performs well across the board. It doesn't lap the field in any single category, but it offers solid all-around performance in most of our tests. White balance accuracy is great, shot-to-shot speed is quick, dynamic range is solid, color is fairly accurate, and high ISO performance pleases. That said, its thin internal memory buffer is a problem, often resulting in a delay of up to five seconds between bursts of shots. This is not only frustrating for the user, it often means missing crucial shots. It's not a deal-breaker, but it's a main area of concern with the NX200's performance.
The 20.3-megapixel image sensor provides an amazing level of detail.
The 18-55mm kit lens is sharp around the middle, though generally soft towards the edges. As we mentioned before, the biggest upgrade for the NX200 is its 20.3-megapixel image sensor, which provides an amazing level of detail to go with superior high ISO performance and solid dynamic range results. The video quality on the NX200 was just adequate though. The main issue with it was the high-resolution image sensor. The sensor gathered significantly more information than could be squeezed into a single video frame, which produced a negative visual effect.
Conclusion
With the NX200, Samsung finally turns some heads in the interchangeable lens camera market.
When you think about the big names in the interchangeable lens camera market, Samsung's isn't the first to come to mind. With the sub-$1000 NX200, that deserves to change. This camera's image quality, performance, and control rival nearly any camera in its segment of the market.
The NX200 offers speedy shooting at nearly seven frames per second, full 1080/30p HD video shooting, a gorgeous 3-inch AMOLED screen, and an intuitive menu system with a simplicity that belies its depth. The real star of the show is the Samsung-designed 20.3-megapixel CMOS image sensor. It's the first major improvement by Samsung to their NX line and it offers great dynamic range, solid noise performance in almost any lighting condition, and great color accuracy. Ah, but it has its flaws too—namely a sluggish autofocus system and a processor that requires as long as five seconds of delay between burst shots. Considerable control and superior image quality outweigh the cons though.
We don't think the NX200 quite reaches the heights of the Olympus E-P3, but it gives the Olympus (our compact system camera of the year for 2011) a great run for its money at a palatable price point. We'd like to see Samsung add in the metal construction and rubberized touches common on cameras at this level, but the NX200 is a considerable step up from previous Samsung NX efforts. If you're in the market for an interchangeable lens camera that won't break the bank (or your back), then the compact, lightweight Samsung NX200 is worth a look. From experienced enthusiast photographers to amateurs looking for a camera they can grow with, the NX200 is a fine choice.
Science Introduction
A great sensor can do a lot for image quality, and that's just what we see here with Samsung's new NX200. This camera performed well across the board, delivering a great image almost every time—even in dim light. Through color accuracy tests, through sharpness tests, through distortion tests, and beyond, this camera braved our lab admirably. Results revealed a strong performer overall, and also revealed where there was room for improvement.
Color
Color accuracy and dynamic range are both a piece of cake for the NX200.
The Samsung NX200 displayed rich, accurate colors, with just a slight hint of oversaturation. In the standard color mode, photos returned with a color error of just 2.7, according to our tests. The other color modes were less accurate, but the camera shoots in standard by default. The next closest was the landscape color mode, which across our test chart displayed nearly identical results.
This camera also produced very good dynamic range results, as it is able to keep noise to a minimum through most of its ISO range. We were a bit dismayed by the amount of highlight clipping done by the camera, as it has a very harsh shoulder at the high end. This means that to retain full detail in areas with highlights, you'll have to stop down significantly, though shadow detail is well-preserved.
Noise
The Samsung NX200 features an ISO range that extends up to 12800, but it is also able to keep noise to a minimum.
The Samsung features long exposure noise reduction, but its main noise reduction setting has merely an On and Off setting. As with most cameras, shooting in JPEG (even with the setting turned to Off) does result in some minor noise reduction that can only be pre-empted by shooting and processing in RAW. We found that with noise reduction turned off the NX200 returned percentages that grew steadily from 0.7% at ISO 100 to 1.19% at ISO 1600. This then spiked up to 1.9% at ISO 6400 and 3.61% at ISO 12800, the camera's highest ISO speed. With noise reduction turned on these numbers dropped to 0.65% at ISO 100, to 0.74% at 1600, 0.99% at 6400, and just 1.16% at ISO 12800. The major price of noise reduction is in the fine detail captured by the NX200, though this is mitigated somewhat by the camera's 20-megapixel image sensor.
Excellent noise results came back all the way up through the maximum ISO of 12800. Noise stayed under 2% even as high as ISO 6400 with noise reduction turned to the Off setting. At its lowest ISO, the NX200 returned just 0.7% noise, only rising above 1% at ISO 1600. At every ISO we found luma noise was well-controlled, though chroma noise tended to be the most bothersome in our test images.
Low-light Performance
The NX200 means business, even in low light, but it could do better at times in the way of distortions.
The NX200 makes use of a contrast-detection autofocus system, with a built-in AF lamp. The AF is pretty fast in bright light conditions, but it does seem to have some issues with latching onto background elements when there's a moving subject and not adjusting fast enough. The camera can continuously autofocus in live view and during video recording (fairly quietly, too), but it doesn't re-adjust fast enough between subjects.
We found the NX200 was able to accurately achieve focus in low light with the built-in lamp, but it would not be considered fast by any means in these conditions. Focus speed has been a major area of improvement in the compact system camera market this year, with the Nikon J1 and Olympus E-P3 both achieving very fast focus speeds. The NX200 doesn't quite reach those heights, but in bright light it gets the job done.
The Samsung NX200 suffered from mild chromatic aberration in most of our test images, exacerbated by the camera's inability to control highlights in many scenes. The blown out highlights, especially those in skies or with clouds as backdrops, produced a greater amount of high-contrast edges than we typically see, which had blue fringes in many of these scenes.
We found the 18-55mm i-function kit lens produced a fair amount of distortion on the NX200, ranging from a 3% barrel distortion on the wide side up to a noticeable 2% pincushion distortion at the telephoto end. This is fairly typical, though most kit lenses don't suffer from pincushion distortion as much (most have a hardly perceptible amount of distortion at the midpoint and telephoto end).
Other Tests
The NX200 renders motion very well, with great sharpness undone by a pretty hideous aliasing problem.
The motion rendition on the Samsung NX200 was quite good, with very little color bleeding visible in our tests. Motion on the edges got a little spotty in some areas, but overall the camera handled it quite well, as long as it didn't have to render any fine patterns.
The NX200 did not have much issue rending motion, with its aliasing problem being the biggest obstacle to overcome. There was some color bleeding in our motion test in the RGB pinwheel, but not as much as with our comparison models.
In testing we found that the NX200 was consistently able to render sharpness up to 550 LW/PH horizontally and 525 LW/PH vertically. The camera was capable of sharpness to a much higher level (at times matching the sharpness you'd see in a mid-range prosumer camcorder), but the camera simply couldn't suppress aliasing enough so that such sharpness only turned up in select moments when pausing the video. The result is a very distracting moire effect that haunted the video on the NX200 anytime it was pointed at a fine pattern on clothes, walls, carpets, or test charts.
The NX200 required 19 lux of light to render an image that reached 50 IRE on a waveform monitor. This puts it slightly below the best video-capable DSLRs and prosumer camcorders in this price range, but still within an acceptable range. Low light sensitivity can be ramped up significantly by increasing ISO in video, an option many camcorders and cameras do not even offer.