Cameras
Samsung TL350 First Impression Digital Camera Review
There's delight and dismay in evaluating a pre-production camera where not all the bells chime and the whistles hoot.
Tour
Front
The TL350 is a sleek, compact 3.91 x 2.32 x 0.85-inch design, with a nicely textured grip for the right hand and a slender shape that makes it quite portable for such a full-featured camera.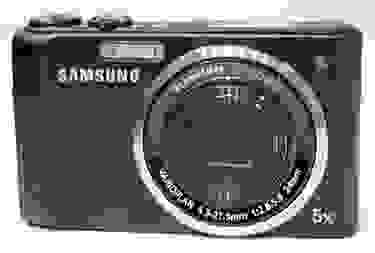 The TL350 has a serious, classic design.
Back
There are two control wheels here, though a little hide-and-seek is required to find them. There's a black wheel on the right edge, next to the thumb rest, and a scrolling wheel around the four-way controller. The screen may is a noteworthy highlight: it's a 3-inch display with 614,000-dot resolution, using OLED technology rather than the more typical LCD, providing richer colors. better viewing angles and brighter images, particularly when shooting outdoors.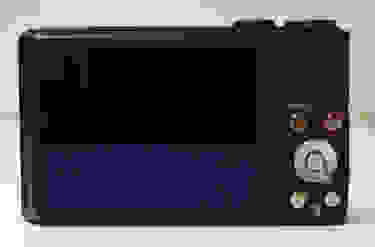 The 3-inch OLED display is a key hardware benefit.
Sides
The left side of the camera helpfully reminds you of your camera's resolution if it slips your mind. The right is all business, with AV, data and HDMI jacks, a spinning control wheel and a lanyard connection.The door protecting the connectors flips open and stays that way until you choose to close it; it's a relatively minor point, but indicates a level of quality construction often missing from compact camera designs, which often rely on annoying floppy rubber port covers.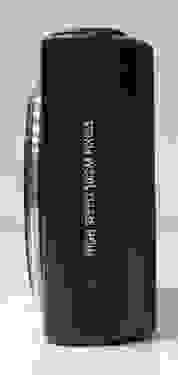 The left side view
The IO port door flips open with satisfying 'click.'
Top
Yes, retro design fans, those are analog gauges you see over on the left. These dial indicators for memory and battery life, first introduced with the TL320, are neither more precise nor more efficient than an on-screen digital readout, but they make much better conversation-starters. The remaining controls here are simple and effective, with the shutter button well placed away from the camera's edge for comfortable fingertip reach, and a standard mode dial that clicks into place authoritatively as you turn it.

The camera top features fun analog gauges.
Bottom
Along with the label that adorns our pre-production sample, the camera bottom is home to a battery/memory card compartment that's tightly latched to avoid accidental opening, and a tripod socket positioned under the lens.

The bottom line: battery, memory, tripod socket.
Hardware
Viewfinder
Those hunting for the increasingly rare optical viewfinder on a compact camera will just have to continue the search elsewhere.
LCD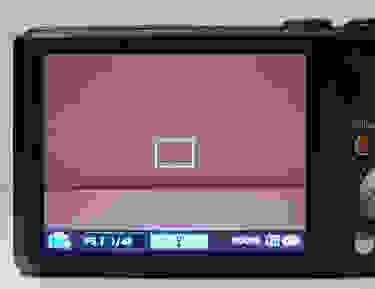 The AMOLED screen used by Samsung refreshes
quickly and looks impressive (at least, when it
isn't pointed at a blank wall).
We use the 'LCD' subhed out of habit, but in fact Samsung now uses a superior display technology in this camera and several of its other upscale models, called OLED, which provides richer colors and a brighter display than traditional LCD technology. 
Flash
The built-in flash.
The built-in flash is average-sized, and positioned far enough from the lens that we don't expect significant problems with red-eye when shooting in dark settings.
Lens Mount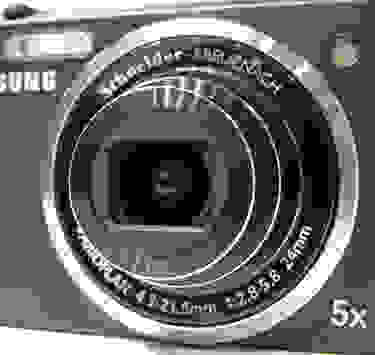 The TL350 has a 5x zoom with a decent wide angle.
The 5x Schneider-Kreuznach zoom lens starts at a nice wide 24mm equivalent, helpful both for scenic shots and for fitting the whole gang into a group shot taken in close quarters. The f/2.8 maximum aperture is about what we'd expect for this class of camera.
Jacks, Ports & Plugs
The AV/USB and HDMI ports.
As expected, the TL350 includes a single port for data and standard-def video and an HDMI jack for connecting directly to a high-def TV set to enjoy all that 1080p goodness you paid for in all its glory.
Battery
The memory card and battery compartment.
The Lithium ion rechargeable battery shares a compartment with the SD memory card slot.
Memory
The TL350 uses standard SD/SDHC memory cards.
Design & Layout
Design & Appearance
---
This is a serious, professional-looking design, with none of the added bells and whistles or festive color schemes often festooned on lower-end compact cameras.
Size & Handling
---
The TL350 measures 3.91 x 2.32 x 0.85 inches, making it slim enough to fit into a pants pocket (unless you favor tight jeans, of course) and perfectly portable in a jacket. We don't have an official weight, but it feels solid and substantial in your hand without being unnecessarily heavy.
We found the TL350 very comfortable to handle, owing in part to the nicely crafted, deeply textured grip on the right side. There's also a sculpted thumb rest on the camera back, which both provides a solid handhold and prevents your thumb from wandering onto live camera controls.
More problematic are the camera controls themselves. The four-way controller is quite small and, at least in the sample we experimented with, not particularly responsive. This is particularly annoying when there are four potentially useful shortcuts to shooting settings mapped to the four directions: display, ISO, macro mode and flash.
It's surrounded by a scrolling wheel that makes zipping through menu lists quite speedy, but that raised dial accounts for part of the four-way manipulation problem. Finally, there's a dedicated vertically-oriented scroll wheel on the far right of the camera back, next to the thumb rest. This wasn't working properly on the pre-production model we tested, so we have to reserve judgment on its ultimate effectiveness. From what we could tell, it offers direct access to drive mode settings in both still and video shooting modes. We assume it will also serve as part of a one-two control system when using manual exposure control, but that wasn't working yet either. We were surprised that this wheel apparently serves no purpose when maneuvering through the menu system. Logic says that, if you have a horizontal menu laid out before you, turning the dial that moves horizontally would move the cursor. Doesn't seem to be the case.
Menu
---
The two-part menu system, with a quick menu that appears after pressing the FN key and a more traditional menu accessed via the well labeled MENU button, is clearly arranged and works efficiently. The quick menu provides a scrolling set of options along the left side, with a fly-out list of options arrayed horizontally. This is where we expected the side scrolling wheel to help out, but spinning the circular control is a reasonable, if less instinctive, substitute.
The main menu system spells out your options in black and white (OK, blue and white), and navigation is reasonably simple.
Ease of Use
---
The number of options and level of control available with the TL350 inevitably lead to a certain level of complexity, but there is an idiot-proof Smart Auto mode for those who prefer total point-and-shoot automation, and the menu system is clearly arranged if a bit tedious to navigate.
Modes
Auto Mode
---
The Smart Auto mode (available via the mode dial via an icon in the universally accepted green-for-easy color) uses scene recognition to choose appropriate camera settings for the scene you're seeing. All user settings are locked out except for image size.
Movie Mode
---
Shooting video is a core competency of the TL350. Straightforward movie shooting is supported at the full 1080p high-def spec, and there's an HDMI output for viewing your movies directly on a high-def TV. There are two separate 1920 x 1080 settings (presumably with different bit rates for larger and smaller file sizes), plus 1280 x 720, 640 x 480 and 320 x 240.
But what if reality is just too fast-moving for your taste? You're in luck: the TL350 allows you to shoot video at far higher than normal speeds -- up to 1000 frames per second, in fact -- which when played back translates into dramatically slow-motion video. At the extremes, you get the kind of balloon-popping-in-slow-motion video that was once the province of scientific researchers using high-priced lab equipment. However, the more you push the number of frames per second you're recording, the lower the resolution you record. At the top 1000 fps rate, this translates to a fairly silly 128 x 78 pixel resolution, and even then requires bright lighting to see much of anything. However, as you throttle the speed down, the results become both fun to watch and kind of intriguing. Shooting at 240 frames per second, for example, slows motion to a crawl and still yields a 320 x 240 pixel resolution clip that's reasonably watchable.
Drive/Burst Mode
---
While going slow in video mode undoubtedly has its fans, it's the high-speed still photographic capability of the TL350 that we find intriguing. Samsung claims a 10-shot-per-second burst rate at full 10-megapixel resolution. And, while we could not check this out with the pre-production model we were testing, anything from about 7 shots per second up is great for sports photography, or catching kids running 90mph is full flight.
Another interesting option here is the ability to capture a full-res still while you're shooting video. Again, we can't swear that there won't be a hiccup in the video recording when you use this feature, but it does offer the promise of exceptional flexibility.
Self-timers with 2- and 10-second settings are provided, as expected. More surprising, and potentially a lot more fun, is the interval timing capability, which lets you mount the camera on a tripod and set the time interval between shots, number of shots to be taken, and the starting time.
Playback Mode
---
There are three views available in playback mode, toggled by pressing upward on the four-way controller. One is a clean screen, the second has a minimal information overlay, and the third includes full information about the stored shot, including ISO, flash setting, image size and date taken.
Scene Modes
---
Preset scene modes, which tailor camera settings to a particular shooting situation without making manual adjustments, include fireworks, beach & snow, panorama (up to 6 shots), beauty shot, night, portrait, children, landscape, closeup, text, sunset, dawn, and backlight.
Controls
Manual Controls
---
The TL350 welcomes those who know their camera controls, offering program, aperture-priority, shutter-priority and full manual exposure controls, along with the ability to shoot RAW files for processing later using computer software.
Focus
---
There are four focus options: center point, multi (where the camera selects from any point on the screen), selection AF (the shooter chooses any of the available focus points) and tracking AF, where the system attempts to follow a moving subject after the initial focus is acquired.
Face detection is also supported, both the run-of-the-mill 'Hey, there's a face over there!' version and the more complex 'Hey, there's a face over there that's been entered into memory, so I'd better give that one priority' mode. In addition, smile shot and blink detection are provided.
ISO
---
ISO settings start at 80 and top out at ISO 3200.
White Balance
---
In addition to automatic white balance, presets for sunshine, clouds, fluorescent H, fluorescent L and incandescent lighting are provided. Any of these settings can be fine-tuned along either the Green-Magenta or Amber-Blue spectrum. You can also take a manual white balance reading, or set the color temperature in degrees Kelvin.White balance bracketing is also offered, unusual in a compact camera.
Metering
---
The three available metering patterns are the traditional spot, multi and center-weighted.settings.  Exposure compensation is available in a ±2 EV range, in 1/3 EV increments.Exposure bracketing is also available.
Shutter Speed
---
Available shutter speeds range from 1/1500 second to 16 seconds.
Aperture
---
Maximum aperture settings for the 5x zoom lens range from f/ 2.8 at the widest setting to f/5.8 at maximum zoom
Image Stabilization
---
Both optical and digital image stabilization are provided.
Picture Quality & Size Options
---
There are image size options: 10M (3648 x 2736), 9M (3648 x 2432), 8M (3264 x 2448), 7M wide (3648 x 2056), 7M (2736 x 2736), 5M (2592 x 1944), 3M (2048 x 1536), 2M (1920 x 1080) and 1M (1024 x 768). There are three levels of JPEG compression, Super Fine, Fine and Normal. RAW shooting is also supported, and RAW images can be combined with JPEGs at any of the three compression settings.
Picture Effects
---
There's a nice range of photo effects available, including normal, sketch (which turns the image into a line drawing), anti-fog, soft, vivid, forest, retro, cool, calm, classic (i.e., black and white), and negative, plus the option to tweak red, green and blue levels individually.
In addition to these settings, the user can manually adjust contrast, sharpness and saturation on a sliding scale, previewing the results of these adjustments on screen as they're made.
Conclusion