I did something far more heroic: I drove it back and forth to work everyday.
Sure, it might sound like I'm writing a review of a barbecue joint after only sampling the mac and cheese, but plenty of people have already written reams about this Subaru's meat and bones. I think it's just as important to see just how well the STI handles as an everyday driver, which is exactly why I used it for that purpose.
See, the STI is one of the few bona fide performance cars that most folks can someday dream of buying. For a starting MSRP of $34,495, you can buy a car that—in many cases—will hold its own against a $106K Porsche 911 Carrera 4S.
But don't mistake affordability for accessibility. The STI is a track car that can be driven every day, not the other way around. Chances are, you've still got to get to work. And unless your last name is Pastrana, your job doesn't involve driving this car.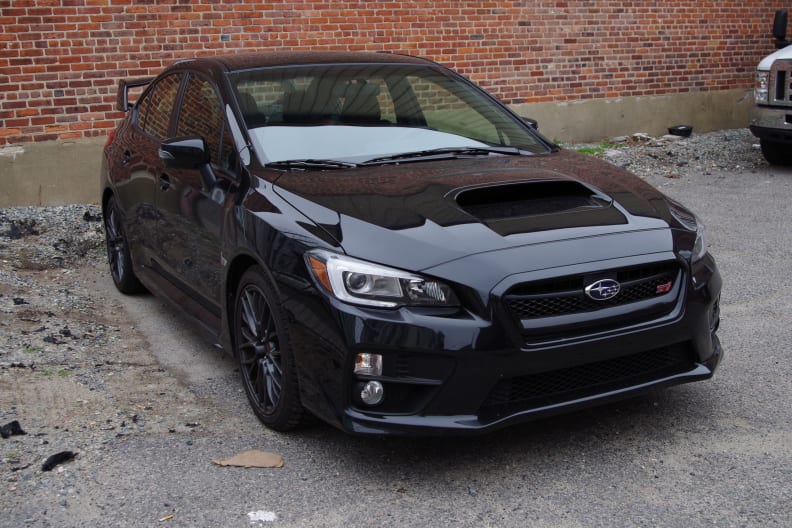 ×
Exterior Gallery
First, a little background: While the design is all new for 2015, the 2.5 liter "boxer" four-cylinder engine hasn't been changed since 2008—an eon in the automotive world. Still, that's good news for aftermarket suppliers who won't have to update their catalogs, and for tuners who hear the name Cobb and don't think of salad.
It's also freed up Subaru to focus on a myriad of updates everywhere else, from major suspension and chassis improvements to smaller tweaks that improve steering and shifting.
Luckily, that hasn't changed the car's overall character. It's a performance car to the bone, and don't you forget it. Buy a Boxster S or an AMG for the looks and it will forgive you for taking it to the grocery store. But the STI begs you to go all-out, all the time, even in the Trader Joe's parking lot. Get used to disapproving stares from pedestrians.
Take, for instance, the six-speed gearbox. The stock shifter has short throws and ratchet-like precision—perfect for a quick sprint to 60 or split-second decisions on a rally course. When I drove it to work like a responsible adult, however, I found myself in fourth gear in about ten seconds. In stop and go traffic, my right hand never left the shifter.
The throttle proved twitchy at low speeds, too, making a slow, smooth start almost impossible. Of course, that encouraged me to floor it at every stoplight. And that glorious exhaust note will announce your presence long before your neighbors can see that massive rear come in to view. For my auditory delinquency, I'm not expecting many trick-or-treaters this Halloween.
Only the STI's hydraulic power steering proved both enthralling and livable in day-to-day driving. Quick, with just enough heft and plenty of feedback through that new flat-bottomed wheel, there's nothing quite like the STI's follow-through. I just pointed the tiller where I wanted it to go, and it happened—whether I was following the racing line on a highway offramp or pulling into a Petco parking lot to grab a bag of cat litter.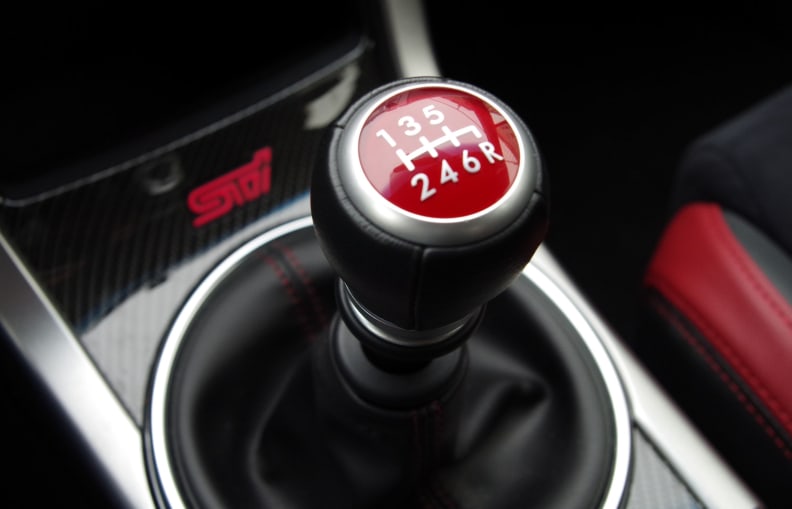 ×
Interior Gallery
There's plenty of tech on board, but has nothing to do with a smartphone. Sure, the car I drove had a tinny-sounding radio, but even at its loudest it was overpowered by the magnificent duet of a revving engine and spooling turbo—sound that's actually piped back into the passenger cabin for maximum effect. You can get a navigation system, plus keyless access and start for an additional $2,500.
For 2015, the STI adds trick torque vectoring, which can lightly apply the brakes on the inside wheels in a turn to help handling. Variable SI Drive changes up the throttle map, and an adjustable center differential lets the driver decide how to split the STI's all-wheel drive between front and rear wheels, with a 41/59 split. But on the congested streets of Cambridge, Massachusetts, I never had the opportunity to push the STI hard enough to see just how much of a difference any of that tech could make.
If all that sounds like overkill, step away from the STI. Lucky for you, the Subaru WRX has also undergone a recent upgrade, and it's better than ever. You'll add some spice to your daily commute, you'll save almost $9,000, and you won't have to deal with the STI's attitude.
With the Mitsubishi Lancer Evo getting the axe later this year, the STI loses all competition for the title of most capable car on the road for its price. But if your weekend plans don't involve autocross, skip the STI and give the WRX a try.
Meet the tester
Keith Barry
Former Editor in Chief, Reviewed Home
@itskeithbarry
Keith was the Editor in Chief of Reviewed's appliance and automotive sites. His work has appeared in publications such as Wired, Car & Driver, and CityLab.
Checking our work.
We use standardized and scientific testing methods to scrutinize every product and provide you with objectively accurate results. If you've found different results in your own research, email us and we'll compare notes. If it looks substantial, we'll gladly re-test a product to try and reproduce these results. After all, peer reviews are a critical part of any scientific process.
Shoot us an email