Cars
2014 Best of Year Car Tech Award
Apple tops our list for 2014
Credit:
Car infotainment systems get better every year. Nearly every car offers internet connectivity, streaming audio integration, and excellent voice recognition.
Unfortunately, even today's best interfaces aren't as powerful nor as intuitive as the average smartphone or tablet. That's why we're glad to see new technologies that let your car mirror the infotainment system that's already in your pocket.
Best Car Tech of the Year
Apple CarPlay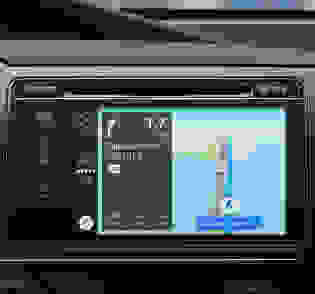 Apple's CarPlay promises to integrate iOS into a car's dashboard, letting drivers access navigation, streaming audio, and hands-free phone connectivity through a familiar user interface.
Unlike most existing infotainment systems, which attempt to replicate a smartphone's functionality, CarPlay simply puts your in-dash display in charge of your iPhone.
CarPlay gets a unique, car-friendly user interface, with big, easy-to-read buttons. Siri voice recognition is also integrated. Your car's existing controls will continue to work with CarPlay, so you can still turn down the volume from your steering wheel when you're streaming Spotify.
Because CarPlay-equipped infotainment systems won't have to include their own navigation systems, software, or processors, it's likely they'll be more affordable than their predecessors.
Not all car manufacturers are on board, and Android has its own plans for putting its OS in dashboards. Still, CarPlay is a major step in making your car's infotainment system as easy to use as the phone you already own.
Read our full write-up from the Apple CarPlay announcement.