Cars
Aha Radio: At the Intersection of Streaming Audio and Social Media
Aha offers streaming content for multiple car manufacturers, including Honda, Chrysler, Subaru and Porsche. Here's a look at what it can do.

Credit:
As cloud-connected infotainment systems gain in popularity, one name keeps popping up: Aha.
The infotainment suite, from Harman International, is currently in use in audio systems from Subaru, Honda, Acura, Porsche, Scion, Ford, and Chrysler, in addition to aftermarket units from Pioneer, Kenwood, and Alpine. We wouldn't be surprised if more automakers got on board.
Like similar systems, Aha uses your phone's data connection to stream radio stations and podcasts, plus it connects with social media platforms such as Twitter, Facebook, and Yelp.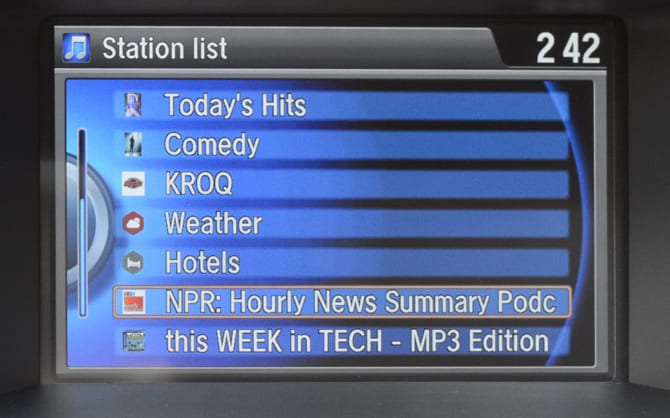 But Aha goes one step further. Where most infotainment systems require users to take their eyes off the road, or lock out some functionality while the car is in motion, Aha turns real-time social media updates into audio and reads your status updates and tweets like they're just another podcast.
It also has dedicated Yelp "channels" that read out recommendations for nearby restaurants and coffee shops, with the option to navigate to one that piques your interest. Those updates and recommendations are voiced by a robotic, synthetic character—we haven't moved that far past HAL—but they'll satisfy a driver's social media fix or need to find a decent meal in an unfamiliar town without requiring a glance at a phone.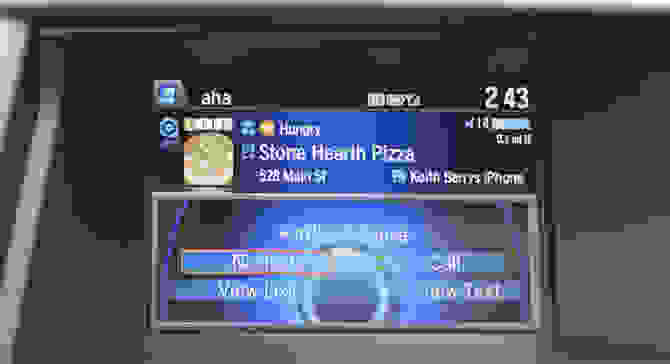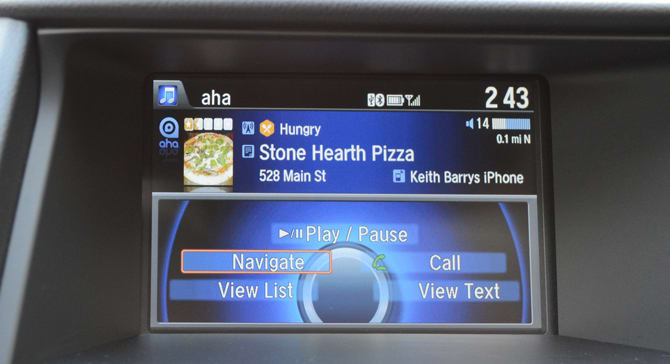 In addition, Aha users can customize podcasts so they can listen to Morning Edition in the evening, or a radio station from LA while driving through New Jersey. Every time we check our inbox, there's an update from Aha saying that a new content provider has signed on, so there'll likely be something there for you regardless of your tastes. All the content is currently free, supported by advertising. You only have to pay for a data plan on your smartphone, and any overages if your data usage exceeds your plan's limits.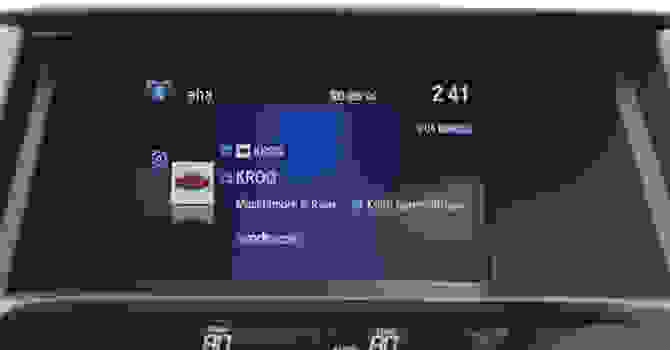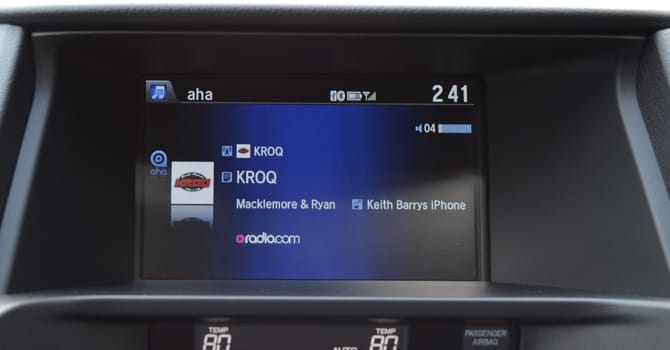 Using Aha requires an app that runs on iPhone and Android, but its user interface is left up to the car manufacturer. That's why things can get a bit dicey when it comes to implementation. Regardless of how good the software is, a lousy touchscreen or laggy controls make Aha a pain to use.
That's what happened when we tried it on the 2013 Honda Accord, the first car to integrate Aha into its infotainment system. It was downright buggy and convoluted. While the software itself was cool, it didn't play well with Honda's HondaLink navigation system. For example, Aha often continued to read the names of nearby pizza shops well after we'd selected one to navigate to, leaving us with two computerized voices shouting at one another.

In the 2014 Subaru Forester, integration was almost seamless, but the Subie's tiny touchscreen, chiclet controls, and lackluster voice recognition doomed the whole setup, making it very difficult to use while driving.
We haven't used Aha with Chrysler's nearly foolproof UConnect system, nor have we tried it on Porsche's superb PCM infotainment setup, but we suspect those two standouts will be the best platforms currently available for truly testing the capabilities of Aha.