Cars
Buick IntelliLink: Infotainment for the Masses
Buick has improved its IntelliLink infotainment platform for 2014, adding features and removing complexity.
Credit:
First Impressions
It's fitting that GM unveiled the 2014 Buick Lacrosse and Regal in the shadow of the High Line, a few miles away from the New York International Auto Show at the Javits Center.
After its initial revitalization from an abandoned elevated railway into a public park back in 2009, the High Line briefly became a sensation, a trendy place to see and be seen for those in the know. Now, it's gone mainstream, a must-see for tourists alongside the Empire State Building and the Central Park Zoo.
Buick's IntelliLink infotainment system underwent a similar, populist transformation in its latest generation. On prior Buicks, the touchscreen nav and audio setup felt a bit tacked on, a mere nod to the notion of connectivity. Festooned with tons of minuscule buttons and topped with a cluttered touchscreen, it was far from the worst infotainment system we'd used—but it certainly wouldn't win over any Luddite converts.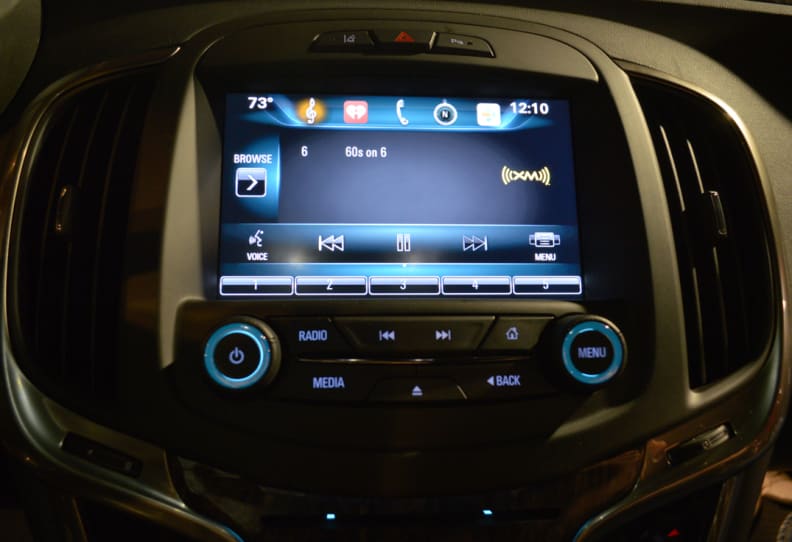 That's why it was so refreshing to see the latest version of IntelliLink on the 2014 Lacrosse and Regal. Modern, yet comfortable, it's been pared down from 17 physical buttons to just seven. And those that remain are the important ones—big, chunky knobs for changing the volume, switching stations, or turning down a fan. All the less-used functions are hidden behind ginormous icons on an 8-inch touchscreen.
By simplifying the whole setup, Buick has made it remarkably easy to perform core infotainment functions at 70 mph without glancing away from the road. It's quite responsive, and as easy to use as a smartphone, which may win over buyers not otherwise interested in adding tech to the dashboard.
Coming from the same parent company, IntelliLink is a similar setup to Chevrolet's new MyLink, which we tested on the 2014 Impala. Both systems let users bring the core functions of a smartphone into the car, but simplify it for use while driving.
Just as the High Line's appeal brought out the guidebook-toting out-of-towners, the new IntelliLink system has the potential to democratize in-car infotainment through its simplified user interface. In our eyes, that's not a bad thing.