Cars
This Smart Electric Scooter Could Transform Cities
Zero emissions. Full connectivity. Battery swapping. 100% electric.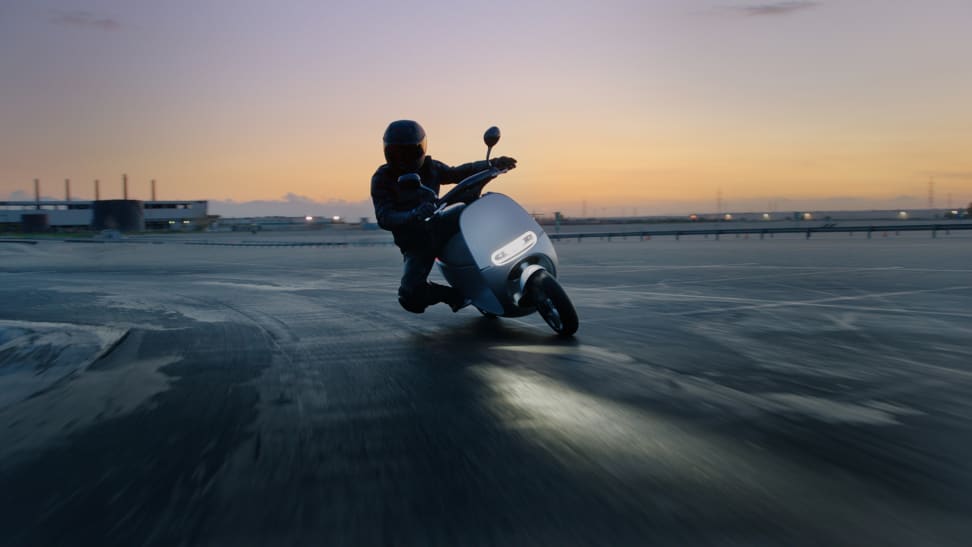 Credit: Gogoro
The transportation revolution is not some elusive vision on the horizon. It's already begun, and we have smartphones to thank. Our mobile gizmos do more to facilitate change in the ways we get around than automotive technology itself, though advances in autonomous driving and battery tech certainly help.
From Tesla to Uber, the most exciting innovations in automobile transportation are coming in the form of streamlined user experiences. But thus far the major breakthroughs have been squarely in the world of cars. What about, say, scooters?
If you live out in the country, you're probably thinking, What the heck is a scooter? But if you live in a major U.S. city, Europe, or Asia, you know that scooters are an enormously popular and effective means of personal transportation. The problem is that, even with their small size, they're heavy polluters. But that could soon change.
Gogoro-a-Go-Go
Go, Go, Gadget Gogoro!
The Gogoro Smartscooter is a pretty ingenious solution—not just for the inefficiency of existing scooters, but also for the frustratingly patchwork state of EV charging networks.
Instead of relying on charging stations, Gogoro plans to launch a battery swapping network that will allow users to quickly change their batteries as soon as they run low on power. The company is partnering with Panasonic to get the job done, and its design involves a twin battery system able to provide enough power for 62 miles of travel and a top speed of 60 mph.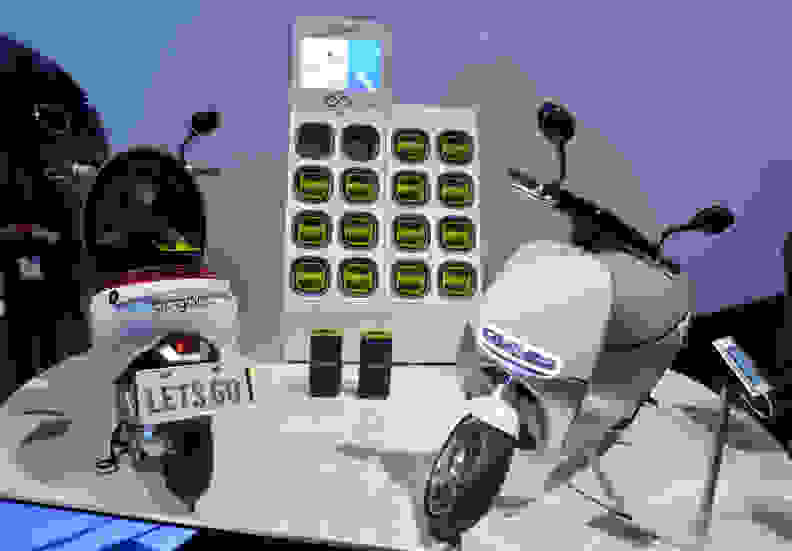 Horace Luke, co-founder and CEO of Gogoro, sees the Smartscooter and EVs like it as an imperative for coming generations. In a statement accompanying the unveiling of the Smartscooter at CES this week, Luke argued that the world's cities are at a tipping point with regards to population density, pollution, and growth.
"It is essential that we reimagine the energy infrastructure and create a renewed mindset for change in tomorrow's urban generation," he said. "The Smartscooter and Gogoro Energy Network will capture the hearts of the next generation and become a catalyst for more efficient, cleaner, and smarter energy choices in our cities."
"It is essential that we reimagine the energy infrastructure and create a renewed mindset for tomorrow's urban generation."
The battery swapping system Gogoro has created is impressively simple. Unlike traditional car and motorcycle batteries, which are harnessed to the chassis with bolts and frames, the Smartscooter battery can be swapped out in a mere six seconds.
The real benefit to this system is the total lack of greenhouse emissions—a feature that could drastically alter the energy infrastructure of urban transit systems if implemented on a large scale. This really could be the future of personal transportation if all the dominoes fall the right way.
A Smart(er) Scooter
Proof that clean energy and high performance aren't mutually exclusive
A zero-emission battery-swapping system is pretty clever, but it's not the only trick Gogoro has up its sleeve. It's the scooter's smart infrastructure that makes the Gogoro Energy Network a compelling possibility. The scooter itself features 55 sensors, cloud connectivity, an integrated app, and Bluetooth and NFC connectivity.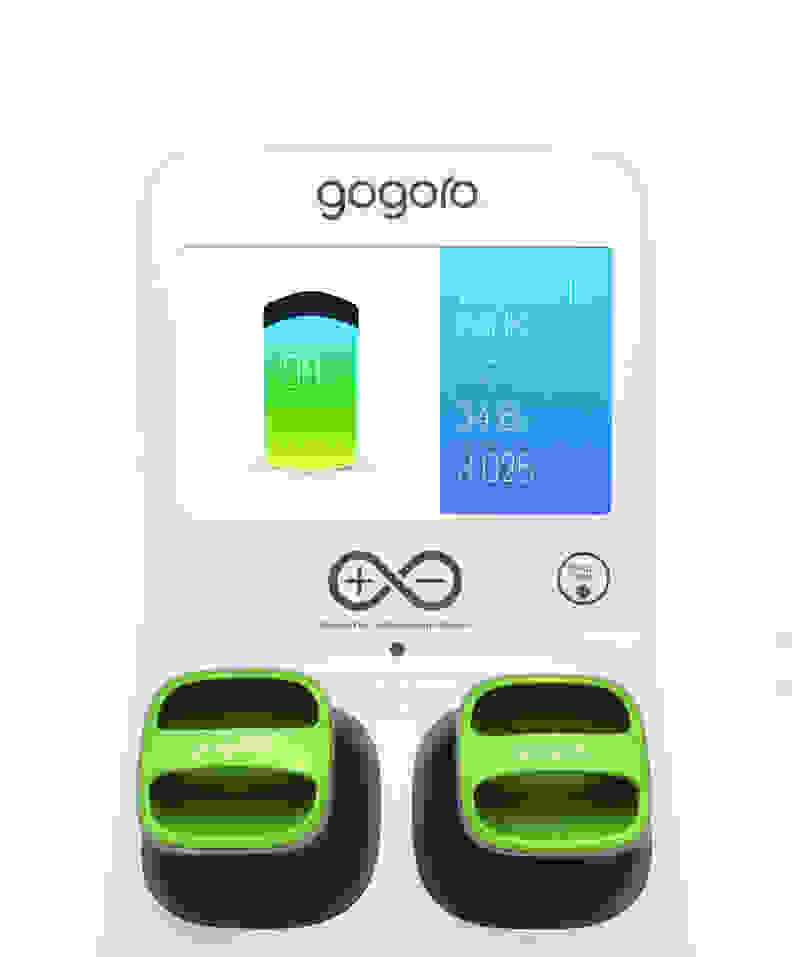 The Gogoro App, which syncs with the scooter via Bluetooth, locates "GoStations" throughout your city. You can also use it to reserve batteries, get detailed scooter diagnostics, customize regenerative braking behavior, and track ride details like top speed and range.
One of the coolest features, simply called "Smart Mode," analyzes your individual riding pattern and style. It then uses that data to optimize your torque and power consumption. For example, it might dim the lights to ensure your battery lasts long enough to get you home.
While the company has packed all these smart features into its scooter, Gogoro hasn't skimped on hardware. The Smartscooter features an ultra-lightweight aluminum chassis, high-performance race suspension, an aerodynamic frame, hybrid racing tires, and a motor controller with digital processing that delivers 98 percent efficiency to the drivetrain.
That's pretty impressive, but if you're looking for speed and power, the Gogoro's 8.58 horsepower and 60 mph max speed aren't meant to compete with electric motorcycles. Harley-Davidson's recently unveiled LiveWire electric motorcycle, for example, boasts 74 HP and a top speed of 95 mph. Despite its hardware bona fides, the Gogoro is not designed for speed, power, or longevity. This thing is all about efficiency. It's meant for personal, urban transportation.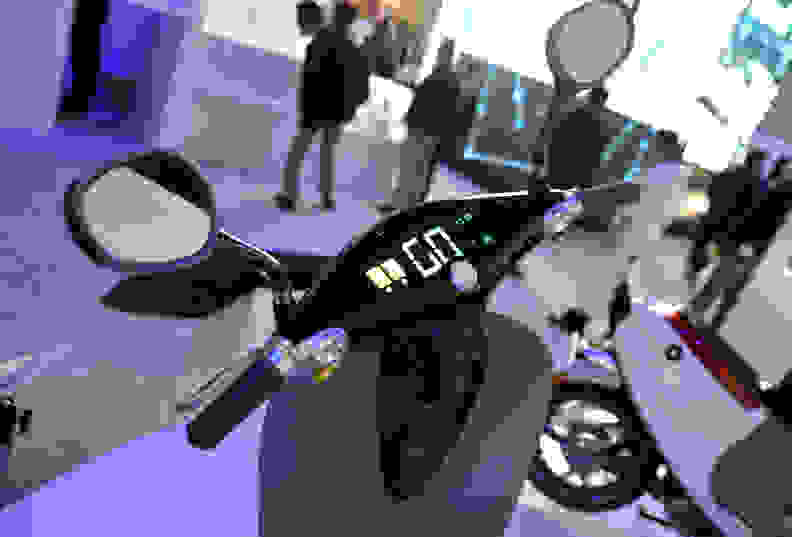 Okay, So What's Next?
Look out, Europe and Asia. America, you'll have to wait.
It's okay to be skeptical—after all, you can't currently buy a Gogoro Smartscooter. But the company is working from a generous funding platform.
When Gogoro first launched in 2011, it secured $50 million in Series A funding from a number of important Asian investors, including Dr. Samuel Yin of Ruentex Group and Cher Wang of HTC. The company is currently involved in a $100 million round of funding to bolster its planned 2015 rollout.
Gogoro is targeting the 18- to 28-year-old demographic.
Right now, one can only speculate as to where Gogoro plans to launch its first Energy Network. But given the popularity of scooters in Europe and the company's funding base in Asia, you should probably expect the U.S. to be pretty far down the list.
Gogoro did confirm to us that they're targeting the 18- to 28-year-old demographic, which means the scooter will be priced to attract "young urbanites." On top of the up-front cost, owners will have to pony up for a subscription to the battery swapping network. But as long as that subscription fee isn't inordinately more expensive than the cost of fuel, it shouldn't be an insurmountable stumbling block. The company is not discussing specific pricing at this time.
---