According to the National Highway Traffic Safety Commission, 3 out of 4 car seats are not used correctly. Installing car seats properly is a constant source of anxiety and frustration for many parents, grandparents and other caregivers. You can find tutorials online, and of course manufacturers offer guidelines, but it's still difficult to know if you've installed the car seat correctly.
4moms arrived at CES with a solution to this problem: a self-installing infant car seat. The 4moms car seat gives you verbal instructions along with a visual guide to help you connect the tethers on the car seat base to the LATCH system (Lower Anchors and Tethers for Children, found in all cars manufactured after September 2002). It then uses robotics to auto-tension and auto-level the base. The car seat continuously monitors tension, level, and battery life whenever the infant bucket seat is attached to the base—and alerts you if anything changes.

The 4moms app allows further customization of your car seat installation experience. By scanning the VIN number of your car, the app will give you detailed instructions for optimal car seat location based on your car's particular make and model. And you no longer need to be parked on flat ground for proper installation—using your smartphone and the app, the car seat will adjust for any uneven ground you're parked on when calculating the proper installation angle. If you enter your child's weight and height into the app, 4moms will tell you when to raise the headrest of the infant seat, and will send you an alert when your child may be outgrowing the seat. The car seat is powered by 8 D batteries and should last until your infant outgrows it.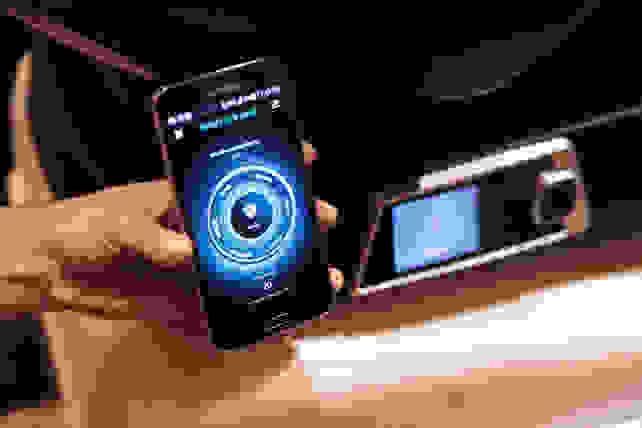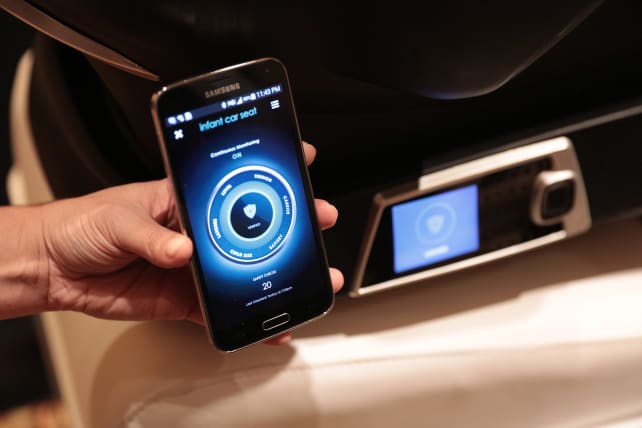 Since all the technology is housed in the car seat base, the removable bucket seat itself feels—and looks—pretty much the same as any other infant car seat. The only difference is in the headrest, which you can raise and lower by simply tugging up or pushing down on the top. Adjustable headrests are usually found in car seats for older kids, but the 4moms design may reduce the amount an infant's head moves from side to side when strapped in. The material looks comfy for Baby and, most importantly, can be removed for washing purposes.
The car seat comes with a hefty price tag of $499.99—which is significantly more expensive than other infant car seats on the market today, but isn't out of line for the 4moms brand of high-tech baby products. At the end of the day, you're paying for the tech and the peace of mind it brings you, and that comes at a fairly high price.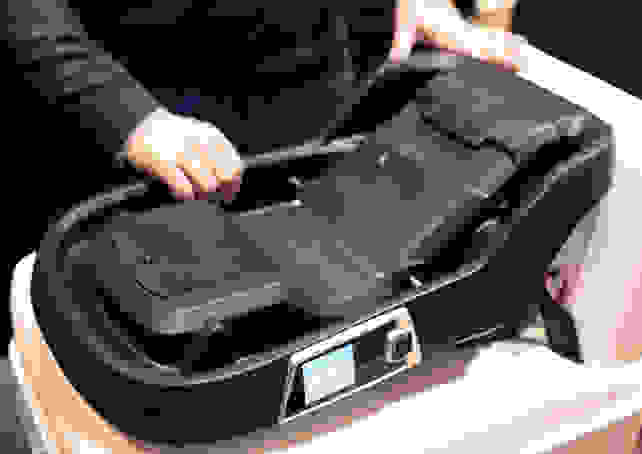 There are lots of steps involved in car seat installation, and it's hard to get all of them right. Even after the seat is placed correctly in the car, even after the child is in the car seat, parents have to make sure to tighten the straps appropriately and position the chest strap just so. That's another area where parents can trip up. According to a recent study at the Oregon Health & Science University Hospital, 95% of the nearly 300 families with infants surveyed made at least one mistake with car seat installation, and roughly 90% of those mistakes were deemed to put the infant in more danger of being injured in a car crash.
The 4moms self-installing infant car seat is a great step in the right direction when it comes to using technology to solve one of parenting's most frustrating—and most safety-critical—problems. However, there is room for much more innovation in this area, and we're looking forward to future technological advances that will help us keep our kids safe.
Related Video
Our editors review and recommend products to help you buy the stuff you need. If you make a purchase by clicking one of our links, we may earn a small share of the revenue. Our picks and opinions are independent from any business incentives.