Cars
Jaguar Getting a Crossover and a 3-Series Fighter
It's a whole new Jaguar
Credit:
Jaguar Debuts Crossover, Hints at Low Cost Sedan
Jaguar's long rumored C-X17 crossover concept finally debuted at a private event ahead of Frankfurt's auto show, and it's a game changer for the British carmaker.
In an event also streamed live, Jaguar brand boss Adrian Hallmark also debuted the company's Intelligent Aluminum Architecture, an all-new lightweight platform on which future Jaguars will be built.
According to Hallmark, the first product on the new platform will be delivered in 2015: An all-new, midsize premium sport sedan, "priced just below the existing XF," which starts at $46,975. The company wasn't ready to show it off at Frankfurt, but the new sedan is aimed straight at competitors like the BMW 3-series, Audi A4, and Cadillac ATS. Hallmark promised that the new car will be capable of 184 mph, but that efficiency will still be a major concern.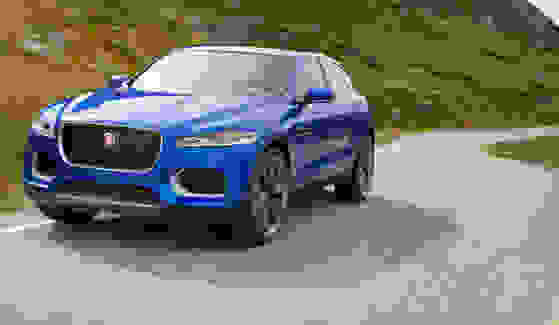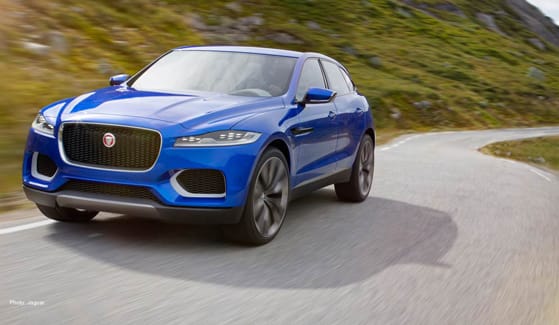 Design was also front and center, with Jaguar design director Ian Callum sharing a stage with the new C-X17 after it was unveiled. Calling it "unmistakably inspired by the F-Type," Callum highlighted the car's Jaguar heritage and promised that it would due a driver's car. By definition, the C-X17 can't match the low-slung aesthetic of the rest of the Jaguar lineup. But it is impressive, and instantly recognizable as a Jaguar.
If the concept makes it to production, which it likely will, Jaguar will become the last major automaker to offer a crossover or SUV. And since Jaguar and Land Rover share a parent company, it's a perfect fit: Giving the soft-roader to Jag doesn't dilute Land Rover's off-road heritage, but it attracts a new kind of customer.
Sure, the stodgiest Jaguar purists may scoff, but the C-X17 rounds out Jaguar's lineup to attract as many buyers as possible. Previously, those looking for a crossover would've had to look elsewhere. It's in line with the company's addition of all-wheel drive last year, to win over snowbelters who may otherwise overlook the entire brand.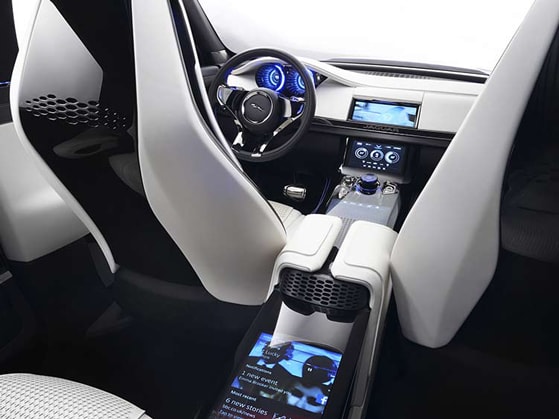 The C-X17 concept's interior is wrapped in WiFi-connected touchscreens that the carmaker calls the Interactive Surface Console. The console interfaces with smartphones and social media, and lets front and rear seat passengers "flick" photos and other information between the rows. Though the concept's interior will likely be toned down before production, we're hoping the Jaguar Land Rover infotainment system gets a much-needed update. We can't imagine that they'd invest in an all-new platform without updating the nav system.
We can't speculate on price or availability, but one thing is for certain: When the small sedan and C-X17 go into production, Jaguar will finally be able to match the offerings of its competitors from Germany, Japan, and the US.