Cars
Toyota's Hydrogen Car Makes Its U.S. Debut at CES
The hydrogen-powered car is back, and it's wearing a Toyota badge.
After its initial debut at the Tokyo Motor Show in November, the hydrogen-powered Toyota FCV made its first U.S. appearance at CES in Las Vegas. And along with the car, Toyota brought news about the nation's nascent hydrogen infrastructure.
Even though hydrogen has gained a reputation as a technology that's always just around the corner, Bob Carter, Toyota's SVP Automotive Operations, told the assembled crowd that the FCV is "really going to change our world, sooner rather than later."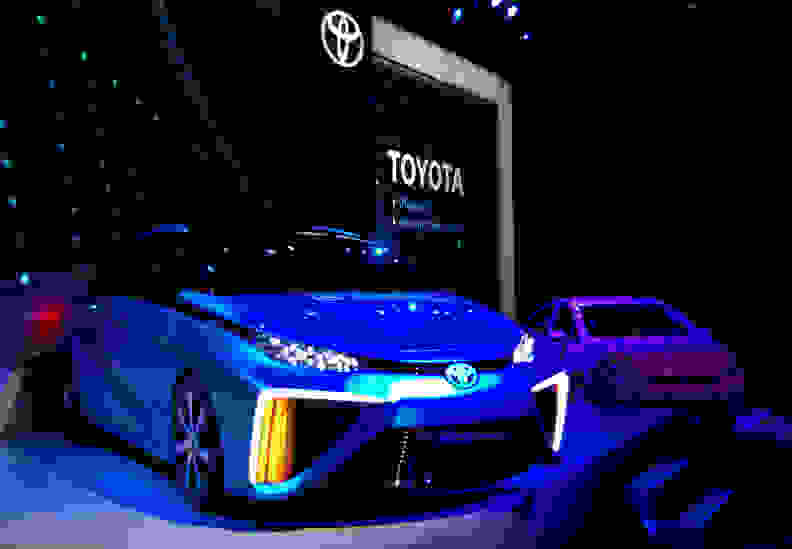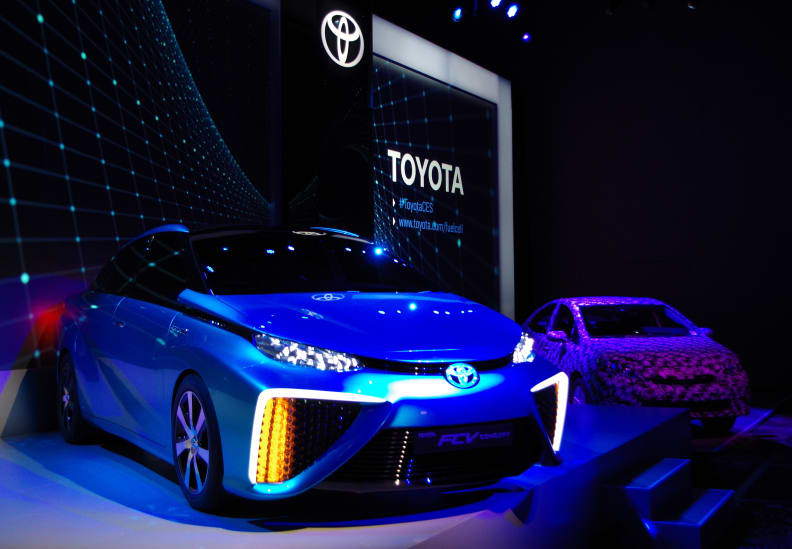 The FCV promises a 310-mile range between fill-ups, room for four passengers, and a refuel time of just three minutes. Unlike a pure electric vehicle, there's no waiting for a battery to recharge. Promised top speed is over 100 mph, and 0-60 times are about 10 seconds.
The FCV's propulsion system is small enough to fit beneath the seats, and two high-pressure hydrogen tanks save space and lower costs. Many components are shared with Toyota's hybrid drivetrain.
"We estimate a 95 percent cost reduction for the powertrain and fuel tanks of the vehicle we will launch in 2015 when you compare that to what it cost for us to build the original Highlander Fuel Cell back in 2002," said Carter.
What we don't know is how much the FCV will cost—though estimates hover between $50,000 and $100,000. Carter said that cost reductions will allow for the car to be on the road "in greater numbers" than most people might expect, with production-ready styling and a new name.
Interestingly, when used as a generator, a fully-fueled FCV can even power a home for a week during an emergency.
The futuristic exterior design is reminiscent of a windswept Corolla, with a massive grille to allow maximum airflow—or as Carter put it, "oxygen in, water out"—referring to the fact that a hydrogen vehicle's tailpipe emissions are only water. Interestingly, when used as a generator, a fully-fueled FCV can even power a home for a week during an emergency.
Despite a major focus on battery-powered vehicles, including plug-in hybrids and straight-up electric cars, Toyota appears to have redoubled its research into hydrogen, an alternative fuel that promises low tailpipe emissions but lacks any existing refueling infrastructure.
As proof of its commitment, Toyota has been been road-testing a fuel cell vehicle in the U.S., which it also brought to CES. The mule has logged thousands of test miles, braving cold-weather starts in northern Canada.
Toyota has also helped to determine the best way of expanding hydrogen infrastructure.
Toyota says that there will be 20 hydrogen stations in the U.S. by 2015, and 40 by 2016—mostly in Southern California.
According to the U.S. Department of Energy, there are only 10 public hydrogen refueling stations across the entire country. Today, Toyota said that there will be 20 stations by 2015, and 40 by 2016—mostly in Southern California, where the FCV will initially debut. Honda launched the hydrogen-powered FCX Clarity there back in 2008.
"Stay tuned, because this infrastructure thing is going to happen," Carter said.
And while 40 fueling stations might not sound like a lot, the new stations' locations will be determined based on an algorithm that Toyota helped develop. It was designed to put most FCV drivers within six minutes of a station from home or work, and can serve a small market exceptionally well.
"We don't need a station on every corner," Carter said. "It's not about how many, its about their location."