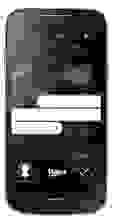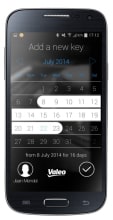 There's been a lot of buzz about the sharing economy. As much as sharing is caring, it's always a drag to lend someone your car. Meeting up to pass off your keys—or leaving those suckers on top of your tire and hoping the right person will find them—is a real pain. If you've ever wished for a more convenient way to lend your car keys to a friend in need, you'll be pleased to know Valeo is stepping in to make that wish a reality.
The international automotive supplier has developed InBlue, a mobile app that allows users to "text" their car keys to an intended recipient. The virtual keys expire at a user-selected time, so there's no danger that your friend or family member will end up with permanent access to your car—well, not unless you want them to.
When you're lending out your car, you can also use InBlue to keep track of your car's fuel usage, tire pressure, and location. That way you can rest assured that your friend got to their destination safely–and didn't take your car for an unauthorized road trip.
InBlue also comes with a few features that benefit anyone who may borrow your car. If you have a group of friends who also make use of the app, you'll be able to see who has a car available at a given time. This should make car sharing a lot simpler.
InBlue will run off of Bluetooth 4.0 and likely hit the market by 2016. Until then, you may have to lend and borrow cars the old-fashioned way
During its CES 2015 press conference, Senior Vice President of Research, Development, and Product Marketing Jean-Francois Tarabbia spoke about the future of Valeo beyond InBlue. The ultimate goal of Valeo is to create a fully automated car. In order to accomplish this, the company is planning on heavily investing on more advanced sensors that utilize technologies like radar and ultrasonic pulses.
Our editors review and recommend products to help you buy the stuff you need. If you make a purchase by clicking one of our links, we may earn a small share of the revenue. Our picks and opinions are independent from any business incentives.