Celebrations
This unique wedding anniversary gift made my husband cry
I gave my husband a portrait from our pre-pandemic wedding
Credit: Reviewed / Valerie Li Stack
When my then-fiance and I tied the knot in Barcelona, Spain, in March 2020, we had little clue about what was about to happen next. Two days after the wedding, Spain declared a national lockdown and we, along with our family and friends, were scrambling to catch a flight back to the States.
After a year of staying at home, most of our wedding memories became blurry, partly due to suddenness of the lockdown and change of plans—which is why I wanted to give my husband an anniversary gift (in addition to paper) that recreates the joyful memories of our destination wedding.
After reading about Paint Your Life, an online custom portrait service that we tested and loved last year, I thought I'd give it a shot.
What is Paint Your Life?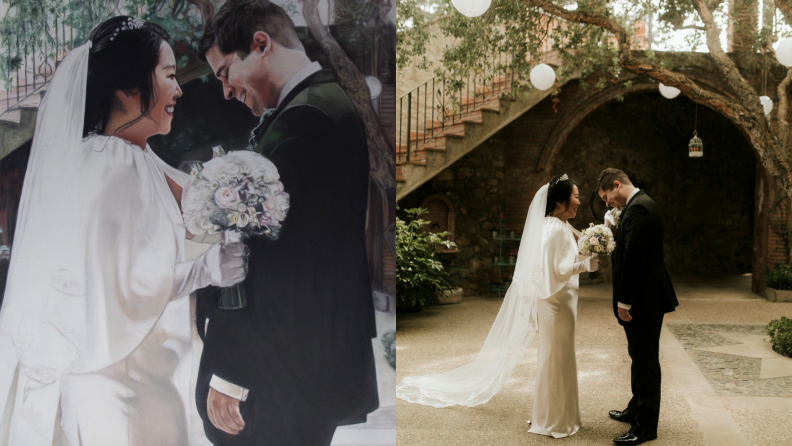 Paint Your Life is a California-based custom painting service that recruits artists to paint portraits from the photos their clients upload. This is a convenient approach for customers who would like to receive custom portraits of themselves or their loved ones, as they don't have to physically show up to be painted. Framing is an option with additional costs for the frame and labor.
The site promises a 15-day turnaround time from commissioning to having the artwork delivered to your door, depending on how many edits you request. You can request as many edits as you want, according to the site. Once you're satisfied with the artwork, you'll be able to proceed to framing and shipping.
What working with a Paint Your Life artist is like
After signing up, I was prompted to start off by picking a theme (Couple) and a medium. For medium, Paint Your Life offers a great number of options, which include Oil, Charcoal, Acrylic, and more. Then it led me to the Artist, asking whether I'd like to receive a video of my painting being created and have the artist sign the artwork. In terms of the background and exact artist, I could let the company and artist decide, or choose the background and artist. After completing those steps, I uploaded the photo of my choice. From there, I could leave special requests and pay the 20% of the rate so the process could get started.
I picked Pastel for mine and let the company pick an artist for me after briefly looking at the past artworks they've completed. The quality seemed consistent.
Then, I could choose the size of my painting, from 8 inches by 10 inches to 30 inches by 40 inches. Each size had its own price, excluding the price of the frame. I ended up going with the 24 inches by 30 inches, which was $429.
On our wedding day, we did an unorthodox "First Look'' photoshoot before the ceremony and without the guests. During the shoot, our photographers documented the first time my husband saw me in my wedding gown—a truly magical and intimate moment that we both shed tears.
It wasn't a close-up portrait of us, so I wondered whether the artist would get all the details right (hairdo, jewelry, and others).
I was surprised by how quick the turnaround time was. I received an email informing me my painting is ready within a day! Though I was impressed by the vibrant colors and mostly accurate depictions, I wanted to zoom out a bit so more original background (a beautiful Spanish courtyard) can be included. I went ahead to type my suggestions in the suggestion box on the same page where the draft was displayed. The artist soon took note and edited my artwork based on the suggestions I made, which took about two days. I only "talked" to the artist through their site. Overall, it took 10 days to receive my fully completed portrait.
What my husband thinks of it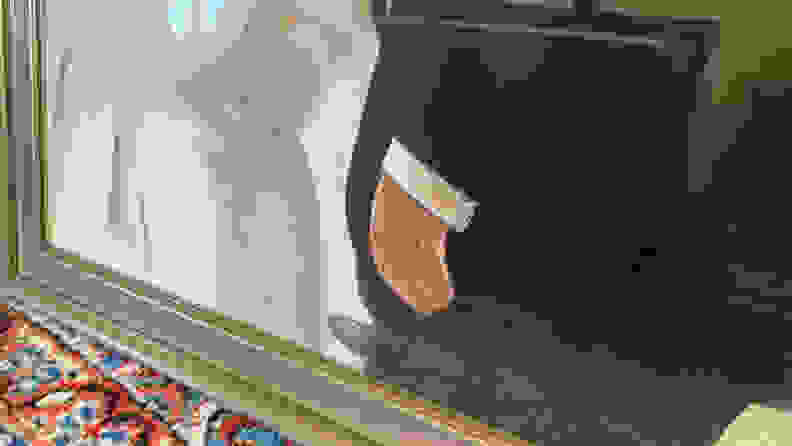 I kept this project a secret and I was definitely more excited than he was when I handed him his "mystery box," since it was my first time seeing the portrait in person. He was stunned by how beautifully done it was, noting, "It's impressive how near-photorealistic the painting is while still containing some unique artistic touches from the painter." He also added that, "it really brings me back to that day."
My minor quibble with the portrait is that his hand looked a bit out of place. I didn't catch this in the first draft because I didn't inspect it closely enough. In my defense, I wasn't able to zoom in on every tiny detail of a 24 inches by 30 inches painting on my laptop screen.
Overall, we both like the shading and lighting, which are soft and gentle—we can tell the artist is trying to bring more attention to our facial expressions and let us relive the moment. We're planning on hanging on the wall in our spare bedroom, as we're in the middle of designing a gallery wall for that room.
Should you try Paint Your Life?
If you want to give your significant other a meaningful gift, a custom portrait from Paint Your Life could be the perfect choice. It offers a great deal of flexibility when it comes to customization, from the styles to the size to the frames.
As an online-only service, communication can sometimes be challenging, but this portrait service took it to heart to meet customer needs and operate in a fast-paced environment. For instance, when I made suggestions to show more of the original background, they sent me the revised version the next day. If you're looking for a wedding or an anniversary gift to a family member or your significant other, a custom-ordered portrait is surely going to make a memorable gift that reminds you and your loved ones of a celebratory moment in your lives.
The product experts at Reviewed have all your shopping needs covered. Follow Reviewed on Facebook, Twitter, and Instagram for the latest deals, product reviews, and more.
Prices were accurate at the time this article was published but may change over time.