Celebrations
15 stunning red bridesmaid dresses to wow at your wedding
Your bridal party will look ravishing in red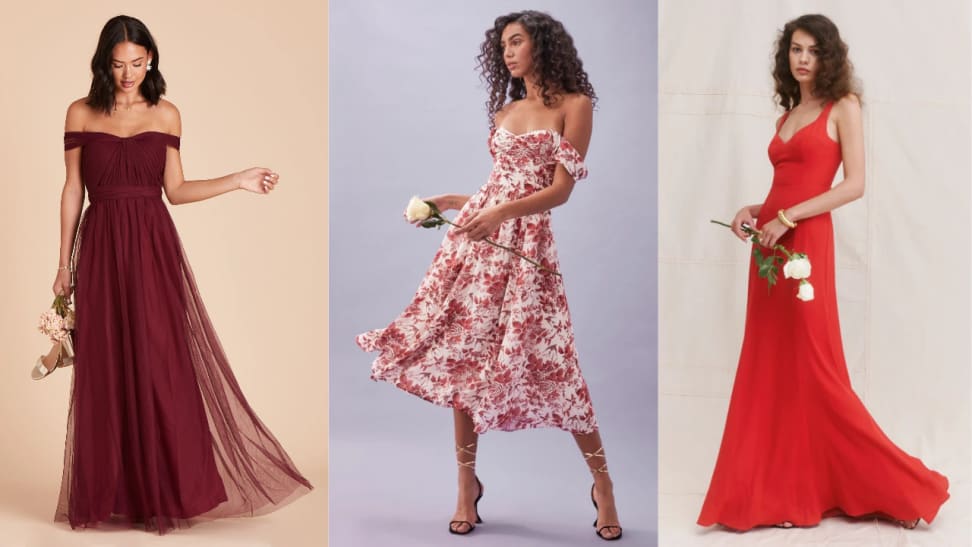 Credit:
If your wedding colors include a shade of red—be it cherry, burgundy, wine, rust, or a shade in between—there are lots of beautiful red bridesmaid dresses that your bridal party can wear. There are short dresses, long dresses, sleek crepe dresses, bold floral prints, and much more, allowing you to find the perfect option to flatter your bridesmaids and make your ideal wedding a reality.
We've rounded up some of our favorite red bridesmaid dresses that will look stunning alongside your gown on the big day. No matter your style, you're sure to find an option you (and your bridesmaids) love that stays within your budget.
1. A simple option that comes in several shades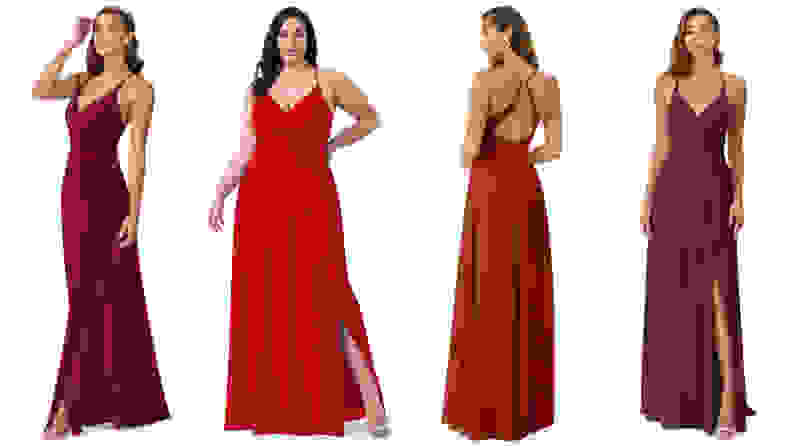 Here's a classic, budget-friendly bridesmaid dress that comes in practically every shade of red imaginable. The Azazie Davis dress is available in sizes 0 to 30, and there are several red options to consider, including red, burgundy, rust, cabernet, terracotta, and more. It has a floor-length silhouette with a simple V-neck, and the open back has a crisscrossed design for support.
Get the Azazie Davis Bridesmaid Dress from Azazie for $89
2. An elegant satin dress with a high neck
This satin dress is flattering on a wide range of body types thanks to its gathered fabric bodice. It comes in sizes XS through 3X, and it has a mock neckline and elasticized waist. The hem comes down to around ankle-length, and there are two short slits on each side. The gown is simple, chic, and affordable, and the timeless style allows your bridesmaids to re-wear the dress in the future.
Get the Classic Elegance Wine Satin Sleeveless Mock Neck Maxi Dress from Lulus for $78
3. A sustainable option in a bold cherry red
Reformation is known for its high-quality, sustainably made dresses, and the Lecce Dress is a beautiful option for bridesmaids. It comes in an eye-catching cherry red color and features a floor-length hem and a princess-cut neckline. The dress comes in sizes 0 through 12, and a row of fabric buttons on the scoop back are a beautiful finishing touch.
Get the Lecce Dress from Reformation for $428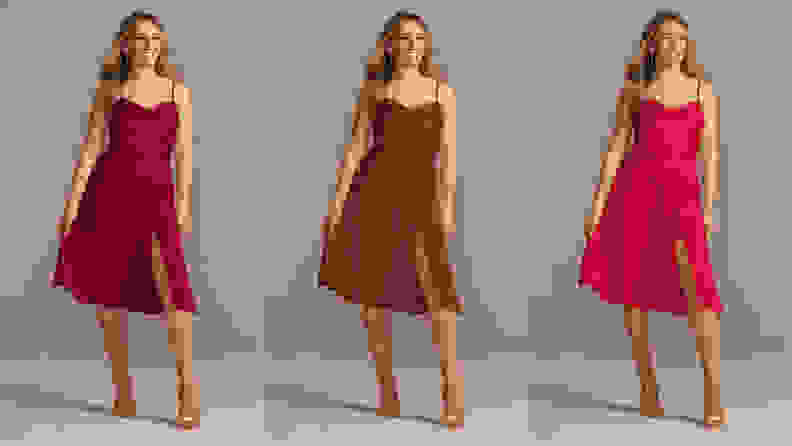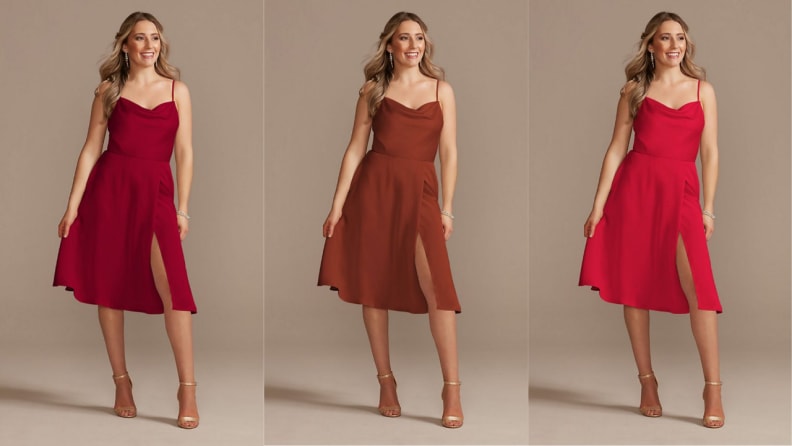 Did someone say pockets? Your bridesmaids are sure to love that this midi-dress has hidden pockets for them to stash their phones, lipstick, and other essentials, and it comes in a wide range of red hues to match your wedding color scheme. The dress is available in sizes 0 to 30, and it has an A-line silhouette that hits just below the knee—perfect for a summer wedding. It has a draped cowl neck and adjustable spaghetti straps, and there's a small slit to show just a peek of leg.
Get the Satin Spaghetti Strap Cowl Midi Bridesmaid Dress from David's Bridal for $119.95
5. A chic dress with a slit skirt and layered bodice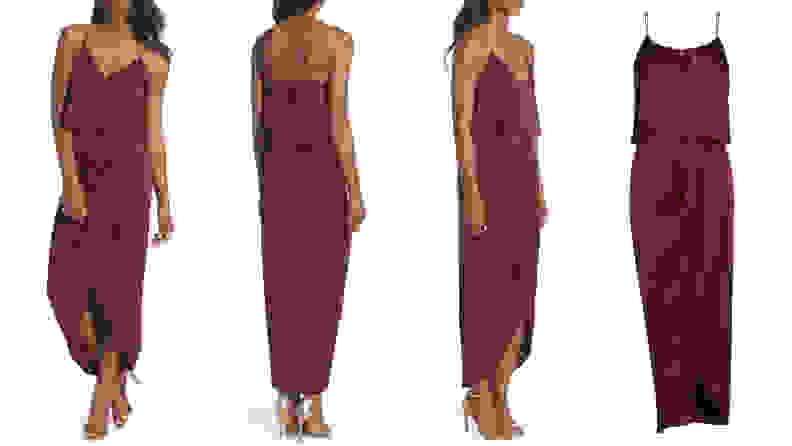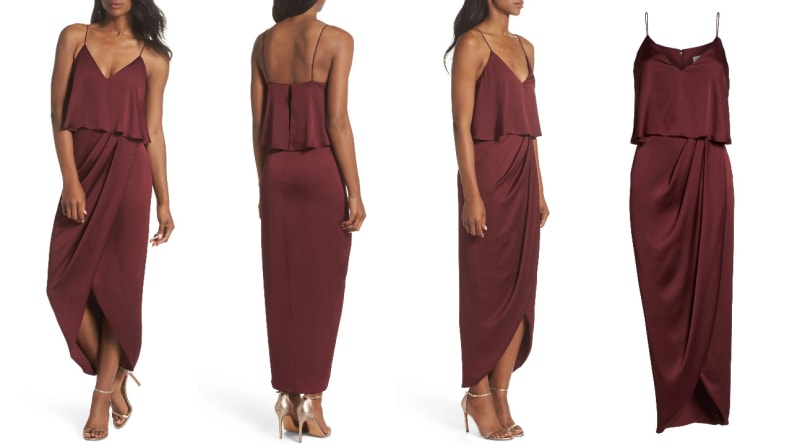 This gown has a unique tulip hem that's sure to make your bridesmaids look elegant. It's made from a silky satin material, and the top of the dress has a trendy layered bodice with a V-cut neckline. The design comes in a deep maroon shade, and there are sizes 2 to 10 available. Plus, it has a hidden zipper that makes it easy to put on, and it can be hand-washed, unlike many other bridesmaid dresses, which require dry cleaning.
Get the Shona Joy Luxe Frill Tulip Hem Maxi Dress from Nordstrom for $177
6. A beautiful V-neck dress with flutter sleeves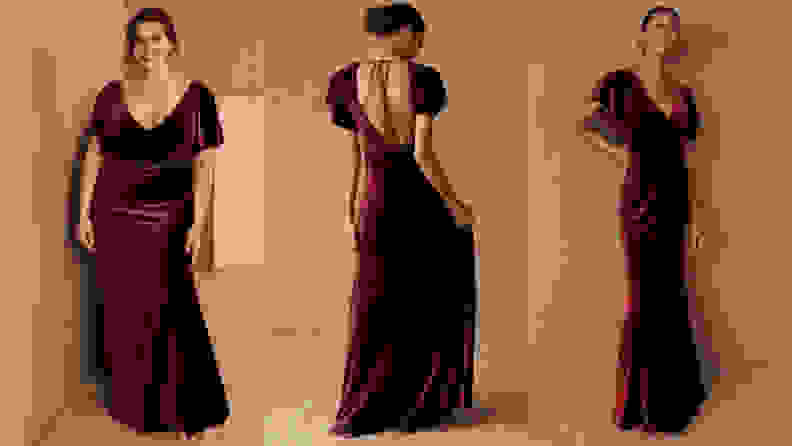 The dark berry hue and velvet fabric of this dress make it an ideal choice for a winter wedding. The Ellis Dress, designed by Jenny Yoo, comes in sizes 0 to 26, and it features elegant flutter sleeves, a V-neck, and a floor-length hem. The back of the dress is open with a delicate tie at the top, and it's available in a reddish-orange color, as well.
[Get the Jenny Yoo Ellis Velvet Dress from BHLDN for $295](https://go.skimresources.com?id=83224X1534997&xs=1&xcust=REV-LST-CEL&url=https%3A%2F%2Fwww.bhldn.com%2Fproducts%2Fellis-velvet-dress-dark-berry
7. An airy tulle dress with multiple styling options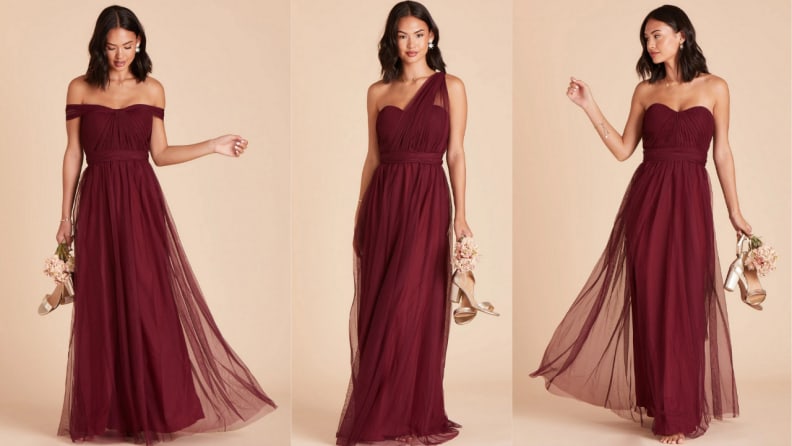 If you love the look of flowy layered tulle, the Christina Convertible Dress is sure to suit your style. This dress comes in a rich wine-toned red, and there are sizes XS through 3X. The dress itself is strapless with a sweetheart neckline, but the two extra-long front streamers can be tied in a variety of ways—you can use them to create cap sleeves, a one-shoulder look, or even a pretty bow at the back.
Get the Christina Convertible Dress from Birdy Grey for $69
8. A shiny satin option with a subtle floral pattern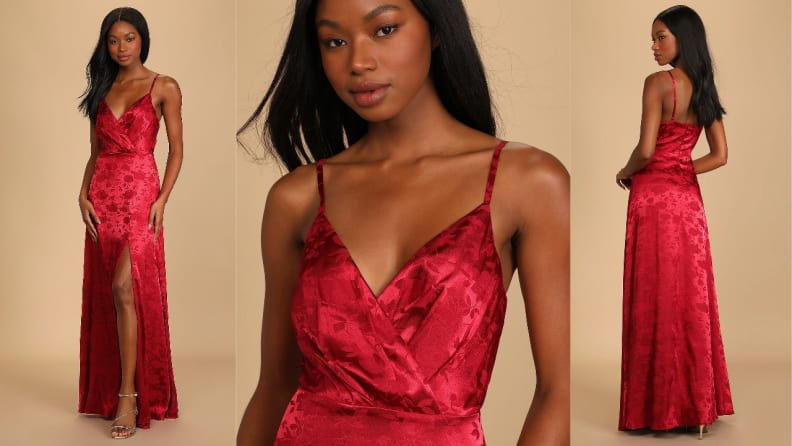 Bridesmaid dresses are often made from solid-colored fabrics, but this dress spruces things up a bit with a jacquard fabric that features a subtle floral pattern. The dress is a bright red hue and made from satin material, and it features an A-line maxi skirt with a thigh-high slit. The bodice features a V-neck with gathered fabric and adjustable spaghetti straps, and it's easy to put on thanks to a zipper in the back.
Get the Radiant Refinement Burgundy Satin Jacquard Maxi Dress from Lulus for $88
9. A wine-colored gown with an intricate back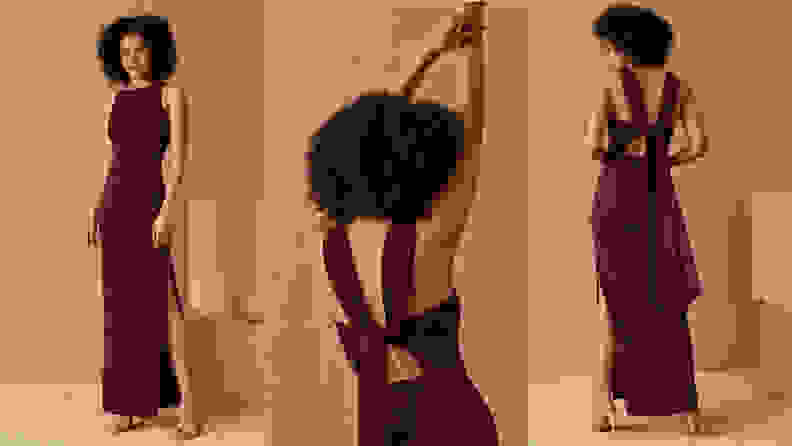 This dress is serving business in the front but a party in the back. The silhouette has a simple, structured design in the front with a high neckline and strapless bodice, and its column skirt goes all the way to the floor. There's a subtle side slit for movement, and the back of the dress has an open design with a dramatic oversized tie.
Get the London Crepe Dress from BHLDN for $220
10. A puffy-sleeve gown that bridesmaids can rent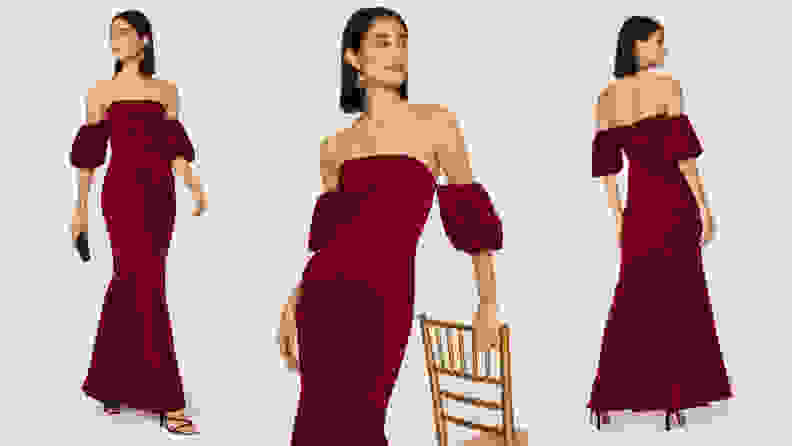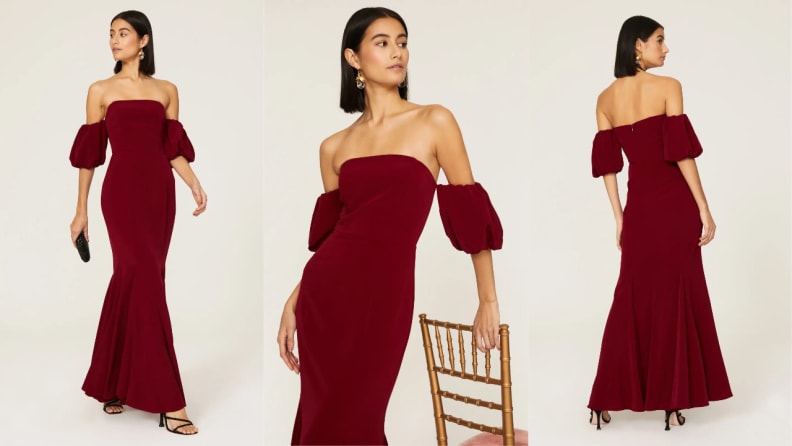 Bridesmaid dresses can be quite expensive, and if you want to give your bridal party a more budget-friendly option, you might want to consider a dress from Rent The Runway. This gown from Fame & Partners retails for more than $200, but you can rent it from the site for four days for as little as $55. The dress has a strapless design with fun puffy sleeves on each side, and they'll even send you a free backup size, in case you're unsure of which will fit.
Get the Fame & Partners Red Puff Sleeve Gown, 4-day rental from Rent The Runway for $55
11. A floral option with off-the-shoulder sleeves
Here's another option that would be perfect for the spring or summer. The Violet Dress from Reformation features a romantic red-and-white floral pattern and a quaint off-the-shoulder design. Its hem hits mid-calf, and it has a smocked back to help keep the strapless design in place. The dress comes in sizes 0 to 12, and it's made with sustainable practices to save water and minimize pollution.
Get the Violet Dress from Reformation for $298
12. A chic designer slip dress with a high-low hem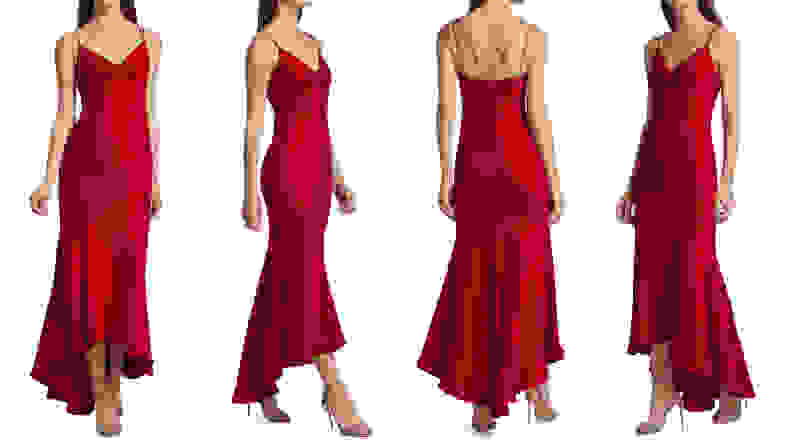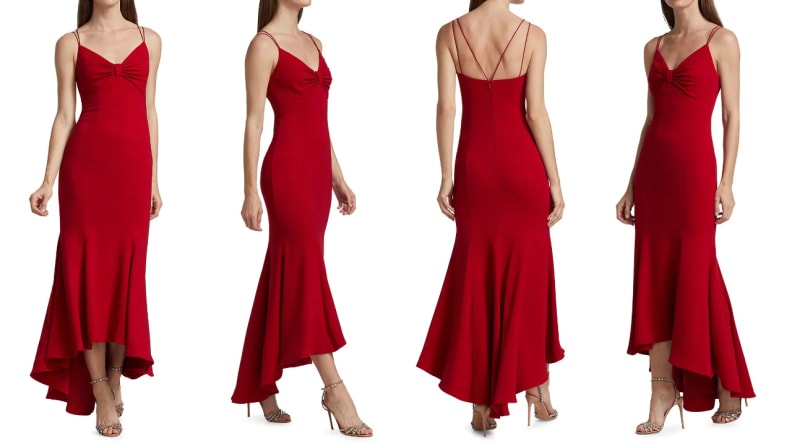 You can keep things classy and simple with this bright red slip dress from Monique Lhuillier. This dress is on the more expensive side since it's a designer brand, but it's truly gorgeous, featuring a high-low hem and a gathered detail at the bust. It has dual delicate spaghetti straps and a hidden back zipper, and it comes in sizes 0 through 14.
Get the ML Monique Lhuillier Crepe Slip Dress from Saks Fifth Avenue for $495
13. A mid-calf dress with pretty ties in the back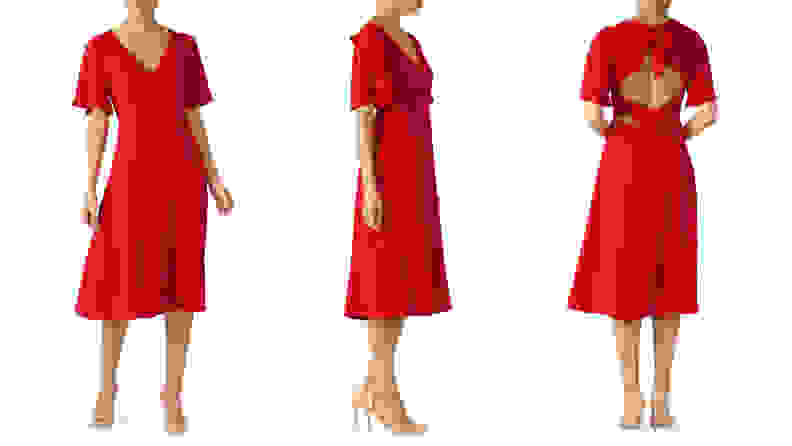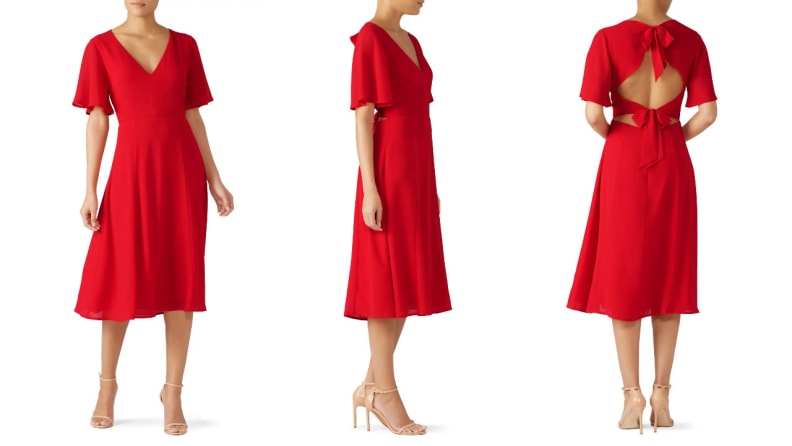 This dress from Rent The Runway is simple and sweet. It has a plain silhouette with an A-line skirt, V-neck, and short sleeves, and the back is open with two bows as accents. It comes down to just below the knee, and you can rent sizes XS through XL for just $30 for four days. Or, if you need to keep the dress for longer, an eight-day rental is $48—still much cheaper than buying a dress!
Get the Louna Red Tie Back Dress, 4-day rental from Rent The Runway for $30
14. An 'infinity' dress with dozens of styling options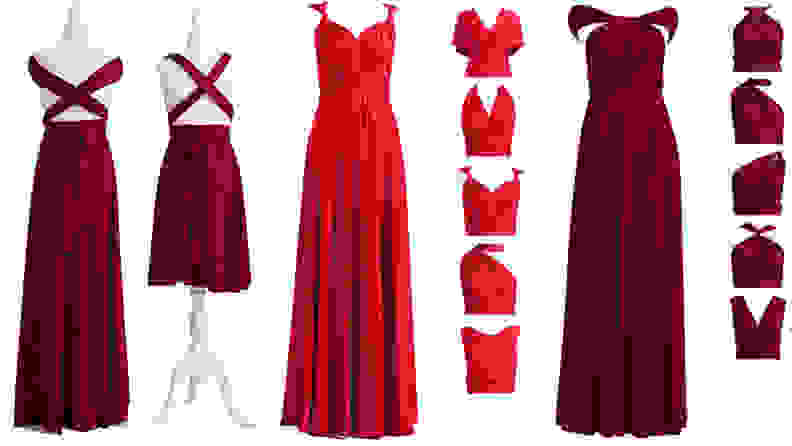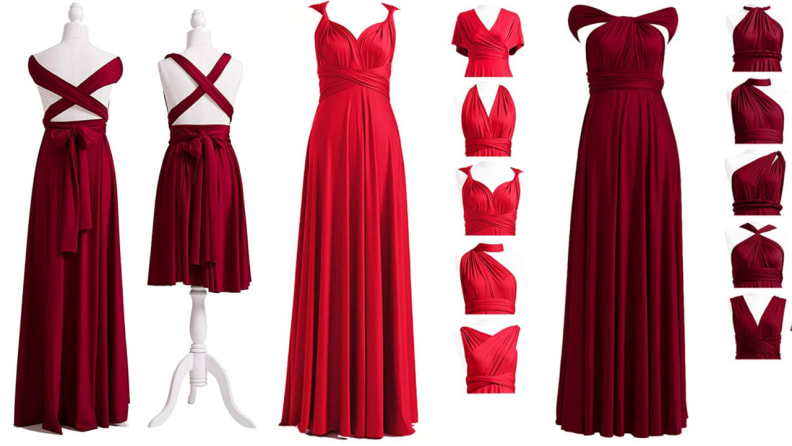 Your bridesmaids can put their own twist on their dress with this "infinity" dress, as its convertible design can be worn in several ways to flatter any body type. It's made from a soft, wrinkle-resistant fabric, and it comes in a regular option that fits sizes 0 to 16 and a plus option for sizes 18 to 24. It can be worn as a short or floor-length dress, and the brand has videos that show you different ways to fashion the fabric strands, creating various straps, sleeves, and necklines.
Get the 72styles Infinity Dress from Amazon for $49.89
15. A simple, budget-friendly wrap dress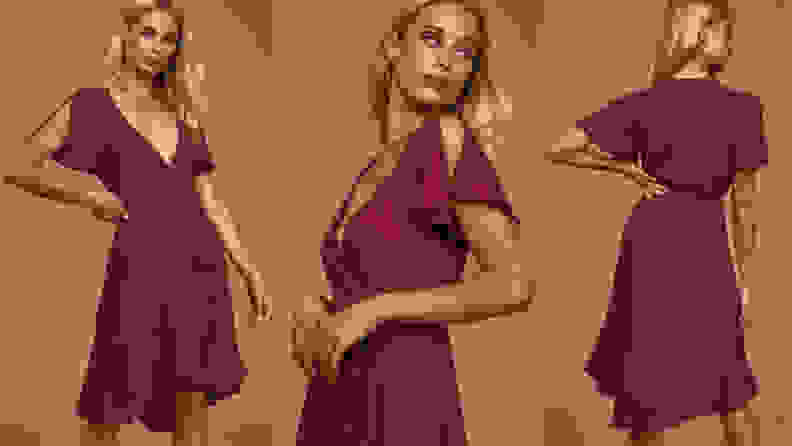 You don't have to splurge to find a great bridesmaid dress for your bridal party. This simple wrap dress from Lulus won't break the bank, yet it's still quite chic and flattering. It comes in sizes XS through XL, and the silhouette has fluttering sleeves and a midi skirt. The adjustable waist sash ensures a flattering fit, and the burgundy hue will add a touch of warmth to your wedding color scheme.
Get the Rise to the Occasion Burgundy Midi Wrap Dress from Lulus for $58
The product experts at Reviewed have all your shopping needs covered. Follow Reviewed on Facebook, Twitter, Instagram, TikTok or Flipboard for the latest deals, product reviews, and more.
Prices were accurate at the time this article was published but may change over time.