The Best Hand Mixers of 2019
By Sharon Franke, February 20, 2019, Updated March 22, 2019
Whether you occasionally make a batch of chocolate chip cookies or are a serious baker, you need an electric mixer. And while nothing beats the convenience of a stand model for hands-free mixing—especially for tough tasks like yeast doughs or lengthy ones like sponge cakes—great results can surprisingly come from a hand mixer, too. Not only are hand mixers less expensive, but they're easy to stash away and don't hog space on your countertop.
Our favorite, the Cuisinart Power Advantage Plus 9-Speed Hand Mixer with Storage Case (available at Amazon for $64.99) is on the pricey side, but handles all mixing tasks exceptionally well and is convenient to use. However, if you're looking for a more budget-friendly model, the Black + Decker Easy Storage Hand Mixer (Available at Amazon for $21.72) will also make your baking life much easier.
To help you spend wisely, we chose nine highly-rated hand mixers and put them to work whipping up cream, egg whites, sponge cakes, oatmeal cookies, and white bread.
Here are the best hand mixers in order:
Cuisinart Power Advantage Plus 9-Speed Hand Mixer with Storage Case
Braun MultiMix Hand Mixer
Black + Decker Easy Storage Hand Mixer
Krups 10 Speed Digital Hand Mixer
KitchenAid 7-Speed Hand Mixer
Breville the Handy Mix Scraper
Hamilton Beach Hand Mixer with Snap-On Case
Black and Decker Helix Performance Premium Hand Mixer
Dash Go SmartStore Hand Mixer
Updated March 22, 2019
Advertisement - Continue Reading Below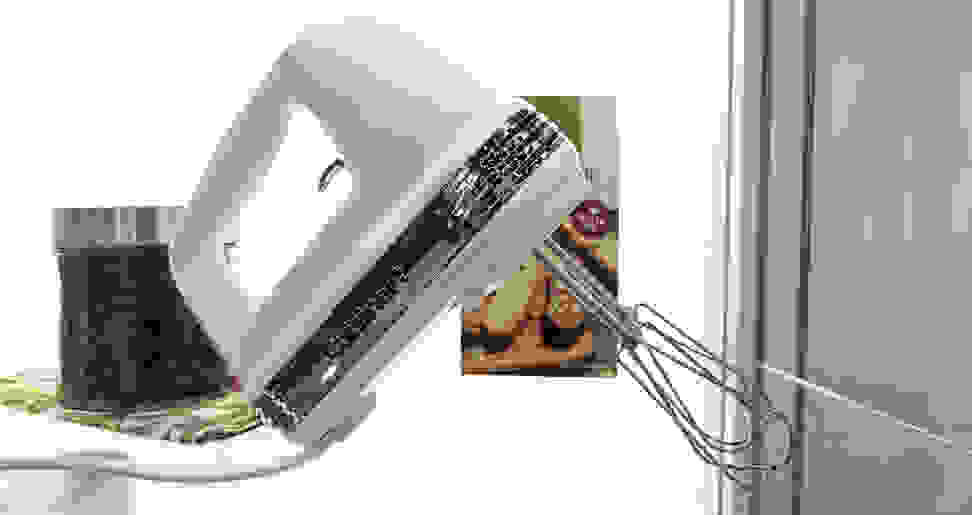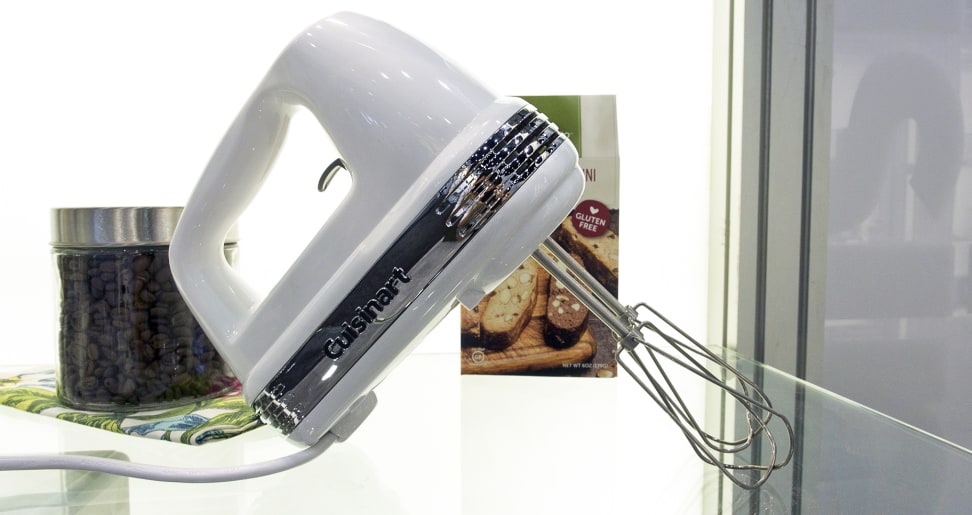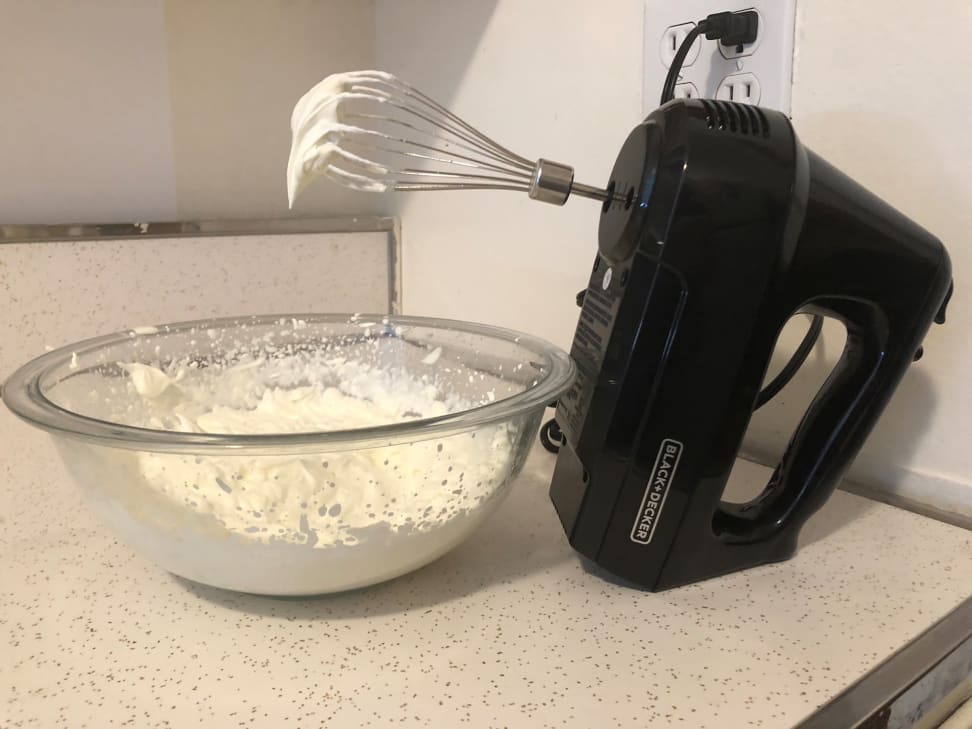 How We Tested
The Tester
Hi, I'm Sharon Franke, and I've been reviewing kitchen equipment for more than three decades. Before that, I cooked and baked professionally in New York City restaurants for seven years. My career was jump-started by my love for home baking. In high school, I baked a birthday cake for a friend every year using a boxed mix and a wooden spoon and (no wonder!) my creations always came out lumpy and leaden. As soon as I had my own kitchen, my first purchase was a mixer that could be used on a stand or by hand and I was off and baking!
The Tests
We tested nine hand mixers. First, using the whisk attachments, we whipped heavy cream and egg whites, timing how long each took to create stiff peaks and measuring the volume created. Then with the mixing beaters, we used each mixer to make a classic sponge cake which calls for beating eggs and sugar up to 15 minutes until they're pale yellow and thickened. We looked for cakes that baked up high and uniformly with a fine crumb and few air holes. Next, with the beaters, we tested each model's ability to cream butter and sugar together for oatmeal cookies, then incorporate the remaining ingredients and mix a thick dough loaded with oats and raisins. Properly mixed cookies come out puffed up in the oven with raisins evenly dispersed throughout. With mixers that came with dough hooks, we kneaded enough dough for two loaves of white bread, noting how well each one handled the heavy load and how high the bread rose.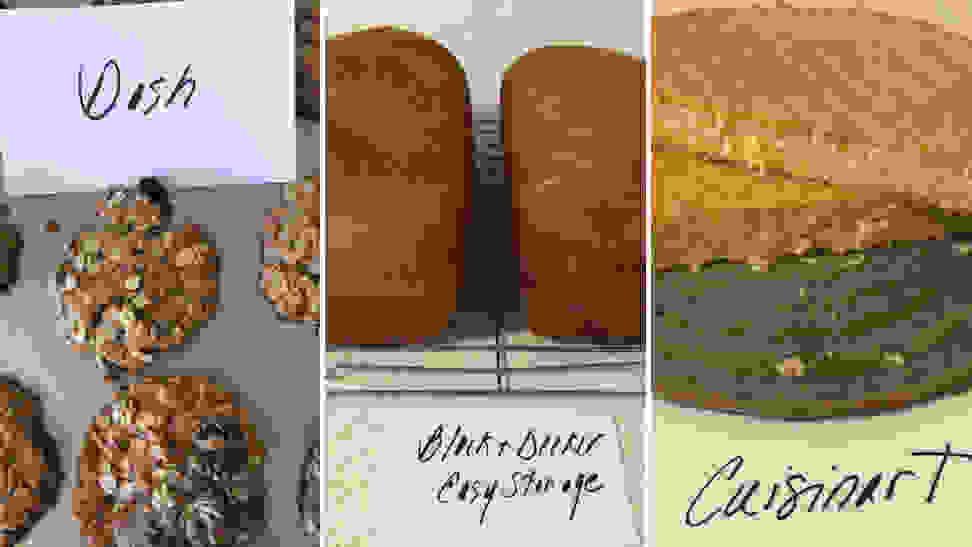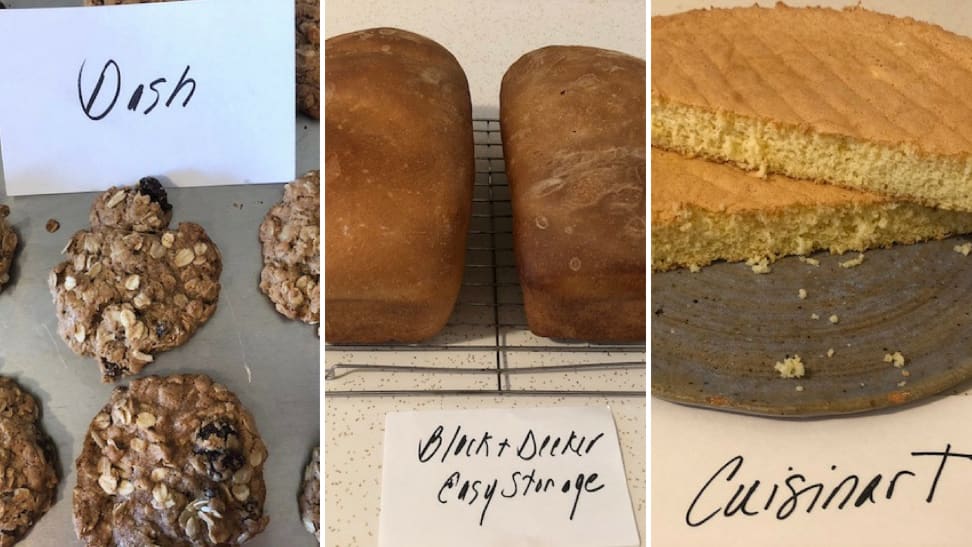 As we worked, we noted how easy it was to install and eject the beaters, operate the controls, comfortably hold the mixers, and how much noise they made. We evaluated the helpfulness of the manuals, how easy the mixers were to clean and store, and whether or not they had helpful special features.
Hand or Stand?
In our tests, all hand mixers were able to effectively pass each of them. However, beating eggs and sugar together for as long as 15 minutes was fatiguing and we often switched hands even when using the lightest models. When it came to kneading bread dough, it definitely required concentration to keep the dough hooks moving through the heavy load. If these are the types of tasks you only do occasionally, if ever, there's no need to spring for a stand mixer. For whipping cream, mixing a cake mix, or even beating a batch of cookie dough you can get by quite well with a handheld mixer. However, if you bake often, double up on recipes, and make yeast doughs on a regular basis, it's worth making the investment and dedicating countertop space to a stand mixer.
---
Other Hand Mixers We Tested
Advertisement - Continue Reading Below