Nothing says summer like cooking in the great outdoors. On most weekends, you'll find me flipping burgers and brats on the grill (probably with a cool beverage in my hand). It's all fun and games until I find myself without a good set of tongs. A top-performing set—like our winner the OXO Good Grips 16-Inch Grilling Tongs (available at Amazon for $14.99)—makes grilling a joyful experience. A flimsy or tightly spring-loaded pair, on the other hand, turns the experience into a frustrating act.
Yes, a good set of tongs really feels like an extension of your arm. You'll move with ease whether you're rotating tiny skewers or turning a large roast. To help you achieve this nirvana-like grilling bliss, we put eight 16-inch grill tongs to the test to find the best of the best. After flipping enough vegetables to feed a small army, we found a few that we'll happily add to our collection of grilling tools (including our favorite grill spatulas).
Here are the best grill tongs, in order:
OXO Good Grips 16-Inch Grilling Tongs
Weber 6610 Original Tongs
Rösle Stainless Steel 16-Inch Locking Barbeque Grill Tongs
Edlund Company 16-Inch Heavy Duty Tong with Lock
Mountain Griller Cooking Tongs for Kitchen Grill & BBQ
Winco UT-16HT 16-Inch Coiled Spring Extra Heavyweight Stainless Steel Utility Tong
Cuisipro 16-Inch Stainless Steel Locking Tongs
Grillhogs Luxury 16-Inch Barbecue Grill Tongs
Advertisement - Continue Reading Below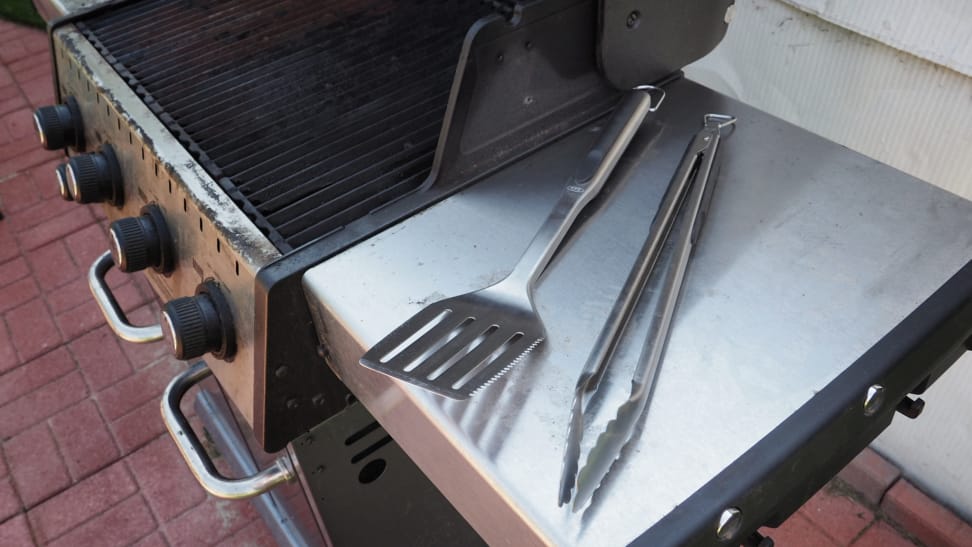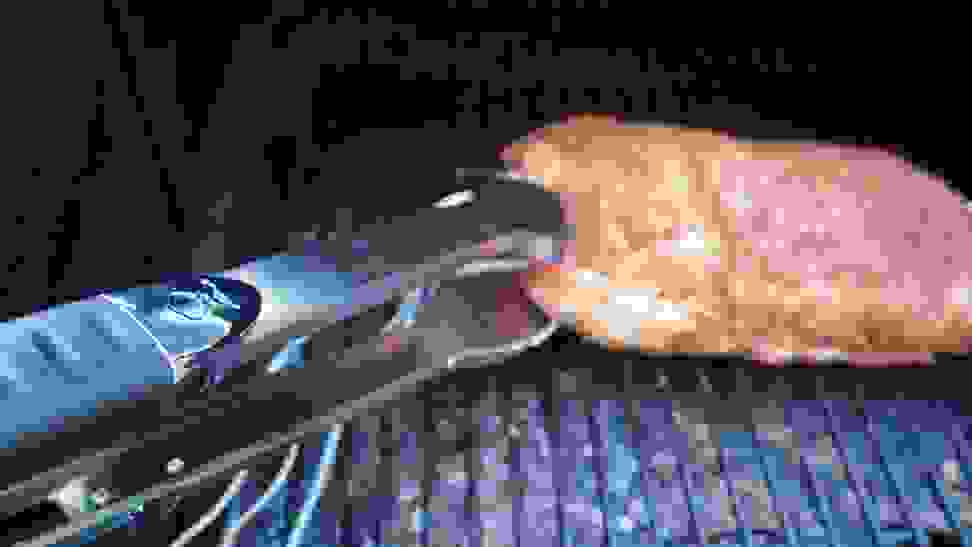 How We Tested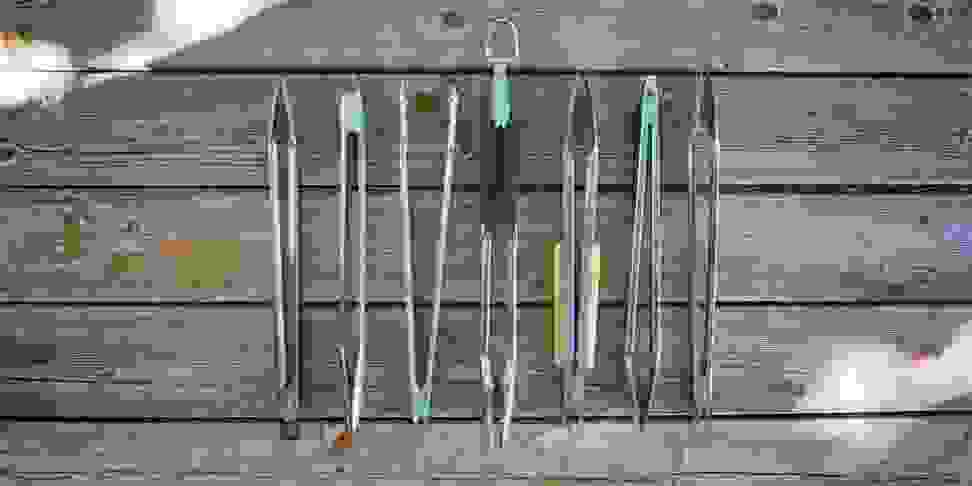 The Tester
Hi, I'm Lindsay Mattison, a trained professional chef and grilling enthusiast. Rain or shine (and, a few times in the snow), you'll find me outside cooking on the grill or firing up the smoker. I love manning the grill, but I'm kind of picky about the tongs I use. I've been known to bring my own pair over to the neighbor's backyard barbecue! A poorly-designed set will make your job harder, but grilling's supposed to be about having fun. I'd love to help you reconnect with that joy by finding your new favorite set of grilling tongs.
The Tests
We put eight top-rated grilling tongs to the test. Each set was 16-inches long, the perfect length to keep you in control while still featuring nice, long handles that protect your hands from the heat of the grill. We designed our tests to evaluate usability, durability, and comfort.
Basically, we were looking for tongs that could grab, lift, and turn food without piercing it. After all, who wants all the tasty juices from meat spilling out onto the grill? The tongs had to be strong enough to handle those large cuts of meat but they also had to be deft enough to flip thin-profiled vegetables, like asparagus.
To make sure that the tongs felt comfortable and were up to a variety of cooking tasks, we flipped food of all sizes and shapes on the grill. We assessed if the tongs could grab tiny sprigs of asparagus and tested their ease of use as we flipped corn on the cob. To see if they could handle heavier items without bending (like roasts and rack of ribs), we spatchcocked a few chickens and flipped them back and forth using one hand.
In the end, it was about more than just pure performance—the tongs really needed to be comfortable, too. We opened and closed the tongs 100 times to decide if the springiness caused hand fatigue. If the springs provided too much resistance or the tongs accidentally locked while using them, we knocked a few points off their final score.
---
Other Grill Tongs We Tested
Advertisement - Continue Reading Below