Life is full of choices: Should you buy a pre-made knife set, or would you be better off spending the time and money to piece a set together yourself? The answer depends on your needs. Are you setting up your first kitchen? It might be easier and cheaper to buy a knife set. Many of these sets include what I like to call bonus items–like steak knives–that would come in handy to fill up those drawers. On the other hand, if you have a wedding or graduation in the near future, a set filled with ultra-sharp knives that stretches your budget might fit the bill (thank you, Mom and Dad!). Perhaps you don't cook that much, or you're looking to stock an Airbnb property–you probably don't want to spend any extra money or effort on the process.
No matter what kind of knives you're looking for, one thing is for sure: For most everyday cooking, you'll need a good chef's knife, a paring knife, and a serrated bread knife. Many sets go above and beyond that, like our top pick Zwilling J.A. Henckels Twin Gourmet Classic 18-Piece Knife Block Set (available at Amazon). Others stick with the basics but offer super-sharp blades that are well-suited for upgrade sets or serious cooks.
To find the best of the best, we tasked a professional chef (that's me!) with testing 12 knife sets in a variety of price ranges. After hours of chopping, slicing, and dicing, we feel confident that you'll find a set of knives that fits your needs (including a set under $200 that rivals much more expensive sets).
Here are the best knife sets we tested, in order:
Zwilling J.A. Henckels Twin Gourmet Classic 18-Piece Knife Block Set
Mercer Culinary Genesis 6-Piece Forged Knife Block Set with Tempered Glass Block
Global G-835/WS 6-Piece Knife Set with Block
Wüsthof Classic Ikon 7-Piece Knife Set with Walnut Block
Miyabi 34010-000 Knife Block Set
Victorinox 7-Piece Knife Block Set
Cuisinart C77TR-15P Triple Rivet Collection 15-Piece Knife Block Set
Shun Classic 6-Piece Slim Knife Block Set
Vremi 10-piece Colorful Knife Set - 5 Kitchen Knives with 5 Knife Sheath Covers
Utopia Kitchen Premium Class Stainless Steel 6-Piece Knives Set with Acrylic Stand
AmazonBasics Premium 18-Piece Knife Block Set
Chicago Cutlery 18-Piece Insignia Steel Knife Set with Block and In-Block Sharpener
Updated January 02, 2019
Advertisement - Continue Reading Below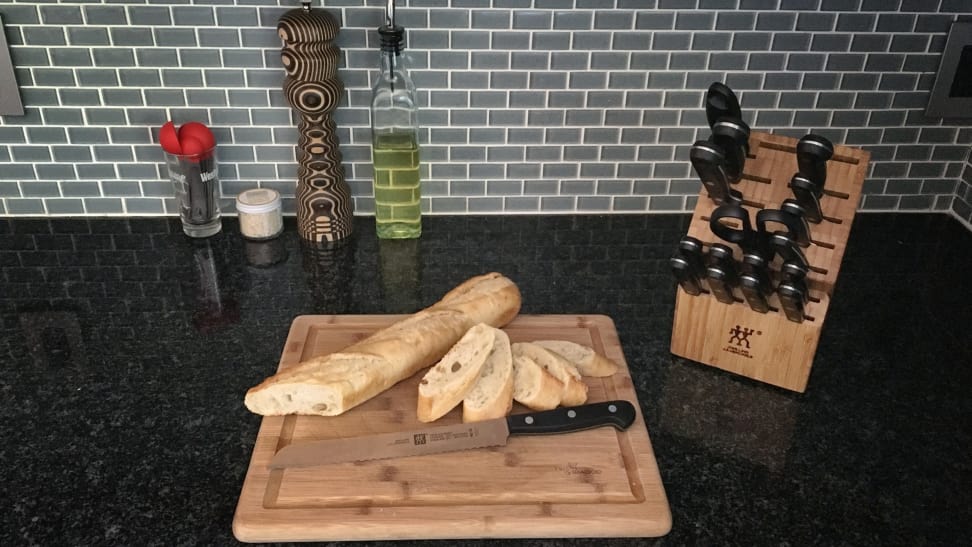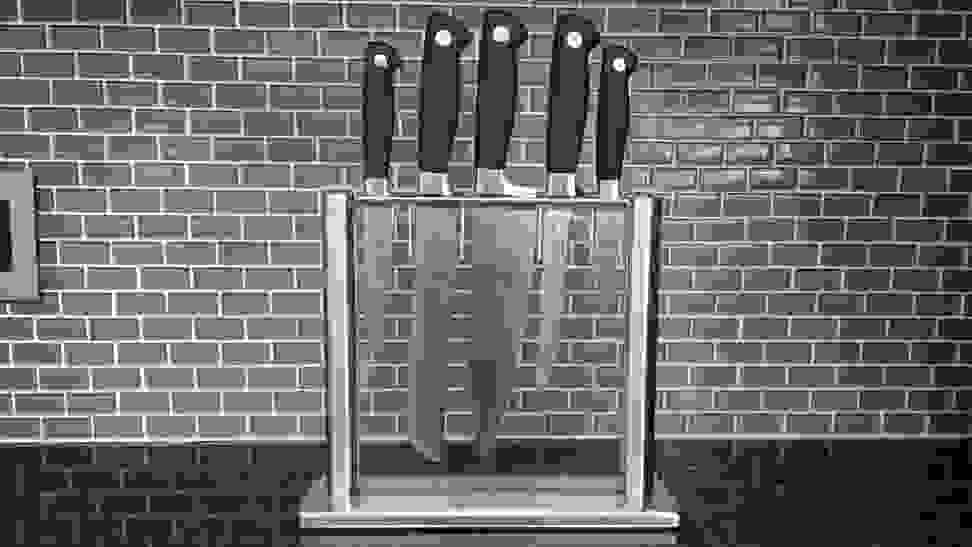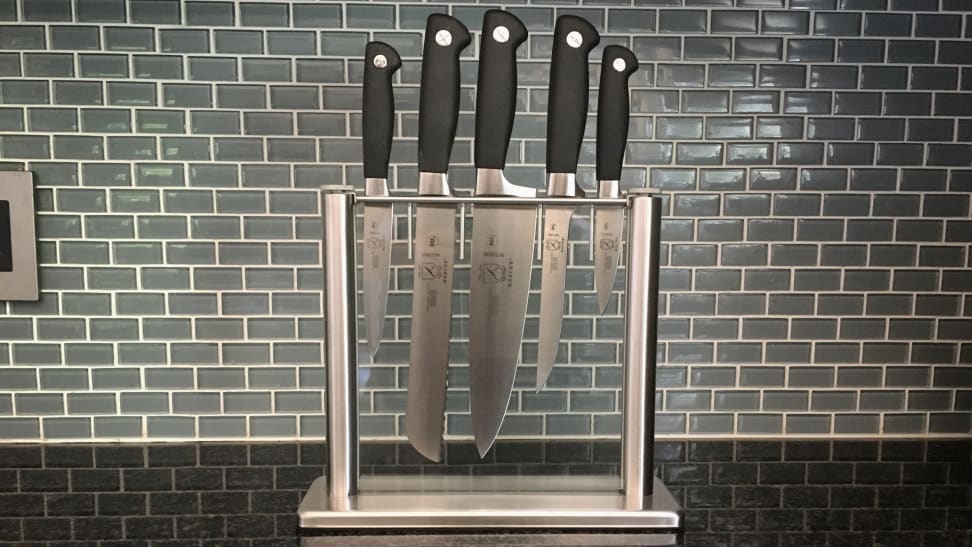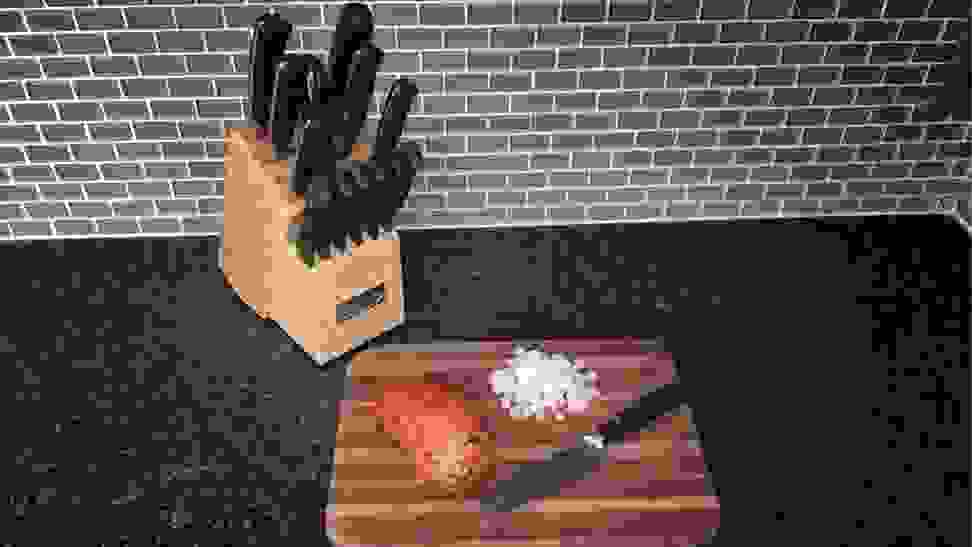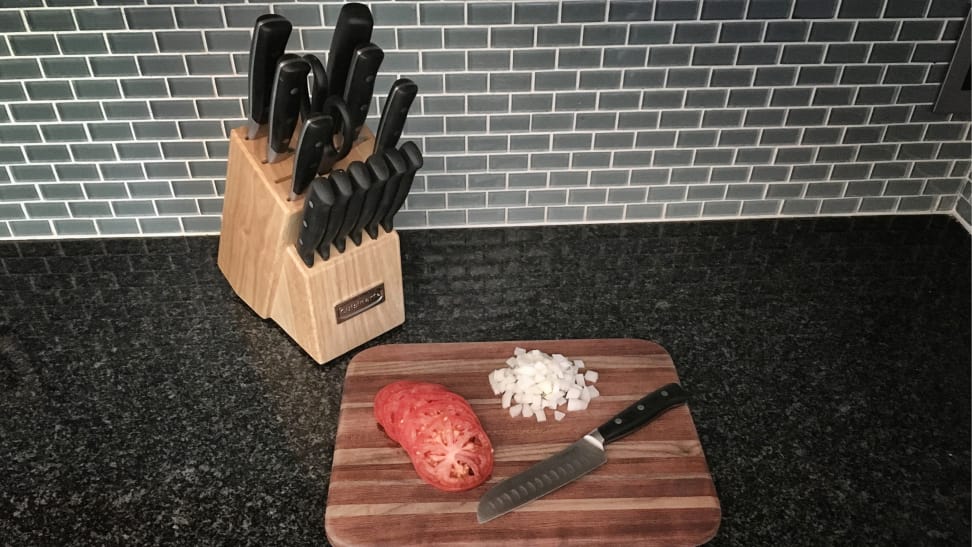 How We Tested
The Tester
Hi, I'm Lindsay Mattison, a trained professional chef and a serious knife enthusiast. I worked doubles for months during college to scrape together enough money to buy my first knife set. Then, when I went to culinary school, I did the same thing to buy the recommended knife kit! I know what it feels like to spend your hard-earned cash on a purchase like this, and I want you to have all the facts before spending $100, $200, or more on a set of knives.
The Tests
We selected 12 top-rated knife sets of different price points from most of the major knife manufacturers. Then, we got to work testing the knives to learn how the set performed as a whole. Usually, we test knives on an individual basis, but the pre-made set had to prove overall usability and performance to really provide good value. It was important that each set included the essential knives (which we'll talk about in a minute) and it got bonus points for adding in usable extras. We also were looking for a set that was easy to store.
The tests were designed with that in mind, evaluating value, performance, and ease of storage. We chopped onions and thinly sliced basil with the chef's knife, peeled apples and segmented citrus with the paring knives, and sliced bread and sandwiches with the serrated knife. Most of the sets came with a smaller utility knife, so we sliced tomatoes and hard blocks of cheese. If the set included kitchen shears, we tested those as well, cutting cardboard and gliding the blades through parchment paper. Along the way, we assessed the sharpness of each blade, the comfort of the handle, and the weight and length of the knife itself to ultimately determine if the set was worth its price tag.
Things to Know When Buying a Knife Set
Before buying a knife set, ask yourself this question: What kind of knives do you like? You may not know yet, but it's worth exploring before you spend money on a set. For example, I know I have a proclivity towards Japanese-style knives (like Shun and Global) while I know a great number of chefs who prefer German steel (like Wüsthof and Zwilling J.A. Henckels). I even know a chef who only buys inexpensive ceramic knives and replaces them every three months when they get dull. So, it's impossible for us to know what your personal preference is and we tried to keep that in mind as we ranked and rated. At the same time, there are a few steadfast rules to follow when looking for a knife set.
First of all, it needs to include the three core knives: a chef's or Santoku knife, a paring knife, and a serrated bread knife. The Shun and Victorinox sets we tested got major points taken off for not including that all-important bread knife. The set should also include a honing steel for keeping your edges sharp and a pair of kitchen shears always come in handy (although, almost half of the sets we tested didn't include shears). If the set comes with a utility knife, that's good–you may find this smaller knife handy for slicing cheese or small vegetables. I consider boning knives, carving or slicing knives, smaller serrated knives, tourne knives (often called peelers), or steak knives as bonus items.
Finally, you'll need some way to store these knives. Most sets come with a block, but that may not be important if your kitchen is short on counter-space like mine. In which case, I can't recommend a space-saving magnetic wall strip enough. Please, whatever you do, don't just throw your knives in a drawer unless they have a plastic cover. They could bang against each other and chip, or worse you might hurt yourself when reaching for one.
Other Knife Sets We Tested
Advertisement - Continue Reading Below