Kitchen & Cooking
The Best Boning Knives and Fillet Knives
Become an at-home butcher with these a great boning knife and a knife for cutting filets.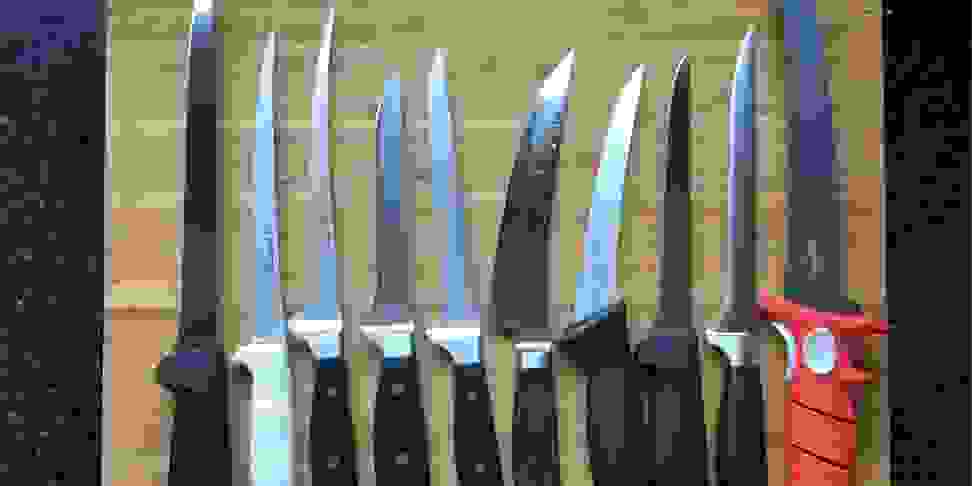 Credit: Reviewed.com/Lindsay D. Mattison
The vast majority of knife sets don't include a boning knife or a fillet knife. The reason? Most home cooks simply don't need one for day-to-day cooking tasks. You might need one (or the other), but usually not both. Whether you need a boning or fillet knife—like our top pick Wüsthof Classic 6-Inch Flexible Boning Knife (available at Amazon for $119.95)—really just depends on how much meat and seafood you eat, and whether you do any butchering at home.
If you're a vegetarian, there may be no need to bother with either of these knives, though you might be surprised what they can do with fruits and vegetables. But meat eaters can create a lot of economy in their kitchens by buying whole chickens or entire sides of beef and performing some light butchery at home. To find out if we could recommend one, all-purpose knife for taking down meat, poultry, and fish, we put 11 boning and fillet knives to the test. We found a few that are good at everything we threw at it, and a couple that are better suited as unitaskers.
Here are the best boning knives and fillet knives, in order:
Wüsthof Classic 6-Inch Flexible Boning Knife
Mercer Culinary Millennia 6-Inch Curved Boning Knife
Zwilling J.A. Henckels Twin Four Star 7-Inch High Carbon Fillet Knife
Victorinox Cutlery 8-Inch Straight Fillet Fishing Knife
Shun TDM0774 Premier Gokujo 6-Inch Boning Fillet Knife
Victorinox Swiss Army 6-Inch Fibrox Pro Boning Knife with Flexible Blade
Wüsthof Pro 9-Inch Fish Fillet Knife
Dexter-Russell (S133N-7PCP)—7-Inch Fillet Knife—Sani-Safe Series
Update International (KP-04) 6-Inch German Steel Curved-Blade Boning Knife
J.A. Henckels International Forged Premio 5.5-Inch Boning Knife
Bubba Blade 9-Inch Tapered Blade Flex Fillet Knife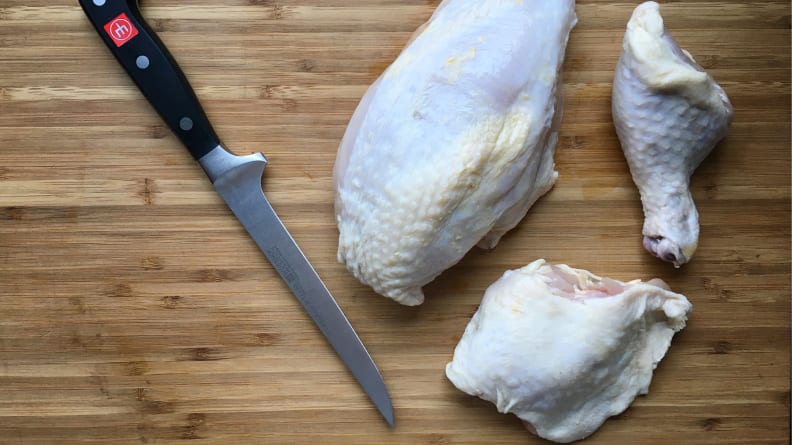 Best Overall
Wüsthof Classic 6-Inch Flexible Boning Knife
I knew very early on in testing that the Wüsthof Classic 6-Inch Flexible Boning Knife would be a personal favorite. It's razor sharp and the blade is just flexible enough to weave around chicken joints with ease. Of all the knives we tested, this one got closest to the bone, sacrificing the least amount of usable meat as we carved. The thin blade can expertly remove the skin without creating any jagged edges. If you're looking to buy a full-tang knife that can work with meat, poultry, and fish, removing bones and slicing up great cuts along the way, you definitely can't go wrong with this one.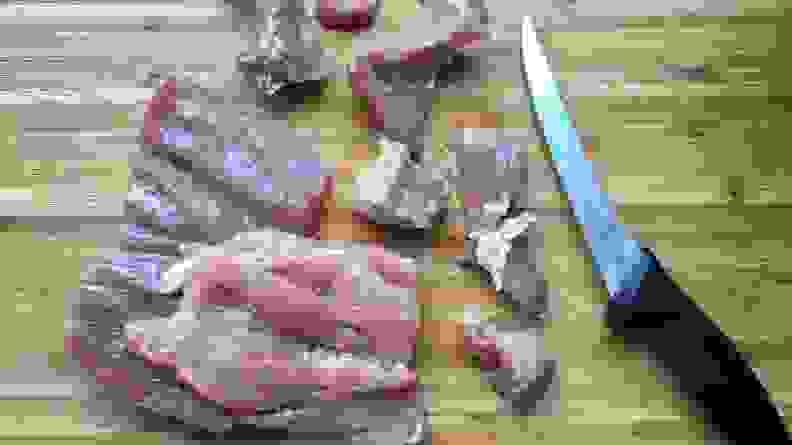 Best Value
Mercer Culinary Millennia 6-Inch Curved Boning Knife
From the textured, plastic handle that's comfortable to hold in any position to the lightweight feel that didn't tire us out, even after butchering for hours, there's a lot to love about this knife. The 6-inch blade's curved design makes it feel shorter than some of the other knives, too. In the end, the curved design makes it very maneuverable and easy to control. Because of the high-marks in our performance tests and the low price point, we'd recommend this as our pick for Best Value.
How We Tested
The Tester
Hi, I'm Lindsay Mattison, a trained professional chef and a butcher. Hunting season is one of my favorite times of the year—not because I'm a hunter myself, but because I get to work at a local meat shop breaking down deer and elk. Even when I'm not working, I always buy whole chickens and subprimal cuts of beef that I slice into steaks at home. It saves a ton of money, and I get to have fun in the meantime! If you're interested in any kind of home butchery, you'll need a good knife and I'm determined to help you find one.
The Tests
We selected five fillet knives and six boning knives in all shapes, sizes, and price ranges. Each type of knife has a specialty—fillet knives are well—suited for fish while boning knives are usually used for meat and poultry. But, we wanted it all. We took each of these unitaskers and put them to the test to find out which could be used as all-purpose meat-and-fish knives, accomplishing all of the tasks that a home cook might encounter. Our tests were designed to assess sharpness, agility, and handle comfort.
Each knife had to excel at breaking down a whole chicken, easily moving around the joints and bones to create nicely trimmed drumsticks, thighs, wings, and breasts. Next, we took on pork tenderloin, looking to see if the knife could efficiently remove the silverskin without taking away too much of the edible meat. We also butterflied sections of the tenderloin as if we were making pork schnitzel, testing the knife's ability to make long, smooth cuts. Then, we removed the skin from fish fillets, taking off points if the knife created any jagged surfaces or couldn't get close enough to the skin.
All the while, we took notes on which knives had comfortable handles with ergonomic grips. Butchery involves a lot of repetitive cutting motions, which can easily tire out your hands and arms if the knife is heavy or poorly balanced. We awarded bonus points for lightweight knives that felt like natural extensions of our hand.
---
Other Boning Knives and Fillet Knives We Tested

Zwilling J.A. Henckels Twin Four Star II 7-inch Fillet Knife
Admittedly, I went into these tests thinking that the top five knives would all be boning knives. After all, I assumed the shape of a boning knife would be able to fillet fish easily while long, skinny fillet blades would have a difficult time working around chicken joints. Well, the Zwilling J.A. Henckels Twin Four Star 7-Inch High Carbon Fillet Knife certainly proved me wrong.
Not only did it cleanly remove the silverskin from the pork tenderloin, it can also break down whole chickens without issue. My only gripe is that the long, straight blade is a touch awkward around the tinier chicken pieces like the wings, but the blade is flexible enough to make it work. In addition to all that, this knife is a fan favorite here at Reviewed, especially for removing fish skin. If you work more with fish than meat, this is definitely the knife to get.

Victorinox Fibrox Flexible Filleting Knife
The Victorinox Cutlery 8-Inch Straight Fillet Fishing Knife is surprisingly light, given its long profile. The super flexible blade is slightly tapered, too, which is perfect for quickly and effortlessly filleting fish. While the blade is a little too long to comfortably maneuver around chicken joints, it's certainly sharp enough to get the task done. That said, it's great for butterflying pork, enough so that we can safely call this knife a multi-tasker.

Shun TDM0774 Premier 6-inch Boning / Fillet Knife
The Shun TDM0774 Premier Gokujo 6-Inch Boning Fillet Knife is plenty sharp and capable, but it's not my first choice as a professional butcher. It's lightweight enough, but it gets heavier and more cumbersome the more we used it. Between the handle and the wide, curved blade, our cuts ended up a little thicker than we like, and it's harder to maneuver than some of the competition. There's no question that this is a beautiful knife with a very sharp edge, though, so that's why we have no problem recommending this knife for cutting meat (especially if beauty is as important to you as functionality).


Victorinox Fibrox Straight Flexible Boning Knife
Compared to the other knives, the Victorinox Swiss Army 6-Inch Fibrox Pro Boning Knife with Flexible Blade isn't the sharpest knife in the block. It has a nice, textured handle with a great lightweight grip, but we noticed some resistance when butterflying pork and removing the fish skin. It's still a good knife for the price, but its edge can't compete with most of the other knives in the group.


Wüsthof Pro 9-Inch Fish Fillet Knife
The Wüsthof Pro 9-Inch Fish Fillet Knife is one of the longest knives we tested, clocking in at 9-inches. That length makes it more than capable of filleting larger fish, like salmon or snapper, and the super thin, tapered blade is perfectly shaped to remove fish skin with ease. Those same features solidly set this knife as a unitasker, though, because it's almost too long to break down chicken.


Dexter-Russell S133N-7PCP Fillet Knife
There's no question about this knife's ability to work with fish. It can easily remove the skin from the fish in one smooth motion, but the jutted edge on the plastic handle gets in the way, especially when working with chicken. The long, straight blade also makes precision all but impossible when removing the pork's silverskin.


Update International KP-04 6-inch Curved Boning Knife
You wouldn't expect a knife that costs so little to live up to the performance of a $100 knife, but that's exactly what happened here. While it did a fine job on the pork and the chicken, the other knives did it better. It certainly wouldn't be our first choice for working with fish because it created jagged edges when removing the skin. This knife might fit the bill if you needed a meat and poultry knife at a budget price, but its performance paled in comparison to the similarly-priced Mercer knife.

J.A. Henckels International Forged Premio 5.5-inch Boning Knife
Unfortunately, the Forged Premio 5.5-Inch Boning Knife falls short in terms of performance. It's disappointingly heavy for a boning knife, tiring our hands out after boning a single chicken. Not only that, but the super rigid, straight blade design makes it hard to get into tight spaces. It wouldn't be our top pick for boning knives, and it didn't perform well enough on the fish to quality as a multi-tasking knife, either.


Bubba Blade 9-Inch Tapered Blade Flex Fillet Knife
At the time we tested, the Bubba Blade 9-Inch Tapered Blade Flex Fillet Knife was sixth on Amazon's Boning and Fillet Knives best-selling list. Unfortunately, this is not a knife I'd recommend for use in a home kitchen. It's comically large, both in blade length and in handle girth. It's too heavy for slicing up chicken and pork tenderloin, and it looks like a sword when placed next to our trout fillets. The blade is sharp, though, so I have no doubt this knife is great to store on your boat for deep sea fishing (especially since it comes with synthetic sheath for storage).
More Articles You Might Enjoy
Up next
Get Reviewed email alerts.
Sign up for our newsletter to get real advice from real experts.