Kitchen & Cooking
The Best Coffee Makers, Grinders and Beans
These are the must-have supplies for your caffeinating needs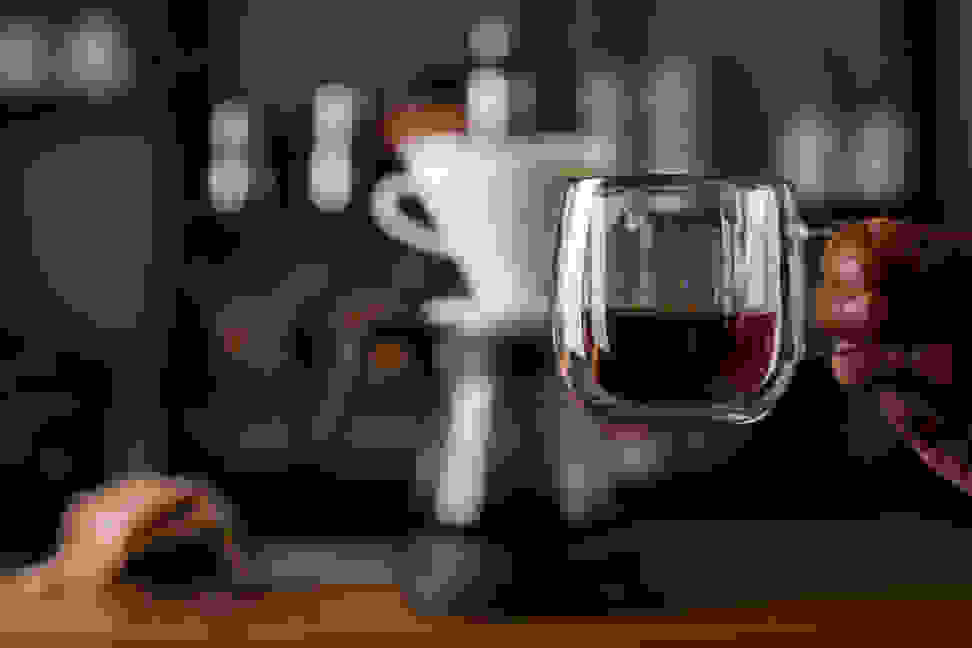 Credit: Getty Images
Editor's Note: July 18, 2019
We've updated this coffee gadgets guide with some new products, including our new favorite pod coffee brewer, the Nespresso VertuoPlus by Breville.
For many of us, coffee is a vital part of a morning routine. And if you're an avid coffee drinker, you know the daily habit can get expensive. Why spend hundreds of dollars a year on Starbucks when you can brew a better cup from the comfort of your own home and elevate your morning routine, while still in your pajamas?
We've spent many hours, days, and weeks researching and testing all the best coffee gadgets—like the Nespresso VirtuoPlus from Breville (available at Amazon)—to find the best supplies for your coffee ritual needs. We even found which beans arrive at your doorstep the freshest!
If you're in a serious relationship with your cup of Joe, you'll want to upgrade to one of our best-tested products we've reviewed.
Best Drip Coffee Maker
Technivorm Moccamaster
With its mid-century design and an exposed reservoir, you'll want to leave the Moccamaster out on the counter even when it's not in use. But it doesn't just look great. Indeed, the pricey Moccamaster brews a complex and smooth pot of coffee that ranked highest in our taste test. This machine also fills a full pot quickly—a necessity for the morning rush.
Only two optional settings are available: You can control the heating element under the carafe and turn down the temperature if desired. Other than that, the Moccamaster doesn't have—and doesn't need—anything else. Technivorm boasts that its heating element can get water between 196ºF and 205ºF, which specialists say is the ideal temperature for brewing coffee.
The Moccamaster isn't for everyone. Handmade in the Netherlands, it costs around $300—and would never win an award for value. It lacks a programmable timer, and it was also bit more difficult to set up than the rest of the coffee makers—in fact most were ready to go right out of the box. But a quick look at the instruction diagram should clear up any confusion, and the end result is well worth the effort.
See more of the best drip coffee makers we tested and reviewed.
Pros
Smooth and complex pot of coffee

Fast brewing speed

Well-made in the Netherlands
Cons
Lacks programmable timer

Pricey for what it does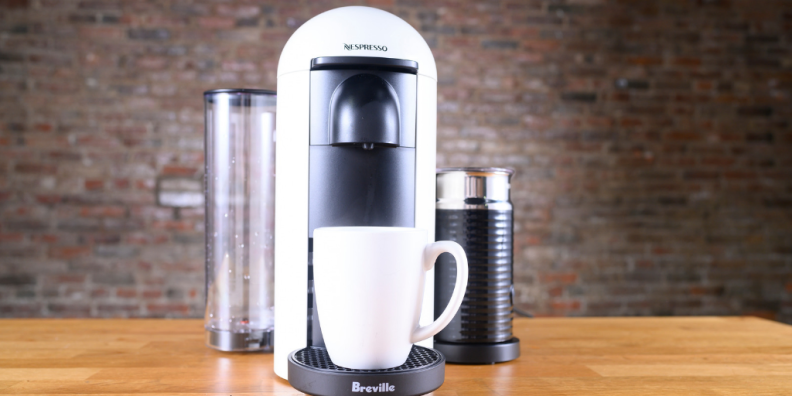 Best Pod Coffee Brewer
Nespresso VertuoPlus
With the VertuoLine centrifusion brewing method, our coffee came out with foamy crema on top, a truly luxurious experience. The technology behind this dense, rich, and aromatic coffee is simple—a machine head penetrates the capsules in the center and around the edges, allowing water to enter in the center opening and push through the 20 edge holes, maximizing coffee interaction and pressure. It also brews espresso capsules so you can make espresso, double espresso, and regular coffee.
Unlike most of the other pod brewers we tested, the Nespresso VertuoPlus by Breville's compact design makes it easy to keep on your countertop or store where space is limited. It boasts a 40-ounce water tank that can also swivel out easily. The motorized head opens with a light lift, different from traditional Keurig machines that often require a forced push and thus increase the chance of wear and tear.
Pros
Compact

Fast brewing

Options such for double espresso drinks
Cons
Water tank is relatively small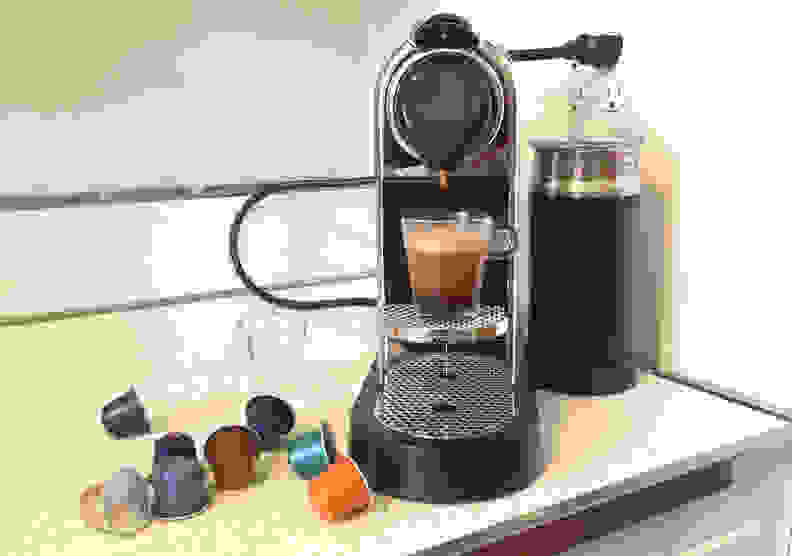 Best Single-Serve Espresso Maker
Nespresso Citiz
The Nespresso Citiz by DeLonghi is just plain gorgeous. While not compact, it's narrow so it doesn't take up a wide swath of countertop space. As the tank (which easily detaches for filling at the sink) holds enough water for about 17 cups, this brewer is perfect for espresso-loving households that feed their habit throughout the day.
The Citiz uses OriginalLine capsules, which only brew espresso. (If you want an 8 oz. cup of coffee, you'll have to buy a VertuoLine machine.) Each time you pop in a new capsule, the last one is automatically dispensed into an internal chamber which you empty after nine cups. With a lever to lock the capsule in place and just two buttons—one for espresso and one for the larger lungo (Italian for long) it couldn't be easier to operate. If you want to brew into a tall cup for a double cap or an iced beverage, you flip up the espresso cup holder.
Every cup of espresso brewed in less than 25 seconds, was 2 ounces or less, and was hot enough even if you opt to add a dash of cold milk. If you like your cup shorter (fewer ounces and more intense) or taller (more ounces but less strength) you can set the volume you prefer by holding down the button as it brews and releasing it when your desired amount is dispensed; the Citiz will remember the setting. In cup after cup, Nespresso espressos had the combination of bitter and sweet notes that make espresso so satisfying.
The company offers a large variety of capsules from beans grown all over the world, including special editions and flavored coffees, varying in price from 70 cents to $1.25 per capsule. One objection to Nespresso systems is that the aluminum capsules are discarded after a single use. Nespresso has addressed this by making the capsules recyclable and providing mailers to send them back for processing. You can also buy compatible capsules that are compostable and biodegradable. In our tests, we found that they were less consistent than Nespresso-branded ones at delivering a layer of crema and in taste.
See more of the best single-serve espresso makers we tested and reviewed.
Pros
Reliable machine

Auto dispense the used cups

Large water tank
Best Milk Frother
Nespresso Aeroccino 3
While it has fewer bells and whistles than any of the others we tested, the compact Nespresso Aeroccino 3 was also the easiest to use, quickest at frothing, and totally reliable for whipping up clouds of frothy milk using both whole and skim milk at the hot and cold settings.
It has neither a handle nor a spout, but the ridges make it easy to grasp, and we never spilled any milk —although latte art may be difficult.
In the lid, you'll find a stirring attachment that you can use to heat but not froth a larger quantity of milk. The Aeroccino 3 can't go in the dishwasher but cleans up easily as milk doesn't "bake" onto the bottom during the heating process like it did with every other frother we tested.
You can only use this model with milk—so no mulled cider—and it only whips up to four ounces. But if you're buying a frother exclusively to make one or two cappuccinos or lattes, this is our top choice.
Pros
Compact details

Sleek-looking
Cons
Easy cleaning as milk doesn't cling to bottom

Takes more time to froth large amount
Best Electric Kettle
Cuisinart PerfecTemp 1.7 Liter Electric Kettle
This kettle may not look like anything special, but it does its job exceptionally well, and at a very fair price for what it offers: Six preset heat settings for steeping tea and easily discernible, intuitive buttons. Simply select your desired temperature and press start, and in a snappy 5 and a half minutes, a series of beeps will let you know that your water is boiling. The machine automatically flips to a handy keep warm mode that resumes its cycle regardless of how many times you remove the kettle from the base. This kettle is easy to use and speedily effective, earning it our top spot.
See more of the best electric kettles we tested and reviewed.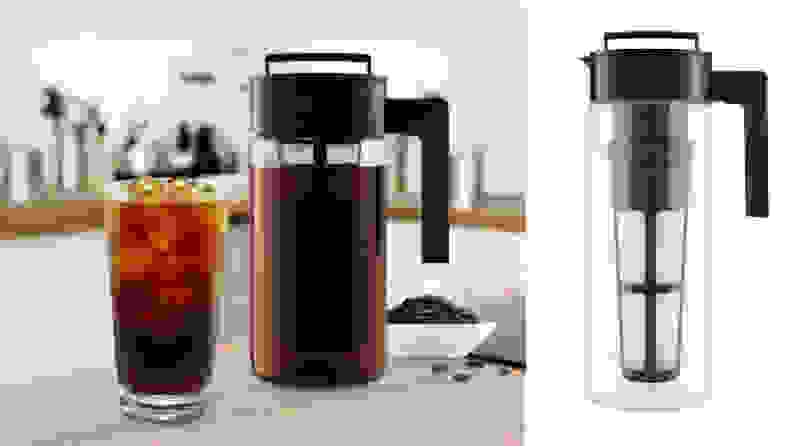 Best Cold Brew Coffee Maker
Takeya Cold Brew Coffee Maker
The dishwasher-safe, BPA free model from Takeya can brew up to a quart of concentrated cold brew coffee. It not only yielded one of the best tasting brews, it also aced our usability tests. The brewer is easy to set up, offers a durable build, and is simple to clean and store for later use. It is also the only brewer that is air-tight while it brews, allowing you to easily store the brewer on its side in a packed fridge.
All of these design choices—combined with a low price tag and glowing user reviews—make the Takeya not only the best cold brewer we tested, but also our best value pick.
See more of the best cold brew coffee makers we tested and reviewed.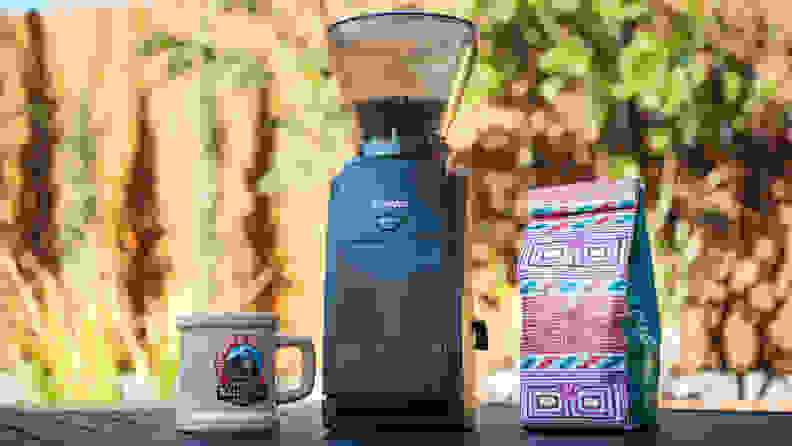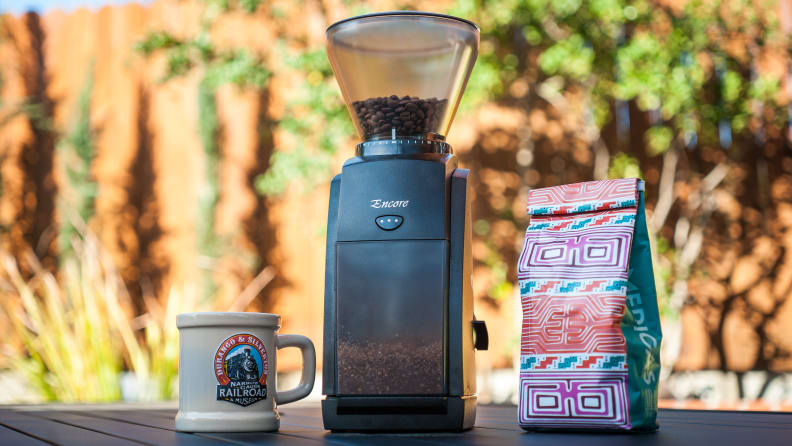 Best Electric Coffee Grinder
Baratza Encore
The Baratza Encore is simplicity defined. This burr grinder has a 40-setting grind size selector, an on-off switch for continuous grinding, and a push-button for manual control. That's it. Other grinders include complicated timers, built-in scales, strength adjustment sliders, and other doodads, but Baratza suggests that you don't need them—and they're right. Measure your beans using a separate scale, grind them fresh for each cup. That's the way to do it.
This grinder produced the most even grounds out of all the machines we tested, and its range of output is all-encompassing. The coarsest setting produces large flakes, while the finest setting produces puffy grounds akin to powdered sugar—perfect for Turkish coffee. In between, we were quickly able to find the ideal settings for Hario Woodneck, Aeropress, and even mason jar cold brew.
The machine itself is large, but not as monstrous as some of the other grinders we tested. It's also very bottom-heavy, which makes it feel more durable than other machines and means it won't rattle all over your counter while grinding. The heavy-duty translucent plastic collection cup generates less static cling than the glossy clear plastic cups we tested, and the chute that connects the burrs to the cup collects less debris than other models. Cleaning is simple: Just remove the top burr and use the included wire brush to remove residual grounds.
Pros
Even grinding

Durable, bottom-heavy

40-setting grind size
Cons
No complicated features such as timer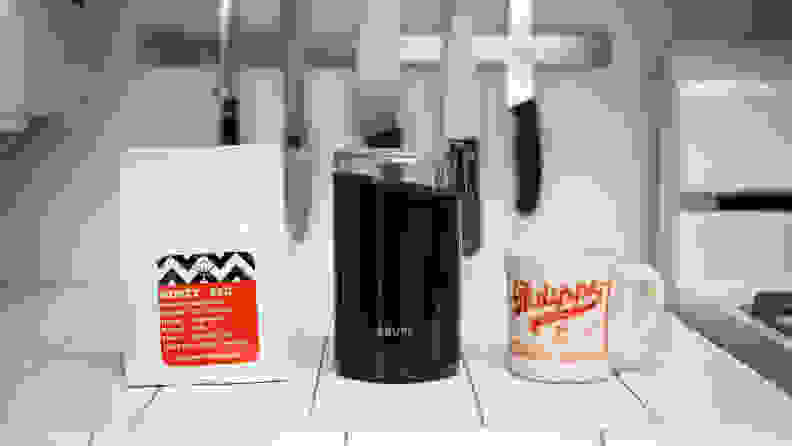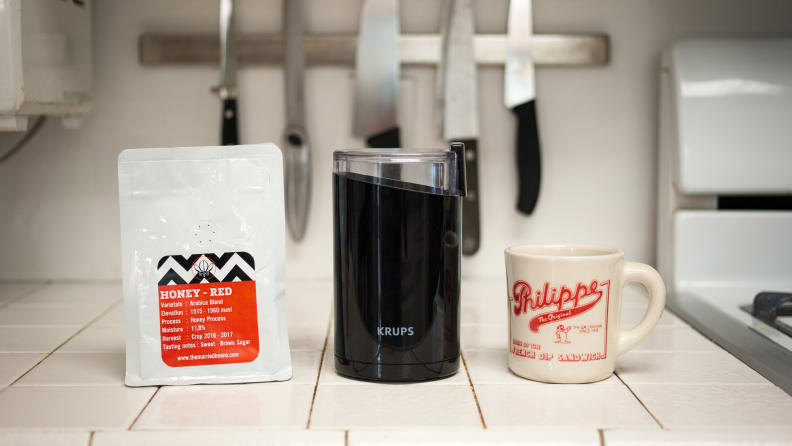 Best Blade Grinder
Krups Fast Touch Electric Coffee and Spice Grinder
You shouldn't buy a blade grinder. They're just not as good as burr grinders, like the Baratza Encore. But if you must, the Krups Fast Touch is your best option.
Though the grounds it produces aren't anywhere near as consistent as even the worst burr grinder we tried, it's capable of producing a decent cup. After grinding continuously for five seconds, the Fast Touch reduced two scoops of beans to a nearly uniform medium-fine grind—no huge chunks, no whole beans. With a little experimentation, we were able to hit a consistent medium grind that produced a bright, slightly acidic Aeropress cup. If you want an ultra-fine espresso grind, it can do that too. Simply hold the button down until all you have left is powder.
Like most cheap grinders, the Krups produces a ton of static cling, meaning you need to tap the lid or bang the grinder on your counter to keep grounds from going everywhere when you open it. If you grind ultra-fine, the particles tend to cake on the bottom of the bowl, too. Cleaning is relatively simple; just be sure to watch your fingers when working around the blades.
See more of the best coffee grinders we tested and reviewed.
Pros
Best blade grinder

Fast grinding
Cons
Grounds will statically cling to the cover.

Particles tend to cake on the bottom.
Best Digital Scale for Coffee
American Weigh Scales SC-2KG Digital Pocket Scale
For an itty bitty scale—with a square platform measuring just 4 inches across—the AWS digital pocket scale packs a lot of punch. You can't throw a large mixing bowl on the device without completely obscuring the numbers, but it's immensely portable and capable of measuring in very small units—ideal for weighing coffee. A resolution of 0.01 oz and 0.1g should do the trick.
Bonus: If you'd like your kitchen scale to double as a jewelry scale, the SC-2KG can weigh in special units like carats.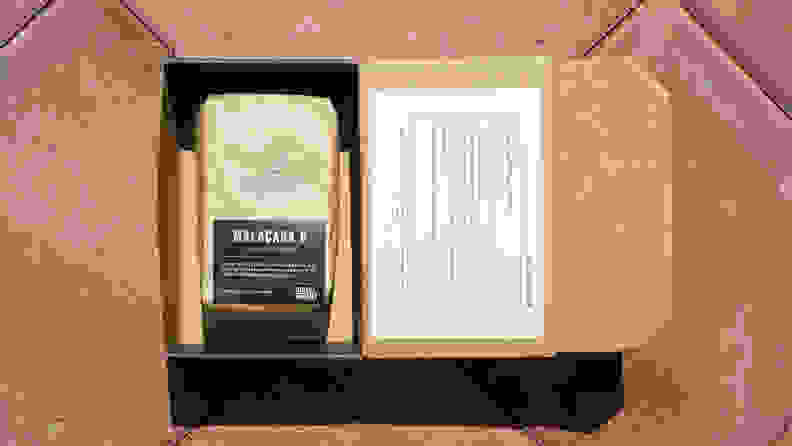 Best Coffee Subscription
MistoBox
Conceptually, MistoBox splits the difference between many other coffee subscriptions—and it's all the better for it. The company doesn't roast its own beans, but instead sources them from top roasters all across America, who ship the fresh-roasted coffee direct to your door. It doesn't ask you to participate in blind tastings, and it doesn't give you a detailed quiz up front. It's all about balance.
Where MistoBox really shines is in its efficiently designed website and deep customization. If you want to, you can sign up for a scheduled delivery of curated espresso blends or single origin coffees and just let it ride—no input is necessary beyond the initial question of what kind of roast you like. But if you want to get a little more involved, you can rate each coffee you receive to refine future shipments or—if you want to take the future into your own hands—curate your own list of upcoming beans with a feature MistoBox calls the "Brew Queue." The number of choices is dizzying, and there are plenty of user reviews to guide your way thanks to a very active community.
Shipments were blazingly quick, with both independently contracted roasters delivering the coffee just two days off roast. Customer service was similarly speedy: an exceedingly polite representative reached out and efficiently answered our query just a few hours after we sent it.
See more of the best coffee subscription services we tested and reviewed.
Up next
Get Reviewed email alerts.
Sign up for our newsletter to get real advice from real experts.