Kitchen & Cooking
The Best Electric Coffee Percolators
These are the best coffeemakers to perk up your guests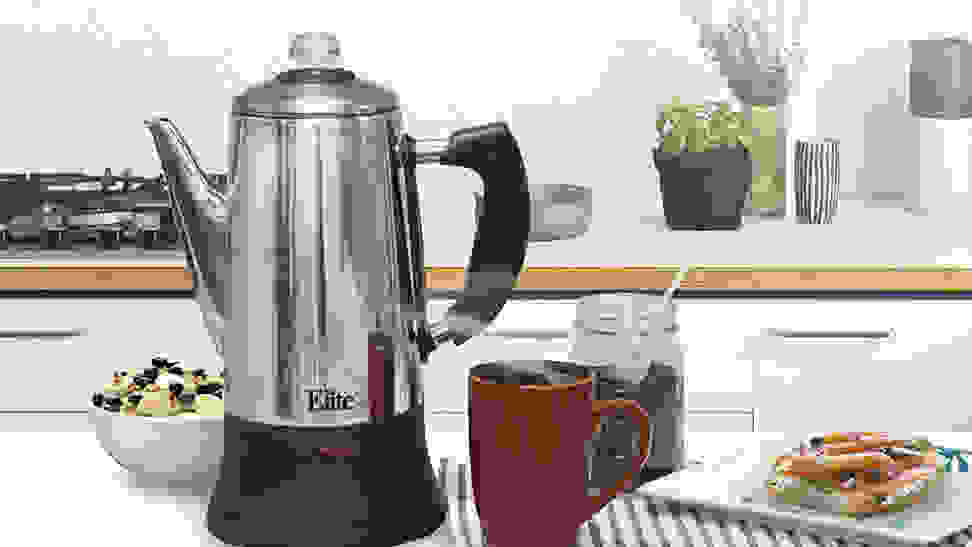 Credit: Maxi-Matic
Considering the evolution and advancements in contemporary coffee culture, it's been tough for the percolator to shake its unsexy associations with church functions, corporate meetings, and that thing gathering dust in your great aunt's house. And granted, little has changed in its construction since its invention in the 19th century. But the percolator remains relevant for the same reasons it always was: Its ability to produce copious amounts of strong, in-your-face coffee, and keep it steaming hot for extended periods of time. They're perfect for big holiday gatherings, too.
Percolator proponents also adore these coffee makers for their soothing, characteristic burbling; owing to the force of steam it uses to cycle water through coffee grounds until an especially full-bodied brew is produced. Even newer models like our favorite, the Elite Platinum Maxi-Matic 12 Cup Percolator (available at Amazon for $49.08), refuse to reinvent the wheel, chirping cheerfully on the counter as it speedily spurts out up to 12 cups of concentrated joe.
Here are the best coffee percolators we tested ranked, in order:
Elite Platinum Maxi-Matic 12 Cup Percolator EC-120
Presto 12-cup Percolator 02811
Cuisinart Classic 12-Cup Percolator PRC-12
Hamilton Beach 12-Cup 40616
Farberware 12-Cup Percolator FCP412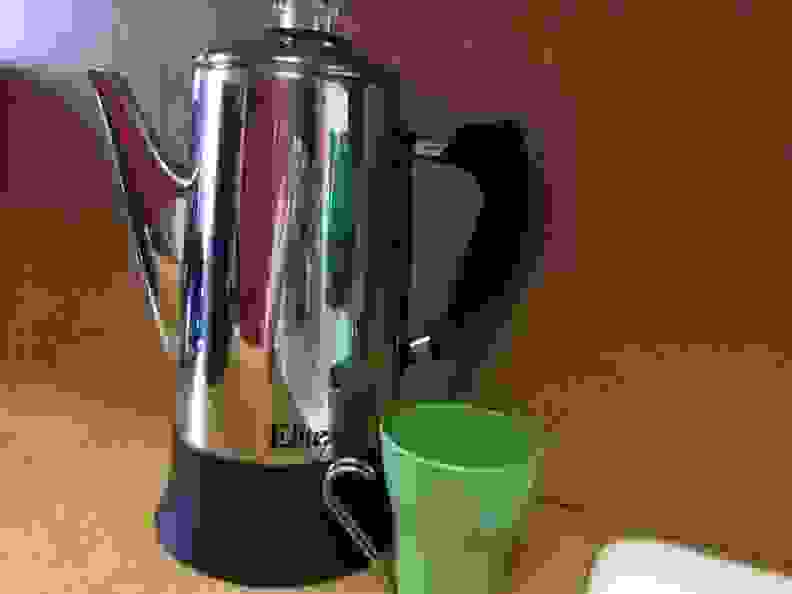 Best Overall
Maxi-Matic Elite Platinum EC-120 12 Cup Percolator
Except for a transparent top knob (which aids in one of the understood pleasures of percolating—watching the coffee circling), the Maxi-Matic is composed mainly of stainless steel. That speaks to why it brewed one of the most balanced, flavorful cups of the bunch since plastic mechanisms (especially when they contain BPA) can transmit chemicals, and lead to off-tastes and aromas. It has all of our preferred percolator elements such as separate power and ready-to-drink indicator lights, its comfortable-to-hold, heat-resistant handle, and a thin, curved spout that aids in pouring and prevent drips. Yet the Maxi-Matic also one-ups the other models we tested with a few unique advantages. The pot can be lifted off the heating element completely for seamless, cordless serving, then returned to its base, where it will be kept warm automatically. But it also has a boil dry safety feature, which, even when plugged in, ensures the pot won't continue to heat once there's no liquid inside.
Pros
Balanced, flavorful coffee

Pot can be lifted off element for serving

Smart safety feature
How We Tested
The Tester:
I'm Sarah Zorn, and I've been a food writer and editor for almost 10 years. Like most busy professionals, I almost exclusively function on coffee, and need it ready at an instant in the morning, in embarrassingly large amounts. As an enthusiastic cook, I also frequently entertain, and like the idea of being able to easily produce plenty of piping hot caffeine for my guests at the end of the night.
The Tests:
We set up the percolators and brewed three cups of low acidity coffee in each, assessing how long they took to brew, how easy they were to pour, and how bitter tasting (or not) the coffee was. We repeated this process three different times over the course of the week, also analyzing how simple each unit was to clean, how comfortable they were to use, how portable and well-built they were, and how effortless they were to store. We also took note of safety concerns and special features.
What to Look for When Buying Coffee Percolators
Size definitely matters when purchasing percolators. While you can find two- to four-cup options if that's all the caffeine you require, percolators are favored for their capacity and can go up to 12 cups. Your next big choice is stovetop or electric. The classic moka pot springs to mind when people think of open flame models, but for our purposes, we only evaluated electric, which allow you to have more control over the brewing process. And while construction is pretty standard, percolators primarily made of stainless steel—especially its brewing elements — are preferable. Not only is steel more durable than plastic, it won't impart unpleasant flavors and leach harmful chemicals into your cup. Other desirable qualities include speed (all options we tested averaged one cup per minute), as well as non-drip spouts, stay-cool handles, ready-to-serve indicator lights, easy to disassemble parts to aid in cleaning, and long, detachable cords, which make it simpler to brew, serve and store.
---
Other Electric Percolators We Tested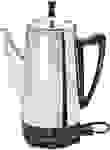 Presto 02811 12-Cup Coffee Maker
Both a favorite among Amazon reviewers and often topping other best percolator roundups, the Presto also eschews plastic in its perking process, which is why it produced one of the smoothest cups of joe. And it's also one of the only models to include paper filters with the packaging, which kept stray grounds out of our drink, and made the Presto especially easy to clean (otherwise, you need to dump and clean grounds from both the stainless-steel filter and the pot). That said, you won't find those custom filters at your average corner store, and the price point of the Presto tends to be a touch higher than others. But there are plenty of pluses to even things out. The unit is durable (thank the stainless steel again for that) yet lightweight, features a long-necked spout for precision pouring and detachable cord for ease of serving and storing, and has a ready-to-drink signal light and automatic keep warm mode.
Pros
Paper filters included in the packaging

Easy to clean

Durable and long-lasting
Cons
The filters are hard to replace
Hamilton Beach 40616 12-Cup Percolator with Cool-Touch Handle
Also plastic-free, the Hamilton Beach brewed quite a tasty cup. Other upsides of the unit include a ready-to-serve indicator light, an angled, drip-free spout and detachable cord (which is a little bit on the short side), it keeps the coffee warm automatically, and has a cool-touch handle. The Hamilton Beach was the heaviest unit we tested though, which, while hardly a deal breaker, knocked it down a peg in terms of portability, and how comfortable it is to use and hold.
Pros
Ready-to-serve indicator light

Drip-free spout

Detachable cord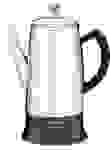 Cuisinart PRC-12 Classic 12-Cup Percolator
While in general, no electric percolator is winning any beauty awards, Cuisinart's version isn't an all-out eyesore, owing to its slim, compact build, elegant, tapered spout, and transparent top knob (where you can watch the coffee burbling merrily inside). A stay-cool bottom unit keeps it from scorching your surfaces, and an indicator light lets you know when it's done brewing, so you don't run the risk of burning your coffee. But it won't brew less than four cups, so it isn't ideal for low consumption households. And the Cuisinart proved inconsistent when it came to flavor; batches varied from weak to bitter, with not a whole lot in between.
Pros
Slim, elegant appearance

An indicator light
Cons
The brewing capacity is limted

Inconsistent flavor
Farberware FCP412 12-Cup Percolator
Farberware 12-Cup Percolator FCP412: The Farberware has all the basics we look for in electric percolators, including an automatic keep-warm mode, a cool to the touch lid, base and handle, and a detachable cord. But that's hardly enough to justify the comparatively hefty asking price, especially since it sets itself apart from other models we tested in detrimental ways. The plug is short, the coffee it produced was bitter, and it has the only clunky, spill-free spout of the bunch.
Pros
Reliable build

Keep-warm mode
More Articles You Might Enjoy
Up next
Get Reviewed email alerts.
Sign up for our newsletter to get real advice from real experts.