Kitchen & Cooking
The Best Electric Knives
Use an electric knife for carving your Thanksgiving turkey or slicing bread.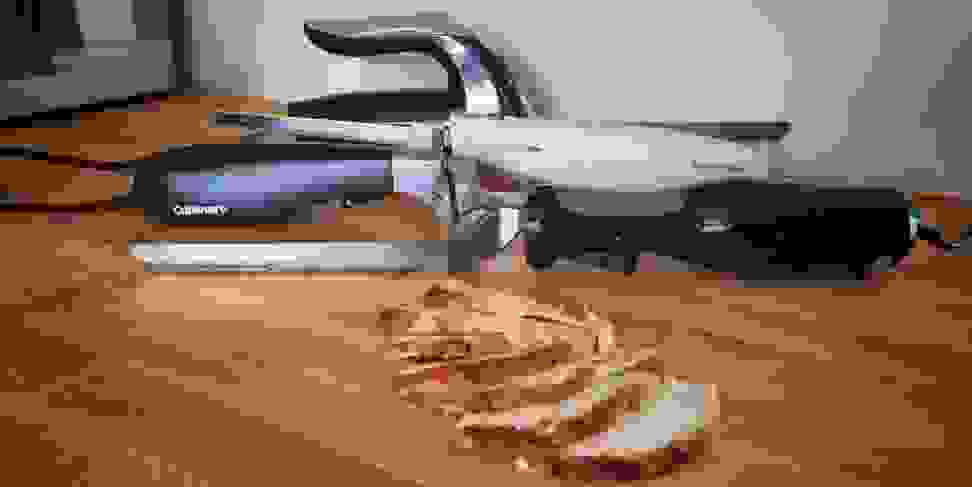 Credit: Reviewed.com/Lindsay D. Mattison
There seem to be two camps when it comes to electric knives. Many people have fond childhood memories of a family member using one to efficiently and effectively carve a Thanksgiving turkey. On the other hand, there are those of us who don't even really know what an electric knife is (much less why you'd want to use one). If I'm being honest, I fall firmly in the second camp. My father never used one growing up because he enjoyed the challenge of sharpening the carving knife (which, he always said is the hardest part of carving). When it came time for me to host Thanksgiving dinner, I made the same choice—the apple must not fall far from the tree! I never gave electric knives a second thought until I was handed this assignment.
Why might someone prefer an electric knife over a carving knife? Before testing these six top-rated electric carving knives, I might have told you they're just a loud, expensive appliance that will clog your gadget drawer. But, after using the Black and Decker EK500B 9-Inch Electric Carving Knife (available at Amazon for $17.50)—our favorite knife in the group—I may have changed my mind! It really opened my eyes to the many day-to-day uses of an electric knife, from slicing delicate bread to carving a chicken or a pork loin in as little as a minute. And since many of these knives are available for less than $50, they really start to look like an attractive investment (even if you only use them once a year).
These are the best electric knives we tested ranked, in order.
Black and Decker EK500B 9-Inch Electric Carving Knife
Cuisinart CEK-40 Electric Knife
Rapala Heavy Duty Electric Fillet Knife
Hamilton Beach 74275 Electric Carving Knife with Case
NutriChef Electric Knife
Proctor Silex 74311 Easy Slice Electric Knife
Best Overall
Black & Decker EK500B
There were two stand-out factors that made the Black and Decker EK500B 9-Inch Electric Carving Knife our favorite knife in the group. First, it aced all of our performance tests, creating a presentation-worthy carved chicken and perfect slices of bread (both from crusty baguette and soft brioche sandwich bread). It was also one of two knives that was actually able to slice cheese! But, that's not what impressed us the most. The Black and Decker also had the most comfortable handle and was the quietest knife in the group. The round handle fit perfectly in our hands and stayed put, even when our hands were covered in chicken grease. The knife created little to no vibrations, making it easy to keep our finger locked onto the trigger without slipping. And its quiet profile made it the most pleasant to use.
Since the Black and Decker is regularly priced at under $20, it also happens to be the best value in the group! I would happily use this knife regularly to slice homemade bread or quickly break down a roast, but that price makes it attractive even if you only pull it out on the holidays.
How We Tested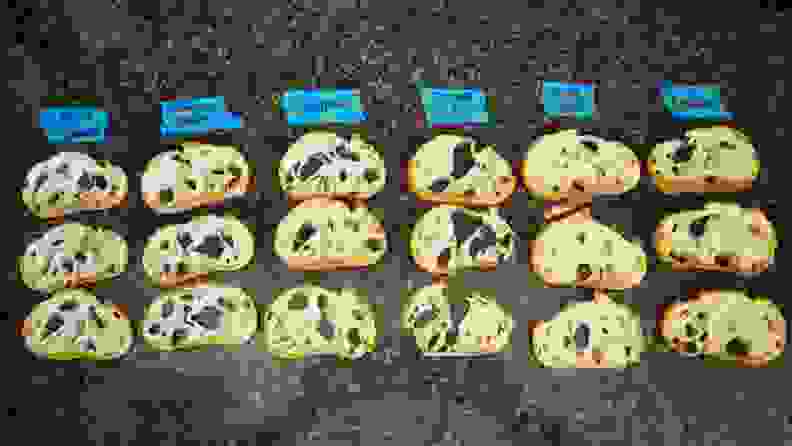 The Tester
Hi, I'm Lindsay Mattison, a professional chef and a former electric knife critic. I've never owned an electric knife because I'm more of a do-it-the-hard-way kind of cook. Call it Taurus stubborn, but you'll find me meticulously chopping vegetables into perfectly sized pieces instead of using a food processor, or hand-kneading bread dough right next to a perfectly usable stand mixer. Testing these six electric knives may have changed my mind, though, because I actually fell in love with our winning knife! In fact, next time you come over to my house, you'll probably find it in the gadget drawer.
The Tests
We chose six electric knives and put them to the test. Our tests were designed to evaluate a few things, most notably the blade sharpness, overall ease of use, safety, and the noise level of each electric knife.
To understand how each knife performed in everyday use, we tasked them with carving a rotisserie chicken, thinly slicing baguette into crostini, creating sandwich-sized slices of soft brioche bread, and slicing a block of hard cheddar cheese. These tests helped us understand how sharp the blade was, as well as whether it could create smooth, uniform cuts. If the knife created jagged slices, we took off a few points. On the other hand, we awarded bonus points to any knife that could create nice slices of cheese (the test that most of the knives struggled with).
Next up, we wanted to make sure that the knives were easy (and safe) to use. We assembled and disassembled the knives without looking at the manual and used them with our hands covered in chicken grease. The best knives not only stayed secure in our hands without vibrating away, but they also remained cool after a few minutes of use. When it came to safety, we were looking for a cord that was long enough to stay out of the way as we cut and a safety lock to make sure we didn't accidentally turn on the knife before we were ready.
Finally, we paid attention to the noise level as we used each knife. This was one of the most important factors to our test team. No one wants to ruin the mood around the dining room table by turning on a buzz saw! The family dog will especially appreciate our dedication to this very important factor.
What You Should Know About Electric Carving Knives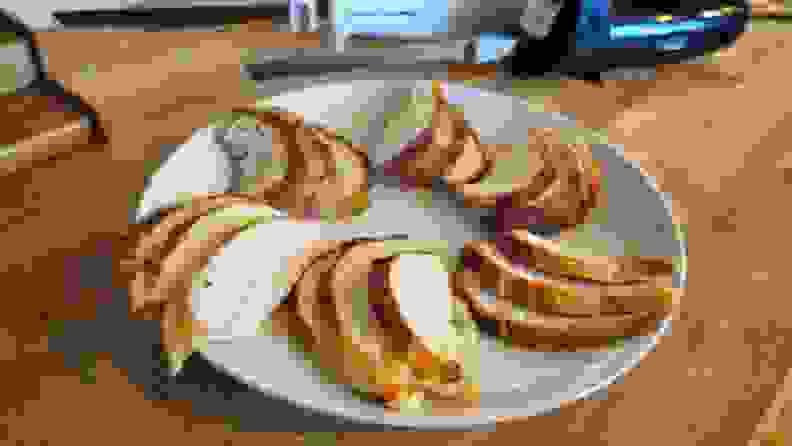 You might be wondering why someone should choose an electric knife over a carving knife. Really, it's up to personal preference. These types of knives have two serrated blades that move in opposite directions when you pull the trigger. That means they can slice much more quickly than any human hand could. On the plus side, this means it requires minimal pressure to cut delicate items, like bread or skin-on poultry.
On the other hand, many people don't love the look of bringing a corded appliance to their fancy Thanksgiving table. Some models are extremely loud, effectively ruining the mood, and others wildly fling poultry bits around the table as those blades vibrate together. So, it's important to be happy with your model if you're willing to show it off in front of the family.
In addition to carving your Thanksgiving turkey or Christmas ham, an electric knife also comes in handy for other regular kitchen tasks. A good one cuts perfect slices of soft bread for sandwiches, and the best ones are sharp enough to take down crusty bread like baguette. You could also use it on delicate angel food cake or any boneless roast, like pork loin, roast beef, or a standing rib roast. If you're an angler, you'll also love how easy it is to clean a fish using an electric knife.
---
Other Electric Carving Knives We Tested

Cuisinart CEK-40
The Cuisinart CEK-40 Electric Knife came in a close second to our top pick, acing all the same tests as the Black and Decker. But, the latter rose to the top by performing more quietly than the Cuisinart. That being said, we liked the Cuisinart overall. It certainly wasn't the loudest knife in the group and it made quick work of carving the chicken. The handle was comfortable and slip-free, and it had no problems taking down both types of bread. It was also one of two knives to actually slice the cheddar cheese, earning it bonus points. And, while we didn't notice that much of a difference between the blades, it does come with a meat blade, a bread blade, and a nice wooden butcher-block holding tray.

Rapala HDEFAC
While our top two knives were in a close race for first, the Rapala Heavy Duty Electric Fillet Knife came in a far third. Like our top performing knives, the Rapala had a comfortable handle and felt safe to use. When it came to performance, it neither excelled nor failed the majority of our tests. Instead of slicing the cheese, it created a coarsely grated product. While it was able to slice the chicken and bread, it created jagged edges that didn't look as nice as they could. It wouldn't be our top pick, but we wouldn't avoid using it, either.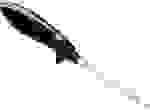 Hamilton Beach 74275
We absolutely love that the Hamilton Beach 74275 Electric Carving Knife is the only knife in the group to come with a carrying case. That makes it easy to bring over to a friends house or safely pack away in your gadget drawer. The set also came with a carving fork, which is great for anyone stocking up a starter kitchen! Unfortunately, its performance struggled, especially on the crusty baguette. It sort of hovered over the crust instead of piercing through the tough exterior. The large handle was also particularly difficult to hold, especially when our hands were covered in chicken grease.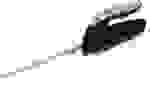 NutriChef PKELKN8
You'll immediately notice that the NutriChef Electric Knife doesn't share a design with the other electric knives. Instead of being a long handle, this product almost looks like an iron! That odd-shaped handle was actually surprisingly easy to hold, and we enjoyed the two-button safety feature that ensured the knife wouldn't accidentally go off when we weren't ready. Sadly, it struggled to do anything except carve the chicken and it sounded like we turned on a table saw every time we clicked it on. Since it had a short cord and an odd smell when in use, it dropped to the bottom of the pack.
Avoid
Proctor Silex 74311 Easy Slice
We simply can't recommend the Proctor Silex 74311 Easy Slice Electric Knife. It didn't have any kind of safety lock and the blades weren't the sharpest in the group, requiring more force than we'd like to cut through the bread, cheese, and chicken. When our hands were greasy with chicken fat, this knife became really slippery and almost dangerous. The icing on the cake: It was really loud and it got uncomfortably warm after a few minutes of use. We wish we could say something good about this budget-priced knife, but we can't.
More Articles You Might Enjoy
Up next
Get Reviewed email alerts.
Sign up for our newsletter to get real advice from real experts.