Kitchen & Cooking
The Best Grill Spatulas
Flip your way to a better burger with a quality grill spatula.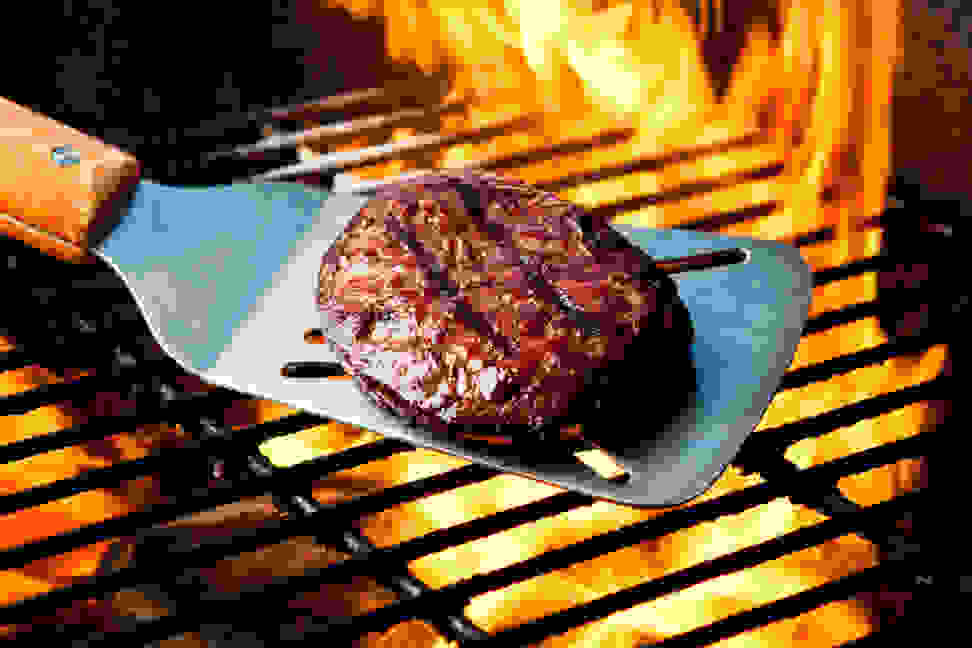 Credit: Getty Images
If you want to become a true Grillmaster, you'll need two things: a good set of grilling tongs and a grill spatula. The former is great for turning large roasts, skewers, and vegetables like corn on the cob. A proper spatula, like our favorite OXO Good Grips 16-Inch Grilling Turner with Serrated Edge (available at Amazon for $19.99), is indispensable when it comes to getting underneath foods for a clean flip. I'm talking burgers, fish fillets, and grilled pizzas.
Some spatulas are too small, placing your arm hair firmly in the danger-zone as you reach for the burger in the furthest corner of the grill. Others are too bulky, unable to cleanly slide under fish without flaking up the entire fillet. That's why we put eight spatulas of various designs to the test: To find out which shapes and sizes works best to handle a variety of essential grilled foods. We found a few designs that we could live without, but we also found a few that we fell in love with.
These are the best grill spatulas we tested ranked, in order:
OXO Good Grips 16-Inch Grilling Turner with Serrated Edge
Mercer Culinary Hell's Handle Large Fish Turner/Spatula
Cave Tools Barbecue Spatula With Bottle Opener
Update International Extra-Large 16-Inch Grill Spatula
Victorinox Slotted Fish Turner
Weber 6673 Original Wide Spatula
Weber Style 6446 Professional-Grade Fish Turner
Winco TN719 Blade Hamburger Turner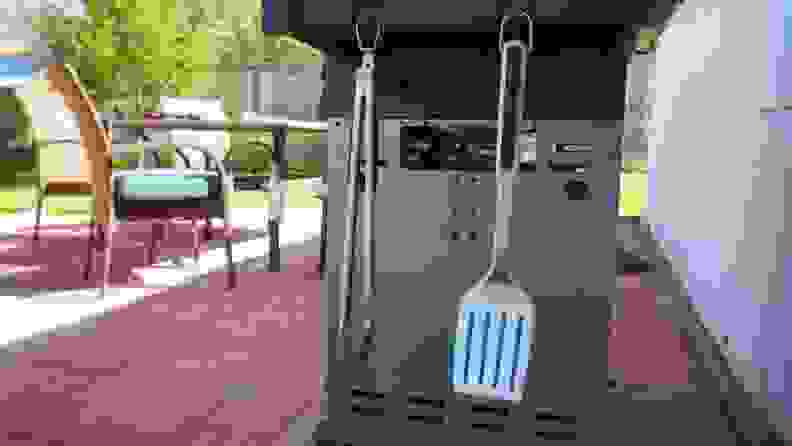 Best Overall
OXO Good Grips 16" Grilling Turner with Serrated Edge
Between the lightweight feel and comfortable, soft-grip handle, it was easy to like the OXO Good Grips 16-Inch Grilling Turner with Serrated Edge from the get-go. The spatula's sharp top edge made quick work of separating the burgers from the grill while the long handle kept our hands far away from the flames. It was one of our favorite spatulas to use for pizza, too, giving us the perfect amount of control as we deftly flipped the awkward piece of dough. And, while I've never found the need to saw into a burger or steak while it's still on the grill, this spatula has a serrated edge that's sharp enough to cut into meat if you so desire.
Because of its versatility, comfort, and design, it was easy to name the OXO Good Grips our Best Overall. It also happens to be our Best Value pick, too, because of its affordable price tag.
Editor's Note: OXO is now only selling the spatula as part of a set with its 16-inch grilling tongs. We still think it's a great value because we also recommend the OXO Good Grips Tongs as our best grill tongs.
How We Tested
The Tester
Hi, I'm Lindsay Mattison, a trained professional chef and self-proclaimed Grillmaster. There's nothing I love more than packing a few dozen burgers onto the grill and throwing a party for the neighborhood. While I use my grilling tongs more frequently, I really couldn't live without a good grill spatula. Grilled pizza happens to be one of my favorite foods, too, and you definitely can't make one without a sturdy spatula!
The Tests
We picked up eight grill spatulas of all different shapes and sizes. Some of them were thin and flexible, while others featured wide heads or long and skinny designs. We put them to the test to evaluate their one thing in common: The ability to get underneath flat foods on the grill to quickly and efficiently flip them over.
In addition to testing their general maneuverability by flipping hamburgers, we assessed the spatula's flexibility by packing those burgers tightly together, forcing the spatula to get into close-fitting spaces. We also wanted to know how the shape could handle a long, awkward piece of pizza dough, which is notorious for sometimes requiring two spatulas to flip. We forced the spatulas to do it with one and recorded the results.
It's important that a spatula is functional, but that wasn't enough for us. We were also looking for a comfortable spatula that felt natural to use. The handle had to be well-designed for storage as well as keeping our arms out of harm's way as we worked on the grill. Finally, the materials should be able to handle the grill's hot environment while being sturdy enough to carry heavy foods.
---
Other Grill Spatulas We Tested
Mercer Hell's Handle M18390 Large Fish Turner
The Mercer Culinary Hell's Handle Large Fish Turner/Spatula was one of our favorite spatulas to use overall. Between the angled design and the super-thin, flexible metal, this spatula easily handled every single grilling task we threw at it. The sharp edge slipped underneath burgers with ease and the wide handle was super comfortable to hold. It had no problem flipping the pizza dough and it could easily have been our winner if not for one thing: It has no storage ring to hang onto the grill. Certainly not a deal breaker, but just enough to push it down to second place.
Cave Tools Barbecue Spatula with Bottle Opener
Again, I'm not sure that I've ever used the serrated edge on a spatula, but the one on Cave Tools Barbecue Spatula With Bottle Opener was sharp enough to get the job done. We loved the angled design of this spatula and the rounded, stainless steel handle was comfortable to hold as we flipped away. It performed well on all of our tests and it comes with a bonus–the built-in bottle opener means you don't have to step away from the grill when you want another beer!

Update International WTSD-48 Turner w/ Cutting Edge
The heavy-duty Update International Extra-Large 16-Inch Grill Spatula looks like something you'd find at a restaurant specializing in Philly cheesesteaks! At first, I thought the spatula was overkill for the grill, but then I realized you can fit three or four burgers on this thing at once! While it wouldn't be your first choice if you need a flexible spatula, it's perfect for larger items like pizza or flipping large roasts. Unfortunately, it doesn't come with a hanging ring for storage, so you'll have to store this one inside.

Victorinox 3" by 6" Chef's Slotted Fish Turner, Walnut Handle
The Victorinox Slotted Fish Turner is a small, low-profile fish spatula that did a pretty good job of everything we threw at it. The spatula itself is made from very thin, tapered metal, capable of getting underneath burgers without flaking them up in the process. Our major complaint is that this particular model is too small for the grill and puts our hands closer to the flame than we'd like.

Weber 6673 Original Wide Spatula
While I didn't love either of the Weber wide spatulas, the Weber 6673 Original Wide Spatula was at least lighter and more flexible than the Fish Turner model. It wasn't great for burgers, but it did a fine job on the pizza. That being said, there were other spatulas that were more versatile and well-rounded than this one.

Weber Style 6446 Professional-Grade Fish Turner
The Weber Style 6446 Professional-Grade Fish Turner really missed the mark. It was way heavier than we thought functional, even for pizza dough. Ultimately, it lacked a proper angle to get underneath the burgers and it definitely wasn't flexible or maneuverable enough for our liking.

Winco TN719 Hamburger Turner
If I were looking for an indoor spatula to use on a flattop grill, I might love the Winco TN719 Blade Hamburger Turner. Unfortunately, it was just way too small for outdoor grilling. The handle put our hand right in harm's way, and it was poorly equipped to flip pizza dough.
More Articles You Might Enjoy
Up next
Get Reviewed email alerts.
Sign up for our newsletter to get real advice from real experts.