Kitchen & Cooking
The Best Measuring Cups and Measuring Spoons
No kitchen is complete without a good set of measuring cups and spoons.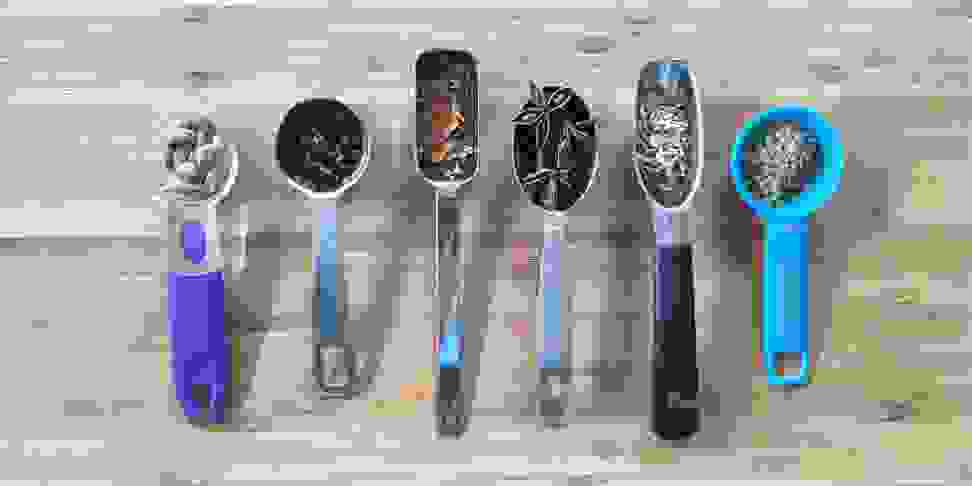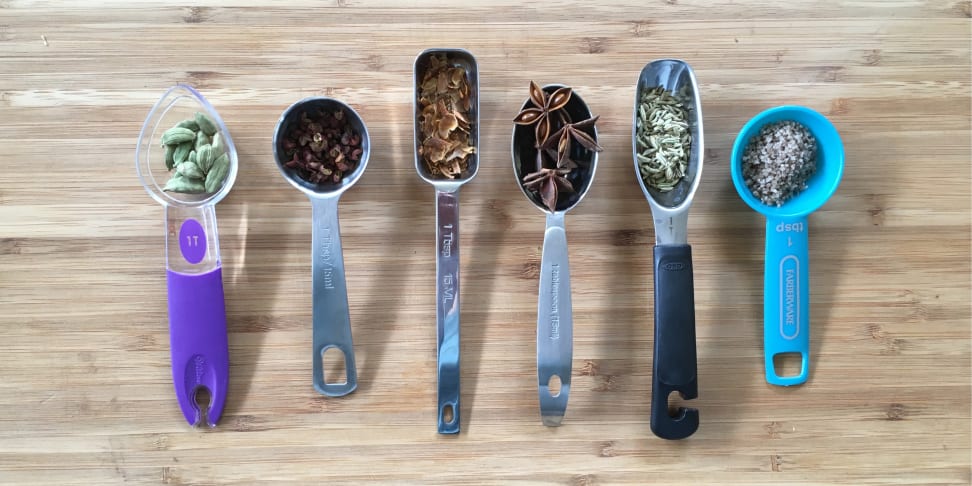 Credit:
Measuring spoons and cups may not be the sexiest tools in the kitchen, but boy are they essential. Take down any cookbook from the shelf and flip to a random recipe and it's almost guaranteed that it measures something in cups, tablespoons, or teaspoons. A serious baker may tell you that measuring by weight is the way to go, but cups and spoons are the go-to method for most of us (myself included).
With a myriad of sizes, shapes, and materials on the market today, it's hard to know where to get started! We were determined to find out which factors mattered the most, so we gathered six sets of measuring spoons, dry cups, and liquid cups. After putting them to the test, we found Cuisipro Stainless Steel Measuring Spoon Set (available at Amazon for $12.35), Bellemain Stainless Steel Measuring Cups and Pyrex Prepware 2-Cup Glass Measuring Cup were our favorites.
These are the best measuring spoons we tested:
Cuisipro Stainless Steel Measuring Spoon Set
1Easylife Stainless Steel Measuring Spoons
OXO Good Grips Stainless Steel Spice Jar Measuring Spoons
RSVP Endurance Stainless Steel Spice Spoons
Wilton Scoop It Measuring Spoons
Farberware Color Measuring Spoons
These are the best measuring cups we tested:
Bellemain Stainless Steel Measuring Cup Set
KitchenMade 6-Piece Stackable Measuring Cup Set
Norpro Stainless Steel 5 Piece Measuring Cup Set
Good Cooking Collapsible Measuring Cup Set
Norpro Grip-Ez Measuring Cup Set
OXO Good Grips Measuring Cups with Magnetic Snaps
These are the best liquid measuring cups we tested:
Pyrex Prepware 2-Cup Glass Measuring Cup
Anchor Hocking 77897 Fire-King Measuring Cup, 4-Cup
OXO Good Grips 2-Cup Angled Measuring Cup
OXO Good Grips 2-Cup Squeeze & Pour Silicone Measuring Cup
Vremi 3 Piece Plastic Measuring Cups
Emsa Perfect Beaker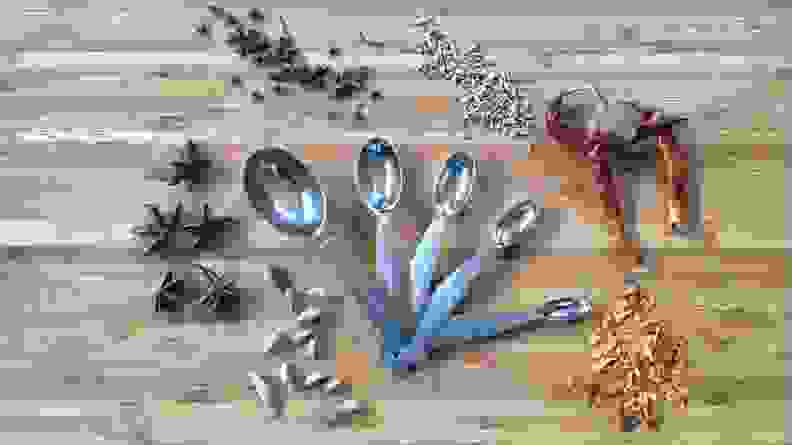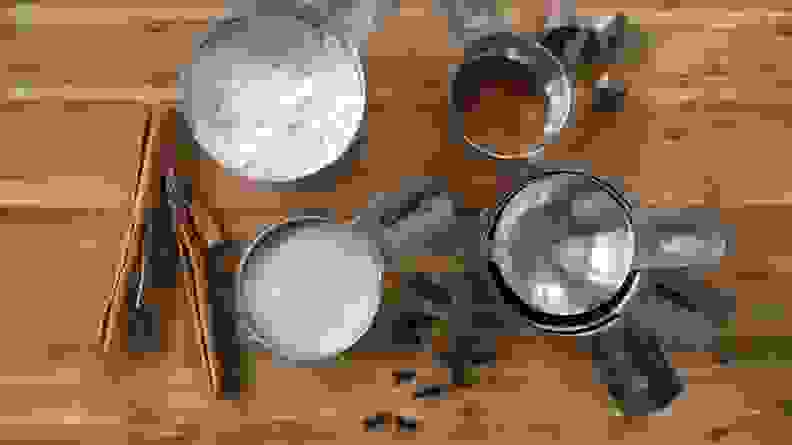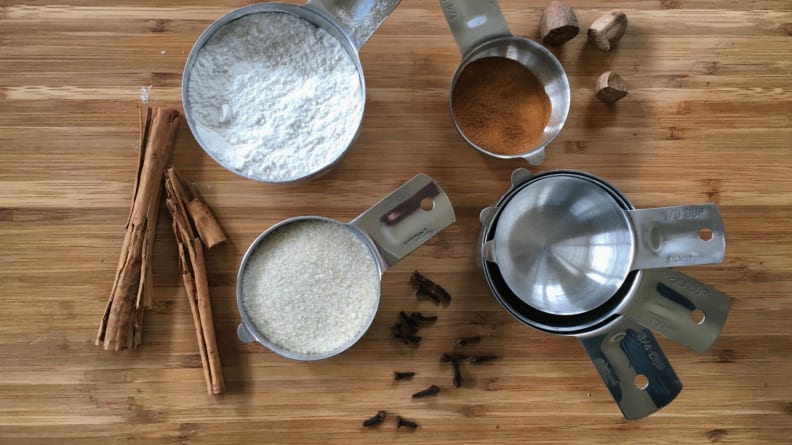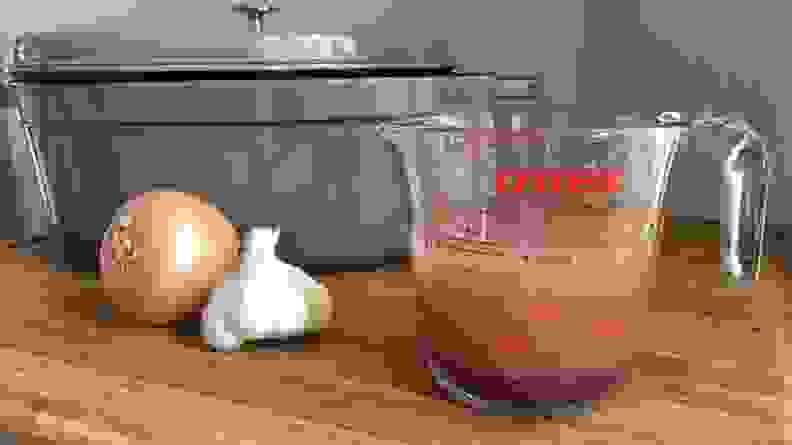 How We Tested
The tester
Hi, I'm Lindsay Mattison, a trained professional chef and recipe developer. When I'm writing recipes, I depend on the accuracy of my measuring spoons and cups. After all, if you can't trust that my recipes will result in a tasty meal, you'll stop following them! So, I was determined to find the best and most accurate measuring spoons, dry cups, and liquid measurers on the market.
The tests
We selected six measuring spoons, dry cups, and liquid cups in a variety of shapes, sizes, and materials. Our tests were designed to assess accuracy, ease of use, durability, and storage.
As a recipe developer, I know how important it is for your measuring tools to be accurate. This is especially true if you're baking, which requires a scientific precision of ingredients. We measured 1 cup of sugar to see if it weighed 198 grams, 1 tablespoon of water for 15 grams, and 1 cup of water in the liquid cup to make sure it registered 240 grams. All measurements were taken after pouring them from the measuring containers.
In addition to accuracy, your measuring tools have to be easy to use. We tested each dry cup and spoon in its ability to scoop and sweep flour and sugar. After assessing whether they would fit in common ingredient containers (like spice jars and oatmeal tins), we poured honey into each measuring tool to see how easy it was to scoop out.
Next up, we tested durability by trying to bend and break the spoons and cups by scooping dried-out brown sugar. If the tool bent, we noted it! We also poured cups of boiling water into each instrument to make sure it didn't warp or melt.
Finally, we assessed each instrument on ease of storage. These measuring tools don't do you any good if they take up too much room in the drawer and can't be located at a moment's notice.
Why You Need Dry and Liquid Measuring Cups
If you don't have separate sets of liquid and dry measuring cups, you should definitely invest in them. You could use one in place of another, but that's like using a sauté pan to make soup instead of a stock pot (it'll work, it just might be really messy). Don't know when to use which type? A good rule of thumb is to use a dry cup for anything you'd want to scoop (not just flour and sugar, but yogurt and nut butters too). After you sweep the excess off of the top, you'll feel pretty good that you measured the right amount. For fluids (which includes pourable ingredients like kinds of honey and syrups), it's much easier and precise to measure in a liquid cup. The good ones also compensate for the slight amount of liquid that remains at the bottom of the cup after you pour it out.
---
Other Measuring Spoons We Tested
Other Dry Measuring Cups We Tested
Other Liquid Measuring Cups We Tested
More Articles You Might Enjoy
Up next
Get Reviewed email alerts.
Sign up for our newsletter to get real advice from real experts.