Kitchen & Cooking
The Best Serrated Bread Knives
Tear through crusty bread and tender tomatoes with this essential knife.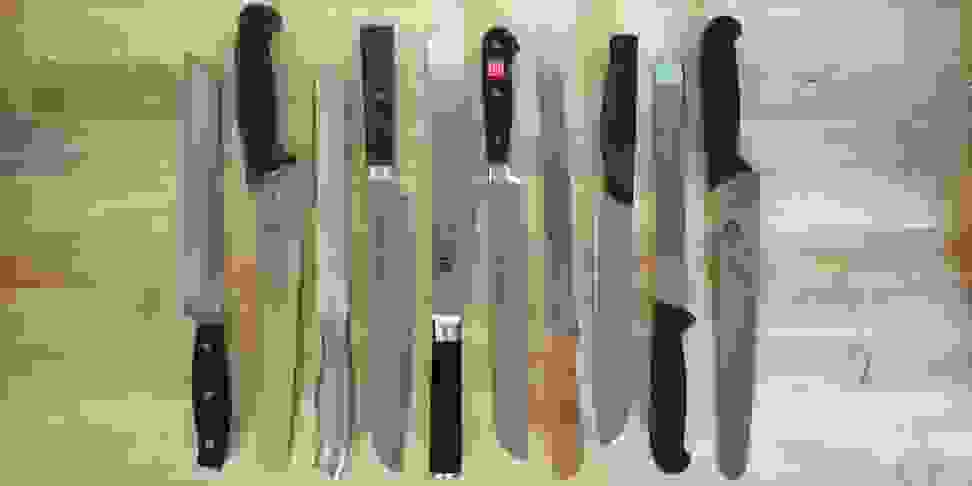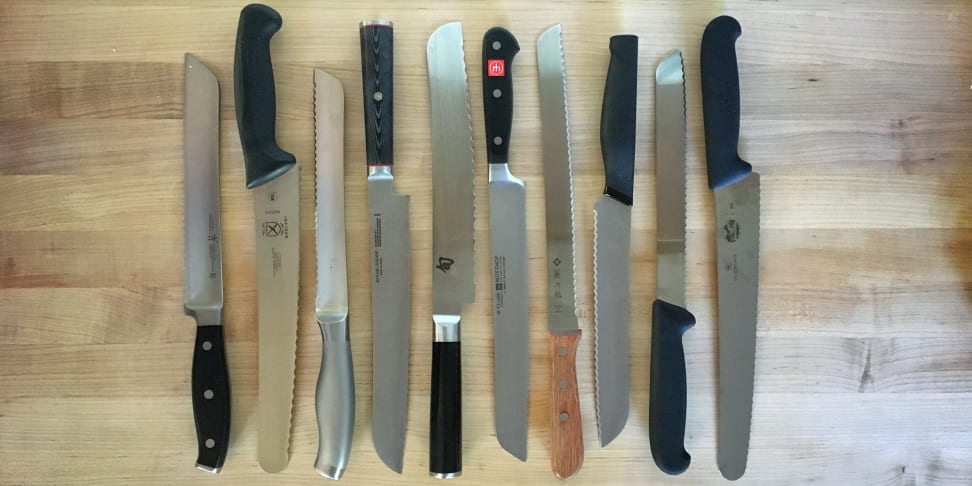 Credit: Reviewed.com/Lindsay D. Mattison
Most of us really only need three knives: A good chef's knife, essential for general chopping tasks; a paring knife to handle precision work; and a serrated blade. While many call it a bread knife, it's actually capable of doing much more than just slicing bread. Those jagged blades bite into hard and squishy foods alike, making quick work of tough-skinned fruits like pineapple, sawing through hearty vegetables like butternut squash, and creating perfectly thin slices of juicy tomatoes. If you've ever used a dull serrated knife, you'll appreciate the joy that accompanies using a well-honed knife, like our top pick the Shun DM0705 Classic 9-Inch Bread Knife (available at Amazon for $149.95), which blasted the competition by scoring perfect marks on all our tests.
For a long time, I held steadfast to the belief that all serrated knives are the same when it came to performance. After all, a serrated blade is a serrated blade, right? Not only that, but since these knives can't be sharpened at home, I figured you should probably buy a cheap one. I'm happy to report that, after testing these ten 8- to 10-inch serrated knives, my mind is completely changed. I was shocked to find that every blade was unique, each one with a number of pros and perhaps a few cons. And, while some of the knives I'd rather avoid are on the less expensive range of the spectrum, I never would have guessed that an expensive knife would actually win.
These are the best serrated bread knives we tested ranked, in order:
Shun DM0705 Classic 9-Inch Bread Knife
Mercer Culinary Millennia 10-Inch Wide Bread Knife
Tojiro Bread Slicer 235mm F-737
Victorinox 47549 Serrated Bread Knife w/ Fibrox Handle
Miyabi Kaizen 9.5-inch Bread Knife
J.A. Henckels International Forged Premio 8-Inch Bread Knife
Victorinox Swiss Army 10-1/4-inch Serrated Bread Knife with Fibrox Handle
Wusthof Classic 10-Inch Bread Knife
OXO Good Grips 8-Inch Bread Knife
ORBLUE Stainless Steel Serrated Bread Slicer Knife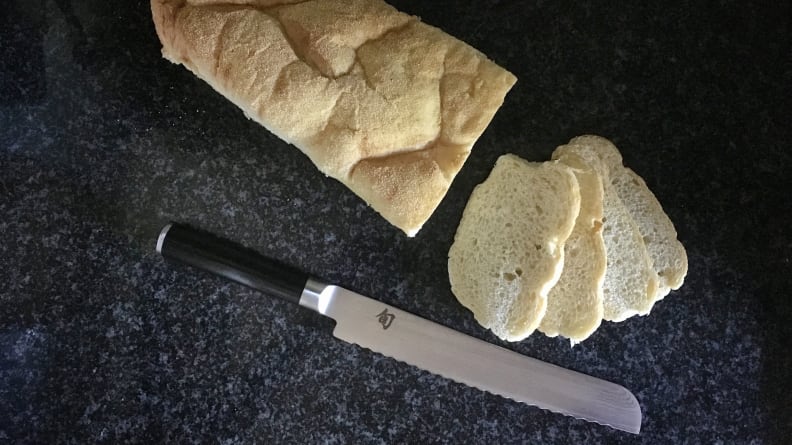 Best Overall
Shun DM0705 Classic 9-Inch Bread Knife
If I'm being completely honest, I used to laugh at line cooks who bought the Shun DM0705 Classic 9-Inch Bread Knife. "You spent how much money on a knife that you can't sharpen?" As it turns out, the joke's on me: This knife was a joy to use, absolutely acing our tests and earning an unprecedented perfect score. It sliced through crusty baguette like butter and the soft bread fell into perfect slices on the cutting board. The blade moved effortlessly through the tomatoes, barely requiring any sawing motion at all. In addition to a high-performing, ultra-sharp blade, this knife is also completely gorgeous with a Damascus finish and an ebony PakkaWood handle. It might cost a pretty penny, but Shun also has a reputation for creating blades with super-sharp edges that stay that way for years.
Best Value
Mercer Culinary Millennia 10-Inch Wide Bread Knife
The Mercer Culinary Millennia 10-Inch Wide Bread Knife is proof that good things don't always come in fancy packages. This brand is a major supplier of culinary school knife kits (I had a set of these knives back in the day). While you'll find the design to be a bit boring, its performance completely impresses. In fact, this budget-priced knife almost outperformed our top pick! I was pleasantly surprised by perfectly clean slices of the soft sandwich bread, a task most of the knives could not do. It certainly won't be a showpiece, but if you're looking for a knife that can perform without breaking the bank, this is the one for you.
How We Tested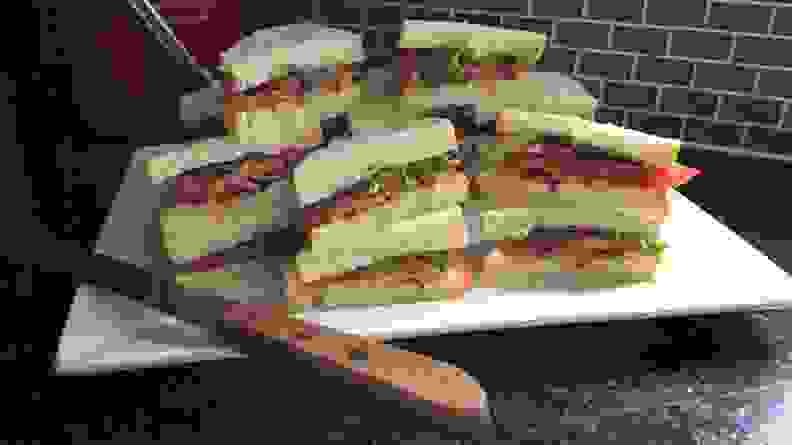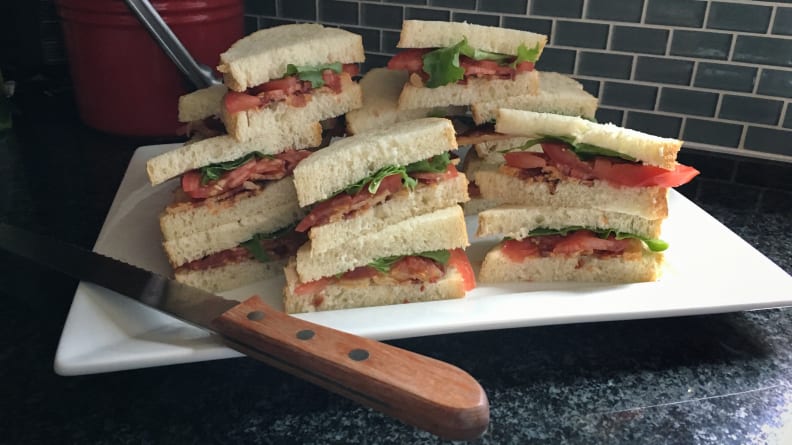 The Tester
Hi, I'm Lindsay Mattison, a trained professional chef, and a total bread nerd. I even named my sourdough starter (it's Klaus, in case you were wondering). There's almost nothing I love more than a freshly-baked loaf of bread, but a dull knife will ruin my excitement faster than you can blink! If you've ever been tasked with cutting crostini from a baguette with a less-than-stellar knife, then you know exactly what I mean. I'd like to help you avoid that particular brand of torture by aligning you with the best (and sharpest) serrated bread knife to add to your kitchen.
The Tests
We selected 10 serrated bread knives between 8- and 10-inches in length–the perfect size to cut through large loaves of bread while still being in control when slicing smaller items like tomatoes. We designed our tests to evaluate sharpness, length and width, and comfort–three critical components of a well-designed serrated knife.
If a serrated knife isn't sharp enough, you're in trouble. It can bounce right off hard-skinned food or create jagged tears instead of smooth slices. Even worse: You might push downward with excessive force to pierce the skin, creating a dangerous situation. To test the blade's sharp edge, we cut crostini from crusty baguettes to see if it could get through the hard exterior without crushing the soft crumb inside. Then, we sliced soft sandwich loaves and thinly sliced tomatoes to see if it could pierce tender skin without tearing it. Finally, we made a ton of BLT sandwiches to test the blade on various textures–soft bread, tender tomatoes, and tough bacon–and awarded bonus points if it sliced without ripping or tearing.
While we tested the blade, we also assessed the length and width of the knife. We wanted to know if the knife was long enough to handle large loaves of bread without being too unwieldy to tackle smaller vegetables like tomatoes. The blade's width was also an important factor, as a thick blade generally can't create the thinnest slices.
Finally, comfort is essential for all knives and the serrated blade is no exception. We were looking for a knife that felt comfortable in our hands, with a nice grippy handle that didn't slip and slide as we sliced away. In addition, it had to be heavy enough to use without requiring excessive force but light enough that it didn't tire your hands as you used it.
---
Other Serrated Bread Knives We Tested

Tojiro F-737 235mm Bread Slicer
There was a lot to like about the Tojiro Bread Slicer 235mm F-737. It was the only knife in the group that featured an ultra-thin, flexible blade and a wooden handle, features I thought would work against it. I assumed the handle would be slippery and the blade wouldn't have the strength to keep up with the other knives. Instead, the simple handle was comfortable and blade excelled at gripping into crusty bread, making exceptionally straight slices that didn't crush the crumb at all. It felt a little silly using such a long blade on tiny tomatoes, but the slices fell with precision nonetheless. Considering it was up against so many expensive knives, the Tojiro's performance was impressive enough to keep it high on our list of favorites.


Victorinox 47549 Serrated Bread Knife w/ Fibrox Handle
We tested two Victorinox knives for this round-up–the Victorinox 47549 Serrated Bread Knife w/ Fibrox Handle and a 10-inch blade we'll talk about in a minute. While I'm generally a fan of 10-inch blades because they are better suited for large boules of bread, this 8-inch knife was our favorite of the two. It had a nicer, more comfortable handle and a slightly flexible blade that made great slices across the board. The handle's design placed your grip a bit further back than normal, so instead of choking up on the blade butt you found yourself with an extra inch of cutting space. That helped this knife really hold its own against the larger knives, and newer cooks might find the smaller profile less intimidating.


Zwilling J.A. Henckels / Miyabi Kaizen 9 1/2-Inch Bread Knife
The Miyabi Kaizen 9.5-inch Bread Knife is another gorgeous Damascus blade with a sleek look and a smooth finish. While it had no problems slicing through the BLT sandwich, it struggled on the soft sandwich bread and overall felt a little heavy for our liking. While it performed admirably on most of the tests, we felt it was a little expensive to justify its performance. We would be perfectly happy to receive this knife as part of a knife set, but probably prefer seek out another serrated knife if we were buying it as a stand-alone piece.


J.A. Henckels International Forged Premio 8" Bread Knife
There's really nothing to dislike about the J.A. Henckels International Forged Premio 8-Inch Bread Knife. Its thick, contoured handle is comfortable to hold and does a nice job balancing out the weight of the knife. We encountered few problems as we sliced through crusty bread and soft tomatoes, although it did crush the crumb on the soft bread a bit. Even though it didn't earn top marks, we wouldn't be upset if we had to use this knife on the regular.

Victorinox 10 1/4-Inch Wavy Edge Bread Knife w/ Rosewood Handle
I've owned a Victorinox Swiss Army 10-1/4-inch Serrated Bread Knife with Fibrox Handle for many years, so I was a little disappointed that this one didn't win! It didn't actually struggle with any of the tests, but it also didn't feel as effortless to use as the competition. After slicing our way through a variety of foods, we found that this knife just wasn't as sharp as some of the other blades. Quite simply put: It just didn't stand out.

Wüsthof Classic 10-Inch Bread Knife
We're normally a huge fan of Wusthof Classic knives and they've won a number of our round-ups in the past. This time around, the Wusthof Classic 10-Inch Bread Knife wasn't our favorite. It had very jagged, pointed teeth instead of scalloped-tooth serrations. This in itself isn't a negative, but this particular design dragged through the bread in a harsh and crushing way. It was plenty sharp and had no problem cutting the tomatoes super-thin, but the serrated teeth created grooved edges on each slice. Considering how much this knife costs, we had hoped it would make smoother slices.
Avoid
OXO Good Grips 8-Inch Bread Knife
The OXO Good Grips 8-Inch Bread Knife was the least expensive knife in the group, and unfortunately, it performed that way. It really struggled on crusty bread, requiring a dangerous amount of force to get through the tough exterior. It had similar troubles on the softer food, making jagged cuts that required heavy, see-sawing motions. Because of that, it landed in our "avoid" category.
Avoid
Orblue Serrated Bread Slicer
The ORBLUE Stainless Steel Serrated Bread Slicer Knife was another knife we'd rather not use again. It had a slippery handle that didn't feel comfortable as we used it, and it was a little heavier than we'd prefer. Since it required forceful, sawing motions to get through most of the food and left us with jagged cuts, we simply can't recommend this one.
More Articles You Might Enjoy
Up next
Get Reviewed email alerts.
Sign up for our newsletter to get real advice from real experts.