Kitchen & Cooking
The Best Spatulas
Flipping, mixing, or icing? There's a spatula for that.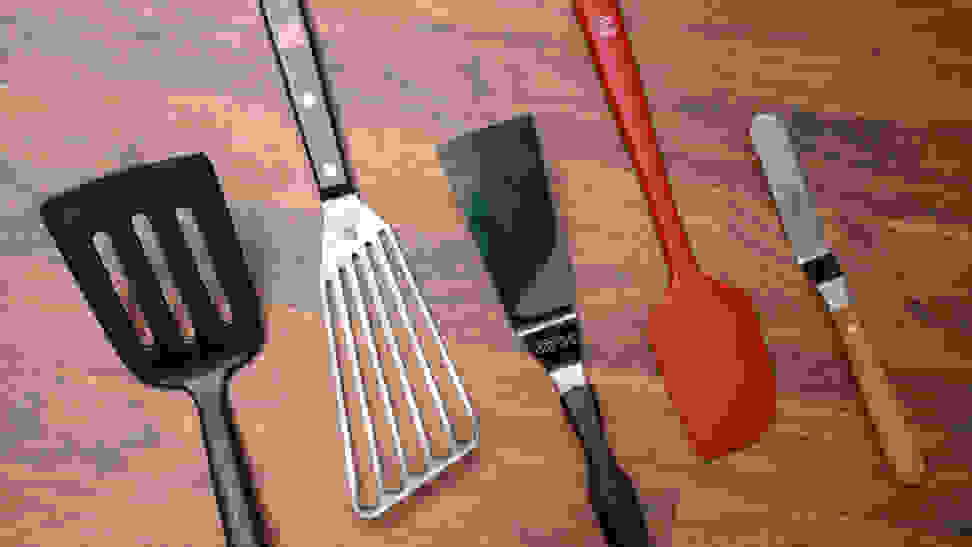 Credit: Reviewed / Betsey Goldwasser
If there's one thing you already have in your kitchen, it's a spatula. Useful for everything from scooping cookies off a baking sheet to scraping down a bowl of batter, you may even have a few different models. A good spatula, like our favorite, the Wusthof Gourmet Offset Slotted Spatula (available at Amazon for $46.95), is worth keeping within reach.
In fact, I'd argue that having a few different types of spatulas handy is worth giving up the drawer space to store them. Personally, I like having at least a great flat cooking spatula, like the Cutco Turn n' Serve, and an awesome baking spatula, like the Di Oro Large Silicone Spatula, all stuffed in my drawer. Knowing you have the perfect tool on hand to flip a pancake, cook a perfect over-easy egg, and get the last bit of brownie batter out of your bowl is a priceless feeling when you find yourself in the kitchen rummaging around for the right utensil.
From flat flippers to silicone baking scrapers to thin, slotted fish turners, you can find the right tool for whatever you're looking to do in the kitchen. Each spatula serves a different purpose, so we set out to find the best one in each category. We put a few models of four different types of spatula through their paces. We tested both metal and non-stick flat cooking spatulas, wiped bowls with a selection of baking spatulas, flipped foods using a handful of delicate slotted fish spatulas, and explored whether or not an offset baking spatula would be a worthy addition to your kitchen.
After more than 40 tests on 16 products, we found our standouts. So whether you're looking to upgrade your kitchen or find a small gift for the home chef or baker in your life, there's a spatula for you.
Here are the best spatulas we tested, in ranked order:
Wusthof Gourmet Offset Slotted Spatula
Cutco Turn n' Serve
Di Oro Large Silicone Spatula
Ateco Offset Spatula with 4.5-Inch Stainless Steel Blade
GIR (Get It Right) Premium Silicone Spatula
Wilton 9-Inch Angled Spatula
Tovolo Flex-Core Stainless Steel Handled Spatula
KitchenAid Slotted Gourmet Short Turner
GDYorkitchen Fish Spatula
KSENDALO Kitchen Nonstick Fish Spatula
Victorinox Slotted Fish Turner
Rubbermaid High Heat Silicone Spatula
GIR (Get It Right) Premium Silicone Spatula Turner
Castle Cookware Flexible Silicone Spatula Turner
Ateco Offset Spatula with 7.63-Inch Stainless Steel Blade
OXO Good Grips Large Silicone Flexible Turner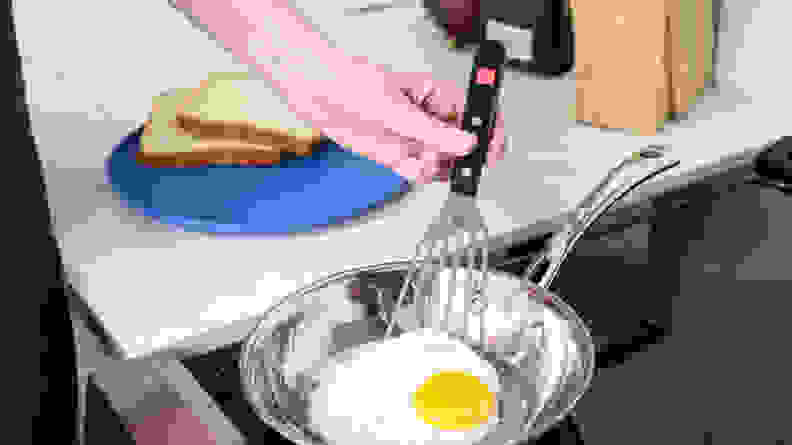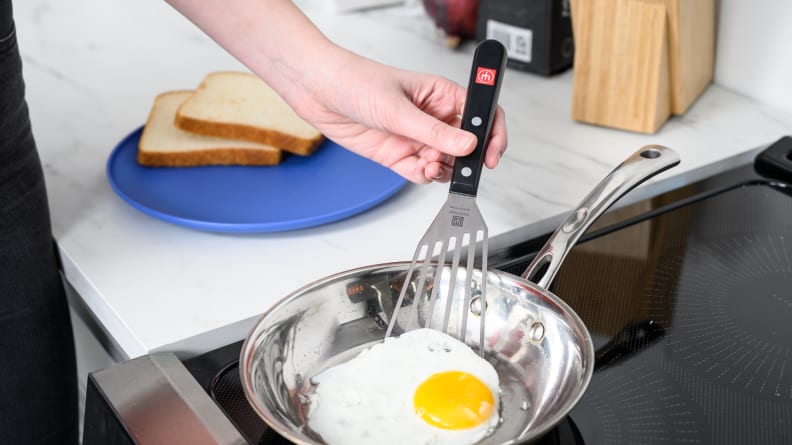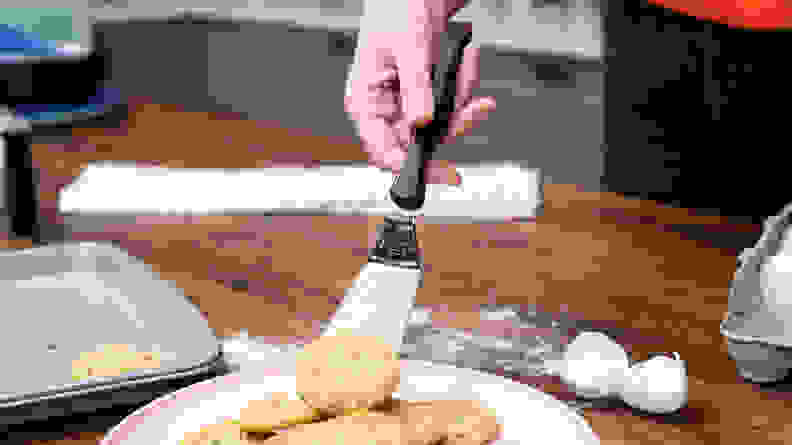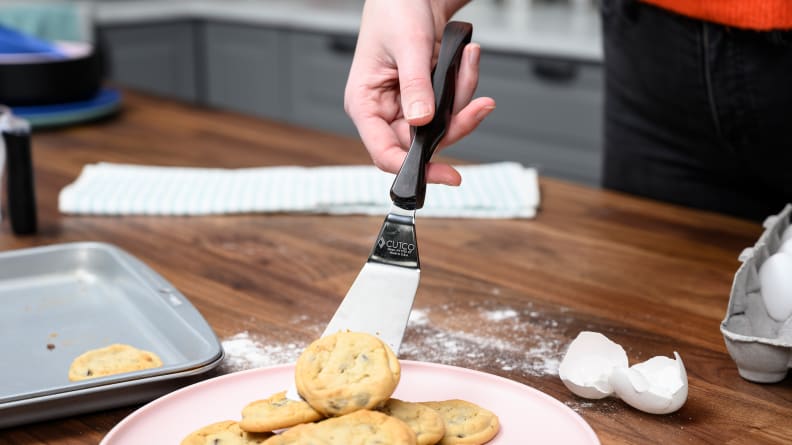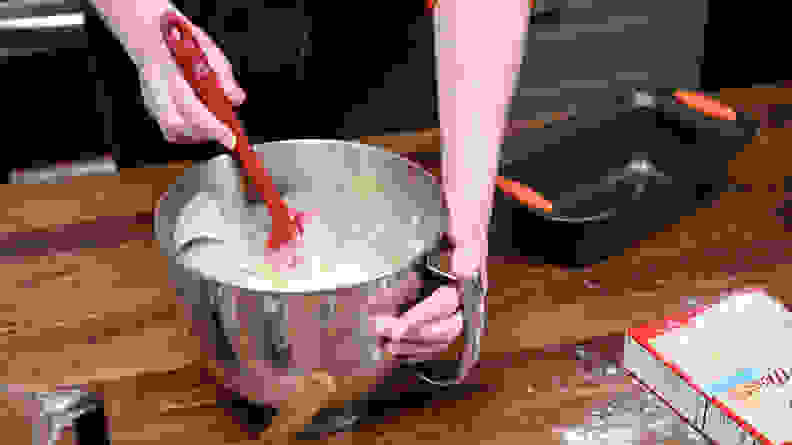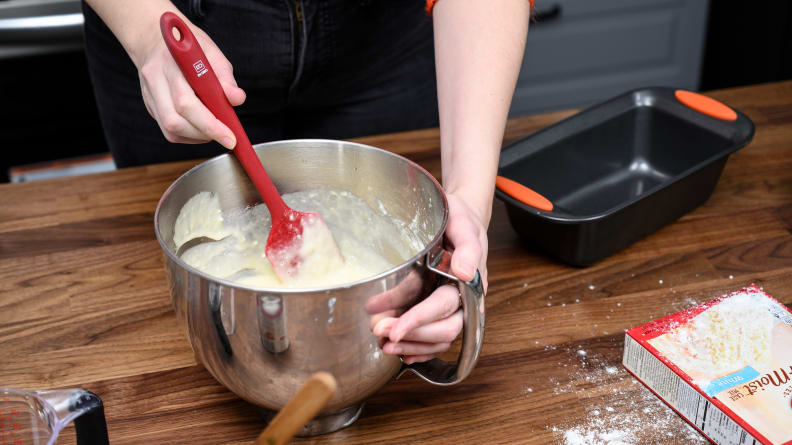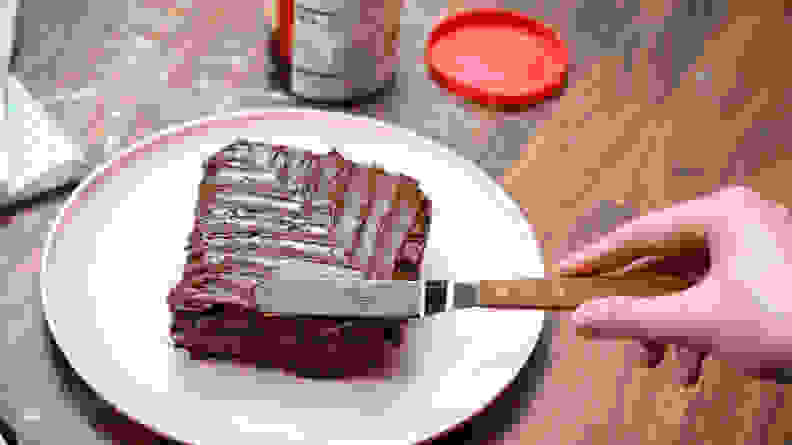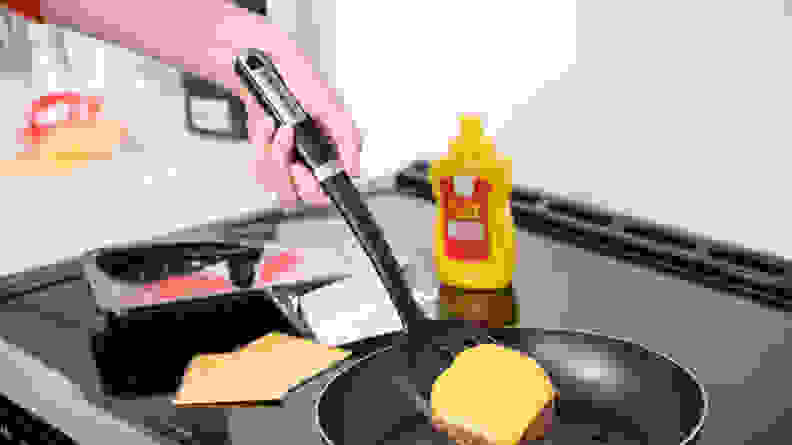 How We Tested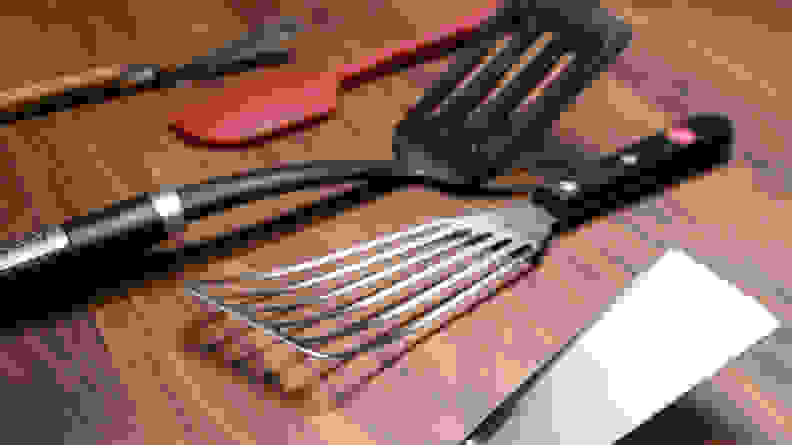 The Tester
Hi, I'm Bethany. I'm an avid home cook and frequent home baker. I make a lot of eggs, bake a lot of cookies, and use at least one type of spatula most days.
I also somehow own 14 spatulas already. Most of them were gifts, or ended up in my utensil drawer after roommates abandoned them over the years. I do have favorites though—spatulas that just seem to work better and that I gravitate toward using.
So for this article, I wanted to really dive into the world of spatulas and figure out, once and for all, which ones were the best. Frankly, I do not want to take 14 spatulas with me next time I move.
The Tests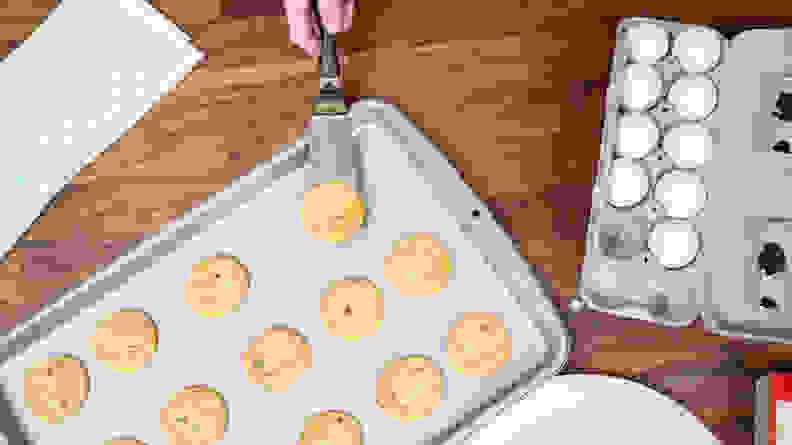 To put our spatulas through their paces, we split them out into four different categories: Flat cooking spatula, baking spatula, slotted spatula, and offset baking spatula. They each serve a different function, with some overlap of course, so we devised a specific set of tests for each and mostly compared them to other spatulas of the same type.
For our flat cooking spatulas, we tested flipping both normal sized and silver dollar pancakes, making and removing over easy eggs from a stainless steel pan, removing cookies from a baking tray, flipping and removing burgers from a pan, and lifting and moving a cake from a cake decorating stand to a serving tray.
For the baking spatulas, we mostly tested their ability to fold flour into batter, to scrape down the sides of bowls that were used to mix brownies and cake, to spread thick brownie batter in a tray, and to melt butter and chocolate together on the stove. Throughout these tests, we were looking to see which could easily maneuver around the inside of the bowl.
With the slotted spatulas, we focused on delicate and precision work. This meant testing over-easy eggs and fried tofu along with the standard tests of cookies, pancakes, and burgers. And then for the offset baking spatulas, we started our tests with baking-specific tasks like spreading frosting before doubling up on the pancake and cookie tests once again. If each of these spatulas couldn't at least approximate good results with cookies and pancakes, we thought we might rethink the need to keep one in our kitchen.
For each of these spatula categories, we took careful notes on whether the spatulas simply pushed things around the pan, or was actually able to scoot underneath and delicately remove the food. We also paid close attention to how comfortable each was to use, whether they were either too rigid or too flexible for the job, and how easy they were to clean.
A Few Things to Know about Spatulas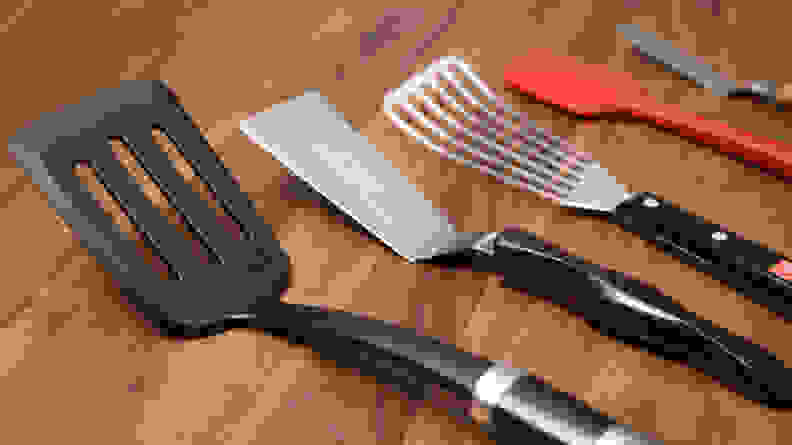 I've said it before and I'll say it again—it's worth owning a few different spatulas. While there is some overlap in their usage—both a fish turner and a flat spatula are great for flipping eggs and pancakes—each type of spatula serves essentially a different function. There's nothing better for scraping down a bowl of batter than a baking spatula, and an offset baking tool can really up your frosting game. If you like to bake in particular, having a few different utensils of this sort on hand can be a godsend.
However, if you only want one or two cluttering up your drawers, I would pick a flat spatula and a baking spatula. That way you have something to flip pancakes and scoop cookies with, but also something to scrape down the side of your bowl or pot with.
A few things to look out for when you're considering spatulas: Depending on what you plan to use them for, make sure your spatula matches your pans. It goes without saying that you should never use a metal spatula on a nonstick pan. As well, if you're planning on using your baking spatula on the stove to mix hot ingredients, be sure that it really is heat safe (i.e. made of silicone, not plastic).
---
Other Spatulas We Tested
More Articles You Might Enjoy
Up next
Get Reviewed email alerts.
Sign up for our newsletter to get real advice from real experts.