I have a deep and abiding love for Thanksgiving. In particular, I love the addictively tasty foods that accompany the annual harvest festival.
While there are numerous methods for preparing the iconic turkey, conventional wisdom states that oven-roasting is preferred. But if there's one thing I've learned about myself, it's that I'm never happy to simply settle for conventional wisdom.
For all my fellow outside-the-box free-thinkers, might I suggest the humble slow cooker? Most people think it's limited to stews and soups, but little do they know that this simple gadget is more than capable of handling most Thanksgiving dishes. In fact, if you had enough time (or enough slow cookers), you could cook nearly an entire Thanksgiving meal using only Crock-Pots.
Here's how.
Turkey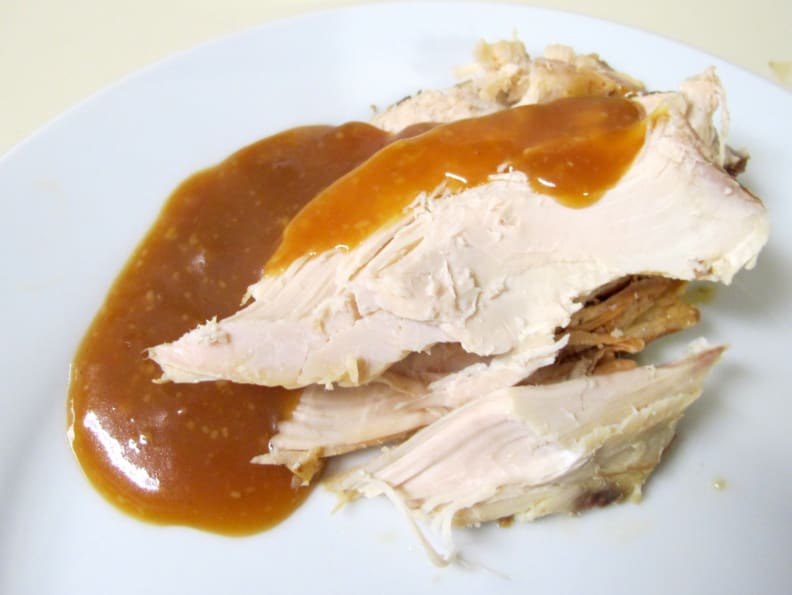 Turkey in a slow cooker may sound like a strange proposition, but there are few better ways to maintain a perfectly moist bird.
But before you commit wholeheartedly to the idea, just be aware that turkey in a slow cooker won't yield the crisp skin you get from roasting. Furthermore, unless you have an absolutely massive crockpot (seriously, we're talking big), cooking an entire bird is pretty much out of the question.
Determined to try cooking a whole turkey anyway? Well, a) you're crazy, but b) Just A Pinch has a simple method for doing just that. Bear in mind, this recipe involves a fair amount of prep.
Ultimately, however, you're better off attempting to cook a boneless turkey breast.
Spray a 6-quart slow cooker with cooking spray.
Place your turkey breast on top of chopped vegetables including onions, carrots, and celery.
Sprinkle 1 package of onion soup mix and 1/2 tsp sage over your turkey.
Drizzle with 2 Tbsp melted butter or olive oil.
Cover and cook on low for 5-7 hours.
When the internal temperature of the turkey reads 165°F, it's ready to eat.
Save the remaining juices for gravy!
Full recipe: Crock-Pot Turkey Breast (Spicy Southern Kitchen)
Stuffing
Those who swear by cooking stuffing inside the bird are going to want to sit this one out.
Based on findings from my foolproof research methodology of "asking a couple of people I know," stuffing is perhaps the most divisive issue at the average Thanksgiving feast. Some prefer to cook the stuffing inside the turkey, while others (like celebrity chef Alton Brown), prefer to keep 'em separated.
If you belong to the latter school of thought, this heavenly slow cooker stuffing recipe should impress your friends and family. It follows a similar process as most baked stuffing dishes. Where it deviates is in the final stages.
Preheat oven to 275°F.
Bake 2 1/2 pounds of bread cubes in oven for 50 minutes.
Melt 8 tablespoons of butter over medium-high heat in a dutch oven, or similar large pot.
Add 1 1/2 pounds separated sausage meat to pot with butter.
Cook butter and sausage for 8 minutes, stirring occasionally.
Add 1 finely chopped onion, 4 chopped stalks of celery, 2 minced cloves of garlic, 1/4 cup minced sage to sausage mixture.
Cook for 10 minutes, stirring occasionally.
Remove from heat and add 1 1/2 cups chicken stock.
Whisk 1 1/2 cups of chicken stock with 3 eggs and 3 tablespoons of parsley.
Add stock and egg mixture to sausage mixture.
Fold bread crumbs into sausage mixture.
Grease a slow cooker with butter, place stuffing into slow cooker and cook on low for 5 hours.
Full recipe: Slow-Cooker Sage and Sausage Stuffing (Serious Eats)
Mashed Potatoes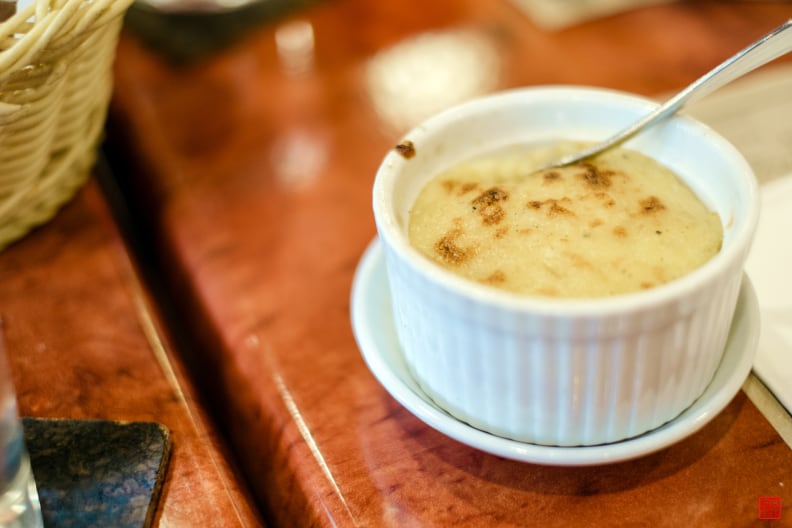 Believe it or not, slow cooking is an ideal way to prepare the iconic Thanksgiving mashed potatoes. Sure, it takes a lot longer than just boiling your spuds on the stove, but it also frees up burners for more crucial tasks. If you're pressed for space, give it a try!
This recipe is a guaranteed path to creamy, buttery, tuber-based glory.
Peel and chop 5 lbs of Russet potatoes.
Lightly grease slow cooker pot.
Add potatoes and season generously with salt and pepper.
Pour in 1 1/2 cups of milk.
Cook potatoes for 4 - 5 hours on High.
Once potatoes are soft, reduce heat to Warm.
Melt 1/2 cup salted butter in a pan over low heat.
Add 2 cups of milk to melted butter, and stir.
Mash potatoes in slow cooker pot.
Slowly add dairy mix to potatoes.
Mix until desired consistency is achieved.
Full recipe: Mashed Potatoes in the Slow Cooker (The Kitchn)
Cranberry Sauce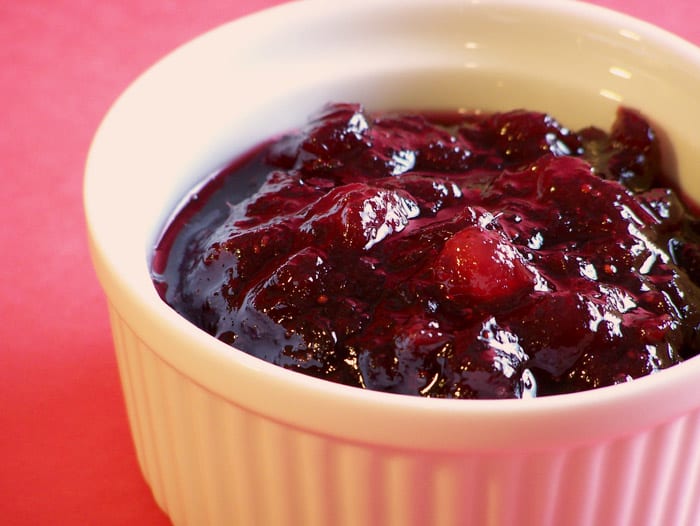 There are some who prefer canned cranberry sauce to the homemade variety. These people should be shamed at every opportunity.
Sane members of society know that real cranberry sauce adds a delightfully sweet, tangy, and slightly bitter counterpoint to the multitude of savory Thanksgiving foods. There's a veritable cornucopia of cranberry slow cooker recipes out there, but if you're looking for a unique spin on the holiday classic, we recommend this orangey, gingery take.
Peel, core, and slice 4 medium Gala apples.
Combine apple pieces with 12 ounces of fresh cranberries, 5 tablespoons of brown sugar, and 1 teaspoon of orange zest.
Pour 1/4 cup of orange juice into slow cooker.
Add apple mixture to slow cooker.
Cook on Low for 8 hours, stirring occasionally.
Stir in 1/4 cups of crystalized ginger.
Serve.
Full recipe: Apple & Cranberry Sauce w/ Orange & Crystallized Ginger (Cookin' Canuck)
Green Beans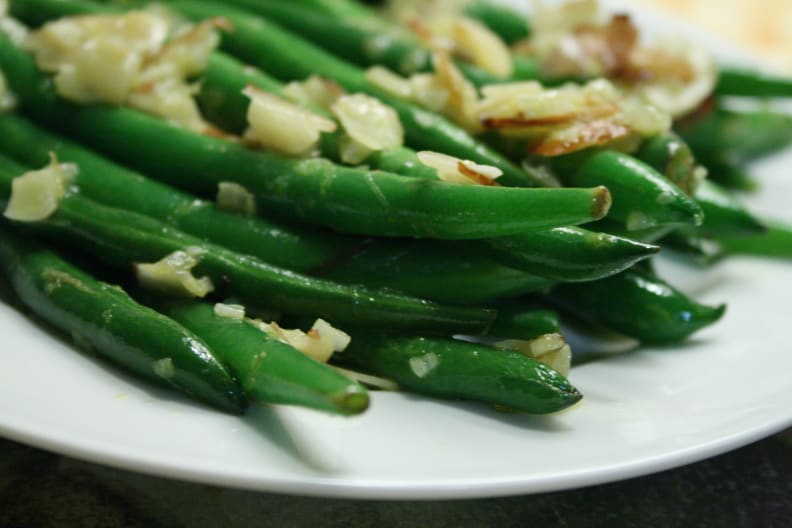 It can't all be proteins and starch—greens have their place, too. (At least that's what my mom always told me.) Lucky for us slow cooker enthusiasts, sides like these remarkably simple green beans with bacon and garlic make the preparing veggies an absolute breeze.
Place 1 pound of washed and trimmed green beans into a small Corningware dish.
Place dish into slow cooker pot.
Drizzle with olive oil, stir in salt, pepper and 1 teaspoon of minced garlic.
Cook on Low for 4 hours.
Remove dish and serve.
Full recipe: Garlic Green Beans (365 Days of Slow Cooking)
Dinner Rolls
If there was any lingering doubt about the versatility of the humble crockpot, this entry should put it to rest.
An absolutely crucial ingredient in any Thanksgiving dinner is the humble dinner roll, but what are you to do if your oven is otherwise occupied? As it turns out, slow cookers are perfect for creating deliciously fluffy artisan-style bread rolls.
Baking in a crockpot might sound crazy, but it's hard to argue with these results.
Make your bread dough as you normally would.
Line a slow cooker with parchment paper.
Sprinkle cornmeal over parchment paper.
Divide dough into 8 equally sized balls and place in slow cooker.
Cook on High for 1 hour.
Remove rolls from slow cooker.
Brush tops of rolls with olive oil and broil until golden brown.
Serve.
Full recipe: Herb Crock-Pot Dinner Rolls (BreadIn5)
Pumpkin Pie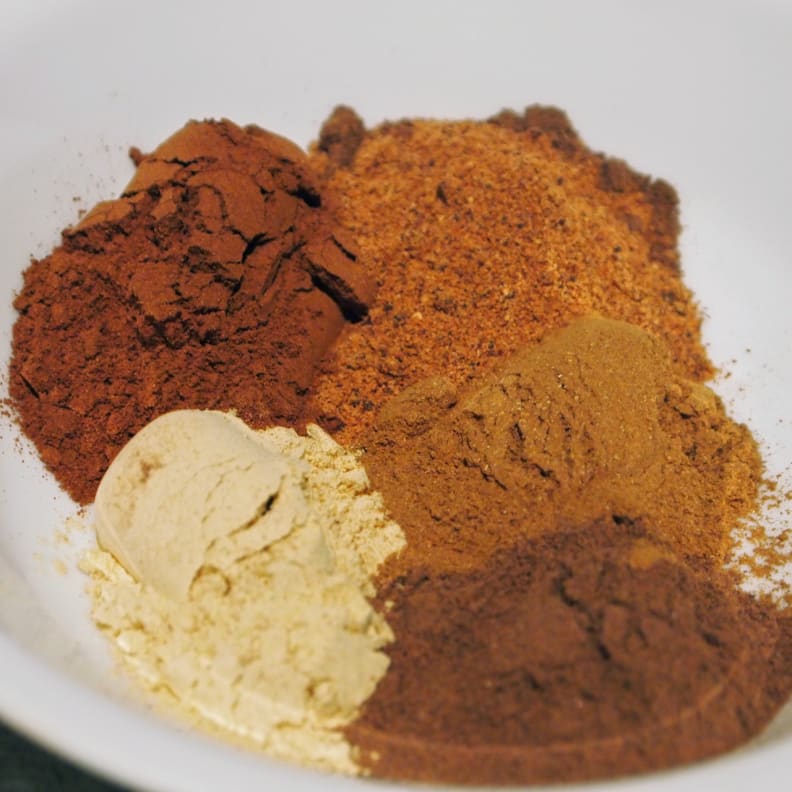 Before attempting dessert in a crockpot, one must be willing to move beyond a few time-honored pie-production paradigms.
First, ditch the pie dish. Shape is merely an illusion; taste is the only truth. Understand that the crust doesn't need to be at the bottom. Up and down have no meaning here. Only once you've accepted these facts and found inner peace can you try this amazing slow cooker pumpkin pie recipe.
In a mixing bowl, combine 15 ounces of pumpkin puree, 9 ounces of evaporated milk, 3 ounces of spiced rum, 3/4 cup of brown sugar, 2/3 cup baking mix, 2 beaten eggs, 3 tablespoons of butter, and 2 teaspoons of pumpkin spice.
Mix well.
Pour contents into slow cooker and cook on Low for 6 hours.
Serve warm with whipped cream.
Full recipe: Slow Cooker Pumpkin Pie (She Knows)
---
The truth is, I've only scratched the surface. There are tons of Thanksgiving-themed slow cooker recipes out there, so if you're determined to utilize yours this holiday season, be sure to keep on digging for undiscovered gems.
With enough time, patience, and wall outlets, you really could cook an entire Thanksgiving meal this way. Will anyone do it? Probably not. But it's fun to imagine.