Credit Cards
Walmart shoppers can score serious cash back with this rewards credit card
You can take advantage of high rewards rates on everyday low prices.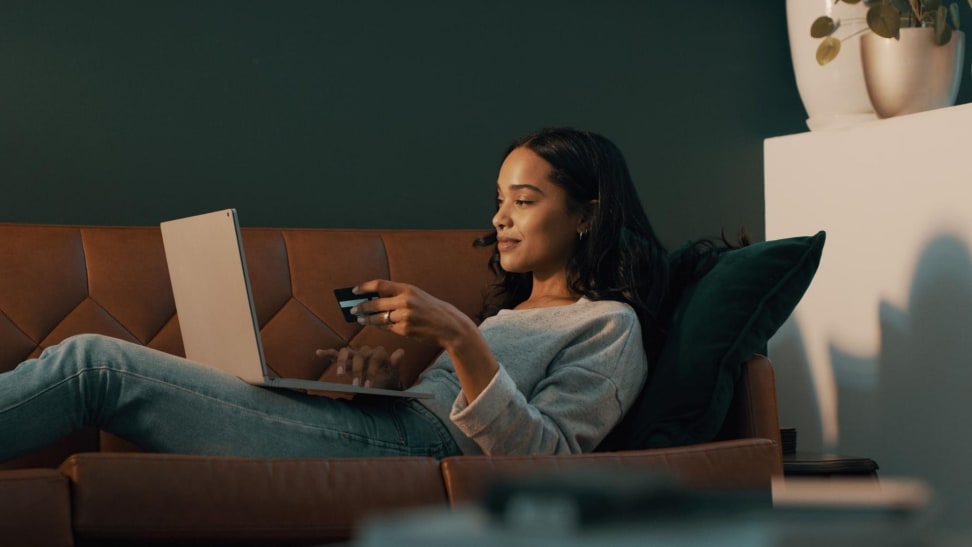 Credit: Getty Images / pixdeluxe
Attention, Walmart shoppers: If you regularly order groceries or other goodies online, the Capital One Walmart Rewards® Card is where it's at for cash back rewards. The credit card offers 5% when you shop at Walmart.com—including grocery pickup and delivery—with no limits.
For the first 12 months, you can also earn an unlimited 5% cash back at store locations if you use Walmart Pay, a digital wallet that stores your payment info for a touch-free checkout. In this Capital One Walmart Rewards Card review, we'll discuss the card terms and rewards opportunity for people who frequent Walmart for the latest bargains.
---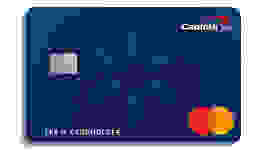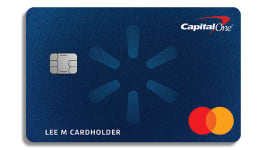 Capital One Walmart Rewards Card
Annual fee: None
Regular APR: 17.99%, 23.24%, or 26.99%
Balance transfer APR: 17.99%, 23.24%, or 26.99%
Balance transfer fee: 3%
Cash advance fee: $10 or 3%, whichever is greater
Points: 5% cash back online and in-app, including grocery delivery and pickup; 2% at Walmart stores, Walmart and Murphy USA gas stations, restaurants, and on travel; 1% on everything else
Introductory offer: 5% in-store for the first 12 months if you use Walmart Pay
Who should consider the Capital One Walmart Rewards Card?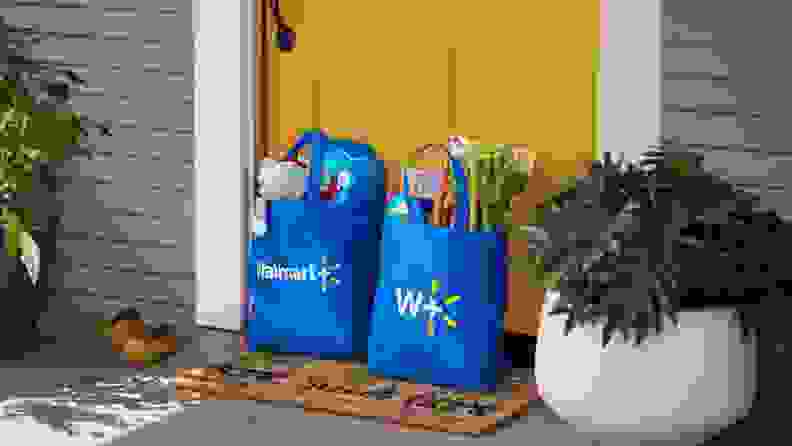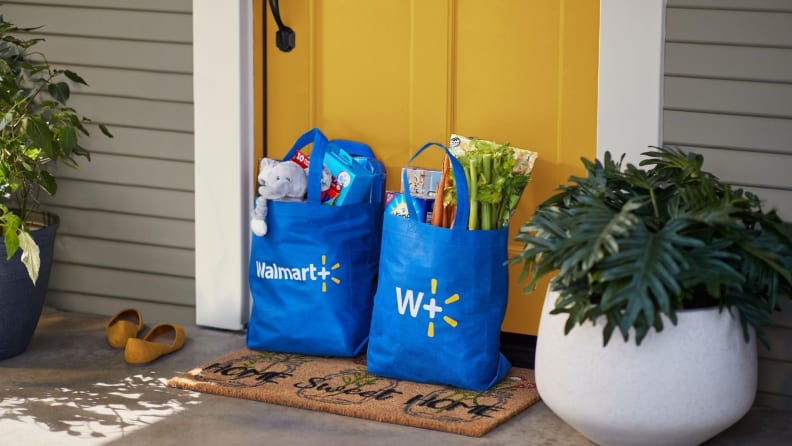 If you have other cash back cards in your wallet, you may notice that most programs exclude shopping at superstores like Walmart and Target from the supermarket category, so Walmart grocery shoppers may find a lot of value here.
The pandemic has forced many of us to find contactless ways to go about our daily lives, and this card gives you an incentive to order grocery pickups or deliveries. And if you're considering signing up for the retail giant's newly announced Walmart+ subscription, you could cash in on your purchases with this card in hand.
With that said, Capital One is selective in who will get approved. The issuer lists this card as one for people with good or excellent credit. What does that mean?
Under the FICO score model, this is considered a score of 670 or better, although creditors use their own metrics to measure creditworthiness.
According to Capital One, this is what good and excellent credit mean:
Good credit: You haven't made a credit card or loan payment more than 30 days late in the past year, and you've had no bankruptcies or defaults within the past five years.
Excellent credit: You haven't been more than 60 days late on a payment for a credit card, loan, or medical bill in the past year; you've had a credit card or loan with a credit limit of $5,000 for more than three years; you've had no defaults or bankruptcies.
What points do you get with the Capital One Walmart Rewards Card?
Though these rewards are subject to change, here's a breakdown of the rates at the time of publishing:
5% cash back when shopping online at Walmart, including grocery pickup and delivery
2% on dining, travel, in-store Walmart shopping, and gas at Walmart or Murphy USA locations
1% on everything else
Again, you can earn an additional 3% cash back at stores for the first year—for a total of 5%—as long as you use Walmart Pay to checkout. After that, spending at Walmart locations will earn 2%.
To be clear, unlike the Walmart Rewards Card, this is not a store card. Points are earned at Walmart and anywhere else Mastercard is accepted.
As far as redemption options, you can use cash back to pay for purchases, or you can redeem rewards earned for statement credit, gift cards, and travel. Points don't expire as long as you keep your account open.
What perks do you get with the Capital One Walmart Rewards Card?
Besides the rewards aspect, you'll find other bells and whistles, including a mobile app you can use to review transactions and make payments.
There's also Zero Fraud Liability with the Walmart Rewards Mastercard, which means you won't be held responsible for unauthorized purchases if your card is lost or stolen. Plus, you can lock your card in the mobile app.
How does the Capital One Walmart Rewards Card compare to other cards?
As mentioned, sometimes credit cards will exclude stores like Walmart or Costco from the top-tier supermarket rewards category.
Because of this, unlimited flat-rate cards like the Citi® Double Cash card (1% cash back upfront and 1% back when you pay off the card) or the Chase Freedom Unlimited (1.5% cash back) may end up being a fallback option to earn rewards at superstores and warehouses. For big Walmart shoppers, using the Capital One Walmart Rewards Card could be a better rewards strategy.
For bulk shoppers who are not loyal to Walmart, the Bank of America Cash Rewards Credit Card might be worth considering as well. The offer is 3% back on a category of your choosing, including gas, online shopping, dining, travel, drugstores, or home improvement; and 2% at grocery stores and wholesale clubs.
What drawbacks does the Capital One Walmart Rewards Card have?
If you prefer to browse the Walmart aisles on foot, a major drawback is that you won't get 5% at store locations forever. And you may have trouble qualifying with a less-than-stellar score since this card is offered to people with good credit or better. Consider checking your credit score before applying.
The Capital One Walmart Rewards Card isn't currently offering an introductory interest rate. Meanwhile, the Bank of America Cash Rewards offers 0% APR for the first 12 billing cycles, and the Chase Freedom Unlimited card offers 15 months of 0% APR on new purchases.
If you need to make a major purchase—perhaps a new bedroom set or an A/C unit—you could swipe one of these cards during the zero-interest period and then pay the balance off slowly without having to worry about interest accumulating.
How does the Capital One Walmart Rewards Card rank in our reviews?
No shocker here: This Walmart credit card comes in as one of our top picks for grocery cards because you earn an unlimited 5% cash back, including pickup and delivery.
Walmart typically charges a delivery fee for each order. The rewards you earn from shopping at Walmart could help offset this fee. Or, you may be considering the soon-to-launch Walmart+ membership. The $98 annual fee includes unlimited free shipping from stores on orders more than $35.
So, should you get the Capital One Walmart Rewards Card?
If you've been ordering groceries from Walmart, the Capital One Walmart Rewards Card is worth a look since that online spending qualifies for 5% cash back this year and beyond. If you shop online occasionally but do most shopping at the store after work, during lunch break, or on weekends, you won't always earn 5%, which should weigh into your decision.
Other Credit Card Reviews
Things to Know About Credit Cards
Long introductory period APR rates are only a short-term incentive. Potentially high APR rates snap into effect after the card's intro period ends, which could cost you a lot in interest if you've left your balance unpaid. It's really important—especially when getting a card for a big purchase—to keep an eye on your finances and keep an eye on the calendar.
APR rates and credit limits vary based on your individual credit. Credit limits and interest rates for each card are determined based on each cardholder's personal situation, so we did not take that information into account when evaluating these cards. Remember to pay your card off in full every month, so you will not be charged interest.
Banks have the final say on who they accept for a credit card. These recommendations were put together with the assumption that applicants would have average credit or above. That being said, banks decide who they will issue credit cards to using criteria including, but not always limited to, an individual's credit score when evaluating each applicant.
How many credit cards should you have in your wallet?
We hate to break it to you, but there's no one-size-fits-all answer here. The right number of credit cards for you depends on what you can responsibly manage.
Does having a piece of shiny plastic an arm's length away often encourage you to spend money you don't have? Be honest. You may want to think twice before applying for more credit. Carrying a balance you can't afford contributes to interest charges, and in the long run costs you more money—money that you could've used for that air fryer you've been eyeing.
If you're financially responsible and stick to making purchases that you can pay off, there may be some upsides to adding another card to your arsenal. If you're a jet-setter without a card that rewards you for hitting the road, or one that skips foreign transaction fees, a travel credit card may make sense for you.
There are a few other things to consider before opening a new account, like adding a different payment processing network, or taking note of any annual fees.
The product experts at Reviewed have all your shopping needs covered. Follow Reviewed on Facebook, Twitter, and Instagram for the latest deals, product reviews, and more.