Cruises
Luxury Lovers
Accustomed to the finer things in life? There's a wide range of ships that focus on luxury and pampering.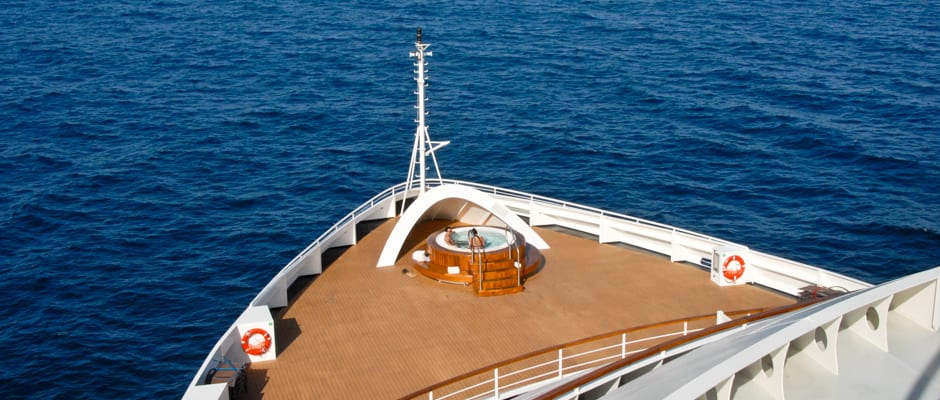 Credit:
The popular image of cruising may be of large, mass-market ships with bustling pool decks and glitzy shows. But that's only one side of the business. Just as with resorts on land, there is a wide range of alternatives to the Big Boys of the industry, including a number of more intimate upscale ships geared toward a luxury-loving crowd.
If it's a Four Seasons-type experience you want, there are four major lines catering to North Americans that offer five-star living at sea: Crystal Cruises, Regent Seven Seas Cruises, Silversea Cruises and Seabourn Cruise Line. Each of them caters to a slightly different personality with varying sizes of ship. With just two vessels that carry around 1,000 people each, Crystal offers the biggest luxury ships and, thus, the broadest onboard experience (there's ample room for a large, pampering spa, for instance, and a full showroom). Would-be cruisers looking for a more intimate experience might consider Seabourn, which operates ships in the 450-passenger range. Silversea's seven vessels range from 100-passenger expedition ships to the 540-passenger Silver Spirit, while the biggest of Regent Seven Seas' three ships carry 700. In addition to the big luxury operators, there are a number of other niche players in the luxury market, including sailing ship line Windstar and small ship operator SeaDream Yacht Club (the latter operating yacht-like vessels that hold around 100 people).
Meanwhile, several of the biggest mass-market lines increasingly target the luxury crowd with the addition of upscale "ship-within-a-ship" private suite areas atop their newest mega-vessels. The latest Norwegian Cruise Line ships have a private, two-deck enclave called The Haven that boasts dozens of upscale suites, a private pool area and sundeck, a private restaurant and bar, and a dedicated concierge. Like Royal Caribbean, Celebrity and other mass-market lines, adding upscale suites and private enclaves allows these lines to cater to a growing market of wealthy vacationers who (perhaps because they have the kids along) would rather sail on a big, bustling ship with lots of activities than a smaller luxury vessel. Keep in mind, of course, the common areas of these big ships are still geared to the mass market.
A note on luxury cruise pricing: At first blush, the rates offered by such brands as Regent Seven Seas and Crystal can seem sky high. But before you wilt with sticker shock, keep in mind that luxury lines "throw in" a lot more than mass-market lines in their base fares, so while you'll pay more up front, you'll pay less in extras once you're on board a ship. On most luxury vessels nearly all drinks, including quality wines with dinner, are included in the base fare, as are gratuities for the staff (there's no added "service charge" on your bill at the end of your voyage). A few luxury lines also include shore excursions in their base fares, a night or two in a hotel before or after the voyage, transfers to and from the ship, and other extras that quickly would add up on a pay-as-you-go mass-market brand.
On most luxury ships, you'll also find yourself with more space than you would on a mass-market ship, as the "space ratio"—the volume of space as measured in cubic feet per passenger—is much higher on lines such as Silversea and Seabourn than on the mainstream lines. Silversea and Seabourn also operate all-suite ships that feature unusually large-for-the-industry cabins, stocked with all the accouterments of luxury from Frette linens to terry robes, often with a butler on call.
Read on about the distinguishing characteristics of the major luxury lines here.