The dining experience on Carnival Spirit was not as diverse as we might like, but on a cruise of seven days or less one can make do. The Nouveau Steakhouse was a surprisingly fine meal, with attentive service in a memorable space (once we got used to all that pink!), and the food was on par with some of our best steakhouse experiences at home. We recommend booking this restaurant for a night early in your cruise—you may well want to dine here a second time before your cruise is over. Overall, the main dining room, Empire Restaurant, was fairly average, with occasional good dishes plus an Indian selection nightly that adventurous palates may enjoy. The ship's busy buffet had a limited selection, some of it quite sub-par, though there were tasty items poking through here and there.
The ship's raucous décor—a tour of architectural styles—is sometimes a bit of a hodgepodge, it actually grew on us over the course of our journey. It's not something we'd ever try at home, but we got a kick out of the theme park-style whimsy. If our cabin was bland it was also functional and reasonably sized, with a fair amount of closet space and a slightly larger-than-average balcony. Lighting could have been better, especially for bedside reading, and a more extensive room service menu would have been nice.
The design of the spa was tight and the atmosphere uninviting, but the expanded fitness room was appreciated. Ship signage, particularly for those of us using the stairs, could be improved (landing areas were dimly lit)—the ship's layout was slightly confusing.
The amount of merchandizing and sales pitches Carnival generates seems endless: While not uncommon with the line's competitors, the flyers for jewelry and watches deposited in our room daily and the product sales at the end of seminars proved wearying after a few days. And although Carnival tightened its smoking restrictions in 2011, there were still several locations where cigarette smoke was inescapable. In particular, parents should be aware that on Deck 2, when walking from mid-ship forward, there is no way to bypass the smoke-filled casino.
On the flip side, Carnival Spirit seemed staffed by a crew that appeared genuinely happy to be aboard, and welcomed guests easily and warmly. The shows in the Pharaoh's Palace—an eye-popping venue—were well produced with talented performers. Although we would hesitate before booking a longer cruise, our experience aboard Carnival Spirit proved to be a generally positive one and, for the price, a good value.
Editor's Note: In October 2012 Carnival Spirit moved Down Under and now calls the South Pacific her year-round home. During the relocation Carnival made some adjustments to the ship and some policies. According to Australia-based newsletter Cruise Weekly, Carnival Spirit's billing system will now be in Australian currency, electrical outlets in cabins have been converted for Aussie plugs, and the food and drink menus have become localized ('roo steaks, we're guessing). Passengers are also no longer allowed to bring a bottle of wine into their cabin during embarkation, as is Carnival's policy on other ships.
While the ship's interior design was quite vivid, cabin décor is muted by comparison.
There are four types of cabin on Carnival Spirit. The standard size is 185 square feet and 20 percent of the cabins are Interior—that is, no view. The rest are classified as Ocean View, Balcony or Suite, with various categories within each type, mostly based on location on the ship. Other differences that affect pricing are that some Ocean View rooms are classified "obstructed view" (blocked by the lifeboats on Deck 4) and balconies come in different sizes.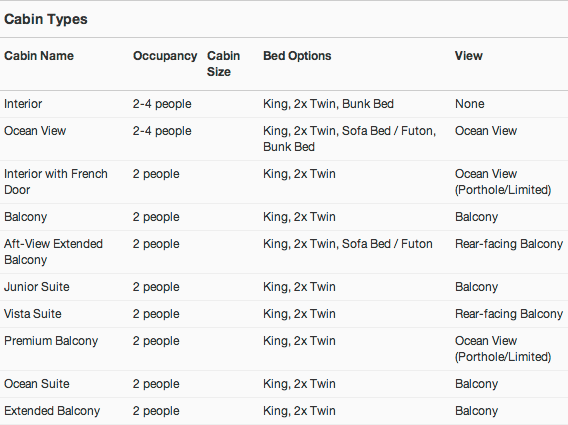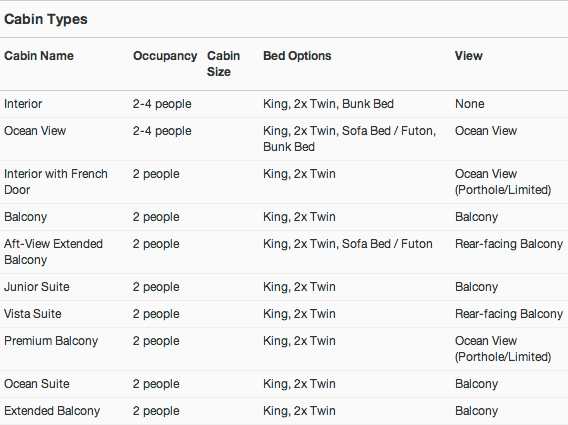 When it came to our accommodations, our luck went both ways—a cabin with a big balcony as well as a connecting door to the adjacent cabin.
While the décor of Carnival Spirit in common areas was pumped at full volume, personality was toned way down for our cabin, to the point of being lackluster. A couple generic framed prints adorned the space, along with a dated glass lighting fixture, but otherwise neutral was the mood.
But there were good features that made our room comfortable. We found ample storage space for two in both closets and drawers and, probably owing to a recent renovation, towels that were full and plush; the carpeting also appeared to be new. Best of all was our extended balcony with two deck chairs and a small table; though certainly not large, at 60 square feet the balcony was large enough for two seated and one or two more standing. The balcony area was a bit dirty—the deck could have used a good scrubbing.
This cabin was one of many on the ship with a connecting door to the adjoining room. Alas, the occupants were older teens who played cartoons on TV in the morning and head-banger music in the evening. Within a couple days we ascertained that neither were actually played very loud, it was just that the door didn't effectively close out the sound. By the fourth day of the cruise, when one occupant started hacking away with a cold, we vowed to avoid cabins with connecting doors in the future. By contrast, although our Deck 5 cabin was immediately above the Pharaoh's Palace theater and we could hear a bit of the goings-on there, that sound leakage was never enough to be annoying.
Bedroom
A luggage mat was laid on the bed when we checked in. The mattress was firm but comfortable, though the seam—where the two single beds were joined to form a queen—was noticeable. There was an extra blanket under the couch, and there was storage space for luggage under the bed.
The sofa could be pulled out to create another bed, and there were a couple drawers under the sofa providing extra storage. Passengers from a previous cruise had left water bottles in these drawers that had not been cleared out during the turnaround (one less bill for us at checkout!).
Bathroom
The bathroom was well lit and bright, with a large mirror spanning one wall, flanked by three shelves on each side. The lowest ones on each side were sufficient for a standard travel kit. A makeup mirror was attached to the wall.
The shower (no tub) was level with the floor of the bathroom, with a two-inch lip to keep the water in its place. A fabric shower curtain appeared to be relatively new. There was a retractable line for hanging wet laundry in the shower. Shampoo and shower gel were via fixed dispensers in the shower (no conditioner or body lotion were provided). A dish next to the sink had a promotional sample of toothpaste, nasal strips and an extra bar of soap.
All the towels and bathmats we received were plush and appeared to be new. A sign next to the towel rack asked us to assist Carnival "in our efforts to help protect and improve the fragile eco-systems on which we are so dependent… Towel on the rack means 'I'll use it again.'" However, we left our used towel and bathmat on the rack daily and they were replaced most days. Two beach towels were provided (on the sofa) and were replaced when used.
Features
One main lighting system served the entire cabin. It included two recessed lights at the doorway plus an overhead light panel stretching to the balcony door and wrapping around one side of bed; all these lights were controlled by a single switch, though there were three of these switches in the room (one immediately above the headboard). While this lighting proved ample, three bedside lights (two on either side of bed and one at the end of the couch) were too dim for reading in bed. Separately, a light switch at the desk controlled a second lighting feature: two three-bulb fixtures on either side of the mirror over the deck and another behind a decorative glass feature.
There were three closets side-by-side; each was 20-22 inches wide and went floor-to-ceiling in height. One had shelves for storing clothes, the second had a rod with six hangers, the third had a pair of bathrobes, two more hangers and a pair of life vests. A few more hangers would have been useful. There was a 22-inch Samsung flat screen TV on a shelf above the desk. In addition to a few non-ship channels there were two complimentary movies daily—one started every hour. These were recent releases, as was the ship's selection of pay-per-view offerings (nine total, priced $8.99).
Other features included a stocked minibar (our cabin steward asked if we wanted it unlocked at check-in), a hair dryer in the desk, and a safe under the TV.
There were five self-service laundry rooms available (one on each of main floors w/cabins) and well as laundry service.
We did not stay in the rest of these cabins, but we have summaries here provided by Carnival Cruise Lines. Note that any photos on this page may be provided directly by the cruise line and not our reviewer.
Interior
A comfortable stateroom retreat, where some rooms also feature pull-down beds – ideal for families. Stateroom amenities: Television Soft, comfortable, and cozy linens Hairdryer/Bathrobes 24-hour stateroom service Ample closet and drawer space.
Ocean View
Large windows offer excellent views of the ocean and sneak peeks of each destination. Stateroom amenities: Television Soft, comfortable, and cozy linens Hairdryer/Bathrobes 24-hour stateroom service Ample closet and drawer space.
Suite
A spacious room, that includes VIP check-in during embarkation. Stateroom amenities: Whirlpool bath Vanity dressing table Television Soft, comfortable, and cozy linens Hairdryer/Bathrobes 24-hour stateroom service Ample closet and drawer space.
Most of our needs were adequately covered.
Rooms have a stocked mini-bar, makeup mirror, hair dryer, safe, bathrobes, pool towels and our ice bucket was refilled at least once daily. The only obvious bathroom amenities we found lacking were hair conditioner and hand lotion, but there was an unexpected trial-size tube of toothpaste. We would have liked a better quality shampoo, but appreciated that Carnival uses ecologically sensitive wall dispensers.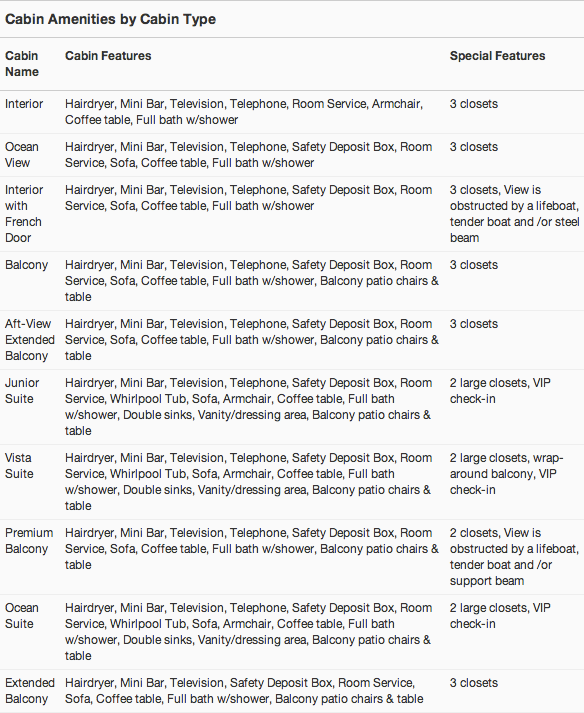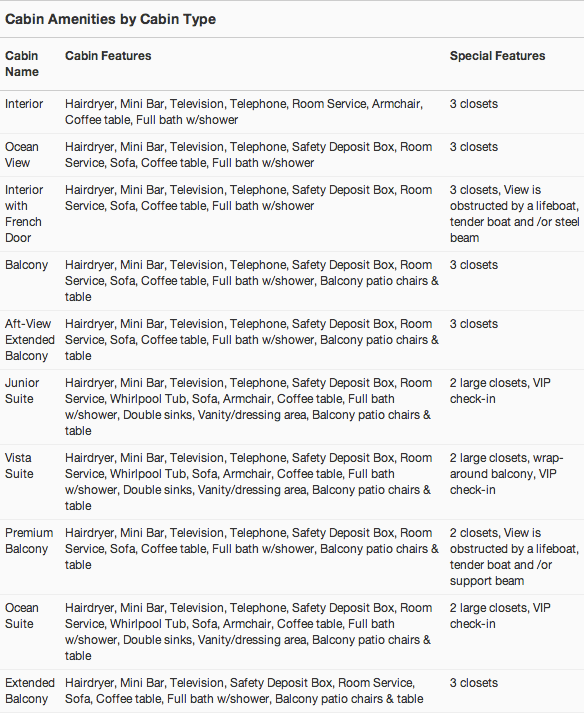 Though not long on dining options—a consideration for a cruise of more than a week—Carnival Spirit had several very satisfying choices, if you knew where to look.
There are three primary dining venues aboard Carnival Spirit. This was sufficient for a five-day cruise, but we suspected it might get old during a longer journey. In addition to the main dining room and a buffet, there is a sushi bar with a very small selection of rolls, and a café serving coffee drinks and desserts for a surcharge. There was also the ship's specialty restaurant; it was here that we were very pleasantly surprised.
When we first boarded Carnival Spirit we noticed the strong smell of a steakhouse. Whether this is by design or accident, our stomachs ordered us straight to the reservation desk to book a table. The Nouveau Steakhouse is the ship's one restaurant carrying a surcharge, but the $30 cover was worth it, delivering not just our best meals on Carnival Spirit but steak dinners that rivaled the ones we crave at home. And note, we didn't have to be die-hard carnivores to eat here: The menu has tempting seafood options.
Otherwise we found the main dining room (Empire Restaurant) to be a bit uneven, with some dishes pleasing and others middling. And although the spread changed daily, the buffet had a somewhat limited selection and most of it was unimpressive.
A "Chef's Table" experience is offered on most cruises, in a private dining room. The cost is $75 per person, limited to 12 people, but the requests didn't hit the minimum for operation on our cruise, so the dinner was not held. You can read about our experience at a similar dinner, aboard Carnival Freedom, here.
Note: In June 2012, Carnival increased the surcharge on all its steakhouses, to $35 per person.
Food at the main dining room on Carnival Spirit was generally fair to good.
Taking its design cues from Napoleon's France, the Empire Restaurant is set on decks 2 and 3 aft and serves as Carnival Spirit's main dining room. A sculpture of the emperor on his throne welcomed us to the gilded room, replete with murals on the ceiling, ornate lamps and chandeliers. It's ostentatious, but amusing.
Though quite large, the room is a bit tight for the number of guests, servers and fixed tables; on the plus side, there is a good quantity of two-top tables, meaning couples can have private dinners during their cruise (a few tables hug oversized porthole windows—nice seats from which to watch to world go by). Although most courses emerged slowly at dinner, service was unfailingly upbeat, and each evening one of the waiters would perform a recent pop hit to enthusiastic cheers from the room. Breakfasts and lunches were much less busy.
We weren't expecting our meals at the main dining room to stand out in any memorable way. But considering the Empire Restaurant churns out upwards of 1,000 dinners at a sitting, we found reasonable consistency and several tasty options—plus one good surprise.
The breakfast menu was reasonably extensive and the food was better than at the buffet. Various egg dishes, fruits, pancakes, pastries and meats were available. Lunch was also a good experience here. We enjoyed the fish and chips—the batter not too heavy—and the "create your own" burger, which came with garnishings as varied as chili con carne, bacon and guacamole.
The buffet on Carnival Spirit was mostly disappointing.
Crowded with people but spare in offerings, we found the buffet at La Playa Grill a chore. The space is bright and cheerful—when not in use, anyway, which is almost never. It feels like a bit of a beach cabana scene, with mosaics crafted from broken pieces of tile and tables lit by Italian glass fixtures; a large chandelier of Murano fixtures lords over the main buffet area.
At prime breakfast and lunch hours, there was a mass of humanity filling the buffet lines and scouring for tables. The tables weren't cleared as swiftly as they should have been (we usually found one by heading outside with our tray).
The buffet was comprised of about 10 different counters, most of which alternated their offerings depending on the meal being served. The food selection was trimmed further at dinner, though there was late-night dining available each evening, with a different cuisine theme each night.
On the last full day of the cruise a section of La Playa Grille was converted to a chocolate buffet following lunch. There were chocolate fountains with fruit on sticks, marshmallows and other items poised for dipping, and a fairly impressive spread of chocolate cakes, tortes and other desserts. The start and end time for this event went unannounced and there were still passengers trying to get in line after it had closed.
A steakhouse aroma wafts mid-ship, and when we traced the scent to its source we came away most contented.
Occupying the catbird seat at the top of the atrium, the Nouveau Steakhouse is a two-story restaurant with a glass dome roof. A circular staircase accesses the steakhouse from Deck 9, and with see-through steps—allowing guests to peer between their feet down eight floors—vertigo sufferers won't dare climb to the restaurant. But don't let this put you off (and elevators access Deck 10 anyway). This is far-and-away the best dining experience on Carnival Spirit, an oversized, two-story room frilled with Art Nouveau décor and furnishings, set off by handsome Versace chargers on the tables, and with quality meats delivered by proficient Eastern European waiters.
The steakhouse is located within the forward section of the ship's trademark red Carnival funnel. In a novel design concept, much of the T-shaped funnel has been converted to a red glass roof for the restaurant, which casts a raspberry shade over the room until well after sundown (even the walls inside are salmon colored). Fortunately, we like our steaks with a bit of pink. The glow subsided after dark, and we found our first dinner here so good we came back for second evening to make sure we hadn't been wearing rose-colored glasses.
Although our food and service at Nouveau Steakhouse was right on the mark, we did have a few minor complaints. One was that the ship's vibration is more pronounced in this space than other locations. Live music feeds up from the lobby bar through the atrium—it wasn't always a meal enhancement. Finally, although Carnival's dress code is pretty casual, we were surprised to see one guy dining at the steakhouse in a white T-shirt.
The Nouveau Steakhouse is open for dinner only, 5:30-9:30 p.m.
Don't plan on making a meal out of this venue.
There were three items available at this cart located on Deck 2 near the casino. Sushi fans shouldn't get too excited—one of each was doled out on the small plates. Nonetheless, a line forms as soon as the bar opens each evening at 5 p.m. Seating is available in the adjacent lounges.
The short selection from this cart includes chu-maki rolls (salmon and cream cheese), ben nasu (eggplant rolls) and nigiri with tuna. Aside from a couple sauces and cured cucumbers, that's it. None compared favorably with sushi we enjoy at home, and note that we saw these items show up at La Playa Grill on at least one evening, making a trip to the Sushi Bar a somewhat needless exercise.
The Sushi Bar was open each evening from 5 till 8:15 p.m., however it was not opened the first or second day of our cruise.
The menu was short, but sufficient for continental breakfast, sandwiches and snacks.
A tag in our room could be hung outside our cabin before 5 a.m. to order continental breakfast. We neglected to do that the first night of our cruise, so we called room service the next morning at 8:30 a.m. We spent 11 minutes on hold—first getting a recording, then endless ringing—and finally gave up and went to the main dining room for breakfast. The following morning at 7 a.m. we waited even longer before hanging up. That night we left the tag out requesting breakfast to be delivered between 6:30 and 6:45 a.m.; the knock on the door came right at 6:45.
For lunch another day, we saw no other option but the phone for ordering from the 24-hour menu. This time we got through right away on the phone and were told to allow half an hour for delivery; our order arrived 17 minutes later. Curiously, a couple items were double ordered.
Plates were covered with plastic lids, but plastic cups of juice and open pitchers of milk for coffee and salad dressing arrived uncovered. A packet of salt and pepper would have been nice.
The breakfast menu was strictly continental, the only hot items available were toast—white or wheat—and coffee or tea. Not even oatmeal! But the selection was okay. The 24-hour room service menu offered cold and hot sandwiches served on white, wheat or rye bread, mixed green or Caesar salad, and a short selection of desserts.
The ship had an array of alcoholic drinks on offer, but some were priced a bit higher than we expected.
Carnival Spirit had ten dedicated bars spread throughout the ship, and bar service could be ordered at the pool areas and inside the two theaters. Several of these bars seemed fairly underutilized during our cruise, but others came alive specifically when events were scheduled.
A 15-percent service charge was added to all drink orders. The minimum age for drinking was 21.
There was a fair wine list available on Carnival Spirit at the main dining room and steakhouse. The list was heavily focused on California wineries, with a small selection from Italy, France and a few southern hemisphere options; the majority were priced under $40. By-the-glass options included La Crema chardonnay, Oyster Bay sauvignon blanc, Peter Lehmann shiraz and Barefoot sauvignon blanc, at prices ranging $6.50-$10.75.
For beer, the major American brands were available in 16-ounce bottles ($5.75). Imports and specialty beers included Blue Moon, Boddingtons, Corona, Pilsner Urquell and Bass Ale at prices ranging $4.95-$5.95. Also available was Carnival's own line of beer, ThirstyFrog Red, available on draught at several of the ship's bars, including the Lobby Bar and the Serenity Bar.
The main bar list covers all the standards, with a few exotic options. A number of drinks could be served in souvenir mugs—in silver disco balls, plastic fish, etc.
Classic cocktails include Long Island ice tea, mojito, mai tais and Sex on the Beach—all were priced $8.75. Martinis were $8.95 and in addition to traditional we found cosmopolitans and appletinis on the menu. Cordials and liqueurs such as Sambuca, Cointreau and Baileys Irish Cream and straight shots of Skyy vodka, Bacardi rum, Bombay Sapphire gin and other liquors ranged $4.95-$7.50. Premium liquors such as Johnnie Walker Black, Ketel One vodka and Patron silver tequila were priced $7.50-$9.95.
Among the drink specials on Carnival Spirit was a Pineapple P, a pina colada blended with fresh pineapple and served in a whole hollowed-out pineapple with a straw ($12.95).
Carnival's "Cruise the Vineyards" wine package offers five bottles of wine from one of three groups of wine. The cheapest option was five bottles from one block for $114; the two more-expensive packages were $133 and $168. Promotional material onboard said the packages saved "up to 25 percent," however, in no instance did we find that selecting five bottles of the single most expensive wine in each package amounted to such savings. More realistic was a 15 percent savings when choosing the five most-expensive bottles within each block.
Bottomless Bubbles, an unlimited soda package, was also available. On our cruise the price worked out to $6 per day, $4.50 for children (age unspecified). The package cannot be applied towards room service deliveries, or to drinks from the cabin minibar.
Soft drinks included Coke products (including Sprite, Pibb Xtra and orange soda); these were all $1.95, as was iced tea. Powerade was $2.95 and Red Bull was $4.75. Bottled waters included assorted vitamin waters, Perrier and San Pellegrino.
Smoothies included strawberry piña colada, raspberry peach combo and a banana split. Some of the alcoholic drinks could be made virgin, including daiquiris, the Mocha Chocolate Getaway and Hurricane Wave. All of these were $4.75 each.
Non-alcoholic Buckler beer was $3.95.
The coffee at La Playa Grille wasn't anything to write home about, so we came here for a caffeine fix.
The ship's coffee shop is on Deck 2, facing a two-story water feature that functioned only on the last day of our cruise. The cappuccino, moccacino and latte were priced $2.95-$3.50 and all could be made with skim or soy milk and flavored with assorted syrups or liqueurs. Iced coffees and milk shakes were also available for $3.50-$3.95. Our latte was okay, much better than the coffee served in the ship's buffet line.
The pastry case was stocked with decadent looking confections such as Black Forest Cake, Strawberry Cheesecake, fresh fruit chocolate cups; individual servings were $2.25 (and whole cakes with inscriptions were available to order). Chocolate dipped strawberries and various cookies were $1.25.
The café was open 7 a.m. till midnight on sea days, with a midday break on port days. Note that another café stand, minus the pastries, was available at La Playa Grille.
Aspiring singers gathered here.
With walls trimmed in dark purple fabrics, Club Cool evokes a 1950s nightclub, with a small bandstand and parquet dance floor at its center. By day, this spot was usually empty, except for the odd diamond sales pitch or art auction. At night, this was the place for live dance music or karaoke parties.
Club Cool is one of the ship's two indoor bars designated for smoking.
Get your game on.
This odd gathering spot is the ship's de facto sports bar, with bank of TVs playing the several sports channels available onboard. Ugly, slightly larger than life-size cut-outs of sports legends line one wall. We imagine the Champions' Bar would be a pretty busy venue if a major game was being televised (and the feed was accessible at sea), but otherwise it was mostly empty during our cruise.
This popular space was topped by the ship's 10-story atrium.
Situated at the base of Carnival Spirit's soaring atrium on Deck 2, the Lobby Bar is the hub of the ship. It basks in a pink glow cast from the red glass roof at the top, a color that continues to imbue the room after dark, owing to the salmon colored walls and copper accents that dominate the ship's design.
Open the longest of any of the ship's bars, the Lobby Bar stays busy through much of the day and evening, but it's not hard to find an empty barstool for the crescent shaped marble counter. Pull up a chair at one of the smaller tables flanking the elevator shafts, or there's seating available at sofas lining big windows.
Live music is scheduled here at various points daily, along with the captain's welcome event.
A nice spot for a drink before tucking in at the adjacent Empire Restaurant.
Lots of Parisian style fills this elegant space, with banquettes adorned by lush reproductions of works by Gauguin and others. A small bandstand is home to live jazz on a few evenings, while trivia games and some of the ship's promotional seminars (teeth-whitening and the like) were also held here.
The ship's standard bar list was available at the Artists' Lobby Lounge. A martini flight was also on offer: Choose from mangotini, Jack julep, cosmopolitan and others; four 2-ounce pours were $17, which seemed a bit steep to us.
We got our groove on here.
This is Carnival Spirit's disco, a two-story space situated in the lowest area of the ship. The décor appears to loosely embrace New York street art style, with streaks of bright colors splashed about the walls and a circular glass staircase that descends to the dance floor.
The club generally started pumping at 10 p.m. The music we heard was pretty standard disco hits of a couple decades ago, though there was a Country line dance class scheduled one afternoon, and a kids' talent class on another.
Dancin' Dance Club is one of the ship's two indoor bars designated for smoking.
The ship's piano man tinkled the ivories in a beautiful setting.
This is one of Carnival Spirit's more successfully designed rooms, a lush trip back to old Shanghai, replete with Chinoiserie and lots of red and black. A bar surrounds the piano, which sits on a pedestal near the entrance. A small cast of regulars showed up each evening to call out favorites they could sing-along to, but otherwise the venue was never busy. The piano man started up most evenings at 8:30 p.m.
Naturally, an Art Deco style was exhibited here.
Like the Artists' Lobby immediately below, this foyer was a convenient place to stop for a drink prior to dinner. The Conference Room/Art Gallery was next door, and events here sometimes spilled into the Deco Lounge.
On sunny sea days, this bar was bustling.
A double-sided bar located between Carnival Spirit's two main pools on the Lido Deck, the Canopy Bar stayed busy throughout the day. This is also the de facto bar for La Playa Grille.
Smoking is permitted on the starboard (right) side of the Lido Deck's outdoor areas.
The ship's standard bar list was available at the Canopy Bar, along with splashy (and pricey) specials, like the piña colada blended with fresh pineapple and served in a hollowed-out pineapple with a straw—for $12.95.
The mood was chill.
Formerly known as the Fantail Bar, this outdoor lounge adjoining the peaceful Serenity Retreat is a kids-free zone that keeps the adults using the pools and loungers lubricated. It's also a good fallback option when dining at La Playa Grille.
This peculiar hideaway is overlooked by some, but it's worth locating early in the cruise.
Squished into the shallow space beneath the Pharaoh's Palace on Deck 1, this theater is a fine intimate venue for standup comedians. The walls are lined with models of French chateaus, illuminated from behind; this does a nice job of opening up the room (the stage is not much more than seven feet tall!). Couches with cocktail tables provide ample slouching room for several hundred.
Although there's no real bar, the ship's standard cocktail list was available from waiters serving at the Versailles Lounge.
The Versailles Lounge is used for karaoke, art auctions and future cruise seminars (the advice we heard here was informative, as far as Carnival cruises go), but comedians are the rule. The acts were family-oriented for the early shows, with blue words and raunchy bits being flung after 9 p.m. Either side of that hour the comedians we saw were pretty entertaining, and everyone in the front rows was fair game.
Versailles Lounge is reached by descending the narrow, spiral staircases found on either side of Pharaoh's Palace; it is also accessible from the forward elevators.
The theater itself was a spectacle and the shows were vivid and entertaining.
Recalling the extravagant theme décor of old movie palaces, the main theater on Carnival Spirit wowed us with its splashy take on Egyptiana. The 1100-seat venue sparkles with hieroglyphics and is lined with sarcophagi—plaster, of course, but gleaming with gold.
The lower, main level (Deck 2) has lounge-style couches with small cocktail tables; rows in the rear have somewhat limited sightlines (blocked by the bottom of the balcony). Upper levels have comfy high-back chairs offering ample legroom; arrive early for these—a number of the upper-level seats have views obstructed by various pillars and supports.
Although there's no real bar, the ship's standard cocktail list was available from waiters serving at the Pharaoh's Palace.
The entertainment here was above average, performed by a solid crew of singers, dancers and musicians. One show, Singin' With the Big Band, featured a 10-piece band with several sizzling performances. Big Easy, an even more lavish entertainment, was a tribute to the music of New Orleans. Carnival obviously invests a lot in their live shows and, while not Broadway-quality, they certainly aspire to it.
Carnival's over-the-top design team missed the mark here. With tacky murals of Greek athletes lining the walls and an auburn color scheme, the entire facility appeared retro in the worst way. Treatment rooms were cramped and dingy-looking and the salon felt like it was designed for Caesar's Palace, circa Elvis' last days.
The facility is managed for Carnival by Steiner Leisure, which oversees spas for a number of cruise lines. We signed up for the Fire and Ice manicure. While we found the 50-minute, $50 treatment competently handled and the arm massage with hot rocks relaxing, the "cooling gel" that was applied didn't do enough to warrant the name. Overall, treatments seemed pricey to us: 50-minute facials ran $119-$169 and 50-minute massages were $119-$159, or $269 for the couple's massage. As is typical on most ships, spa treatments (though not those at the salon) were discounted by 10 percent on port days. There were discounts for multiple treatments, and additional offers popped up on sea days.
Other procedures available included teeth whitening, acupuncture, Ionithermie, waxing and men's grooming. The men's and women's changing areas have private sauna and steam rooms, which are open to those not signing up for a treatment.
In contrast to the spa, the small gym—located past all the treatment rooms—was relatively appealing, perhaps owing to a renovation of the ship in January 2012. There was plenty of current LifeCycle cardio equipment—bikes, treadmills and elliptical—and we never saw a line for the machines, all of which faced the forward ocean view. One small problem we noticed was that the room was not adequately cooled, so it got a bit humid while working out.
Fitness classes included yoga, pilates and spinning, priced $12 each ($30 for three sessions). The two-session fitness Boot Camp was $69. A body composition analysis was $35, and a 60-minute session with a personal trainer was $85.
The one element of the ancient Greece (or was that Rome?) theme that was carried from the spa into the gym is a successful one: There is an elevated, indoor whirlpool in the middle of all the muscle-pumping, and this was a pretty nice place to soak after a workout.
Lido Deck
This was the hub of the action when the sun was out. The ship's two main pools and two whirlpools were located at mid-ship, with the Canopy Bar wedged between them. Odd green flamingo sculptures took flight over the pools.
The Lido stage was used several times each day for outdoor performances and games. These usually started around lunchtime and included live calypso music, a beanbag toss, a golf chipping contest and a hairy chest competition. After dinner, a DJ spun dance tunes some evenings.
Smoking is permitted on the starboard (right) side of the Lido Deck's outdoor areas.
Serenity Adult Retreat
During the January 2012 renovation of Carnival Spirit, this sun perch was transformed into an adult-only (age 21 and up) area of this ship—the results are great. One of the ship's three pools is found here, along with a whirlpool that took in the aft view. Sun loungers and semi-private day beds filled up the rest of the deck, and some sunning space was covered with wooden pergolas that screened out some of the sun (the desk is otherwise fully exposed). Waiters from the adjacent full-service bar were available to ply us with drinks, and La Playa Grille was close by, when we needed a snack.
The mood is generally pretty quiet back here, but we had a couple minor quibbles. One, when the kids (and adults) were using the slides at the waterpark, their screams were audible. We also found the whirlpool was often packed with bodies, like sardines, and the day beds (which were big enough for two) were usually grabbed early in the day and it was hard to snag one thereafter.
Otherwise, we found the kids- and teens-free Serenity Retreat to be a fine addition to Carnival Spirit.
Carnival Waterworks
Refurbished and expanded in January 2012, this is a great play area for kids, with a splash pool and small slides for the little tykes. The kiddie area is anchored by the Power Drencher, a giant bucket that continuously filled with water until tipping over. Twister was a slide that corkscrewed around—parents should know in advance the minimum height restriction was 42 inches. Green Thunder was an even taller slide, towering over all but the ship's main funnel and plunging into a winding turn that circled out beyond the ship's starboard side. Carnival calls this the "steepest water slide at sea"—we have no reason to doubt this. In fact, quite a few of us adults enjoyed these two slides.
Exterior Promenade (Deck 3)
This wide walkway almost encircles all of Deck 3, but for running or walking laps you'll want to head to Deck 10. This is a nice place for taking in the breeze and/or sun, but there were no deck chairs on the Promenade, meaning it was used primarily only by smokers (smoking permitted on the Starboard side).
This is where the Muster Drill was conducted on the first day of the cruise.
Sun Deck
Deck 10 offers Carnival Spirit's walking and jogging track—3½ laps equals a mile, though jogging was allowed only before 8 a.m. or after 8 p.m. Although the forward part of the deck was a great perch from which to admire the view, there were no deck chairs or loungers here. But plenty of loungers were found on the port and starboard sections of the deck, and this was a good place to grab one when options on the Serenity Retreat or Lido Deck ran out.
Sports Deck
This small area on deck 11 forward had a 9-hole miniature golf course, ping-pong tables, and a basketball court.
Sky Deck
This small split-level deck wrapped around the red and blue trademark Carnival funnel. It wasn't used as much but was perhaps the quietest of the outdoor areas for sunning, and loungers stood at the ready for us.
The Jungle
We never figured out what real purpose this pair of corridors served, but it exhibited the kind of kooky design Carnival is famed for. Painted with jungle themes—animals, bamboo and forest vegetation—the hallways are on Deck 3 forward and line the outside of the Pharaoh's Palace. There are sofas, chairs and tables and nice portholes for taking in sea views, but not once did we see anyone using them.
Lobby
Weaving art nouveau and art deco elements at the base of a 12-story atrium, the lobby is the nucleus of the ship. You'll find the guest services and shore excursion counters here, and at the base of the elevator shaft some cocktail events took place at various points of our cruise.
Monarch's Card Room
The ship's daily program designated meeting times for Bridge- and Euchre-players to meet, but otherwise the room was little used. There was a small selection of board games here, including Battleship, Clue, Parcheesi, Yahtzee, Scrabble and Trivial Pursuit.
Chippendale Library and Internet Café
This small venue was one of Carnival Spirit's more attractive public rooms. There were 10 PCs available for use, and a helpful crewmember was usually on duty here to provide web surfing assistance.
The reading library selection was meager at best.
The basic internet usage plan was .75 per minute, plus a one-time $3.95 activation fee; this covered computers in the Internet Café as well as WiFi around the ship. There were various packages available that brought the per-minute price down to .64 per minute (45 minutes for $29), .49 per minute (120 minutes for $59), etc. Those who purchased one of the plans on the first two days of the cruise received up to 20 minutes additional time, free of charge.
We found the tips sheet provided offers good details on how to improve WiFi access, especially for iPad users.
The Wedding Chapel
This pretty little wood-paneled facility with al frescos of angels has pews to seat about 50 guests. It's a nondenominational chapel and we were told that weddings at sea are conducted frequently by the ship's captain.
The casino on Carnival Spirit continues the French flair found in several other venues, but we found the endless clanging of the slot machines took away any true Monte Carlo elegance. A statue of Louis XIV next to the bar kept a watchful eye on gamblers. The facility was busy pretty much any time we weren't in port (when the casino was closed).
Slot machines covered the gamut of traditional games, and video poker was also available. Table games include roulette, craps, blackjack and various types of poker.
Gambling is allowed for guests 18 and older. The casino has its own bar, offering the ship's standard drink list. Anyone purchasing a drink gets a $5 match play coupon.
Smoking is permitted in the casino, but only while playing. Nonetheless, this was the smokiest area of the ship. We were told that one section of the casino was reserved for non-smokers, but we found no evidence that the smoke itself had been informed of that policy.
A pair of pool tables sat in one corner of the casino. Cues and balls were available at the bar, rented for $8 for 30 minutes, $14 for an hour.
Camp Carnival
Carnival has a three-tiered kids program, with the entry level—Camp Carnival—designed for the youngest group. There are actually two side-by-side venues, called the Fun House on some ship signage: one for 6- to 8-year-olds, the other for 9- to 11-year-olds.
An orientation was held for all ages following the muster drill. The age 6-8 group participated in magic shows, teddy bear crafting (additional fee required), talent shows and games. The age 9-11 group colored T-shirts, put on a stage show, made pizzas and learned towel folding.
Babysitting was available until 3 a.m. for $6.75 per hour, per child, plus 15 percent gratuity.
Circle "C"
The kids program designed for tweens and a little older, Circle "C" had a designated venue for activities, which included an ice cream social, magic show, Wii tournaments, board games and a hip hop dance class with the older teens. There was also a designated shore excursion for the kids alone (additional fee required).
Techno Arcade
Open 24 hours, the ship's arcade ate kids' quarters by the bucketful.
Club O2
Carnival's kids program for older teens age 15-17, Club O2 is a strictly no-adults, no-children retreat. Activities included theme dance parties, water fights, karaoke shows and mock casino play. There was also a designated shore excursion for teens only (additional fee required).
Fashion Boulevard
Also referred to as the Fun Shops, this alley winds along Deck 3 and is flanked by two shops selling jewelry, liquor and cigarettes, and Carnival logo merchandize. Also on the Boulevard was the Formalities shop, renting tuxes and selling wine, champagne and candy.
The perfume and cologne selection was modest. There was a selection of clothing for women—mostly resort wear—but almost nothing for men. Watches, jewelry and other goodies were carried, though not much that made us jump up and down with excitement. There was also a selection of liquor and cigarettes at duty-free prices. Sundries available included sun block, pain and cold medications, etc.—not a comprehensive selection, but enough to tide us over between ports.
The shops were closed when Carnival Spirit was in port.
The Studio Photo Gallery
Carnival Spirit had a dedicated crew of photographers shooting posed photos on the ship. Prints ranged $11.99-$21.99. There was also a formal portrait photographer on board whose work we found pretty strong.
The Photo Gallery also sold cameras (primarily Olympus), underwater cameras, media cards, frames and photo albums.
Conference Room/Art Gallery
A couple of seminars were held here during the early part of our cruise (Detox for Health and Weight Loss, Improve Posture with Good Feet), and then this room was converted into the ship's art gallery. An art auction was held on the last day of the cruise (in the Versailles Lounge).
Spa Carnival, Salon Classique
Elemis products were the primary brand used for spa and facial treatments and many of the products were available for sale, along with Phyto and ME! Bath.
With a couple minor exceptions, service was upbeat and warm on Carnival Spirit. The staff seemed to genuinely enjoy their jobs and didn't break a sweat when keeping us happy. Probably the single biggest hiccup was that, on embarkation day, we waited 85 minutes in various lines to check in and board the ship, a delay caused—we were told—by a computer system that had gone down.
Ship announcements were not piped into our cabin (except for the final morning), but could be heard from the hallway. These were generally made by our cruise director in English four or five times a day, plus there were a couple announcements made by the ship captain towards the beginning of the cruise.
On the final day of the cruise there was no strong-arming to fill out a guest questionnaire to rate our experience on Carnival Spirit, as is common on most other cruise lines. While we assume such a questionnaire was available on request (or that we could make comments to the hotel director), we appreciated that Carnival was confident in its services and product. We also recalled that, when calling Carnival's toll-free reservation number, one of the first prompts is an option to pass along comments about a recent cruise.
Staff
With a couple minor exceptions, service was upbeat and warm on Carnival Spirit. The staff seemed to genuinely enjoy their jobs and didn't break a sweat when keeping us happy.
Tipping
Carnival recommends a tip of $11.50 per day, per guest for crewmember services, other than bartenders. The charge was added to our statement during the cruise. For bar service a 15 percent service charge was automatically added onto all beverage tabs, including minibar purchases.
Dress Codes and Alcohol Policy
Dress on Carnival Spirit was casual by day, and still fairly casual at night. On formal night, some suits and cocktail dresses came out but many cruisers kept their duds simple. At La Playa Grille, bare feet and wet swimsuits were not uncommon.
Loyalty Programs
The Past Guest Recognition program is Carnival's frequent cruiser plan, though it's not pushed hard as on some other lines. Passengers become gold members—the entry level—with their second Carnival sailing, which includes an invite to a cocktail reception on cruises of five days or longer. With their tenth sailing on Carnival, guests become platinum-level members which includes priority embarkation, debarkation and tender boarding, priority reservations for the steakhouse and spa, casino benefits, complimentary wash and fold laundry, and other extras.
Coming out of a recent renovation we would have expected surfaces to be a bit tidier than they were; we found dusty cabinets in the spa and our balcony had a layer of grime that deserved a good scrubbing. We also felt Carnival's approach to hand sanitizers was overly-relaxed. Although hand sanitizers were available on boarding Carnival Spirit and at the ship's restaurants, we do not recall at any point being urged by crew members to use the devices—they appeared to be more like window dressing (and ignored by many if not most of the passengers) than being treated as an important component of today's cruising experience.
A muster drill was held just prior to embarkation the first day. We were not required to bring life jackets from our cabin to the drill and roll call was not taken.
Clinics
A medical center was located on Deck A and was staffed by a doctor daily from 3 to 6 p.m.; the doctor was on-call for emergencies at other hours.
Smoking Regulations
Smoking is not permitted in any cabins, but is allowed on their balconies, for those that have them. Inside the ship, smoking is allowed in the casino, at Club Cool (including cigar smoking) and on the upper level of the Dancin' Dance Club. Outdoors, smoking is allowed on the starboard (right) side of all open decks, including cigars.
Meet the tester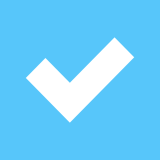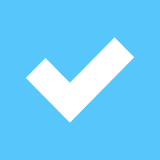 Anonymous Cruise Editor
Editor
@
Anonymous is a valued contributor to the Reviewed.com family of sites.
Checking our work.
We use standardized and scientific testing methods to scrutinize every product and provide you with objectively accurate results. If you've found different results in your own research, email us and we'll compare notes. If it looks substantial, we'll gladly re-test a product to try and reproduce these results. After all, peer reviews are a critical part of any scientific process.
Shoot us an email