Spa Carnival on the Freedom is not very big as compared to the spas on some other mass-market ships. That said, there are several different types of treatment rooms, from an inside (windowless) treatment room to one with an ocean view and one for couples. All spa rooms are swathed in relaxing, muted colors, and some rooms have showers used in certain treatments. There is a small salon accessible from the main entrance, and a spa pool connected to the complimentary locker rooms.
Several types of facial and massage treatments are available, at varying lengths and prices. Among the facial treatment choices is a Hydralift facial for $107, an Oxydermi facial for $152, a Collagen facial for $131, and a Skin Specific facial for $107. Massage treatments include a 75 minute Herbal Poultice massage ($176), an Aroma Stone Therapy massage ($135 for 55 minutes and $176 for 75 minutes), an Aroma Stone Therapy massage, ($135 and $175), a Bamboo massage ($143 and $179), as well as the standard Deep Tissue, Swedish, and Reflexology massages, available in single or couples massages for $107 and $242 respectively.
Though relatively small, the salon is full service, offering mani-pedis, waxing, hair cuts and do-styling, coloring and highlights. Men as well as women are welcome, and there are pampering and grooming services for men that include facial cleansing, shaves, beard trims and men's hair styling. Prices for men start at $15 for a trim and up to $116 for a facial cleanse.
The Spa pool is a complimentary edition to Spa Carnival and you are free to use it whenever you would like. It overlooks the fitness studio which can be a little strange for people on both sides of the glass.
Fitness
The Carnival Freedom's fitness center is rather compact for a ship of its size, but it comes well equipped with treadmills, free weights and other circuit machines. A handful of basic classes focused on such things as an abdominal workout and stretching are free for anyone. More advanced instructional classes in yoga and Pilates can be attended for $12 per person. There also is a three-class "boot camp" available for $120 per person, personal training sessions for $85, and a nutritional consultant available as well.
Outside on deck 12, right at mid ship, you will find a nine-hole miniature golf course titled Putterific Mini-Golf that circles the ship's funnel. The grass may be fake, but the view is spectacular. Pick up your putter and your colorful ball at the first hole, accessible through the sports deck on deck 11.
The Sports Deck on deck 11 has a half-size basketball court and a volleyball net. Shuffleboard courts are located on both sides of deck 3, and on deck 12 behind the funnel. Forward on deck 12, just before Camp Carnival, is one of America's and China's favorite pastimes: Ping Pong. Running around the Sports Deck on deck 11 is the jogging track. It's a bit like a hamster wheel, but passengers seem to have fun with it.
Not far from the Stressless pool is an man-sized chess board.
There are two main dining rooms on the Freedom: the Posh Restaurant, where passengers can dine for early seating at 6 pm and late seating at 8:15 pm, and the Chic Restaurant, where dinner is done on "My Time Dining" and guests can eat any time between 5:45 pm and 9:30 pm. The menus at both of the main dining rooms include items that change daily as well as some standard items that appear every day.
On the Lido deck, between the ship's two pools, you also will find the Freedom Restaurant, where an extensive buffet is served all day in the most casual of settings (i.e. you won't be out of place if you show up in your bathing suit). Food ranging from Indian, Mongolian Grill, Seafood, and Sushi is offered here, but also other international cuisine, like Italian, Jamaican, English, and of course American. There is also a deli station, where guests can put together their own hot or cold sandwiches.
Outside the Freedom Restaurant, on the Lido deck, are two grill stations with burgers and hot dogs, as well as the Tandoor station and a 24-hour pizza bar. On the upper level of the Freedom Restaurant Carnival offers everything seafood: Fish & Chips, Nigiri, Bouillabaisse, and different seafood salads.
The Carnival Freedom has one extra-charge specialty restaurant, the Sun King Steakhouse. Reservations for the Sun King are necessary and a cover charge of $20 applies. The dress code is smart casual. The extensive menu includes some French and Italian dishes, and as one would expect for a steakhouse a number of different cuts of beef, pork, and lamb.
Note: In June 2012, Carnival increased the surcharge on all its steakhouses, to $35 per person.
Though you can find a number of different beers and mixed drinks on menus, there are no drink packages for beer and spirits. Each drink must be purchased at the listed bar prices.
Wine, however, can be bought in bulk several bottles at a time at a 25% discount, to be drunken over the course of your cruise.
Beer & Wine
The wine lists in the various restaurants on the Carnival Freedom pull from all over the world, featuring Champagne, Burgundy, and Beaujolais from France; Prosecco, Chianti, and Pinot Grigio from Italy; and Korbel, Chardonnay, and Merlot from California. Most of the wines are sold by the bottle rather than the glass. There are a number of fairly pricey wines on the wine lists, including a Chateauneuf-Du-Pape from the Rhone region in France for $110, or a Grand Cru from St. Emilion in France for $115. The Sun King Steakhouse offers a few additional reserve wines, like a Cabernet Sauvignon for $180 or an Opus One for $225, both from the Napa Valley.
At bars across the ship, there is Champagne, various wines, Port, cognac, and brandy by the glass starting at $5.25. You also can find domestic beers like Blue Moon and Budweiser as well as some imported selections.
Mixed Drinks
The bars will serve you pretty much any mixed drink you can think of, including a number of specialty martinis such as a pomtini, appletini, bluemoon and tiramisu martinis for $8.95. The Carnival signature cocktail is "The Fun Ship" that comes with a souvenir glass and is made with amaretto, rum, vodka, apricot brandy, and some juice. If you keep the glass, refills are $6.75. Standard cocktails range between $5.50 and $7.50.
The Carnival Freedom also offers a number of unusually-named frozen drinks designed to tap into that sunny cruise vacation vibe, like Kiss on the Lips, Mocha Chocolate Getaway, and Hurricane Waves. Bars also serve up more standard frozen daiquiris, all for $7.25. Each of these drinks can be done without the alcohol for $4.75.
Champagne, wine, port, cognac and brandy by the glass will set you back $5.25. Drinks straight up or on the rocks range from $4.95 to $7.50 depending on which specific brand of liquor you want to be included.
The drink menus are basically the same throughout the ship with a few variations found at the bars by the pools, and there also are drink specials that change daily.
Drink Packages
Liquor cannot be purchased in bulk for a discount (we know, it's vacation, how dare they?), but wine can be clustered into a package to get 25% off the regular list price. There is also the Bottomless Bubbles soda card that allows for endless soda throughout your stay on the Carnival Freedom. Kids pay $4.50 per day for such a card; adults $6 per day.
Non-alcoholic Options
Soda, juices and smoothies are all offered on board at most bars. In addition, all frozen alcoholic drinks also can be made in a non-alcoholic version.
Editor's Note: In April 2014 Freedom was taken into dry dock for an extensive overhaul to add a number of new features as part of Carnival's Fun Ship 2.0 upgrade program. Among them, Guy's Burger Joint, BlueIguana Cantina, RedFrog Rum Bar, RedFrog Pub, EA Sports Bar, Alchemy Bar, Playlist Productions, The Warehouse and Hasbro, The Game Show. Freedom will also be Carnival's first ship to debut Bookville, the new Dr. Seuss-inspired kids program that will be rolling out to the fleet, one ship at a time. We'll take a look at Bookville in a future ship review, but you can preview Freedom's other additions in our review of Carnival Sunshine here.
Unveiled in 2007, the Carnival Freedom is one of Carnival's newest ships. Currently based year-round in Fort Lauderdale, the 2,974-passenger vessel was the last of the line's five Conquest Class ships, and it sails a variety of six-, seven- and eight-night itineraries to the Caribbean, including some Southern Caribbean itineraries that include stops in Curacao and Aruba.
The Freedom was the first Carnival ship with an adults-only Serenity deck-top area, something still only available on a handful of Carnival ships. Designed as a quiet zone away from children, the adult-only area, alas, is located very close to the ship's Camp Carnival children's area, so it is not quite as quiet as you may hope.
The Freedom offers two main restaurants, one that provides traditional fixed seatings at two times (early and late) and one that operates on Carnival's more flexible "My Time Dining" system. There also is a buffet eatery situated between the two main pools that is open much of the day, with two sets of grills on either side that run all day and night. For a little extra money and a reservation, you also have the option of dining in the ship's signature restaurant, the Sun King Steakhouse.
In addition to pools, the top areas of the Carnival Freedom feature a Sports Deck with a basketball court and a miniature golf course as well as bars galore. There also are extensive children's programs on this ship, with several areas and activities broken down by age group.
Like other Carnival ships, the Carnival Freedom is a big, bustling vessel that will appeal to a spirited, fun-loving crowd — particularly those on a budget. A luxury ship, it isn't, but the fifth of Carnival's Conquest Class series offers a lot of value for the money, with most activities, shows and meals included in the basic fare.
We found the food to be good but not great, although for a few extra greenbacks the ship's signature, extra-charge Steakhouse proved to be a winner.
Among our biggest complaints about the Freedom was that it felt a bit too crowded at times. The ship's pools, in particular, were uncomfortably crowded on both sea and port days during our voyage. No one wants to cram into a constantly splashing body of water; there is nothing relaxing about that. In addition, while the ship's staff was friendly, they sometimes appeared overworked, and we found the service from our room steward and dinner attendants slow at times.
That said, there was a lot to like about the Carnival Freedom. One thing that really grabbed our attention was how spacious the rooms were for a mass-market cruise ship. Usually we expect to be rolled into a sardine can-like space when aboard a ship, but there was space to breathe in the Freedom's cabins. Even the inside cabins exceeded our expectations.
The Carnival Freedom can be really fun and lively. It's a great ship for solo travelers, even though there are — surprisingly to us — not many singles events. The bar culture and layout make the situation optimal for meeting other adventure seeking voyagers.
The Freedom also is an ideal ship for families. Kid clubs such as Camp Carnival and Club O2, and activities such as the grand water slide, will keep children of all ages happy, while the adult-only Serenity deck will give their parents a chance to actually relax while on vacation.
All together, we enjoyed our stay aboard the Freedom with a few caveats. The rooms were well worth the price, the bar culture was hopping, but the food was not as gourmet as Carnival claims, and you may be fighting for space at some of the topside activities.
The Carnival Freedom offers relatively large standard cabins for a mass-market ship. Inside cabins (those without windows) measure 195 square feet, which is several dozen square feet more than the inside cabins on the ships of some competing lines, and ocean view and balcony cabins also are relatively large.
The Freedom also offers several classes of suites, although in general there are fewer suites on the vessel than on the ships of such competing lines as Norwegian Cruise Line and Royal Caribbean. The typical suite is 350 square feet (including a 65-square-foot balcony), and there also is one 430-square-foot penthouse suite.
The ship also offers 18 "family staterooms" that have floor-to-ceiling windows but no balcony and measures 230 square feet.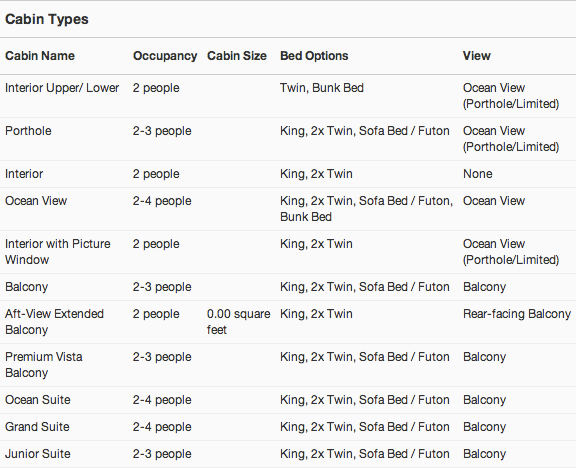 The Carnival Freedom offers three different areas for children broken down by age group, making it a great choice for families.
Club O2 is for teenagers 15-17 with parties, video games, movies and other clean cruising fun on deck 5.
Circle "C" on deck 4 is for the tweens in your family (ages 12-14) with appropriate video games, dances, karaoke and late night movies to make them think they are being mischievous.
Camp Carnival is for the young ones, with activities designed for ages 2-11 on deck 14. Activities are supervised and separated into three groups for more age appropriate fun.
The Havana Bar's name and appearance confused us into thinking it was a place to buy and smoke cigars, but oddly enough, it is not. Leather couches and chairs are set around tables with legs designed to look like the nipped ends of a cigar, and there are lots of pictures of Cuban cigar brands. The bar area itself is expansive, with stools that also look like cigars (you can understand our confusion by this point). There also is a dance floor in the center of the Havana Bar, and they play rock music here (a bit incongruously, we think, given that the Cuban-themed decor would seem to call for a more Latin vibe). This place is fun, but in our opinion suffers from a bit of an identity crisis.
The Havana Bar is often alive with music. Both DJs and live piano players perform here into the night. There are also event nights including family and adults-only karaoke nights as well as an adults-only "Grown up Game Night," which at times can get a little saucy.
The Posh Restaurant occupies two decks with a large staircase between. Tables are done up in classic style in gold and black tones, dark wood, and white tablecloths. Given these dark hues and low lighting at dinner, it can be hard to see at times.
And if that's not enough, the wait staff performs a song and dance every night. That is, they literally sing and dance, not just work really hard to serve a meal for thousands of people, something they also do every night.
Breakfast was concise; egg dishes, french toast and pancakes with a few fillings. Five words: Banana pancakes with fried banana; one of the best meals we had on board.
The Posh Restaurant only serves lunch on sea days. The menu is highly diverse, with dishes from around the globe. Alas, the result is spotty. The California sushi roll wasn't high quality; too much rice, not enough vinegar. Spaghetti with meatballs was decent, but needed seasoning. We did like the avocado soup though, which was well prepared.
Dinner was tasty, but not the gourmet food Carnival claims to serve. We understand chefs must accommodate many people's tastes with a single menu, but dishes were often bland, and the jerked pork had no kick at all, lacking all that makes it jerked.
Some items on the dinner menu stood out as spectacular however. Alligator fritters, though too few in number, were delicious. The prime rib was cooked perfectly, and savory to the last bite. We were more than satisfied with the mango cream and the frogs legs in herb butter. As a main dish, our favorite was the salmon with artichokes, sun ripened tomatoes, and kernel corn medley, perfectly made and oh so tasty.
A good selection of desserts are offered at every meal, including melting chocolate cake with ice cream, a heavy dish that is the gold standard of mouthwatering.
Timeless Pool
The Timeless pool is the main pool on the Carnival Freedom, and it's part of a deck area that also includes two whirlpools and a smattering of sun chairs all around. A statue of a woman in a bathing suit sits at one end.
The Timeless pool is not very long, but it is deep enough (4'9'') to do a few laps if you can make the space for yourself. There is a shallow area to the pool as well for wading and sipping specialty cocktails from one of the two bars flanking each side. There also is a smoking area on the port side of the pool, where there are plenty of tables and chairs.
The Timeless pool area is where you will find the ship's massive 12- by 22-foot screen where Carnival shows feature films in the afternoon and night. It is hard to see the screen through the glare of the sun in the afternoon, but at night it can be quite enjoyable to sit out and watch a show. Other entertainment you may see at the Timeless pool area includes live bands and the occasional hairy chest contest.
Endless Pool
On Deck 9 aft of the Freedom is the Endless pool, which features a statue that is a counterpart to the lady in bathing suit found at the Timeless pool. There also is a bar here with sitting areas where you can eat food from the Freedom Restaurant. Between the bar on one end of this area, a beverage station at the other end of the area, and its pizza station, grills and two whirlpool tubs, you could spend the whole day at the Endless pool. On rainy days, the Carnival crew will retract the glass ceiling and the fun continues rain or shine.
Stressless Pool
The Stressless pool is located on deck 10, which is connected to other decks and the Timeless pool by a series of terraces. There is a single whirlpool at the Stressless pool from which you will find the best view of the ship and the gargantuan screen by the Timeless pool.
Twister Waterslide*
The water slide entrance is on deck 14 and the ride will spiral you three floors down to deck 10, where you will emerge at the Stressless pool.
The Fun Shops
The Fun Shops sell a variety of goods including jewelery, watches, tobacco products, alcoholic beverages, perfume, accessories, clothing, knickknacks, and other souvenirs. When you reach international waters, all items become duty free. Look for frequent jewelery and watch sales (up to 40% off).
Photo Store
Like other mass-market ships, the Carnival Freedom is awash in photographers who roam the vessel taking pictures of passengers. The thousands of photos they take during each voyage are posted along the walls of the Photo Store, and you can purchase them for a fee. It can be hard at times to pick out the photos in which you appear, given the large numbers posted here, but you also can search for your photos on the computers located in this area.
The entrance hallway has three closets off to the right, and a door on the left opens to the bathroom. Just down the hall is the bedroom, a small living area, and the view through a sizable porthole.
One sits inside a relatively large bedroom for an Ocean View cabin, which is equipped with a king sized bed, that can be converted to two twin beds. Besides the bed, there is a small sofa that is more than suitable as an extra bed. There is enough space in this one room for the sofa, a coffee table, and one extra chair making a reasonable living area in a budget room.
The bathroom is large for what you expect on a cruise ship. Though two people can be using the mirror at the same time, some of this extra space encroaches on the shower which is a little cramped. Plenty of counter space will hold all the toiletries you can bring with you.
Don't you hate it when you go on vacation, you have brought a few nice outfits, but when you get to your room there are not enough hangers and you have to double up your clothes and they get all bunched and wrinkly? Well Carnival has anticipated this traveling woe and supplied you with three closets and plenty of hangers. Also, there are some shelving units to the left of the closets for extra storage. The desk in the room is another storage area, with five drawers to keep all the little knick-knacks organized.
The Chic Restaurant is a sister restaurant to the Posh Restaurant, and it sports the same interior design and menu. The only difference between the two is that the Chic Restaurant offers "My Time Dining" where passengers can arrive for dinner at their leisure, any time between the hours of 5:45 pm and 9:30 pm.
Swingtime is a small bar located next to the International lounge. It is one of the few areas on the interior of the Carnival Freedom that allows smoking and, as a result, has become somewhat of a haven for smokers (and fairly smoky; if you're not a smoker, you may want to stay away).
There is a small stage and dance floor at Swingtime where music keeps the evening lively. There also are benches scattered throughout this club where you can ensconce for a view of the action on stage.
There is live music almost every night at Swingtime, but no other events are hosted here.
Promenade
While it doesn't circumnavigate the entire ship, deck 3 serves the purpose of a promenade and also features sun lounges, shuffle board and a port side smoking area.
Serenity
The Carnival Freedom was the first Carnival ship to have an adults-only Serenity Deck, where cushioned sun chairs, beach chairs, hammocks and whirlpools await passengers who want to get away from children. It is definitely more quiet here, though a bit crowded on sea days. Be aware that the lower front part of this deck is right next to Camp Carnival, where the thing you are trying to avoid most, the grating noise of children's laughter, wafts from the depths below.
Deck 10
Deck 10 overlooks both of the main pools and offers a great view of the ship's monstrous LED screen and the ocean. This deck can be a bit overpopulated on sea days, likely due to its good location.
Deck 11
Deck 11 is the sporty deck, connecting the jogging track and the sports area. It even has some shuffle board, if you count that as a sport. One drawback to this area is it can be loud as it is located right next to one of the ship's noisy funnel towers. As a result, it seems that many people avoid this area, making it a place where you can find some privacy in one of the sun loungers.
Deck 12
You will find a nine-hole miniature golf course on deck 12 and a small sun deck with loungers. You can get here only by going through the sports deck.
Deck 5
On deck 5 are arm chairs, massage chairs and tables, and it connects venues like the casino, the sushi bar, the 70's disco, and the wine bar.
We've not yet stayed in these cabin, but here's what the cruise line has to say:
Interior
Two twin beds (convert to king). Chair and coffee table. Full bathroom with shower. Three closets. – Carnival Cruise Lines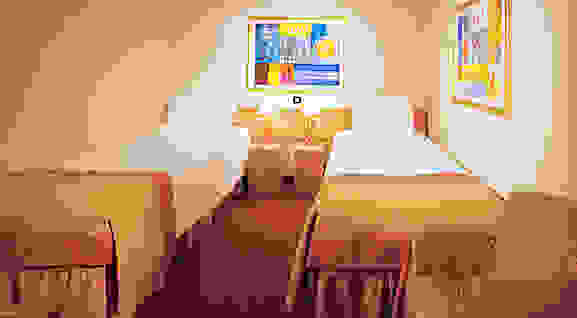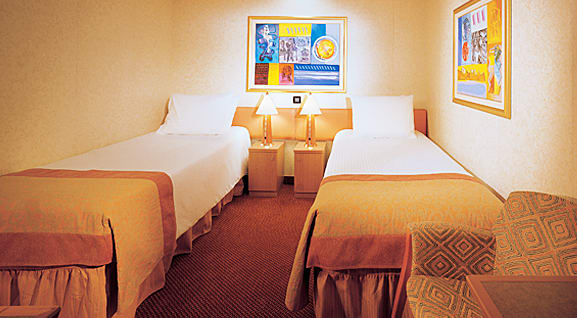 Balcony
Two twin beds (convert to king) and one upper. Sofa and coffee table. Full bathroom with shower. Three closets. Private balcony with patio chairs and table. – Carnival Cruise Lines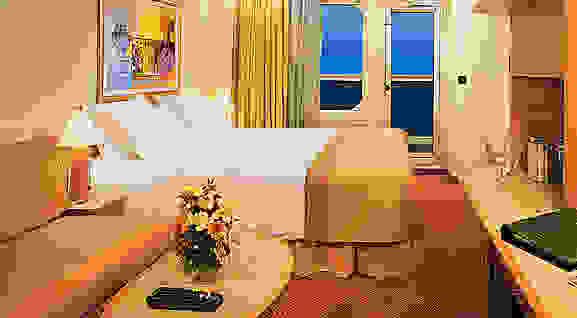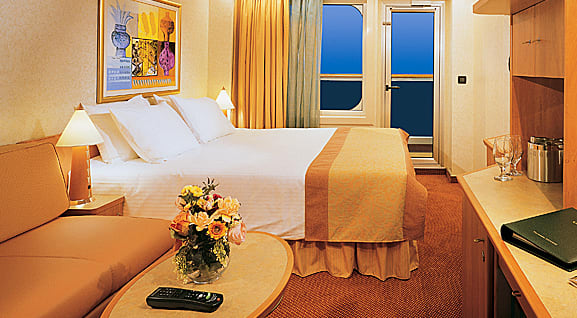 Premium Balcony
Two twin beds (convert to king) and one upper. Sofa and coffee table. Full bathroom with shower. Three closets. Private aft-facing extended balcony with patio chairs and table. – Carnival Cruise Lines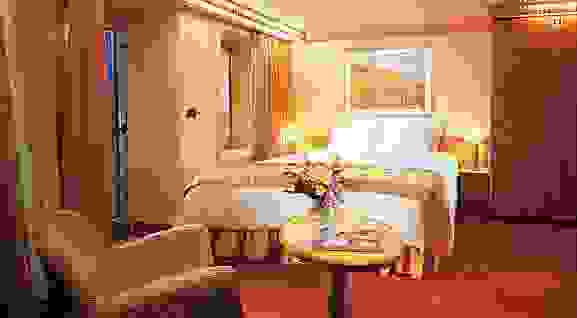 Ocean Suite
Two twin beds (convert to king) and single sofa bed. Sofa, armchair, and coffee table. Full bathroom with shower/whirlpool tub/double sinks. 2 large closets. Walk in dressing area with vanity table and chair. Private large balcony with patio chairs and table. – Carnival Cruise Lines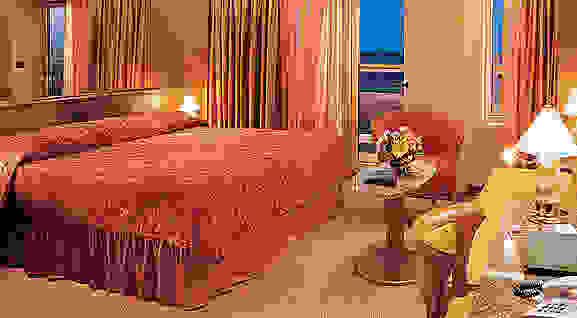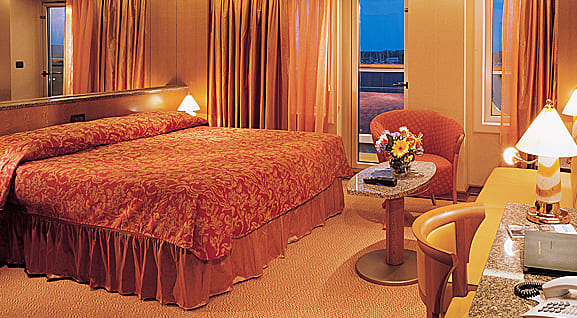 Grand Suite
Two twin beds (convert to king) and single sofa bed. Sofa, armchair, and coffee table. Full bathroom with shower/whirlpool tub/double sinks. 2 large closets. Walk in dressing area with vanity table and chair. Private large balcony with patio chairs and table. – Carnival Cruise Lines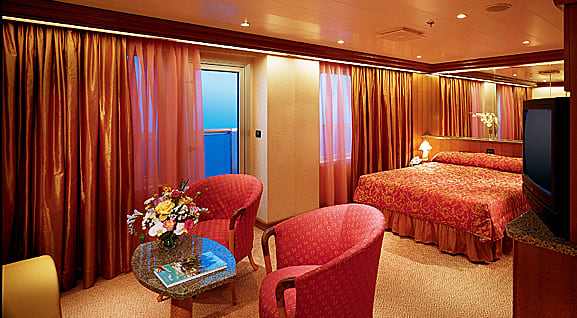 Nouveau offers a large list of wines and champagnes from all over the world. Cocktails and beer that are available on the rest of the ship also are offered at this bar.
The occasional wine and martini tastings are hosted by trained Carnival staff. This also is the bar where "Friends of Dorothy" gay and lesbian passenger meet-ups are held, and singles congregate here for a fine wine and welcoming camaraderie.
The Carnival Staff are generally very friendly, although we did feel like service was a little slow in the ship's main restaurants, which is perhaps understandable given the sheer number of guests.
Though we never saw our room steward, the room was always magically clean and neat. Our only complaint with the service we received at our cabin was the high amounts we were charged for laundry service, which obviously isn't the room steward's fault (and note that there are laundry specials during the voyage as well as a coin operated launderette on some decks.
One nice service touch on the Carnival Freedom is the availability of Luggage Express, a program that allows passengers to check into their flights in advance from the ship and have their luggage sent directly to their airline (you don't have to worry about the luggage again until you land at your final destination). You must be flying on one of the following airlines to participate in Luggage Express: Delta, JetBlue, Continental, Southwest, American Airlines, AirTran, or US Airways.
Staff
The staff aboard the Freedom were extremely friendly. That said, we found the room stewards could be a little inflexible at times. They require your room service to be left outside the room for pickup, and they needed repeated encouragement to remove the towel animals they left in the room.
The service in the main dining room left us wanting more. There were two sets of silverware, but when we ordered two appetizers no replacement was offered for the third course. When we changed our minds about a dish because it was just not to our liking, the staff did not appreciate the confusion. If you order an appetizer, you might see it with the rest of the entrees.
Tipping
Carnival automatically adds a gratuity to your bill at the end of the trip, and at the time we traveled the fee was $10 per person per day. Any drink you order also has an additional 15% gratuity added to the base charge.
Dress Codes
When visiting the main dining room and the ship's interior bars, Carnival asks that you observe a "smart casual" dress code — i.e. no bathing suits or flip flops. The Sun King Steakhouse is a more formal affair, with men asked to wear jackets to dinner. The buffet, by contrast, is very casual; you can slip in and out of there with whatever you threw on to go to the pool. There is one Captain's Night where formal attire is recommended for dinner.
Loyalty Programs
After your first Carnival cruise, you are added to the loyalty program. After 10 cruises with Carnival, you become a Silver Member with some decent rewards and priority boarding.
Viennese Café
The Viennese Café offers great tasting coffee drinks such as lattes, cappuccinos, espresso, and americanos, available in large and small sizes. You will find it on the deck 5 Promenade where you can accompany your caffeine intake with cakes and pastries. It opens by 7 am and closes at 1 am. On port days, the Viennese is closed between the hours of 10 am and 3 pm.
International Lounge
The International Lounge features the secondary stage on the Freedom and is home to regular comedy acts, karaoke, live music, and art auctions. The stage is small, making for an intimate setting where you can see and hear performances from anywhere you sit.
The Web Internet Café
Located on Deck 4 behind the Habana bar you will find the small Web Internet Café, where you can access the Internet (for a charge).
Conference Rooms
The Dynasty Conference room on deck 4 can be reserved for all your business needs. The room is 1,310 square feet and can be divided into two smaller rooms, each with a 8' screen and projector, with an overall maximum capacity of 125 people.
Library
The ship's library, dubbed the Monticello after Thomas Jefferson's Virginia home, is quite small. There are just three book shelves and a few sets of board games. You will find it right next to the photo gallery.
A Manhattan-chic steakhouse decorated with pictures of its namesake, the French King Louis XIV, and a whole lot of gold. White cloth and imitation candles top the tables. You pay an extra $20 for the privilege of dining at Sun King, but it's well worth the price.*
The menu focuses on gourmet steaks and seafood. The Sun King is great for those looking for a romantic night out, and also for those who are red meat lovers.
The culinary experience starts immediately after seating, as a waiter brings focaccia with butter, eggplant tapenade and tomato confit bordering on the divine. After this pre-appetizer comes an amuse bouche, one of the chef creations of the night. Our miniature tomato soup with croutons and Parmesan was excellent.
For the rest, we highly recommend the thinly cut beef carpaccio. It's a perfect appetizer, light, piquant and the beef melts in your mouth. The beef tomatoes with Gorgonzola crumbles is superb as well, both fruity and savory at the same time.
The main feature, steaks, are cooked precisely to order. The lamb was our favorite here. Two chops are served with three small pieces of lamb tenderloin. The chops almost fell off the bone, with taste to match the perfect texture.
Desserts were especially rich at the Sun King. The desserts sampler was our favorite, with tastes of bittersweet chocolate cake, banana panna cotta, tiramisu, and chocolate marquise with raspberry and mint. The marquise stood out most, both for its flavor and because, after a large steak dinner, it was the lightest of all the samples.
The wine list at the Sun King is certainly extensive, including white, red, sparkling, and reserve wines from all over the world. You can have a glass poured for as little as $7, or a whole bottle of Opus One Reserve for $225, and anything in between.
Note: In June 2012, Carnival increased the surcharge at all steakhouses to $35/person.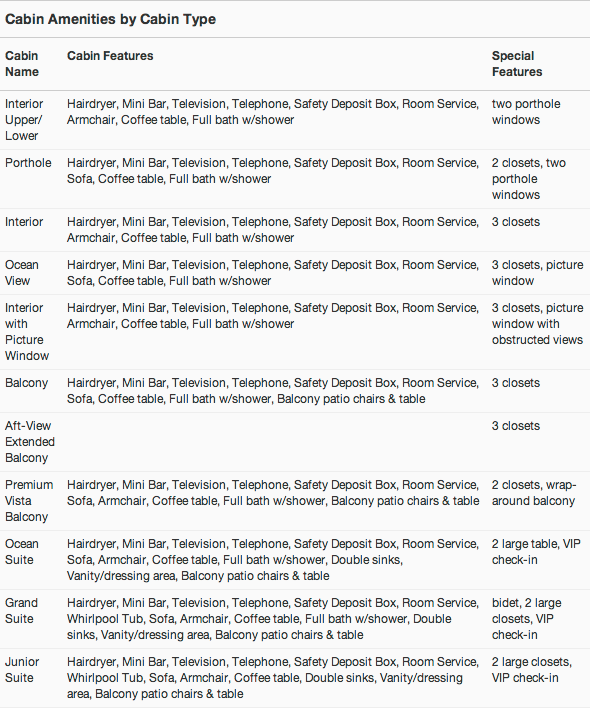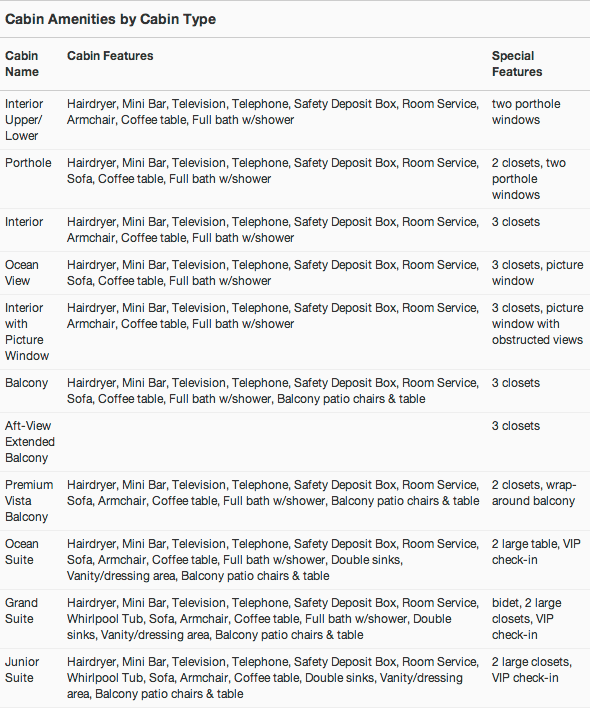 Every room comes with a television, wireless internet access, a mini bar, soft carpeting, indirect lighting, air conditioning and plenty of closet space. Carnival also provides a safe in every room to lock up your valuables. Each cabin bathroom has a hair dryer built into the wall, and each bedroom has air conditioning that you can control.
In the bathroom on the first day of the cruise you will find a small amenity package that includes complimentary shower get, two disposable razors, hand soap, toothpaste, and shampoo.
In the Mini Bar, you will find soda, water, beer, and spirits, but they come at a cost: $5.50-$7 for spirits; $4.94 per beer; and $1.95 for a soda. A big bottle of water will lighten your wallet by $3.95.
The televisions in standard cabins are relatively small at 18 inches and, as is common on cruise ships, only get a handful of channels. There are three channels that play movies (alas, we couldn't find any information on the television or in the room as to which movies would play and when) and 10 other channels such as CNN that come in over a satellite and as a result don't always work. You als can order movies through the television on a pay-per-view basis for $8.99.
Wireless internet runs throughout the ship. You can purchase minutes according to the following payment plans:
Longer Cruises (6 days and longer)

* 250 minutes for $100.00
* 100 minutes for $55.00
* Pay As You Go: $0.75/min
Shorter Cruises (5 days and shorter)
* 60 minutes for $24.00
* 30 minutes for $16.50
* Pay As You Go: $0.75/min
The internet connects via satellite, which is very different than on shore high-speed connections, and is not guaranteed at all times since satellite connections are very sensitive to weather.
Printing is available in the Internet Café at $0.50/page
You can make and receive calls and text messages on your cell phone too. Be aware though, international roaming rates apply and will be billed by your home carrier.
The phone in your room can be used for international calls too at $6.99 per minute to the US, Canada, Puerto Rico, and the Caribbean islands, it is $9.99 for international calls.
Located on the Lido deck, between the two main pools, the Freedom Restaurant is the ship's buffet option. Like many buffets on large cruise ships, it's cavernous and feels like a canteen. There are four buffet areas: Two in front and two in back, though the selection is the same at all four.
Drink stations with juices, coffee, water and tea are located all over the restaurant.
At breakfast the Freedom Restaurant offers pancakes, waffles, french toast, made-to-order omelets, bread, various breakfast meats, cheeses and pastries. There's a cereal bar next to fresh fruit for the health-minded. Scrambled eggs and bacon were often made an hour or so before arrival, and can be less than appetizing. Omelets and pastries were our go to options, and didn't disappoint.
The salad bar seems to stretch forever with tasty options aplenty. The Mongolian grill lets you choose vegetables, meats, noodles, and sauces for the chef to stir-fry together for you. We appreciated how healthy and satisfying this could be.
The buffet changes regularly according to the "Taste of the Nations", implying recipes from Italian, French, American, and Caribbean influences. The spread usually includes a carving station where you can find roast beef or other large slabs of well cooked animal.
Don't forget the dessert station! Different desserts every day en masse line this buffet, some highlights being a hazelnut chocolate cake, cheesecakes, tarts and fruits.
As the name suggests, 70s is a bar and dance club that focuses in on the Disco era of the 1970s. The 1970s-themed decor brings passengers back to the days of disco using a palate heavy in bright reds and blues.
There are regular Disco nights at 70s as well as dance competitions, and it's not exclusively for adults. There also is an evening for "teen disco" where you'll see youngsters born long after the Disco era taking to the floor to give it a try.
General Safety
Like any good ship, the Carnival Freedom has all sorts of safety equipment, from easily accessible life boats to fire extinguishers. There is a mandatory safety drill for all passengers on the first day of each cruise, and the crew also holds occasional drills on other days.
Clinics
There is a medical clinic on deck 0, open a few hours in the morning and the afternoon. There are charges for medical attention.
Smoking Regulations
There are a few designated smoking areas on the open-air decks of the ship as well as two places on the interior ship where smoking is allowed: The Swingline bar and at one side of the Casino Bar. There is no smoking allowed in cabins, but you can smoke on a cabin balcony if you have one. Those who are caught smoking in their cabins will incur a $250 cleaning and refreshing fee on their Sail & Sign card account.
Movie Theater
While there is no formal movie theater on board the Carnival Freedom, the giant 12′ × 22′ exterior LED screen near the Timeless pool serves as a show place for the broadcast of movies, videotaped concerts, news programs and live sporting events. The picture is clear from all around the Timeless pool deck, and the 70,000-watt speakers make it pretty easy to hear. You can also catch first-run feature films at the Victoriana Theater according to schedule.
Victoriana Lounge
The main stage on the Freedom is the Victoriana Lounge, featuring a revolving orchestra pit and a recessed speaker system. All shows are produced by Carnival Cruise Lines. Most of the shows are musicals, but there are also comedians. Other events include featured movie showings and a Bingo night. The theater itself is enormous, filling up more than two deck levels.
Arcade
The arcade is relatively small. You can buy tokens for the various games with your sign and sail card.
The Centuries Bar is the bar at the ship's Casino. Smoking is allowed at one half of it.
Centuries offers a few drink specials that make it unique. Flavored margaritas, Bellinis and flavored martinis can be had for a special price.
There's usually a solo guitarist playing at night in the Centuries Bar. On our cruise, the guitarist who performed regularly in the space seemed to focus on Country tunes, and he was pretty darn good.
Offering only seafood, Fish & Chips is part of the Freedom Restaurant. Just above the main buffet, it's a separate area that's smaller and more specialized, with less of a buffet style, since the food is served from a separate, small galley.
As one would hope for a place called Fish & Chips, the fish and chips here are great, both crispy and tasty, with bottles of malt vinegar for seasoning found on the tables. Other menu options include bouillabaisse, fish soup, octopus salad, shrimp salad and other seafood salads.
The Babylon Casino offers all of the table games and slot machine offerings you would expect from a fairly large size casino. Smoking is allowed in the casino but only if you are playing a game or at the one half of the bar where it is allowed; otherwise lighting up is forbidden. The bar at the Babylon Casino often has a live guitarist playing Country tunes.
The Babylon Casino offers hundreds of slot machines that start at a nickel per play. A standard selection of casino table games are available here including black jack and several varieties of poker, including Texas Hold 'em. There are two roulette tables and two craps tables to set the gaming foundation at the Freedom Casino.
Instead of continuously plugging machines with coins, you can sign up for the Player's Club and use the Sail & Sign card to work the slots. With this card you earn points, 1000 points equivalent to $10 cash back. If you earn 1500 points on slots with your card, your drinks are free!
For more information on the Players Club Sail & Sign Card, and the rewards programs, visit the Carnival Website.
Just off the Casino, the Players Sports Bar is packed with TV screens showing all sorts of live sporting events.
Just to either side of the Freedom Restaurant are several grill stations, as well as a pizza bar that operates day and night, similar to a college campus all-night grill. By the Timeless pool, there is a grill serving burgers, hot dogs and fries, as well as a Indian station with tandoor oven-cooked dishes and other specialties. By the Endless pool lies the pizza bar and another grill station.
At the pizza bar, you'll find slices of cheese, pepperoni, vegetarian and Margherita pizzas. Ring a little bell, and a staff member will come out to serve you a slice of your choice. For buffet pizza, it's really not bad.
At the grill, burgers and dogs are made to order, which is a nice touch (they are not laying around all day in the sun, and taste really great for what they are).
The Tandoor is the most exciting and delicious venue here, in our opinion, even though the selection isn't large. You can grab a curry, a few rice dishes and several sauces to go with it all. We say yum.
As part of the Promenade deck 5, right behind the casino, the Meji Sushi Bar lacks any dedicated tables, but there is a small seating area. Sushi is displayed behind glass, and decoration is sparse, with some bamboo and a few fake flowers.
We found the sushi here not as good as what we ate on our visit to Carnival's newest ship, the Carnival Magic. The rolls are a little too thick, and the Freedom specializes in California and vegetable rolls, but don't get into anything too challenging, like eel.
On either side of the Timeless pool, there is a bar. The starboard bar is non-smoking, the port side is a smoking venue, and never the twain shall meet. Both sections of the bar are adjacent to the Tandoor and Grill. These bars open in the morning to ensure you fill your quota of holiday day drinking.
The drinks menu is nearly the same here as at other bars on the ship, although some specialty drinks are only available poolside. At the pools you can grab a Mango Swirl, a Shadeade, or a Twilight Zone for $7.25. On some sea days you can get a drink made in a plastic coconut or an actual fresh pineapple for $12.95.
Every now and again there are live bands at this pool and, this being a Carnival ship, a "Hairy Chest Contest."
Carnival has hosted the Chef's Table experience on several ships for about two years. For an surcharge, it's an elaborate, gourmet meal, accompanied by a thorough galley tour hosted by the executive chef, offered once per voyage for up to 14 people. During the tour, appetizers are served, and we are then escorted to the Card Room. All seven courses are assembled here for the guest's viewing pleasure.
The meal itself was entertaining and the food was good, but not mind-blowing.
A basket of breads with olive brioche, focaccia, and baguettes came with salted butter and pumpkin butter. After this came three small tastings, starting with ahi tuna tartare with a wasabi crisp in a bite-sized amuse bouche; sweet, savory, and tangy all at the same time (very satisfying). Next, a duck pot sticker, roasted duck in flaky dough with a slight dusting of something sugary. This was followed by a steak taco that was just okay, and not very special.
When we finished, we were blitzed by no less than six main courses. First, a delectable Norwegian salmon tartare with avocado mousse and salmon caviar. Second, fire roasted tomato and poblano chili bisque, with grilled corn and a cilantro drizzle, the best of the warm appetizers. Rock shrimps and apple beignets with a tapioca crunch and garlic lemon aioli followed. The tapioca chip pulled this dish together, melding the apple's sweetness and the seafood's flavor miraculously. Next came a Mediterranean salad with shaved pumpkin and crumbled feta, basically Greek salad with a less than inventive twist. Chilean sea bass was cooked to perfection, with wine-stewed shallots and chive vinaigrette, leek emulsion, and pea risotto. Dinner ended with filet mignon; the meat was a perfect medium rare, and the bell pepper seed mustard was an interesting and welcome addition. The side of steamed broccoli seemed a little tacked on, we'd hoped for a bit more of a surprise with the final side.
We were, of course, served the signature melting chocolate cake that we saw the pastry chef prepare. But there was a second surprise dessert of a white cake with cream filling, berry sherbet, and a coconut gelatine strip which was a wonderful cap to a flavor packed evening.
The chef chose wines to pair with each of the courses, one Sauvignon Blanc and a Shiraz to go with the filet.
Located nearby the ship's outdoor pizzeria and grill, adjacent to the Endless pool, this is a small bar where you can grab all sorts of cocktails and specialty drinks starting in the late morning.
Room service takes between 30 and 45 minutes to be delivered to your room. The menu is brief, featuring a short list of cold sandwiches (tuna, ham and cheese, BLT, shrimp salad, roasted NY strip loin and cheddar) and a few hot items as well (grilled cheese, hot Ruben, chicken fajita, hot pastrami). Supplementing the sandwiches, there are two salads and a crudité plate of veggie sticks and blue cheese for dipping. For your sweeter side, there is a dessert menu with two cakes and fruit.
Breakfast items on the room service menu are limited to cereals, yogurt, breads, pastries, and hot and cold beverages. Do not get your hopes up for more robust options such as eggs, meats and cheeses, or you will be disappointed. You can get breakfast until 11 am, and order it in advance by 5 am or by phone the same day.
Of the sandwiches, the BLT is one of the better choices we found though it does not have that much B compared to L and T. The chicken fajita was the most satisfying with lots of chicken and guacamole in a tasty jalapeño and tomato wrap. The salads — a Caesar and a mixed greens — were underwhelming.
Dessert is a standard list of cheesecake, chocolate cake, cookies, fruit, and one odd outlier: strawberry yogurt.
You can order juices, coffee, tea and milk for free any time you like. At regular bar prices, the staff will deliver soda and beer as well.
Even the lobby has a bar on the Carnival Freedom, and not just a bar but a dance floor.
There is generally some live music to dance to, but the real excitement is the beginning of a ship-wide scavenger hunt that begins at the Millennium Lobby bar.
Stuck right in the middle of the room is a large piano, operated by a series of talented piano men and women. Decorations for this bar are in line with the theme, piano keys are all over the walls and the ceiling here.
Bar trivia is one of a handful of events held each cruise at Scott's Piano Bar. There also are sing-a-long events, including some designed for singles to meet up.
Meet the tester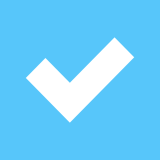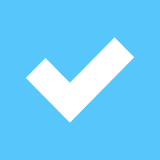 Anonymous Cruise Editor
Editor
@
Anonymous is a valued contributor to the Reviewed.com family of sites.
Checking our work.
We use standardized and scientific testing methods to scrutinize every product and provide you with objectively accurate results. If you've found different results in your own research, email us and we'll compare notes. If it looks substantial, we'll gladly re-test a product to try and reproduce these results. After all, peer reviews are a critical part of any scientific process.
Shoot us an email