Cruises
Carnival Victory Cruise Review
A good option for short, inexpensive cruises, but those who want Carnival's latest upgrades might wait until promised renovations are in place.
Credit:
Spa & Gym
The facility is managed for Carnival by Steiner Leisure, a company that oversees spas for the majority of cruise lines. Treatments were on-par with or slightly higher than at most resorts. The 50-minute facials ranged $119 to $169 and massages ranged from $119 for the 50-minute Swedish massage to $199 for the 75-minute Lime and Ginger full body exfoliation and massage; the 50-minute couple's Swedish massage was priced $269. As is typical on most ships, specials blossomed on port days, and there were discounts for multiple treatments.
Other procedures available included teeth whitening, acupuncture, Ionithermie, waxing and men's grooming. The men's and women's changing areas had private sauna and steam rooms, open to those not signing up for a treatment. There was a spa "ice cream" party for pre-teens—foot scrub, massage and pedicure ($39) and a teen spa pamper party adding in a facial and scalp, neck and shoulder massage ($99).
Elemis products were the primary brand used for spa and facial treatments and many of the products were available for sale, along with Phyto and ME! Bath.
Carnival Victory's gym was an imposing, cavernous space that looked like the bridge on an Imperial Star Destroyer. It wasn't the warmest facility to work out in, but there was ample LifeCycle cardio equipment—bikes, treadmills and elliptical—and we never saw a line for the machines, most of which faced the forward ocean view (except we couldn't really enjoy the view out these windows).
Fitness classes included daily stretch, abs blast, and body conditioning—all at no charge—plus yoga, pilates and spinning, priced $12 each ($30 for three sessions). The Body Sculpt Boot Camp was $69 for two sessions or $120 for four. A body composition analysis was $35, and a 30-minute session with a personal trainer was $45 ($100 for three sessions) or $85 for one hour ($180 for three).
Cabin Overview
On Carnival Victory, cabins fall into four main types. Cheapest are Interior cabins, which represent more than a third of the accommodations on the ship and average 185 square feet. Some Interiors are offered with two twin bunk beds; a few Interiors actually come with a porthole view. There are 19 cabins sold as Interior with Picture Window (Obstructed View)—accommodations found above and below the bridge. The obstruction is a public deck (not heavily used) and we look forward to trying these on a future Carnival cruise—they're usually slightly cheaper than a standard Ocean View cabin.
Ocean View cabins (what we stayed in) measure a generous 220 square feet, with Balcony cabins coming in at 185 square feet, plus the balcony space (ranging from 35 to 75 square feet). There are also three categories of suites.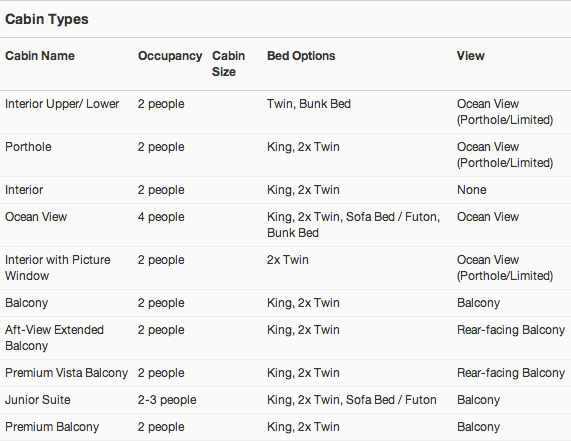 Kids Programs
Camp Carnival
Carnival has a three-tiered kids program, with the entry level—Camp Carnival—designed for the youngest group. Camp Carnival was actually split into three groups: 2- to 5-year-olds, 6- to 8-year-olds, the other for 9- to 11-year-olds, and all children needed to be dropped off and signing out by parents.
The youngest group played such games as Duck Duck Goose and Wii dancing, with the age 6-8 group participated in magic shows, teddy bear crafting (additional fee required), talent shows and games. The age 9-11 group colored T-shirts, put on a stage show, made pizzas and learned towel folding. There was also a designated shore excursion for the kids (additional fee required).
Circle C was the clubhouse for 12- to 14-year-olds—they were allowed to come and go without parental supervision. Activities included Wii games, scavenger hunts, charades, dance class, pizza parties, etc. There was also a designated teens-only shore excursion at one port (additional fee required).
Club O2 is Carnival's program for older teens—age 15-17. It was strictly a no-adults, no children retreat (supervised by one adult crewmember). Activities included theme dance parties, water fights, karaoke shows and mock casino play. These teens were also invited on one designated adult-free shore excursion.
An orientation was held for all ages prior to the muster drill.
Virtual Sea Arcade
This was the spot where the teens hung out—if only occasionally. We found it a bit dingy and dark, but probably none of them minded. The games were token-operated—48 tokens were $10, 100 for $20, and 280 for $50.
Neither one of Carnival Cruise Lines' oldest nor its newest ships, Carnival Victory arrived on the scene in 2000, following close in the footsteps of its infamous sibling, Carnival Triumph. Though they're essentially twins in size, capacity, facilities and floor plan, as with the rest of the Carnival fleet, the ships each have their own distinct design theme. Aboard Victory the theme is the seven seas, with venues named after the world's oceans and seas, guarded by life-size buxom mermaids and larger-than-life sea horses. The décor is not as loud as is found on some Carnival ships, but no one will call the interior landscape subtle.
We didn't expect to be dazzled by our brush with Carnival Victory, but we found the overall operation to be a fairly smooth-running machine. Still, we encountered a few issues that convinced us that Victory was ready for a dalliance with Carnival's Fun Ship 2.0 upgrade program—a renovation is not scheduled until 2014. Until then, Carnival Victory uses Miami as its homeport, for inexpensive four-and five-night forays into the Bahamas, the northern Caribbean and Cozumel.
Drinks Overview
Victory wasn't exactly flush with dining choices, but there was no shortage of places to drink. Eleven bars were spread throughout the ship, plus bar service could be had at the pools and in the theater. In typical Carnival fashion they're decorated in clashing colors and in-your-face design concepts. Our favorites were the icy Club Arctic, and the Black and Red Seas Bar, with décor straight out of a Duran Duran video (and guess which were the only two colors?).
A 15-percent gratuity was added to all drink orders. Minimum age for drinking was 21.
Beer & Wine
The wine list for the main dining rooms totaled about 90 offerings. About half the list was California wineries, with a small selection from Italy, France, Chile, Argentina and Australia; most were priced under $40, and about 30 were available by the glass.
The beer list included major American brands in 16-oz bottles for $5.75. Imports and specialty beers were $4.95. There was also Carnival's own brew, Thirsty Frog Red, a heavily malted beer with a sweet finish, available for $5.50 a pint at the Seven Seas Bar.
Mixed Drinks
The main bar list covers all the standards, with a few exotic options. A number of drinks could be served in souvenir mugs—silver disco balls, coconuts, etc.
Classic cocktails included mojito, mai tai, and margarita—all $8.75. Martinis were $8.95 and included traditional, cosmopolitan and other iterations. Cordials, liqueurs, and straight shots of liquor ranged $4.95-$7.50. Premium liquors were priced $7.50-$9.95.
Drink Packages
Victory was among the first in the fleet to introduce the Cheers Beverage Program (billed My Awesome Bar Program when we were sailing). It's been tweaked since then, but it's currently $42.95 per day, per guest, plus 15 percent gratuity, for "endless" beverages, alcoholic and non. The catch: All adults in the cabin must buy in, it must be purchased for the entire cruise, and there's a limit of 15 alcoholic drinks served per 24 hours. With mixed drinks upwards of nine bucks apiece, five in a day (every day) would pay for the program. But for those drinking mostly beer or white zinfandel, or for those spending a lot of time in ports, the package might not add up to a good deal.
Carnival's "Cruise the Vineyards" wine package offers five bottles of wine from one of three blocks. The cheapest option was five bottles from one block for $114; the two more-expensive packages were $133 and $168. Promotional material said the packages saved "up to 25 percent," however, in no instance did we find that selecting five bottles of the most expensive wine in each package amounted to such savings. More realistic was a 15 percent savings when choosing five bottles of the single most-expensive selection within each block. Note that the usual 15-percent service charge was added.
An unlimited soda package was also available, at $6 per day, or $4.50 for kids (age 17 and under). This didn't apply to room service, and a 15 percent gratuity was applied.
Non-alcoholic Options
Soft drinks were all $1.95, as was iced tea. Powerade was $2.95 and Red Bull was $4.75. Bottled waters included assorted vitamin waters, Perrier and San Pellegrino. Non-alcoholic beer was $3.95.
Smoothies were available, as well as virgin versions of some cocktails, like daiquiris. All of these were $4.75 each.
We found four distinct qualities of coffee aboard Carnival Victory. Best was at the café, though the cappuccino wasn't stellar. Coffee at the main dining room was okay, while the buffet coffee was not good; we avoided it after the first cup. The coffee served at in-room breakfast was, in a word, undrinkable—it tasted as if it had been filtered through a dishwasher.
Dining Overview
Though maybe not a big issue for cruises of less than a week, the variety of dining options was not a strength for Carnival Victory. There were just two main options for meals: The main dining room (which was actually two—one for those signed on for traditional, assigned seating, the other for those on the Your Time Dining plan) and the buffet venue, called the Mediterranean Restaurant. The latter was a series of stations that expanded the food choices but did little to alleviate the feeling that this was a busy free-for-all. While food at the buffet was fairly mediocre, we had several good meals in the main dining rooms.
There is also a sushi stand with a very small selection of rolls, and a café serving coffee drinks and desserts for a surcharge. But anyone with a hankering for a more ambitious meal should check out the Chef's Table, a fleet-wide intimate dinner option. There's a steep surcharge for this meal (which includes wine), but we enjoyed the experience. Since the Chef's Table is limited to just 12 guests per evening (and not necessarily conducted nightly), if it's of interest we recommend signing up on embarkation day to make sure you get a seat.
By the way, if you've enjoyed the fine steakhouses on other Carnival ships, note that there isn't one on Victory.
Our Cabin: Ocean View
We measured our cabin at about 220 square feet, providing good elbow room for two sharing. While we might have felt differently if the sofa bed were opened for a third or fourth passenger (and storage space would have been tight), otherwise the cabin size seemed generous compared to standard accommodations on other cruise lines. The bed was comfortable and we slept well.
There were some negatives, starting with sound leak from the hallway and rooms on either side. Fortunately our immediate neighbors were quiet (we could still hear their TVs), but the same could not be said for someone working in the galley above at 4:30 a.m, one morning. A few times noise from the hallway awakened us after midnight. Cabin lighting was an all-or-nothing kind of arrangement that was not conducive to reading in bed and the TV in our cabin was an old-school Panasonic. Décor—the little there was—was outdated. Worse was a series of disconcerting purplish splotches in the carpet; our cabin steward said the stains were caused by excess glue used when the carpet was first laid.
Carnival's standard bedding is surprisingly plush and inviting, and our bed on Victory—two eight-inch-thick twins joined with a mattress pad—was no exception, wrapped in a soft duvet stuffed with hypoallergenic down. There was a pair of little dressers on either side of the bed—too small to be of much use for anything more than eyeglasses and a book. There was a pair of reading lights above the pillows that were individually controlled. For light-sensitive sleepers, note that the curtains did not block out all of the light; a fair amount of sunlight leaked around the edges. The TV was not big, but it wasn't far from the pillows, either.
Though colored a dingy pink—a color we think was outlawed in the 1970s—our bathroom was functional, with a decently sized shower, 37 inches wide, and 30.5 inches at its deepest, with a thin shower curtain. The shampoo provided in a wall dispenser was thin and useless, but fortunately Carnival's goodie bag of product samples included some Garnier Fructis shampoo and conditioner to try. This lasted a couple days and our cabin steward brought more on request. Also stocked in our little amenity bowl were small tubes of Gold Bond moisturizing cream and Crest toothpaste. There was a cabinet to stash our travel kits and a wall-mounted hair dryer and bottle opener.
The main lighting system included two recessed lights at the doorway plus an overhead light panel that ran to (and above) the cabin window; all these lights were controlled by a single switch,. While this lighting proved ample, three bedside lights (two on either side of bed and one at the end of the couch) were barely sufficient for reading in bed. There was also a pair of fixtures on the mirror facing the bed with a separate switch.
Opposite the bathroom door were three closets side-by-side; each was 23 inches wide and was floor-to-ceiling in height. One had a safe (too small for most laptops) and shelves for storing clothes; the second had rods but not enough hangers while the third had a pair of bathrobes and three more hangers. There was space under the beds we used to store empty luggage. Two life vests were lodged in a cabinet next to the window. Above it was a 21-inch old-school Panasonic TV. In addition to a few non-ship channels there were two complimentary movies daily—one started every hour.
Other features included an 80-inch sofa with a pair of frayed pool towels sitting atop. There was a small table that could be used for dining, though tricky for two (the height was adjustable). Our cabin did not have a fridge or minibar, there was only a 1-liter bottle of Crystal Geyser water (for sale). Carnival's website says our cabin had "individual climate control," but if so, we couldn't find air conditioning controls (though for us the temperature was comfortable throughout the cruise).
Retail
Victory Shops
Also known as the Fun Shops, this collection of shops stretches along Deck 5 between the Caribbean lounge and the central atrium.
The perfume and cologne selection was modest. There was clothing for women—mostly resort wear—but almost nothing for men. Watches, jewelry and other goodies were carried, though not much that was different from other ships (or the selection in ports). There was also a shop with liquor and cigarettes at duty-free prices, and another with Carnival logo merchandize. Sundries available included sun block, pain and cold medications, etc.—not a comprehensive selection, but enough to tide us over between ports. The Formalities shop rented tuxes.
Art Gallery
Hidden away on Deck 2 next to the elevator shaft, there was a selection of original art hanging on the walls, hauled out for various art auctions that took place during our cruise. The merchandize is handled by Park West Gallery, the dominant player in the cruise ship art auction business.
Photo Gallery and Studio
A dedicated crew of photographers roamed Carnival Victory, shooting both informal photos at staged areas as well as posed photos on the ship. Prints ranged $9.99 for informal 4×5 shots to $21.99 for posed 8×10 portraits, displayed in an ever-expanding gallery that wrapped around the atrium on Deck 4.
The Photo Gallery also sold cameras (primarily Olympus), underwater cameras, disposable Fujifilm cameras, media cards, frames and photo albums.
Coral Sea Café
The ship's coffee shop is on Deck 5, midship, accented by handsome stands of coral branches. It was open till midnight or later, for late-night caffeine fixes.
At times, this venue was sorely understaffed with only one barista. The frozen drinks involved hand-scooping the ice cream—a few orders of these created a long line pretty quickly. The hot coffee drinks were also available at a small stand in the Mediterranean Restaurant—it was faster to make our way up to Deck 9 and get the java there.
The pastry case was stocked with regal looking confections such as Swedish apple cake, apple strudel and humongous slices of carrot and chocolate cake; individual servings were $2.25. Whole cakes with inscriptions were available to order, serving 6 to 10. The ice cream freezer was stocked with gelato.
The menu featured espresso, along with cappuccino, latte, chai, and hot chocolate. All could be made with skim or soy milk; shots of assorted syrups and liqueurs were available. Iced coffee and milk shakes were also offered, along with tea and regular coffee.
Coffee served at the ship's buffet wasn't very good, so we high-tailed here. But the grande cappuccino we ordered tasted extra milky. We looked into it, and discovered that the barista used the same amount of espresso (a double shot) for the tall or grande, so the only difference was more milk and foam in the larger size, diluting the coffee's flavor.
About Our Cruise
Carnival Victory does shorter trips to the Caribbean out of its Miami homeport, year-round—perfect for long-weekend vacations, especially for those who live in Florida. The ship's vivid interior design pays homage to the world's oceans and seas, in bold strokes. It's a big vessel, weighing in at 101,509 tons and carrying 2758 passengers (at double occupancy). Although we enjoyed our cruise, the overall experience was hit-and-miss in a few key areas.
We didn't care for the unsightly carpet stains, purple splotches dappling the floor.
Take the accommodations: Our Ocean View cabin offered luscious bedding—we could barely drag ourselves from it each morning—and, at 220 square feet, there was ample elbow-room for two guests. But we didn't care for the unsightly carpet stains, purple splotches dappling the floor; our cabin steward said the stains are found in a number of cabins, a problem that originated during original installation, years earlier.
We were also annoyed by sound leak, a recurring complaint we've had with all our Carnival cabins. There was a lot of noise from the hallway—every conversation passing by our cabin was audible through a vent in our cabin door (it almost sounded like someone else was in our quarters shuffling about), not to mention children bounding up and down hallway. The thin walls allowed some sound leak from neighboring cabins (though we wouldn't call our neighbors particularly noisy). There was shuffling and banging from above, and it turned out our cabin was under one of the galleys. One morning at 4:30 a.m. we were wakened by clanging and scraping noises from upstairs—it sounded like someone wielding car parts, bottles and cutlery.
Carnival Cruise Line sells fun, not cerebral, and there were boisterous activities scheduled through the day and evening.
Carnival Cruise Line sells fun, not cerebral, and there were boisterous activities scheduled through the day and evening: From the hairy chest contest to a digital scavenger hunt, and from randy comedians in the Punchliner Comedy Club to cha cha dance lessons, we ample opportunity to let our hair down. But for anyone in search of restful escape, Carnival Victory may not be the ride for you. This was a noisy ship—and we're not just talking about the partiers. The engines rattled and roared more than we like, ship announcements by the cruise director were loud enough to drown out the sound on a TV in cabins, and a generic pop music soundtrack seemed to play 24 hours in common areas, taking a breather only in the wee hours. Fortunately, we found a secret hideaway most other passengers overlooked.
Carnival Victory is not exactly rife with dining choices. Of particular note: There's no steakhouse, a standard feature we've enjoyed on all of Carnival's newer or recently renovated ships. This means meals were concentrated into just two areas, the main dining rooms (one designated for those signed on for traditional, assigned seating, the other for those on the Your Time Dining plan) and the very busy buffet option. Fortunately, our meals in the Pacific and Atlantic dining rooms were generally good—not spectacular, but varied and with a few tasty surprises. Although a couple entrées arrived lukewarm, servers were responsive and accommodating. Despite a pizza station and a Chinese counter, the Mediterranean buffet restaurant offered limited choices, and much of it was bland and/or over-salted.
We signed up for the Chef's Table, an option offered on all of Carnival's ships, and it was a fine (if pricey) splurge.
The good news was that we signed up for the Chef's Table, an option offered on all of Carnival's ships, and it was a fine (if pricey) splurge. Given the shortage of meal choices on Carnival Victory, we recommend budgeting for this dinner and booking soon after you board—the experience is limited to just 12 guests per evening (and not necessarily conducted nightly).
Pool Areas
Triton's Pool and Bar
This was Carnival Victory's main pool area. The pool itself was fair-sized (4-feet 6-inches deep), while the decks around it were laid out in a sprawling amphitheater setting. This allowed for lots of loungers and on sunny sea days this area became the ship's hub of action—getting an empty lounge chair (especially two side-by-side) was no small task.
With the grill close by, this area was very crowded around lunchtime, when live music was scheduled. There was a pair of hot tubs next to the pool, both of which were usually packed. A video screen towered over this area, but it didn't get much play.
The ship's standard cocktail list was available at Triton's Bar. Special tropical drinks came out some days.
Siren's Pool and Bar
Located on Deck 9 aft, this was the ship's second pool area, with a retractable roof that could be closed during inclement weather. There were two hot tubs flanking the pool. Surrounded by a bar, the pizza counter and ice cream station, this area was as much about the food as going for a swim.
The ship's standard cocktail list was available at the Siren's Bar.
King of the Sea Pool
This was kind of a supplement to the main pool area, a smaller pool (4-feet 6-inches deep) that didn't see as many bathers. The Twister Waterslide rose above, emptying out next to the pool. There was a hot tub and a small, covered throne-like perch with three loungers.
Twister Waterslide
Towering above the ship's main pool area, this slide was plenty of fun, departing from a platform next to the Serenity Retreat. Since we made the 48-inch height requirement we took a few spins down it.
Pacific & Atlantic Dining Rooms
Victory has two main dining rooms, virtually identical in size and décor, adorned with banal paintings of old sailing ships and kitschy statues and reliefs of mermaids—it was like something out of a Jeff Koons porn fantasia. A schlocky orchestral soundtrack completed the vaguely Vegas aura. Both seat the traditional dining plan, with assigned seating at 6 and 8:15 p.m. The Atlantic also hosts "Your Time Dining", allowing guests to dine any time between 5:45 and 9:30 p.m. Breakfast was served in the Pacific from 7:30 to 10 a.m., and lunch was offered on sea days, from 12 to 1:30 p.m.
On the first night, servers didn't devote much energy to interacting with guests, but the next night, our server greeted us by name and consulted on the menu. The personal touch continued after we complained that our entrées had been served lukewarm for two nights running. The next night a different waiter came over and asked if the meal was hot enough—apparently our complaint had been noted.
Both venues are crowded, with walkways threading between tables like a rabbit warren. Two-tops were available for the open dining plan, but couples on the traditional plan will find mostly shared tables only. Each evening a crew "show" erupted around 9 p.m. with waiters dancing to a pop song, several of them atop serving stations; the crowd loved it.
Salads were usually fresh and crisp; a highlight was spinach with portobello mushrooms, bacon, walnuts and blue cheese, and we also liked the simple, tasty Caesar. Starters ran the gamut, including delicious tom ka gai—robust, spicy chicken soup in coconut milk with lemongrass. Pumpkin soup was satisfying and not too rich; broccoli soup was just okay. The chicken quesadilla was routine, with tiny sides of guacamole, sour cream and salsa, nothing to get excited about. We were disappointed that the only breads available were a few variations of white—no dark, brown or whole grain at all.
Entrées included linguini with sausage, pepper and mushrooms—the sauce was flavorful but the pasta was overcooked. Spaghetti carbonara was fair, but served lukewarm, and (we never thought we'd say this) with too much bacon (not pancetta) overwhelming other flavors. Chicken à la Grecque featured a fairly dry boneless breast sitting atop a mound of penne in tasty tomato sauce; the menu didn't mention the pasta (thus we ordered pasta for both appetizer and entrée). The beef stroganoff was surprisingly tasty—the meat tender and flavors perked with pickled red onion and beets.
On formal night we dived into the prime rib. The cut was medium-rare, as ordered, but riddled with chunks of fat, and again, barely lukewarm. The next night we ordered the chateaubriand, which was hot and medium-rare, as ordered—alas, a quarter of the steak was inedible gristle. Each night an Indian vegetarian dinner was offered. It was a change of pace, but the brash flavors weren't as distinct as they should have been, the overall effect indelicate, the hot spices laid on strong.
For desserts, Carnival's dependable and ever-popular chocolate melting cake was fine—a soufflé-like creation served with dollop of vanilla ice cream. It's served nightly. Following another dinner we ordered the cheese plate featuring port salut, brie, gouda, imported Swiss, Danish bleu cheese; the half-strawberry nudged against the cheeses wasn't ripe. Our favorite, which we had the last night of the cruise, was a fig, date and cinnamon cake accompanied by beaker of rum raisin ice cream. The dessert was perfect, the cake moist and rich, with nuggets of the dried fruit like jewels in the batter.
Breakfast was served daily. We ordered blueberry pancakes one morning, anticipating they'd be full of berries; instead they were buttermilk pancakes with a goopy blueberry sauce. Egg orders were fine, but the hollandaise sauce on our eggs Benedict arrived toasted (we assume the plate was under a heat lamp). The coffee was decent; the orange "juice" was a drink mix that hadn't been diluted with enough water, rendering it sickly sweet. On one sea day we had lunch, choosing the fillet of kingklip. The fish was topped with sauce of tomato, olives and capers, but the flavors were muted.
There was a full dedicated bar serving the standard cocktail menu, and a wine list of about 90 bottles. Most were under $40, with a focus on California; about 30 were available by the glass. At breakfast, a waiter canvassed the dining room with a cart offering eye-openers: mimosas and bellinis, and a bloody Mary in 8- or 16-ounce sizes.
Ionian Room
This lounge was less used than others on the ship, which made it ideal for special events and group functions. Open mostly in the evening only, the bar was decorated with Ancient Greek-style pottery behind glass. We've seen more outlandish on some Carnival ships. A raucous Spanish-language Battle of the Sexes game was held here one evening, followed by a Latin dance-off.
The ship's standard cocktail list was available at the Ionian Bar.
Other Cabins
We did not stay in the rest of these cabins, but we have summaries here provided by Carnival Cruise Lines. Note that any photos on this page may be provided directly by the cruise line and not our reviewer.
---
Interior
A comfortable stateroom retreat, where some rooms also feature pull-down beds – ideal for families. Stateroom amenities:
Television
Soft, comfortable, and cozy linens
Hairdryer/Bathrobes
24-hour stateroom service
Ample closet and drawer space
Balcony
Relax and admire the passing scenery from your stateroom's private balcony.
 Stateroom amenities:
Television
Soft, comfortable, and cozy linens
Hairdryer/Bathrobes
24-hour stateroom service
Ample closet and drawer space
Separate seating area
Suite
A spacious room, that includes Priority check-in during embarkation.

 Stateroom amenities:
Whirlpool bath
Vanity dressing table
Television
Soft, comfortable, and cozy linens
Hairdryer/Bathrobes
24-hour stateroom service
Ample closet and drawer space
Services, Staff & Ship Policies
We found service and staff interactions consistently upbeat and friendly on Carnival Victory. The staff seemed to genuinely enjoy their jobs and didn't break a sweat when keeping us happy.
The ship's newsletter, Fun Times, was distributed each evening. It laid out the next day's activities and entertainment, as well as hours of operation, in a concise and effective manner
Ship announcements were not piped into our cabin, but quite audible with our cabin door closed. While some of the announcements covered essential information, most of it recapped what was noted in the ship's newsletter, with a special emphasis on surcharge activities such as the spa or Bingo.
We were not asked to fill out a guest questionnaire to rate our experience, as is common on other cruise lines. Instead, Carnival's toll-free reservation number has an option to pass along comments about a recent cruise.
Staff
We had no complaints here. Our cabin steward was sweet and attentive, and waiters took note of our preferences soon after embarkation. All in all, it seemed to be a collegial crew.
Tipping
Carnival adds a tip of $11.50 per day, per guest for crewmember services, other than bartenders. The charge was added to our statement during the cruise. For bar service a 15 percent service charge was automatically added onto all beverage tabs, including minibar purchases.
Dress Codes and Alcohol Policy
The formal shop on Deck 5 rents tuxes for men. For two formal nights the cost was $87 for jacket, pants and shirt; shoes were an additional $13 (the jacket alone was $45; pants alone $30). Check to see how many formal nights will be offered when 5-day cruises start, and pricing is available for only one night.
Carnival allows one bottle of wine to be brought aboard, per guest, during embarkation. There is a $10 corkage fee in the main dining rooms.
Loyalty Programs
The Past Guest Recognition program is Carnival's frequent cruiser plan, though it's not pushed hard as on some other lines. Passengers become gold members—the entry level—with their second Carnival sailing, which includes an invite to a cocktail reception on cruises of five days or longer and a free drink coupon, to be redeemed only at breakfast or lunch. With their tenth sailing on Carnival, guests become platinum-level members which includes priority embarkation, debarkation and tender boarding, priority reservations for the steakhouse and spa, casino benefits, complimentary wash and fold laundry, and other extras.
Laundry Facilities
A launderette and ironing room was available on each deck with cabins except deck 10. Valet and dry cleaning services were also available.
Mediterranean Restaurant
While we aren't normally dependent on a ship's buffet venue for most of our meals, with only one full-service dining option on Carnival Victory, the Mediterranean Restaurant is unavoidable. Unfortunately, despite multiple counters offering various specialties, the overall package was disappointing, with mediocre food.
Seating around the main buffet was crowded during breakfast and lunch. Fortunately, just upstairs was a secondary seating area overlooked by most passengers. In the evening this was sometimes used by children, escorted as part of Camp Carnival, but the area was still less crowded than most of the rest of the seating areas.
Continental breakfast was available at 6:30 or 7 a.m. each morning. The pastries were fine and the cereal selection covered a range of predictable hits; yogurts and cold cuts were available. The fresh fruit's quality was terrible; the orange slices in particular had a sour, off taste. Thirty minutes later the hot selection opened. A couple stations offered made-to-order omelets, sometimes with a line present.
Lunch had a broader selection. We particularly liked the salad station; in addition to a modest salad bar there were several prepared options that changed daily. The sandwich station had a decent deli selection, and a grill for panini style sandwiches. The hot section's theme changed daily; Caribbean day featured such fare as Jamaican chicken curry and seafood fritters. Italian, French and American fare also got their due, and there was a carving station with pork or beef each day.
The grill offered okay burgers. There were also grilled chicken breasts, chicken tenders, hot dogs, chili con carne and nachos. The Asian counter, Chopsticks, also changed daily—alas, we found everything on our plate to be saturated with sodium; we didn't return for seconds. The 24-hour pizza counter, Pizza Pirate, served serviceable pies.
The dessert selection captured our sweet tooth—two standouts were key lime pie and almond Napoleon. There was a 24-hour soft serve ice cream machine and a delicious chocolate extravaganza was held on the last afternoon of our cruise.
Decks & Sun Areas
Serenity Adult Retreat
This was a chill, adults-only outdoor lounge on decks 12 and 14, the highest public areas of the ship. Surprisingly, it was not usually crowded, which made it a good place for relaxing in peace—we always found a lounger, though the day beds and hammocks were more in-demand. There were two shallow, rectangular whirlpools, and a wall of showers provided hot and cold options for rinsing off.
The ship's standard cocktail list was available at the Serenity Bar.
Deck 11 – Jogging Track
A jogging track circuited Deck 11, but covered less than half the ship's length. There was also a shuffleboard court here, loungers and an outdoor shower.
Panorama Deck 10
This deck provided outdoor sun areas for most of the length of the ship. Ample loungers were stationed along its length, along with outdoor showers.
Deck 3
This would be the Promenade Deck on most ships, but it didn't circuit Carnival Victory; the forward and aft portions were closed off. Additionally, there were few seating options (no loungers), so this deck was primarily used for smoking (allowed on the starboard side).
Mini Golf
High on Deck 12, this isolated little 9-hole course didn't offer any surprises. Being totally exposed to the elements, it could be a little difficult to play when the wind kicked up. Clubs and balls were available from the towel station on Deck 9
Forward Decks
We'd call this our secret hangout, but we weren't the only ones who knew about these hideaways. Above and below the bridge were a series of forward-facing decks. While there was a minimum of lounge chairs here (and no other amenities), there was also a minimum of bodies angling for them, so something approaching quiet privacy was available. The decks could be accessed from the interior hallways of decks 6, 7, 9 and 10.
Conclusion
Carnival's modestly priced cruises often lead to good value, especially for those who can book months out or last-minute, when the best deals often appear. The Ocean View cabin we sailed in can usually be had for less than $100 a night, per person, and balcony cabins aren't usually priced much higher. While we prefer a ship with more varied dining options, Victory made up for it to some degree with a plethora of drinking venues—each night the ship came alive with activities. In sum, for an inexpensive cruise of less than a week, Carnival Victory delivers the goods. But for those who prefer a ship with the latest bells and whistles, we recommend sailing on Carnival Victory after promised upgrades and renovations are put in place.
Aegean Bar
The Aegean was the ship's de facto sports bar, with a bank of TV monitors broadcasting various matches. The décor was a bizarre collection of zebra-skin prints on sofas and bar stools and murals celebrating heroics of ancient Olympia. In all, it struck us as a small and strange venue to watch sports. Sports trivia games were also set here on some nights.
The ship's standard cocktail list was available at the Aegean Bar.
Cabin Amenities
Rooms cover some of the basics, including a hair dryer, a small safe, and we appreciated the bathrobes. There were two frayed pool towels waiting for us on arrival. But some things we consider fairly standard were not present, including a fridge, minibar, and ice bucket.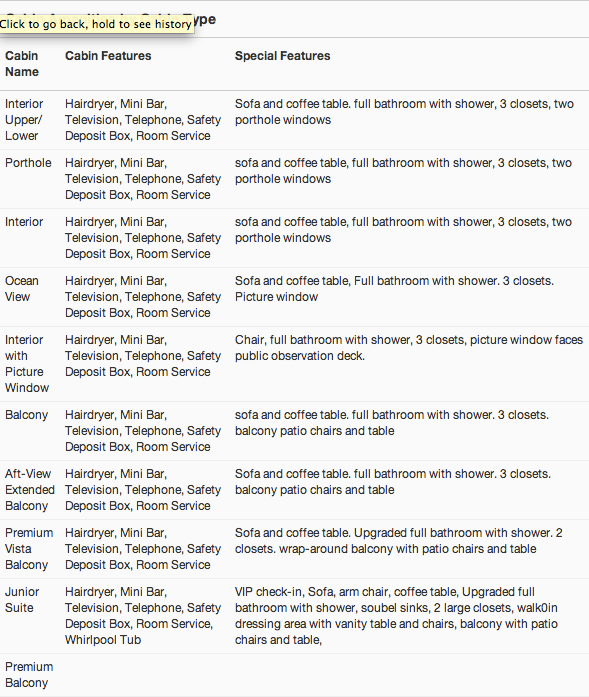 The Chef's Table
This imaginative feast was far and away our best meal aboard Carnival Victory. At $75 a head, including wine, it's pricey—maybe not worth every penny, but pretty close. Given the dearth of meal choices onboard, it's a must for foodies, or anyone celebrating a special occasion. We recommend booking soon after you board—the experience is limited to 12 guests per night, and it's not necessarily conducted nightly.
The overall evening consumes a little over three hours, and began with a tour of the galley for the main dining room, where we met the executive chef. Sparkling wine was served with hors d'oeuvres, and we received a hands-on lesson in how to prepare Carnival's most popular dessert, chocolate melting cake (1800 servings daily on Victory). After our galley tour we headed to the ship's Indian Library, a small room that had been transformed for our intimate dinner. Dishes were assembled on adjacent tables, with the executive chef stopping in now and then to supervise and talk about the food.
The seven-course menu changes every six months, crafted by Carnival's executive chefs. In all, it was a delightful array of creative tastes in small portions. While there were lots of staff preparing and serving the meal, a few elements were off. Plastic bottles to serve water were tacky, and the weak cappuccino that capped our meal was disappointing. The quartet of bite-size hors d'oeuvres served in the galley were unexceptional palate teasers: a moist black olive stuffed with a shard of parmesan, a tomato jam fritter plumped with a bit of langoustine, etc.
In the Indian Library, our first dish included a chardonnay-poached grape tomato, a pudding of aerated tomato juice, and a bizarre white chocolate-coated tomato that just didn't cut it. This was followed by a take on the Vietnamese banh mi sandwich—raw tuna atop lemon bread, framed with sesame crisps that splintered as we cut in; dollops of miso cream and avocado gel accented the plate. This was tasty, and by now we'd begun to understand the thought behind the meal—Carnival's overriding devotion to fun.
Next came Cornish hen; a tender, caramelized, slow-cooked boneless fowl, with a few small mounds of puréed butternut squash—delicious. Another favorite was a bavarois, turnip and apple purée in a bowl adorned with spinach and green pea paste—soup and salad in one. The salmon that followed was excellent, wonderfully moist. Presentations were delicate and mouth-watering, but the salmon was a hoot, with cylinders of dried beet like high rises in a little city. The final entrée was short ribs; good flavor, but the Wagyu beef was a bit stringy for our taste.
The dessert, called Chef in a Candy Shop, mingled chocolate, mango, beet, mascarpone and more. Fun to look at, but not really a standout in all that came before. Coffee was offered and we asked for a cappuccino; it was unacceptably watery, not remotely the coda this meal deserved.
The meal was accompanied by two modest but acceptable wines that, collectively, paired with most everything we were served: McGuigan Limestone Coast merlot from Australia and a crisp Mezzacorona pinot grigio from Italy's Dolomites.
Shows & Entertainment
Caribbean Lounge
Occupying the forward portion of decks 3, 4 and 5, the Caribbean Lounge was Carnival Victory's showroom for big productions. Most of the ground floor was flat, so sightlines here sometimes depended on the hairdo sitting between our seat and the stage. The upper levels had a steep rake, and we'd say the front rows of the balcony were probably the best spots for viewing—these seats were generally taken well before show time.
There was a show nightly here, but they varied in scale. The big event was City Lights, a musical review featuring late 20th-century hits such as Viva Las Vegas, Georgia on my Mind, Fame, Physical, Muscles, the theme from Rocky. The show had a cast of 12 dancers, two singers and a five-piece live band. Carnival calls the show "PG," which was presumably for G-string outfits that the Vegas-style showgirls wear for first third of show. There wasn't much in the way of sets, but lots of lights (including lasers).
Other shows here included a juggling act (better than it sounds), a Motown review, and a show bringing guests on stage (previously rehearsed) for impersonations of Madonna, Garth Brooks, etc. The space was also used for Bingo, cha cha dance classes, and game shows.
Adriatic Lounge
This somewhat nondescript venue on Deck 5 aft was the setting for the Punchliner Comedy Club, which took place several nights of our cruise. The usual schedule would be two comedians performing 25-minute sets, every hour. The first two shows, at 7:45 and 8:45 p.m., were designated as family-friendly; the remaining three shows (starting at 10 p.m.) were adults-only, which we found—mostly—pretty entertaining, if raunchy. But we noticed that the same comedians struggled during the family shows, delivering acts that were neutered of personality or humor.
Other events that took place here included singles gatherings, karaoke, church services and shopping lectures.
The bar had the standard cocktail list available, along with a Punchliner menu featuring drinks not found elsewhere on the ship. These included the blue Punchliner (rum, vodka, gin, blue Curaçao, citrus and lychee syrup), the Giddy Cosmo (pear vodka, Cointreau, citrus and cranberry juice) and a raspberry mojito—priced $8.75-$8.95. Shooters were $5.95 each, or a round of four was $20.
Health and Safety
General Health and Safety
A muster drill was held just prior to embarkation the first day. We were not required to bring life jackets from our cabin to the drill and roll call was not taken. Muster stations were located on deck 4 outside, an area that was otherwise closed to guests during the cruise.
Clinics
A medical center was located on Deck 0 and was open from 8 a.m, to 8 p.m. (with a one-hour break for lunch at noon). The doctor was on-call for emergencies at other hours.
Smoking Regulations
Inside the ship, smoking was allowed in the casino, and this room was clogged with smoke at pretty much all hours that the slots were open, despite some areas being designated as non-smoking. Smoking was also allowed at Club Arctic Dance Club, the Trident Bar adjoining the casino, and at the Black and Red Seas Bar, where cigars and pipes were also permitted.
Outdoors, smoking was allowed on the starboard (right) side of all open decks. Smoking was not permitted in any cabins, but for those with balconies, smoking was allowed there.
Casino
The casino on Carnival Victory has an Asian theme. The facility was busy any time we were at sea (the casino was closed while in port), with slot machines staying open as late as 4 a.m. There were 187 slots covering the gamut of traditional games, and video poker was also available. Table games include roulette, craps, blackjack and various types of poker.
Gambling was allowed for guests 18 and older. Guests could charge up to $2000 to their room accounts. Smoking was permitted in the casino, but while there were designated non-smoking tables and slots the smoke had willful ways—the casino was easily the smokiest area of the ship.
The ship's standard cocktail list was available at the Trident Bar. Although one side of the bar was ostensibly a non-smoking area, the smoke went where it wanted. Anyone purchasing a drink received a $5 match play coupon.
Irish Sea Bar
Decorated with a touch of cheap blarney—that is, lots of bonnie green and shamrocks—this was Carnival Victory's piano bar. The piano man started at 7:30 p.m. with adults-only designated after 11 p.m.
The ship's standard cocktail list was available at the Irish Sea Bar.
Deck Plan
Sushi Bar
Positioned next to the casino, this sushi cart offers a small selection of items, but we didn't find anything to get excited about. The cart was open nightly from 5 to 8:15 p.m., but remained closed on the one evening designated as Cruise Elegant. Seating was available in the adjacent lounges.
There were just two items available—chu-maki rolls (salmon and cream cheese) and nigiri with tuna. One of each was doled out on small plates. Tuscan-themed pottery contained condiments—togarashi sauce, wasabi, cured cucumbers, pickled ginger. It didn't compare favorably with sushi we enjoy at home, and note that we saw these items show up at the Mediterranean Restaurant on at least one evening.
Sake is available at the Sushi Bar by the cup ($1.95), carafe ($5.50) or bottle ($12).
Other Venues
Internet Café
This small facility next to the Ionian Room provided eight PCs for us to use; the area was usually unattended. The basic internet usage plan was .75 per minute, plus a one-time $3.95 activation fee; this covered computers in the Internet Café as well as WiFi around the ship. There were various packages available that brought the per-minute price down to .64 per minute (45 minutes for $29), .49 per minute (120 minutes for $59), etc. There was a printer, available for .50 per page.
Indian Library
This small but striking library was open very limitedly during our cruise—generally just an hour or two each day to check our games and books. Then again, the collection was not much to get excited about.
This was the room in which the Chef's Table dinner was conducted on some evenings.
Seven Seas Atrium, Bar, Lobby
This is Carnival Victory's soaring lobby, rising six decks. At the base of the atrium, on Deck 3, was the front desk, shore excursions desk, and Seven Seas Bar. Behind the bar was a small stage with a piano. Though fairly subdued during the day there was live (and DJ) music here each evening, before and after dinner. With the entrances to the Atlantic Restaurant, the casino, the shops and more nearby, each night this was truly the bustling hub of the ship.
The Seven Seas Bar had the ship's usual selection of cocktails, plus we found Carnival's home brew, Thirsty Frog Red, a malty sweet dark beer available at this bar on tap.
In-Room Dining
There were two menus for room service, and a quick glance told us not to expect much. Breakfast was outlined on a door tag that could be hung outside our cabin before 5 a.m.; selections were limited to continental breakfast: packaged cereals, breads and pastries, smoked salmon, yogurt, and plates of citrus, melon or banana. A somewhat longer menu was available for lunch including hot sandwiches (grilled American cheese, grilled Reuben, pastrami on rye), cold sandwiches (tuna, turkey, ham and cheese, peanut butter and jelly, BLT, New York strip and cheddar), salads (mixed greens, Caesar) and desserts (New York cheesecake, chocolate cake, cookies, fruit salad, strawberry yogurt).
We ordered our breakfast to be delivered between 6:45 and 7 a.m.—the knock on the door came at 6:35 a.m. We didn't notice right away, but the toast we ordered didn't make it onto the tray. We ordered lunch by phone one afternoon, and were told to allow 30 to 45 minutes for delivery; the order arrived 43 minutes later. We craved a pizza one evening, but this wasn't available through room service.
For our deliveries the tray was simply adorned with linen, and the silverware was also wrapped in linen.
Continental breakfast should have been a no-brainer, but our plate of sliced citrus was sour and off-putting. Coffee was thin, with dishwater flavor—undrinkable. The toast we ordered wasn't on the tray, so our marmalade and butter sat idly, looking for a place to go. The Raisin Bran, however, was delicious; the grapefruit juice was fine. Everything was the right temperature.
Our lunch was okay, if unimpressive. The chicken fajitas, wrapped in a tortilla with lettuce, was warm, but not hot. It was pretty generic tasting, like something from the bargain menu at Chili's. The menu promised guacamole but instead we received sour cream; the salsa was ultra-mild. The Caesar salad was decent with real anchovy bite. We ordered a soda and it came with a plastic cup filled with ice.
In addition to juice drinks, coffee, tea and milk, one could order from the regular bar menu, including soft drinks. Although there was no minibar in our room the cabin was stocked with a 1.5 liter bottle of Crystal Geyser water, available for $3.95.
Black and Red Seas Bar
This was our favorite burst of over-the-top whimsy on Carnival Victory, a lounge decorated entirely in black and red. It was a striking setting, though we never used it: The Black and Red Seas Bar was one of the ship's designated indoor smoking areas, and the ventilation was poor, rendering it unusable for those of us with allergies to smoke.
On a couple nights there was a karaoke party here, and another evening a solo guitarist.
The ship's standard cocktail list was available at the Black and Red Seas Bar.
Club Arctic Dance Club
This was the spot to get your grove on, in an icy environment. The DJ cranked up the tunes starting at 10 p.m. (earlier on one sea day), with specific periods devoted to Michael Jackson, Motown, 70s, 80s, etc.
Smoking was permitted inside Club Arctic.
The ship's standard cocktail list was available at the Club Arctic Bar.
Caspian Wine Bar
Wine Bar? Caspian seemed to provide the same wine selection as most of the ship's other bars, with most guests drinking martinis and other "up" drinks. It was a smaller bar with limited seating, which made it a good spot at most hours.
The ship's standard cocktail list was available at the Caspian Wine Bar.