The Summit offers one large, two-level main dining room, called the Cosmopolitan, that passengers can either visit during two traditional fixed seatings or on a more flexible basis using what the line calls its Celebrity Select plan. The ship also is home to La Normandie, an elegant restaurant that features historical, Art Deco decor that was salvaged out of the famed ocean liner, the SS Normandie. Other features of the ship include a number of lounges, bars, a theater, a casino, a large spa with a thalassotherapy pool, and deck-top areas with pools, hot tubs and other features.
Editor's Note: In December 2011 Celebrity Summit received a major overhaul that substantially changed some of the ship's features. Notably, cabins received a facelift and restaurants were added. For a review of another Millennium Class ship that was "solsticized" see our take on Celebrity Infinity, post-remodel.
Unveiled in 2001, the Celebrity Summit is no longer the newest, hottest ship in the Celebrity Cruises fleet, but it remains a good choice for couples and retirees — particularly those living in the New York area looking for a close-to-home cruise option. The Summit is one of just a handful of vessels that sail regularly out of New York harbor to Bermuda and is perhaps the the most stylish of the choices. The Summit also is the only Celebrity Cruises ship offering regular sailings to the Southern Caribbean (in the winter, out of San Juan, Puerto Rico).
Like its three Millennium Class sisters, the Summit is a smaller, quieter vessel than Celebrity Cruises' much-heralded new Solstice Class ships. It offers fewer restaurants and bars than the newer Celebrity ships, and fewer deck-top areas. That said, the Summit went into dry dock in late 2011 for a significant makeover that brought several new restaurants and other new features that first debuted on Solstice Class vessels, including a Mediterranean specialty restaurant called Blu and an ice-topped martini bar. Celebrity also revamped the decor of the ship, added more rooms and increased the number of balconies.
As on other Celebrity ships, the entertainment on Summit has more of a classy vibe than what is found on many big, mass-market vessels. There also are a wide range of enrichment programs on board such as history and art lectures, and cooking classes. And the spa is a major focus. Celebrity clearly is aiming at vacationers looking for a more elegant and formal experience than what is found on, say, the "Fun Ships" of Carnival. Depending on your personality, you may find this wonderful or boring.
While the Summit draws quite a few families during holiday periods, it isn't our first choice for a family cruise as the ship lacks many of the child-pleasing activities found on the bigger ships of such lines as Royal Caribbean, Norwegian and Carnival (all three of which offer cruises to Bermuda out of the New York area that we find a better bet for families).
Celebrity Summit's cabins are located on decks two, three, and from six to nine. The inside rooms are the smallest, by far -- a very generous broom closet at about 170 square feet. You can get the same size room that offers an ocean-view, or as a deluxe version with a 38-square-foot balcony. Both the ocean-view and balcony rooms are available on decks Continental, Plaza, Panorama, Sky, and Vista (decks two, three, seven, eight, nine). Then there are concierge class suites with balconies (191 square feet for the cabin and additional 41 square feet for the balcony), sky suites with balconies (251 square feet for teh cabin and 57 square feet for the balcony), and 271-square foot family cabins that have huge 242-square-foot balconies.
Celebrity also offers 538-square-foot Royal Suites that have 195-square-foot balconies and even bigger, 1,432-square-foot Penthouse Suites that have 1,098-square-foot balconies. Both of these big suite categories feature European-style butler service with in-suite lunch and dinner service, afternoon tea, evening hors d'oeuvres, and complimentary espresso and cappuccino. They have separate living and dining areas. The Royal Suites features a whirlpool on the balcony. The Penthouses has two interactive entertainment systems. Now that's living.
Editor's Note: In December 2011 Celebrity Summit received a major overhaul that substantially changed some of the ship's features. Notably, cabins received a facelift and restaurants were added. For a review of another Millennium Class ship that was "solsticized" see our take on Celebrity Infinity, post-remodel.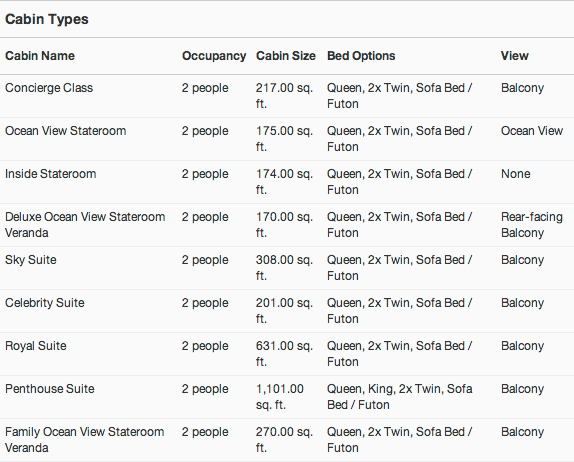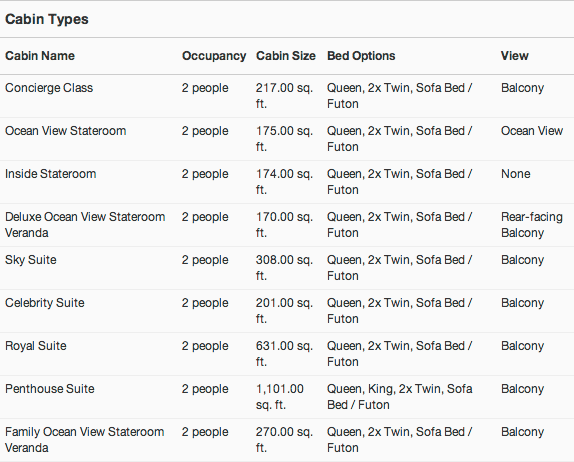 With only five eateries, the choices on the Celebrity Summit are relatively limited —at least compared to some of the newer Celebrity ships and newer, bigger vessels such as Royal Caribbean's Allure of the Seas, which has a dozen full restaurants and over a dozen more snack places, cafes, and bars.
The main restaurant on the Celebrity Summit is called Cosmopolitan, offering international cuisine. Cosmopolitan features dishes that change daily as well as dishes that remain on the menu all week. There are always chef recommendations and vegetarian dishes.
If you prefer buffets, don't miss the Waterfall Café, offering international breakfasts, lunch, and dinner. If you come in early enough (it opens at 6am for breakfast), the food is noticeably fresher.
Just outside the Waterfall Café is the Poolside Grill. Here, you can get freshly prepared burgers and hot dogs, a perennial poolside favorite.
Located by the spa, the Aquaspa Café offers healthy breakfast and lunch options.
The only specialty restaurant on the Celebrity Summit is the Normandie, serving French food. You can choose either the tasting menu, which costs $90, or eat a la carte for $40. Among other sumptuous dishes, the menu includes a pan-seared filet mignon and a crispy Loup De Mer, both of which are finished at the table.
Editor's Note: In December 2011 Celebrity Summit received a major overhaul that substantially changed some of the ship's features. Notably, cabins received a facelift and restaurants were added. For a review of another Millennium Class ship that was "solsticized" see our take on Celebrity Infinity, post-remodel.
The Celebrity Summit has variously themed bars, all with slightly different drink menus, but you can order any drinks from any venue, provided the bar tender knows how to make it and has all ingredients. The ship has beer and wine from all over the world, along with mixed drinks, soda, juices, and of course coffee and tea.
Alcohol is served only to adults over 21. Fake IDs are still fake in international waters.
Beer & Wine
The Celebrity Summit has a long and diverse wine list, with bottles from all over the world. Prices for a glass of wine start at $6, while the most expensive bottle of wine on the menu costs $3,500 (could this be true or just a typo? We didn't order it to find out). Celebrity also has its own house vintage with white and red wines.
Beers include Heineken, Samuel Adams, Corona, Becks, Red Stripe, and a few more international brands.
Mixed Drinks
The bars and the restaurants offer plenty of mixed drinks, like margaritas, frozen drinks, martinis, and champagne cocktails. Isn't that what a holiday in the sun is all about. Prices for mixed drinks start at $6.50
Drink Packages
The Celebrity Summit offers quite a choice of drink packages, from wine to non-alcoholic packages. There is a bottled water package for $12 a day, a soda package for $7 a day, a classic non-alcoholic package including soda, juices, teas, specialty coffee, and water for $14 a day, and a premium version of this package including all non-alcoholic cocktails and frozen drinks for $18 per day.
Of course, Celebrity also offers drink packages with alcohol. The classic package offers the same drinks as the non-alcoholic version plus beers up to $5, wine by the glass, cocktails, and spirits up to $8, and costs $44 per cruise day. For $10 more per day, the premium package offers the same drinks as the classic, but includes cocktails, frozen drinks, and spirits up to $12.
Celebrity also offers three wine package with a choice of 3, 5, or 7 bottles. The sommelier's package includes a smaller assortment of wines and starts at $99 for 3 bottles, the captains package starts at $129 for 3 bottles. Or you can build you own wine package starting from $191.25 for three bottles, including any wine from Celebrity's wine list at $75 or more.
Gratuity (15%) is not included in any of these packages and will be added onto the bill.
Non-Alcoholic Options
On the Summit you can get soda, different brands of bottled water (or regular tap water), premium teas and coffees, as well as non-alcoholic cocktails and frozen drinks.
Aquaspa
The spa area is located on deck ten forward, right by the Aquaspa pool. The spa can't accommodate too many people, so we recommend making an appointment early on if you want to go (there's even an acupuncture facility on deck seven). The Aquaspa is a very nice area, but some wear and tear was evident in some places.
Treatments in the Aquaspa include a number of different facials and detox specials. The spa also offers a variety of massages, like hot stone, herbal poultice, aroma wrap, bamboo massage, as well as regular Swedish massage, deep tissue, and reflexology massages. Prices for facial treatments start at $107 and massages begin at $119. There are couples massages for $269, and, the absolute spa ritual, a 100-miute full-body massage and facial is available for $265.
You can have unlimited access to the spa's Persian garden area, with its Turkish bath and aromatic rooms with heated benches, for $99 or $159 for couples.
Celebrity's hair salon is part of the spa and offers all regular salon services: manicure, pedicure (regular, acrylic, and shellac), waxing, hair cuts and styles, as well as hair treatments. Teeth whitening treatments are available for $149, as is a fire and ice manicure and pedicure, for $50 respectively $70.
Fitness Center
The fitness center, located in the Aquaspa, is smaller than the fitness areas on some other similarly sized cruise ships. Still, the center offers access to cardio and weight machines, free weights, and an area for stretching. The cardio machines are very popular, so it wouldn't be a surprise to have to wait for a machine at the fitness center.
Two complimentary classes are offered—morning stretch and fab abs. Other classes, like yoga, pilates, and spinning, are offered for a fee of $12 per class. The Aquaspa fitness center also offers a boot camp class with multiple sessions (depending on the length of your voyage), including a health check and a home program.
Ping Pong
The Celebrity Summit has two ping pong tables—one on deck ten and one on deck eleven—in the room just off the Conservatory (where the golf simulator used to be).
Darts
In the same room off the Conservatory that houses the ping pong table, you'll find a dart board. Darts are available at the guest relations desk on deck three.
Shuffleboard
There are three large shuffleboards on the ship: two on either side of the promenade and one outside on deck eleven. All the equipment you need to play are located by the shuffleboard courts.
Sportscourt
There's a playing field with basketball hoops and small soccer goals on deck 12. Unfortunately, the field wasn't in good condition. One of the basket ball hoops was missing and there were a number of holes and divots in the court—a rather disappointing sight.
Jogging
The jogging track spirals around deck eleven, going around all the sun lounges and chairs. Three laps is equal to 5/8 of a mile (or one kilometer).
The Shipmates Factory, the ship's children's area, is located on deck 11 aft. Another area, the Tower (deck eleven forward) is for older kids and teens. Both areas were not open to adults, so we couldn't get access.
The Cosmopolitan is quite large, extending over two levels. At the bottom of the main staircase is a statue that, by some accounts, was on the original SS Normandie. The two-story-high windows let sun pour in. There are so many tables jammed together that it's a squeeze to get around during dinner rush. All tables are set with white table cloths and enough silverware for a couple of appetizers and main courses. The red chairs and carpet complete the sleek look. The Cosmopolitan's dress code is smart casual: no flip flops, shorts, or swim wear. On formal nights the dress code is elegant.
Breakfast is available daily. The Cosmopolitan offers lunch only on sea days. Once a week, the Summit serves up a full brunch from 10 a.m. to 2 p.m.
At night, the Cosmopolitan gets seriously rushed, no matter which time you choose to sit. On formal nights, the waiters serve a sherbet between dishes to clean the taste buds before serving the next dish.
The onion soup was amazing, with a thick crust of Gruyere atop tasty broth with herb croutons. The warm goat cheese tart with balsamic was also delicious.
As for entrees, we had good and bad experiences. The lobster was overcooked. The game hen looked tasty, but was still bloody. One night, we overheard another table order filet mignon three times before the cook got it medium rare. These were isolated incidents, however. The lamb was perfectly cooked, and we were big fans of the pork chop, too... though the marshmallow and sweet potato side felt out of place during summer in the Caribbean.
At dessert, samples are brought out for you to choose, including chocolate fudge cake, marzipan amaretto cake, different ice creams and sherbets, and – best of all – a chocolate souffle with vanilla sauce.
The Conservatory
The Conservatory is the only retailer located on deck eleven, and you'll find it just above the Waterfall Café. It's decorated with real plants, which makes sense because the store sells flowers and bouquets, as well as vases and bowls with embedded flowers.
The Emporium
All sorts of shops can be found in the Emporium. Sales events and information on shopping at the ports of call also take place here.
Art Gallery
The Art Gallery sells accessories, jewelery, hats, and knickknacks for $10 each.
Liquor Store
Cigarettes, cigars, and liquor are sold duty free in the liquor store, but you can also find aspirin, tooth paste, and other toiletries you might have forgotten here.
Boutique C
Boutique C is the jewelry and cosmetic shop on the Celebrity Summit. It carries designer watches, rare chocolate and blue diamonds, as well as pearl jewelry, and brand cosmetics from Lancome to Clinique.
Celebrity Boutique
The Celebrity Boutique sells brand clothing and accessories, Celebrity branded luggage and sportswear, and fashion jewelry.
Photo Gallery
All photos taken by the Summit's professional photographers can be found and purchased here.
Waterfall Pool
The Waterfall pool is the main pool of the Summit, which includes four hot tubs in the same area. Surrounding the pool are cushioned lounge chairs and sun chairs. A towel stand is located at one end. The poolside bar provides everybody with drinks, and is located on the smoking side of the pool area. That's where all the cool kids hang out.
Aquaspa Pool
The thalassotherapy pool is filled with salt water, ionized, and heated. In the nooks on both sides are several powerful jets that get the water to a good, bubbling action. You can sit on the ionization bars. On one side of the pool is a fresh water hot tub if you're feeling overly-salted in the ocean water. There are also fresh water showers, as Celebrity asks everybody to shower before going into the pool.
This area is much quieter than the main pool, but it fills up fast on sea days. The teak lounge chairs are placed around the pool and overlook the ocean. It's a beautiful, peaceful space. Thankfully, kids under 16 are not allowed.
Kids Pool
The kids pool is located at the other end of the adults area, on deck eleven. It's just a small pool – nothing like the super-size kiddie pools found on larger, more family-oriented ships.
The first thing we noticed when entering the room is that the entry is quite narrow. You can expect that from the smaller rooms on most cruise ships, though. The closet is directly behind the door, opposite of the bathroom. Next to the closet is a small dresser with vanity mirror, lights, and a very small storage place that's already populated with wine glasses. Opposite the desk is a sofa bed for one person and a glass coffee table. On each side of the king-size bed is a night stand with drawers.
Light switches are placed by the door and by the bed, as well as next to the bathroom door. The room also has two 110-volt and two 220-volt plugs by the desk.
The king-size bed can be pushed apart to make two twin beds, so you needn't cuddle anybody that you don't want to. The bed itself is a bit soft, though not uncomfortable. The pillows could stand some replacing though, especially the decorative ones. The bedspread, too, has seen better days.
Inside rooms are designed for three passengers, but that would be quite a squeeze. There's almost no space between the bed and the sofa bed. When the sofa is extended, getting out of the king bed is difficult. It gets worse. If you have to use the sofa bed then the coffee table has to move (it's the Sliding Puzzle Blocks game, in essence). The only space for the coffee table is the entrance area, but doing so partially blocks the bathroom door and closet. It is a mystery to us how three people could have enough space here.
The desk opposite the sofa bed is humorously small, like they dared the designers to try and fit one in. In the corner of the closet, inside a shelf, is a really old, small TV. The is not a flat panel, nor HD, and the screen is tiny. The remote control doesn't work very good and the the numbers are rubbed off.
Note that the Celebrity Summit has been slated for an overhaul in drydock in 2012 that, no doubt, will address many of these deficiencies.
Like the bedroom, the bathroom is very small. There's only enough space for one person. The sink is a good size, though, and the counter is long enough for a lot of toiletries. The huge mirror makes the bathroom at least look bigger. Even though the bathroom was kept clean clean, the shower curtain was aged and in need of replacement.
The closet behind the door is big. There are a lot of hangers in the closet, as well as the life vests and two bathrobes. Another door to the left conceals six drawers and the safe.
The Rendezvous Lounge is located on deck four, very close to the Cosmopolitan bar. It's quite big, has a dance floor and an open ceiling, and the walls here are paneled with dark wood. One section of the bar has blue and red striped chairs, another section has just red chairs, and a third area has beige and green chairs.
Rendezvous' drink menu includes sangria, punch, mojitos, some frozen drinks, martinis, and plenty of other cocktails. Rendezvous also offers beer and wine, and some non-alcoholic mixed drinks as well. Prices start at $4 for non-alcoholic drinks, while cocktails and frozen drinks cost between $6 and $8.50.
During the day, Celebrity Summit hosts trivia games and video games (with an Xbox Kinect and Wii consoles) in the Rendezvous bar. At night, a live band plays easy listening and old hits that are great for dancing.
Located just off the photo gallery on deck four is Michael's—a sleek place that looks like it should be a cigar bar, but isn't (smoking is not permitted here). Michael's has a an old-world feel, with unique armchairs, a fireplace (that can't be used), and dark leather bar stools. The Chinese paintings on the walls were the only decor that didn't mesh with Michael's sleek style.
Michael's primarily offers liquor ranging from the likes of sherry, whiskey, bourbon, tequila, vodka, brandy, cognac, and port. Prices start at $6 and go all the way up to $191 for the Hennessy Richard.
Activities at Michael's include complimentary bourbon and whiskey tastings, as well as a premium wine tasting for $49 per person. The bar also features a piano with the occasional live musician.
The Waterfall Café offers breakfast, lunch, and dinner buffets. As so many other buffet venues, it looks more like a cafeteria than a restaurant. If you're in a hurry to eat something before you hit the pool, this is the perfect choice. Romantic it is not. Manned stations provide a huge choice of international dishes. Smaller stations with coffee, juices, and hot water are strategically positioned throughout the room.
Breakfast at the Waterfall Café includes some great international dishes, like English blood sausage, Russian blintz, and crepes. Of course, there are plenty of American breakfast choices too, like pancakes, bacon, eggs, and French toast. We also enjoyed an eggs benedict platter that featured international spins on the preparation, like the German version with sausage instead of ham.
A few healthier options, including cereals, yogurt, and fruits are also available.
Lunch and dinner are much the same at the Waterfall Cafe. There's always pizza, pasta, a carving station, bread, and salads. For dinner the Summit also offers sushi, but only a couple of rolls. As the buffet seems to pride itself on international cuisine, we were able to find some delicious Indian food.
The wine list here is not very long. The Waterfall only offers wines by the glass, including Pinot Grigio, Riesling, Cabernet, Chianti, and Pinot Noir. Prices start at $5.50 for a glass of wine.
Promenade
The promenade is located on deck four, but it does not go around the entire ship. The front is blocked by the Cosmopolitan restaurant, and the rear is for crew only. There are some lounge chairs on deck four if you'd like to sit someplace dry, away from the splashing of the pool. The promenade is wide enough for a couple of people to walk side-by-side. Note that the port-side is the smoking area.
Deck 5
You can visit deck 5, but it's just a small space on both sides of the ship with access to the life boats. There's no real lounge or sunning area here.
Deck 11
Deck 11 is the biggest sunning area on the Celebrity Summit, with lounge chairs and upright chairs along both railings and in nooks along the side of the ship. The Mast bar is located midships, so nobody has to go far for a drink (not that you ever do on a cruise ship).
Deck 12
On deck 12 forward are more loungers and chairs. This area is very quiet and windy most days. There is no beverage service here.
We did not stay in the rest of these cabins, but we have summaries here provided by Celebrity Cruises. Note that any photos on this page may be provided directly by the cruise line and not our reviewer.
Concierge Class
These exceptional veranda staterooms are set in the most desirable locations of each ship. Designed for the traveler who settles in nicely to accommodations where little details make a big difference. Savor unexpected delights such as fresh flower arrangements, personalized stationery and complimentary shoeshine service. The attention to detail will amaze you, even as you sleep on the perfect pillow you've selected from our pillow menu.
Ocean View Stateroom
Window staterooms with a sitting area where you can kick back and relax after a day that has been as busy or relaxing as you want it.
Deluxe Oceanview Stateroom Veranda
Spacious stateroom located throughout the ship.
Sky Suite
When you stay in a Sky Suite you'll enjoy the luxury of European-style butler service. This includes assistance with unpacking and packing…
Celebrity Suite
When you stay in a Celebrity Suite you'll enjoy the luxury of European-style butler service. This includes assistance with unpacking and packing…
Royal Suite
When you stay in a Royal Suite, you'll enjoy the luxury of European-style butler service. This includes assistance with unpacking and packing…
Penthouse Suite
When you stay in one of our Penthouse Suites, you'll enjoy the luxury of European-style butler service. This includes assistance with unpacking and packing…
Family Ocean View Stateroom Veranda
By far the largest Stateroom with a veranda – plenty of room for you and the family.
Staff
Overall the staff was very attentive to our needs, and we were impressed with their ability to remember passenger preferences. Room attendants were pleasant and personable, and they tried to respond to requests as quickly as possible. Instead of towel animals whenever our room was cleaned (a popular feature on other cruise ships), the stewards on the Summit left us a different piece of chocolate every night. We're not sure which we liked better, but since the Summit has less restaurants than other ships, we didn't mind the extra snack.
We did run into a few small problems in our room: the TV menu didn't work, and, on the first day, our toilet didn't flush properly. Our steward worked diligently to make things right, however, and everything was fixed eventually (although the fixing of the TV took longer than expected—not the steward's fault). The waiters in both the main dining room and the Normandie were speedy and remembered our food and drink preferences. One of our travel companions tipped their steward in cash, and got some fruits (instead of chocolate), as well as new bed sheets every night, in return.
Tipping
Celebrity automatically adds a $11.50 per person gratuity to your final bill for every day you spend on the cruise. In addition, for every drink you order at a bar you can expect to automatically pay an extra 15% gratuity as well. If you want even better service, you can always tip your waiter or room attendant some extra cash as well.
Dress Codes
The overall dress code on the ship is smart casual, with the only true casual place on the ship being the Waterfall Cafe. There are formal nights and events that require more elegant attire as well—suits for men and dresses for women.
Loyalty Programs
After one cruise with Celebrity, you can enroll in the rewards program called Captain's Club. There are three member levels: classic members (tiers 1-4) receive access to the Captain's Club celebration and some exclusive onboard offers, select members (tiers 5-9) receive discounted internet and laundry service specials, and elite members (tiers 10+) get all of the above, plus access to the Captain's Club lounge.
Celebrity uses tiers rather than points to determine the membership level, and there are various ways you can climb up the ladder. The easiest way is to simply go on more Celebrity cruises.
The Poolside Grill is not a very large area, but that shouldn't be a problem because you can take your food anywhere you want. Grab a hot dog or a hamburger and head on over to your favorite sun deck.
At the Poolside Grill, the Celebrity Summit offers a few salads as well as hot dogs and hamburgers.
The Champagne & Martini bar is located on deck five, with the bar being split into two distinct sides: the port side bar specializes in champagne and champagne cocktails, while the starboard side is where you can grab a mean martini. The bar is bright, lined with armchairs and tables, and at the center of the room is an open area that looks down onto the Rendezvous bar. You can even hear live music coming from Rendezvous, so there's no need for a second live band to play here. The waiters here are experienced showmen in the art of juggling bottles and shakers while they whip up your drinks. It's a pleasure to watch.
The two bar areas have different drink menus, but you can really get any drink you want on either side. Martini offerings range from classics to more unusual options like an espresso martini. Champagne cocktails include Bellinis, Rossinis, and Kir Royals. All champagne cocktails cost $8.50. Most martinis range from $6.50 to $10, but some may be more expensive depending on what you order.
There are martini tastings happy hour specials at the Champagne & Martini Bar, but the bar hosts no other planned events.
There are three lounges on the Celebrity Summit: the Cova Cafe, iLounge internet cafe, and a game room called Cards.
Cova Café
The Milanese-style Cova Café offers specialty coffee drinks, like cappuccino or espresso, as well as tea and coffee cocktails (or other alcoholic drinks like wine or grappa). Small sandwiches or pastries are also available here, and prices for coffee start at $3.
iLounge
Celebrity Summit's internet cafe, iLounge, is located on the port side of deck five and on decks six and seven midship. WiFi is also available on deck three in the conference rooms, on deck four in the Rendezvous, on deck five in the Cova Cafe and the Martini Bar, and on deck ten in the Waterfall Cafe.
Since the Summit is a certified Apple retailer, it should come as no surprise that the iLounge is equipped with MacBook laptops. Some classes and activities where you can learn how to use Apple products are offered for $15 (or $25 for unlimited access to these classes).
Cards
Cards is located on deck five port side, just above the iLounge. It's the game room of the Summit and you can find checkers, decks of cards, and some board games there.
Conference Rooms
The Celebrity Summit has a few conference rooms on deck three that can be rented prior to setting sail.
Libraries
The library is very cozy and is spread out over two levels. It is located midship on decks eight and nine.
Religious Services / Prayer Rooms
Religious services are offered during major Catholic and Jewish holidays.
Our cabin, the Inside Stateroom, had limited amenities, but that's typical. More expensive rooms come with some amazing features, like butlers. See table for complete run-down.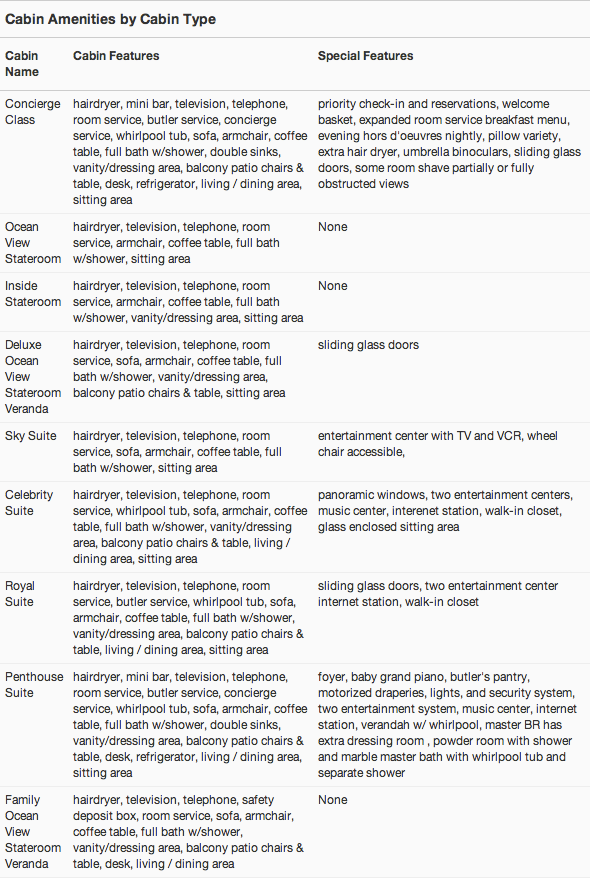 On the small shelf by the mirror are small bottles of lemongrass shampoo, conditioner, and lotion. Celebrity also provides cotton pads and two bars of soap.
Other than the old-style, built-in hair dryer in the bathroom, there are no appliances.
The mini bar has water, soda, beer, liquor, and red and white wine, all at an extra charge. It can be locked upon request.
Important numbers are on the phone's speed dial. You can use the phone to call home, but brace yourself for the $7.95 per minute fee. There is no Internet connection in cabins; WiFi is only available at the ship's iLounge, the Rendevouz Bar, Cards, and Martini Bar. This was one of the biggest red flags for indicating the age of the ship, although the dirty shower curtain and ragged pillows also were a tip-off.
The TV has an interactive menu where you can order room service, check your account, and order movies for $9.99.
Celebrity Theater
The Celebrity Theater is spread out over two levels on the Summit (decks four and five). Each night, a different show plays in the theater—a variety of musicals, comedies, dance shows, etc. All shows are free of charge and play twice a day. The first seating is at 7 pm (to accommodate those who are eating at the late dinner seating), and the second show is at 9 pm (for those who are eating during the early dinner seating).
Movie Theater
The Celebrity Summit has a small movie theater on deck three that can be used for meetings. It also shows major feature films at specific times.
Arcade
The arcade is on deck eleven, next to the children's area, and offers a few older games.
Gaming
The Cards cafe is the place to go for all kinds of card games and board games. Celebrity Summit also organizes the occasional game of Bingo as well.
General Safety
The mandatory safety drill is held on embarkation day, and the crew has a second drill during the voyage. Fire extinguishers and life vests are located prominently throughout the ship, and life boats are found on deck five.
Clinics
The medical facility is on deck one, by the gangway, and is open daily from 8 am to 11 am and from 4 pm to 7 pm. The facility sells basic painkillers like aspirin, but it might be cheaper to grab something from the liquor store to cure your pain.
Smoking Regulations
Generally, smoking is prohibited in most areas on the Celebrity Summit. It's not allowed in any rooms, on the balconies, or anywhere inside. Only on one side of the promenade and the pool area is smoking permitted.
Renew is a not much more than a little area behind the Aquaspa, just a miniature buffet with one drink station. If you want to sit down you can do so at one of the tables around the pool.
For breakfast, Renew offers fruits, muesli, cereal, and yogurts, but also eggs and bacon. Guess they can't all be healthy.
As with the breakfast, the lunch choices at the Aquaspa Café are very limited to not much more than some paninis and drinks.
Even the dessert at the Renew is healthy and sugar free.
Located on deck ten, right by the pool, the Pool Bar has no real seating, but there are a few tables where you can set your drink down. If you don't want to leave your pool-side haunch, a waiter from the Pool Bar will roam around and take your order (and bring it to you). The bar area does allow smoking as well.
The Pool Bar offers a lot of different frozen drinks and beer, but other drinks are available too. Prices start at $6.50 for mixed drinks and $4.50 for beer.
The pool bar offers some happy hours during the course of the trip. On sea days, a live band plays on the pool side, and crew members may encourage you to get up and dance.
The Fortunes Casino is located on deck four, very close to the photo gallery. The design of the casino is very European, with lots of red, gold, dark walls, and statutes. There's a bar here too, which provides gamblers with drinks (not for free, though).
There are hundreds of slot machines in the Fortunes Casino, with the cheapest option being penny slots.
In the center of the casino are several poker and blackjack tables. The minimum bet at the tables is one dollar, the maximum bet is $500.
There are two roulette and craps tables rounding out the casino's gambling options.
The Casino has its own bar and servers that will get you any drink you want. Just keep in mind that these drinks aren't free like they are in Las Vegas casinos. You can expect to pay as much for your drink here as you would at any other bar on the ship.
The more points you earn gambling in the Casino, the better your reward: it starts with a key chain (250 points) and ends with a dinner for two at the Normandie (25,000 points).
The Normandie doesn't just take its name from the SS Normandie, once the biggest cruise liner in the world; the eatery also is decorated with original paneling and ornamentation from the famed French ship. It really is beautiful décor. All tables are set with white table linen, silver underplates, fine china, and real candles.
Some items are finished tableside. It's almost like dinner theater. The Summit offers a tasting menu for $90, with wine pairing, or an a la carte dinner for $40. Both are worth every penny. Early reservations are highly recommended.
As an amuse bouche, the waiters bring cold soup in a shot glass, in our case, shrimp mojito with orange and mango. We definitely didn't see that coming. Delicious surprises are always the greatest reward for dining out, aren't they?
For appetizers, the menu offers pan-seared foie gras with a delicious duck rillette and an interesting ginger sauce. Among other dishes, we found the wild mushroom cappuccino with porcini ice cream to be among the most flavorful.
The main courses include lobster, risotto, duck breast, and the Normandie's take on the "surf and turf." If you want your food finished tableside, order either filet Mignon or loup de mer (European seabass). If you're satisfied with food finished in the kitchen (we call that the boring way), we thought highly of the venison loin with celery fondant, spinach, red cabbage marmalade and lingonberry sauce.
Another nice touch in the Normandie: "Champagne high tea", organized on the last day of the trip. For $25, you get several sandwiches and pastries, warm raisin scones, a glass of champagne, and loose teas. Now that's the way to close a vacation.
The dessert menu offers a chocolate souffle and a dessert sampler with rose water creme brûlée, white chocolate mousse with raspberry, dark chocolate mousse, strawberries in a Pinot Noir sauce, apple crumble pie, and a mint sherbet. Every one of them was delicious. Another dessert is the mango souffle, a fluffy little cake made of egg whites with small mango bits at the bottom, topped with a mango sauce.
The extensive wine list in the Normandie includes many French vintners (no surprise), but also many from other great wine regions of the world. Wine pairing is only available for the tasting menu, but the sommelier will gladly help you find the right one.
Revelations is on deck 11 forward, just above the spa. The club's primary attraction is dancing, but it also hosts live music and a late-night chocolate buffet. The decor at Revelations was mostly unimpressive, although we did find the cave-like design of the ceiling somewhat interesting. Revelations is usually empty during the day, so it can be a good spot to get away from the crowd.
Revelations offers the exact same drinks, with the exact same prices as the Rendezvous Lounge.
There are some karaoke events and happy hour times at the Revelations, and a live band plays here every night starting around 10 pm. On the final night of the cruise, the Summit hosts a decadent, late-night chocolate buffet at Revelations.
The menu for room service is quite long when compared to other ships on which we have sailed. It takes 30 to 45 minutes for the food to be delivered, but sometimes a lot faster.
Breakfast is available from 6 am to 10 am. Use the door tag to order make sure you have it hanging outside by 4 am. Or forget the door hanger and just call when you wake up. Apparently that works, too. The menu includes egg dishes, bread, cereal, pastries, juices, and yogurts.
For lunch and dinner, the Summit offers different soups, like a New England clam chowder served in a freshly-baked bread bowl, salads, hamburgers, lasagna, steak, quesadillas, sandwiches, and a surprisingly delicious pizza.
Desserts include a double chocolate cake, cookies, raspberry cheesecake, fruit and cheese plates.
If you to drink something other than water, the room service menu offers beer, iced tea, San Pellegrino or Evian, and wine by the glass. The price for beer is $5 or $6. Wines start at $6.50.
The Mast Bar is on deck 11 and is spread out over two parts: one overlooks the main pool area, while another hangs out over the Aquaspa. A small bench area is located on both sides of the bar.
The Mast bar offers the same drinks, at the same prices, as the Pool Bar
You'll find the Waterfall Bar at the back of the ship, just behind the Waterfall Cafe. All the furniture here is made from teak wood—the chairs, tables, floors, even the bar itself. The Waterfall Bar can be a good place to eat an early breakfast so you can catch the sunrise over the ocean.
You can bring food from the Waterfall Café and eat it here. Both the Waterfall Café and Bar offer the same drink menus, featuring beer, non-alcoholic cocktails, and a short wine list.
Since the bar is mostly off the beaten track, it is quite empty at night.
Meet the tester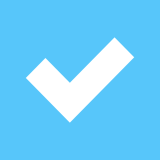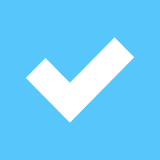 Anonymous Cruise Editor
Editor
@
Anonymous is a valued contributor to the Reviewed.com family of sites.
Checking our work.
We use standardized and scientific testing methods to scrutinize every product and provide you with objectively accurate results. If you've found different results in your own research, email us and we'll compare notes. If it looks substantial, we'll gladly re-test a product to try and reproduce these results. After all, peer reviews are a critical part of any scientific process.
Shoot us an email