The Dream is beautifully designed in the Art Deco tradition with a hefty dose of Disney culture mixed in. Mostly, the ship is a children's area with a few exceptions, like the Remy and Palo restaurants, the Meridian, and the bars in The District. There is a full blown movie theater aboard, showing the latest Disney features in 3D, as well as some more adult films that come with an R rating. The huge LCD screen poolside on deck 11 also plays movies day and night. The AquaDuck, the first water coaster at sea, is great fun and should not be missed.
In the Disney cruising tradition, there are some spectacular theme nights like Pirate Night. A dinner fit for a pirate is served at Cabanas restaurant topside. Captain Jack Sparrow and his crew are sure to make an appearance, followed by a fireworks display that you can only see on Disney ships (we have to ask: where do the firework casings end up…trash in the ocean perhaps?). Even the grumpiest cruiser can find mirth in dressing like a sea pirate and growling at children. If you have kids young enough to believe in Disney magic, cruising on the Dream can make for a fabulous family vacation.
The food was above average. Not one of the restaurants turned us off, and the specialty restaurants had top-quality nosh. Disney did not venture into the obscure or challenging with their cuisine. The results were somewhat predictable, but we had really great tasting meals.
We enjoyed our ride on the Disney Dream for the fun and variety offered. We appreciated that entertainment was not just relegated to the bars, or strictly geared to children. There were fantastic shows, a great movie theater, a whole water coaster, pirate nights and other Disney magic.
It goes without saying that, to fully enjoy this type of cruise, you need to have kids along, or be a devout Disney fan. The more cynical cruiser could get pretty annoyed with the lighthearted campiness thickly applied to everything on the ship. But if you have a family, you won't find a better cruise than aboard a Disney ship, especially for smaller children. The Dream is the largest and most decked out of all the cruisers in the Disney line and we highly recommend it.
There are nine different room types on the Dream, from the 169-square-foot Standard Inside Stateroom to the 1781-sqaure-foot Concierge Royal Suite with Verandah. Each room comes with a "Key to the World" that works both as your room key and as a charge card for the duration of your voyage. Most rooms have a convertible sofa and a pull down extra bed to maximize occupancy for families. Disney expects that even the Inside Stateroom will be sleeping three or four passengers though it would be a little too cramped for our sensibilities.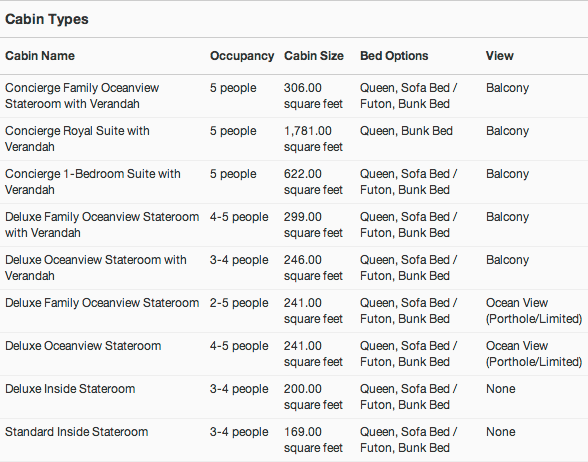 Though no room on a cruise ship is actually big, Disney uses space in the Oceanview Stateroom well. The shower and the toilet are in two separate rooms. This piece of functional design makes it possible to have a whole family living simultaneously in one room. These two wash rooms are right off the entrance hallway, across from two large closets. The main room opens up to fit a king-sized bed, which can be exchanged for two twin beds instead. Attached to the main room, is a smaller living area that can be sectioned off by a curtain. In this living area is a sofa bed, with a chest serving as a coffee table, and a vanity mirror with desk. The desk has four storage drawers, one of which contains a hair dryer. The TV is also in this room, built into a shelve on top of the desk. The TV swivels such that you can watch it from the bed. Off of the living area is a small balcony.
We noticed that the bed was a little too soft. There just was not enough support for a good night's sleep, but some people will enjoy sinking into this overly plush bed with four big pillows. On either side of the bed are nightstands with lamps and drawers, one side has a clock radio with an iPod port, the other has the phone.
Though the sofa can be turned into a twin bed, there is an extra pull down berth, and there is storage in the desk and the coffee table, we are not sure how comfortable this room would be with three or four people sleeping in it.
The toilet and the bathroom are separated, and both have a sink. This allows two people to preen at the same time, or for one to have a shower while the toilet remains available. There is not much storage space in either room. The bath tub is great, a little small perhaps, but it is is still nice to use.
There are two closets opposite the washrooms. Both have plenty of hangers, each with a built-in shelf. In the main room, there is a cabinet with three huge drawers. The desk in the living area has a few drawers as well, and the coffee table has a little storage space too.
The balcony is small, but has space for two chairs and a little table with an ashtray. We had the misfortune of reserving the last available balcony on the deck, and our view was obscured. There is a dividing wall that can be opened to the adjacent balcony if you are traveling with friends and family next door.
We did not stay in the rest of these cabins, but we have summaries here provided by Disney. Note that any photos on this page may be provided directly by the cruise line and not our reviewer.
Deluxe Family Oceanview Stateroom
This room offers plentiful space for a family of 4 or 5—substantially more space than a standard stateroom—and features a queen-size bed with underneath storage, convertible sofa, wall pull-down bed in most, split bath and a private balcony.
Sleeps: 4 to 5
Size: 299 sq. ft. including verandah
Room Configuration: Queen-size bed, single convertible sofa, wall pull-down bed (in most) and upper berth pull-down bed, split bath with round tub and shower
View: Private verandah – Disney Cruise Line
Deluxe Oceanview Stateroom
This room easily accommodates a family of 3 or 4 and includes a queen-size bed with underneath storage, convertible sofa, wall pull-down bed in most, split bath, privacy divider and a crystal-clear porthole view. Relax in more space than you'd find in a standard room.
Sleeps: 3 or 4
Size: 204 sq. ft.
Room Configuration: Queen-size bed, single convertible sofa, upper berth pull-down beds in some, split bath with tub and shower
View: One large porthole window or 2 small porthole windows
Deluxe Inside Stateroom
This accommodation holds 3 or 4, with substantially more space than is offered in a standard stateroom. Includes a queen-size bed with underneath storage, convertible sofa, wall pull-down bed in some, split bath, privacy curtain and Magical Porthole with real-time views.
Sleeps: 3 or 4
Size: 204 sq. ft.
Room Configuration: Queen-size bed, single convertible sofa, upper berth pull-down bed (in some), split bath with tub and shower
View: Magical Porthole with real-time view
Standard Inside Stateroom
This room comes with many standard amenities, featuring room for 3 or 4, with queen-size bed and underneath storage, convertible sofa, wall pull-down bed in some, separate sleeping and seating areas as well as a couch and desk, plus a Magical Porthole with real-time views.
Sleeps: 3 or 4
Size: 169 sq. ft.
Room Configuration: Queen-size bed, single convertible sofa, upper berth pull-down bed (in some), bath with tub and shower
View: Magical Porthole with real-time views
Concierge 1-Bedroom Suite with Verandah
This sumptuous suite is one of the luxurious accommodations for your family. This opulent suite sleeps 5, with a living room, a bedroom with queen-size bed, a bathroom with whirlpool tub, rain shower and vanity mirrors with built-in TVs, walk-in closet, private verandah with Jacuzzi and numerous upgraded amenities.
Sleeps: 5
Size: 622 sq. ft. including verandah
Room Configuration: 1 bedroom with queen-size bed, living area with double convertible sofa, single wall pull-down bed in the living room, walk-in closet, whirlpool in the master bathroom, 2 bathrooms with rain shower
View: Private verandah
Concierge Royal Suite with Verandah
This palatial suite is the largest, most upscale offering. It easily sleeps 5 and features 2 bedrooms with queen-size beds, 2 bathrooms including mirrors with built-in TVs (master bath includes double sinks, whirlpool tub and rain shower), media library, wet bar, pantry, walk-in closet, private verandah with Jacuzzi and many lavish amenities.
Sleeps: 5
Size: approximately 1781 sq. ft. including verandah
Room Configuration: 1 master bedroom with queen-size bed, 1 wall pull-down double bed and 1 wall pull-down single bed in the living room, 2 bathrooms including master with double sinks, rain shower and whirlpool tubs (whirlpool tub is also on the verandah), living room, media library, open dining salon, pantry, wet bar and walk-in closets
View: Private verandah with floor-to-ceiling windows in main living space
Concierge Family Oceanview Stateroom with Verandah
Sleeps: 5
Size: 306 sq. ft. including verandah
Room Configuration: Queen-size bed, double convertible sofa, upper berth pull-down bed, full bath (vanity, sink, round tub and shower), half bath (vanity, sink and toilet)
View: Private verandah
In the desk in the living area, there is an A/C operated hair dryer. In the bathroom, Disney provides the basic toiletries: shampoo, conditioner, Disney brand lotion, hand and facial soap. There is a mini-fridge, but it is empty. You can order drinks to fill it via the In-Room Dining service.
Each room comes with two complimentary Wave phones, allowing you to make calls and send texts to other Wave phones to keep everyone in communication while aboard. The phones do not work off the ship, so taking them home is not going to be that helpful. You can rent additional phones from guest services. The stationary phone in your room will incur charges according to the US international ship to shore rates. You can access the internet at hotspots throughout the ship and the wireless available in the cabins.
The television has movies and TV shows for free on demand, but there are no consistent movie channels unfortunately. There are supposedly 10 television channels in addition to the on on demand, but a few didn't work due to international regulations.
For the various restaurants, there are two seating times. The majority of seating happens at 5:45 pm, the second round at 8:15. You and your party will be assigned a specific dining room that changes every day of the cruise, thus rotating the passengers through all of the food offerings on the ship. Each night you will dine at a different restaurant, but your server and table number are always the same. If Bob is your waiter on night one, he will be there for every dinner at every one of the restaurants. Due to this system, the menus never have to change yet the appearance of variety will satisfy your palate.
With all this rotation, you can rest assured that all of these restaurants have a static children's menu, from which adults are also invited to order, featuring mac and cheese, a hamburger, hot dogs, chicken strips, pasta, and yummy desserts like caramel custard, brownies, and ice cream. This menus has puzzles, drawings, and games to keep kids occupied until the food arrives.
In your room, you will find dining tickets stating the assigned dinner times, show times, restaurant schedule, and your table number. You can also find your specific restaurant schedule and table number on your "Key to the World".
There are more casual options like Cabanas, the buffet on deck 11 and Flo's Grill, which serves fast food like pizza, hot dogs, burgers, and some sandwiches.
For more formal occasions, and an extra fee, there are two grown-up only restaurants: no kids, no princesses, no cartoons allowed. Palo, the Italian restaurant on board, has great pasta, meat, and vegetarian dishes ($20). Remy, a fine French bistro, will serve you a five-course meal for an extra $75. The waiters all speak French (or appear to at least). The meal takes place in a very romantic ambience with a great view of the sea. The experience will last about three hours.
This main dining hall is designed after the ballroom in the Disney movie "Cinderella". Rose motifs, fluted columns and iron railings weave around this faithfully recreated space, with hints of other films, like the chandelier from "Beauty and the Beast". Painted portraits of Disney princesses surround the room, bread baskets look like the pumpkin carriage, and many other details make this a truly enchanting restaurant.
Breakfast is available on select cruise days. Depending on the length and itinerary of your cruise, days and times for breakfast will vary. Lunch is available on select dates during your cruise, with open seating.
Our favorite lunch starter was the seafood sampler. We had lemon chicken salad; light, sweet, and sour, with not enough dressing. We tried the meatloaf; total comfort food, a little too much on one plate, but very tasty. We also had the minute steak with herb butter and fries, lightly grilled, heavily fatty, and filled with flavor.
We only had dinner once at the Royal Palace. Warm herb brioche and olive dip began the meal. But there was only one piece of bread and a small amount of dip per guest: not enough for something this delectable. We started with the avocado citrus salad. We noticed that the avocado was missing, so we asked for some. They brought a plate of three small slices, already turning brown.
The pomegranate glazed duck for our second course was much better, the glaze deliciously sweet. We followed with wild boar tenderloin, served medium rare, its reduction complimenting the red meat. Try it if you don't mind wild game.
At lunch you can grab key lime pie, NY cheesecake, or hot chocolate fudge pudding. At dinner, options are more refined, like Grand Marnier soufflé or tahitian vanilla crème brûlée. Our favorite was mango cheesecake, a creative culinary delight.
Inspired by Versailles, the Enchanted Garden has walls bedecked with frescoes of green hills and blue skies. The lighting fixtures are encased in custom glass with white latticework and ornamental light posts. The center of the restaurant features a 7-foot cascading fountain, with a stone cherub Mickey Mouse. During the day, the ceiling lights change color as the sun sets, from blue to red to dark colors accented with twinkling stars during the evening. The flower lights change color as they bloom, creating a truly enchanting dining experience.
Breakfast and lunch are open seating buffets, dinner is full table service like the other restaurants. Disney claims to use only market fresh ingredients, matching the ambiance of the restaurant to the freshness of the food. Unfortunately, as part of the rotational dining schedule, and our short stay aboard the Dream (only four days), we did not get to have dinner at the Enchanted Garden, choosing to dine at Palo instead.
We found both the lamb chops and the roast beef to be just to our liking. The steamed vegetables and the Waldorf salad were also worth mentioning. We could not make time for dinner here, but the menu looked wonderful.
Desserts were inventive and satisfying. The Sweet Temptations is a trio of Esterházy torte, strawberry cheesecake, and chocolate silk mousse. Also offered were a steamed lemon buttermilk pudding with citrus reduction, a sacher chocolate torte with apricot sauce, banana foster sundae, as well as each part of the Sweet Temptations offered as larger individual servings.
The third main dining room on the rotational schedule is a spacious and stylized restaurant, decorated in honor of the animators that made the Disney brand so famous. The walls have recreations of sketches, drafts, light boxes, paint brushes, colored pencils, computer work stations, scenes, and characters from Disney films.
Before you sit for dinner, you will notice that the characters on the walls aren't quite finished. During the course of the meal, the walls become viewing screens, and the drawings get colored in. Sometimes Nemo and his friends come out and interact with the guests. Crush the turtle actually speaks with people in live, real-time interactions.
Dinner began with herbed focaccia and ciabatta bread with roasted garlic dip. We started with wild mushroom risotto with porcini twist parmigiano-reggiano. We didn't get any parmigiano, though, and the porcini twist wasn't as crispy as we had hoped, rather too squishy for our liking. We followed this with tomato salad with bell peppers and onion topped with an herb dressing on micro greens. This was fresh and light, but it could have used a little more dressing.
For our main course, we got the Animator's Trio of Veal: a great grilled tenderloin, pulled shank that melted in the mouth, and tortellacci pasta that was great too, if a little crunchy on top. The sun-dried tomato and sage reduction drizzled over the ordeal was deliciously fresh. The only thing we didn't like was the potato crisp garniche, too hard to be enjoyable.
For dessert, you have a choice: crunchy walnut cake, pineapple financier, chocolate brownie cheesecake, cookies and cream sundae; or the Sweet Temptations, a small tasting of the walnut cake, the pineapple financier, and a lemon mousse.
The theme at Cabanas buffet is "Californian", which could mean many things, really. We appreciated that this buffet looked more like an outside restaurant than a budget canteen, though it's not the premier dining venue on board. There is indoor and al fresco dining available at Cabanas on deck 11 aft.
The venue is decorated with adirondack chairs, shell tables, palm trees, beach umbrellas, surfboards, flooring that alternates from wood paneling to sand to ocean blue carpeting. On the walls, you'll find nautically themed clocks, displaying times of all Disney Parks around the world. You may bump into some familiar fowl friends from the movie "Finding Nemo" scattered throughout the restaurant.
There are two mirrored buffets, with a bar selling drinks and a self-serve beverage station with hot and cold drinks between the two lines.
There is a whole host of pancake varieties on offer at the various food stations set up for breakfast. You can get eggs to order at the egg station, which can sometimes take a while due to the amount of people in line. A cereal station offers hot and cold cereal, yogurt, fruits and nuts. And then there are pastries, endless pastries, savory, sweet and everything in between. Mostly we thought the breakfast buffet was great.
Lunch features a carving station, often with a chicken, roast beef, sides like fries, steamed vegetables, rice and a mountain of shrimp. In an adjacent buffet was lentil salad, pineapple chili salad (not very spicy), sandwiches, wraps, fish, mushrooms, stir fry, steak, mashed potatoes, pasta, mac and cheese, pizza, corn and much more. For a buffet, it was very fresh and tasty.
A small table of flavored chocolate and fruit mousse, cookies, fresh fruit, cakes, and tarts stands at one end of the buffet. The fruit and tarts are the best.
This 18+, adult exclusive restaurant (named after a gondolier's pole, a palo) serves amazing Northern Italian cuisine with a modern twist in intimate surroundings, with great views of the ocean. Tables are arranged along floor-to-ceiling windows. A backlit central bar stands next to a baby grand, where occasional pianists serenade guests. If you ask nicely, you can dine al fresco on the teak deck. The maitre d' was authentically Italian, a great guy who told us a story about the name carpaccio.
Palo is a surcharge restaurant ($20). Reservations are mandatory and there's a dress code: Dress pants and shirts with a jacket for men, dress or pantsuit for women, no jeans, shorts, capris, flip-flops, or tennis shoes.
At our table were various breads with tarragon butter, which was ambrosial. We chose freely from the rolling antipasti cart. Everything in this course was exceptionally tasty. We began our feast with tuna carpaccio: good, but not great, the tuna a little watery atop the radicchio, but the lemon oil dressing was genius.
We followed with the Palo signature appetizer, pesto-marinated grilled shrimp with crab and cherry tomato ragù, one of the best dishes we had on the Dream. The ragù and pesto made a fine match, and the shrimp were cooked perfectly.
We went a little unconventional and ordered the pan seared calves liver on polenta cake. It lacked the bitter, gamey liver taste that can ruin such a dish, and was cooked perfectly. This is a traditional recipe, with a well-paired twist of apples and onions.
Desserts are typically Italian: Choices like tiramisu, chocolate soufflé, and zabaglione with Sangiovese-infused berries. The tiramisu was good, the soufflé better, but the zabaglione was awesome. A bit too boozy, but refreshing and light.
This venue sports a steep surcharge ($75), and is the most upscale spot onboard. If you saw Ratatouille, you may recall its namesake, Remy, the fantastic rodent chef. In fact, the menu is crafted by Arnaud Lallement of l'Assiette Champenoise – a Michelin Star restaurant just outside Reims, France – and Scott Hunnel of award-winning Victoria & Albert's at Disney's Grand Floridian Resort. It shows, as the food is the peak of excellence. Reservations are required. Do so early; the place books up fast.
Art Nouveau décor is enriched by soft lighting and green, red, and gold tones. The carpets and lighting are adorned with floral and leaf patterns. High windows offer great views of the ocean, a perfect setting for a romantic night out.
Dinner began with a Champagne cocktail, as well as our choice of french baguette, whole grain roll, and amazing black truffle brioche with chunks of truffle accompanied by butter and salt. For an amuse bouche, we received watercress soup with chive-garlic cream and a thin slice of bread on top. Crack the bread, mix it into the soup, and receive a delicious, mouthwatering spoonful to start off your meal.
For our dinner, we chose the following:
Langoustine royale with nage reduction and cream. This course was sweet and tasty, and melted in the mouth right away. The sauce was worthy of a king.
Tomato ratatouille in calamarata pasta with cuttlefish, drizzled with 8-year balsamic vinegar. The pasta was al dente, and the tomato and cuttlefish were perfect. *Atlantic sea bass, grilled crispy on one side and topped with a flavorful sweet and sour sauce made of white wine and carrots. This succulent dish dissolved in the mouth till you came to the crunchy part, and were met with even more flavor.
Seared tuna with quail eggs, calamari, black olives, and radishes. By far the worst dish we had all night. The eggs and tuna were not good together. It wasn't terrible, but there was nothing noteworthy either. We were a little disappointed.
Porcini veal with mushroom ragout and ris de veau (sweetbread). Tender, superb. The mushrooms were salty, but with a piece of veal, some of the best we've had.
Australian Wagyu tenderloin and braised short ribs, with grilled vegetables, carrot purée, and garlic mashed potatoes. The potatoes were a bit much, considering the meat alone made a hefty course, but all in all, a fantastic dish. The tenderloin was perfectly cooked, the carrot purée was great, and though mashed potatoes and short ribs weighed things down, they were quite good as well.
Before dessert, your server will bring by a selection of mostly French cheeses. You are allowed to take as much as you want, from a very soft goat cheese to harder, sharper cheese, but good luck after plowing through the list above.
After coffee, there are small sweets; truffles and lollipops. As a final surprise (spoiler alert), handmade truffles and a thank you card await your return to your room.
Remy's wine list is extensive. You may order off the list available in other restaurants, or from a specifically French menu featuring the best of the best: Champagne from Ay, Reims, and Épernay, white and red Bordeaux and Burgundy, and wines from Rhône, Loire, Provence, Alsace, and Jura.
Most of these selections are expensive. The cheapest French bottles start at $42, and some reach over $1,000. You can find cheaper bottles on the regular menu, and some can be had by the glass instead.
Flo's Cafe is themed after the animated movie "Cars". This small eatery is comprised of three food stations with American comfort food, each with its own name, open from 11 a.m. to 6 p.m.
Tow-Mater's Grill serves hamburgers and hot dogs. Luigi's Pizza has pizzas and salads, and Fillmore's Favorites makes sandwiches.
The pizza is really good, as are the burgers. If you need to get a quick bite for the family, you can't go wrong with Flo's.
The room service menu is hidden in the Disney book on the desk. You may not think to look through it unless you are really interested in the history of the Disney brand. The menu is in the back of this book, though there is no indication that it would be there.
Meal delivery takes between 30 and 45 minutes, sometimes less. The servers answer the phone promptly and take your order. Even if you call to make changes, it is a speedy service.
Breakfast must be ordered by 3am by hanging your selections on the outside handle of your door, or by calling room service. You may also choose the time it will be delivered. Choose from juices, cold cereal, breads, pastries, jams, honey, margarine or butter, cream cheese and other beverages like milk, coffee, and tea.
For appetizers, Disney offers a bunch of salads and soups. You can order a Caesar or a Niçoise salad, creamy tomato or chicken noodle soup. There is a selection of international cheeses and a fresh fruit bowl, as well as hot and cold sandwiches like a BLT, turkey and cheese baguette, tomato mozzarella panini, chicken and a guacamole fajita.
For a fuller meal, there is some typical American fare like cheeseburgers, hot dogs, mac and cheese, buffalo wings, pizzas of different sizes, a steak sandwich and a salmon steak too.
The chicken fajita and the pizza were our favorites. They were not overly large like some of the selections, but enough to satisfy our hunger.
Dessert we felt was a little lacking in choice. There are only two options: big island cookie and an oatmeal raisin cookie. You can order some snack desserts though, like M&Ms, popcorn, peanuts, and cashews.
Drinking age at sea is still 21 and requires a valid, government issued, photo I.D. Disney Cruise Line reserves the right to refuse sale and/or service to anyone.
Beer & Wine
Champagne and wines from around the globe are selected by a panel of certified sommeliers and complied into a menu for the restaurants on the Dream. This wine menu is the same in all of the main restaurants, available at the bars and in your room from room service. The list contains various Sauvignon Blancs, Chardonnays, Pinot Noirs, Merlots, Cabernet Sauvignons, and a few other red and white grape varietals, as well as dessert wines from around the globe. Prices range from $5.75 to $18 per glass, and $27 to $255 for a bottle.
The only other wine list is at Remy, whose large selection of French wines can get quite expensive.
There are fine domestic and international beer choices that start at $4.25, and draught selections at the bars around the ship.
Mixed Drinks
Flavored martinis are the specialty on the Dream, starting at $8.50 per. There are plenty of specialty cocktails like the Bahama Mama, Melon Vine, and the Captain's Mai Tai at the bars and different selections at the main restaurants for $5.75. You can order Margaritas, Mojitos, and Daiquiris in a price range of $5.75 to $10.75.
Drink Packages
Soda, water and beer packages are on offer, essentially a substitute for having a stocked mini-bar. There are wine packages too. You can pre-purchase wine at a discount depending on the length of your stay. You can either buy into the classic package, or the premium package. Packages are priced for three, four, five, and seven-night cruises, though the pamphlet detailing the package does not tell you how much you are approximately saving by ordering ahead.
Non-alcoholic Options
There are several virgin cocktails on the dream, served in a souvenir fairy cup with Tinker Bell or Captain Hook for $6.25. Or you can get non-alcoholic frozen drinks for $3.95. Soda is unlimited and free for everyone.
This inventive bar is decorated as an artistic interpretation of the transformation of a caterpillar to a butterfly, not something we would have thought of. The walls are covered with rounded light fixtures that change color regularly. There is a small stage done in gold and black, and silver chairs all about. The bar is a rounded ordeal, matching the irregular surroundings. The whole place looks very stylish.
There is generally a DJ spinning tunes for this joint, which can at times turn into a 70s disco night. The Evolution Dancers may make an appearance one night, an adults only comedy show another, and karaoke in between.
Evolution is open from 10pm until 2am daily.
This small lounge is connected directly with Evolution on deck 4 aft of the Dream. The walls are lined with "windows to the world", LCD displays showing different city skylines from around the world. This venue was pretty dark, but also rather quiet. It's a good place to be secluded and grab a late night libation with a close friend.
Skyline is open from 5pm-12:30am.
For a more intimate night out, this elegant bar has nooks for smaller parties. In The District on deck 4, Pink primarily serves champagne drinks, Taittinger being the champagne of choice, with the standard bar menu available as well.
The design is intended to look like the interior of a champagne bottle. This stylish round bar has lights that look like bubbles in an effervescent bottle. The mascot, a pink elephant, from which the bar takes its name, implies the age old adage that if you get drunk enough, you will start to see Pink Elephants. Or if you are completely disconnected with literature and popular culture, you may think that Pink Elephant refers to women in the GOP.
Pink is open from 5pm until 12:30am.
The Dream's sports bar, 687 on deck 4 aft, has a bunch of TVs and board games. Before 9pm it is a nice place to take the family for games and broadcast sporting events. After 9pm, it is adults only.
687, with its rich wood interior, dark leather, and fluorescent lights, is actually rather comfortable. Booths are great to create a closer atmosphere, each one with its own TV. The biggest screen is in the back of the venue and plays all the top sports games.
The sports bar is open from 12pm until 12:30am.
Jammed between Pink and 687 in The District, this lounge has a modern design with rounded arm chairs and wooden coffee tables. The bar is done in a stone motif, as though it were built out of a cave. Points of light speckle this bar to create a sensual low light experience. Mostly, you will not hang out here, The District Lounge is more of a walk through venue with live music to serenade your stroll.
Before 9pm, families are welcome, but afterwards, it's 18+. The Lounge is open from 12 noon until 12 midnight.
Outside on deck 12, right underneath the AquaDuck, Waves Bar has comfortable outdoor seating and aluminum tables. There are cushioned cutout areas to relax and enjoy a drink after a wild ride on the water coaster. Guests of all ages are welcome at waves, from 12pm to 7pm daily.
Topside, forward on deck 13, you can find Currents Bar. This bar has the best views from the highest point on the ship. The bar is shaped like a wave, with dark rattan chars and tables strewn about. There are lights here for post sunshine partaking.
Currents serves from 12 noon till 12 midnight, opening early at 11am on sea days.
This bar and lounge, located between specialty restaurants Remy and Palo, is great for an aperitif before your scheduled reservation time. Decorated in old-style nautical ornaments and pictures, sextants, maps, and the such, this lounge has an outdoor deck where smoking is allowed. Quality dark leather swaths the chairs and benches, the tables have marble tops. In addition to fine wines and classy martinis, this cozy lounge cells cigars to be smoked outside only.
Meridien is open from 5pm to 12:30am.
Right in the atrium where character photo opportunities are abundant, Bon Voyage is a cute little bar with red sofas and armchairs. If you are waiting to be seated at the Royal Palace, or for your excursion to depart, this is the place to relax and imbibe.
Bon Voyage is open from 12 noon until 11pm.
The highest spot on the ship, on deck 14 in the funnel, Outlook is bedecked in white and silver arm chairs, marble tables and dark wood paneling. This square-shaped venue can be converted into a chapel for weddings and the following reception. A truly romantic spot, this bar and lounge has some of the best views you will see anywhere. Frequently, you can catch a live band playing here.
Nestled within the Quiet Cove, the Cove Bar serves its adult patrons with aplomb. There is seating in and out of the pool, acrylic stools in the water and rattan furniture out.
The Cove Bar serves from 12 noon until 12 midnight (open early at 10:30am on sea days).
Senses Spa & Salon
Spanning parts of two decks, 11 and 12, the Senses Spa and Salon offers massages, body wraps, facials, aromatherapy, and much more for both men and women. There is a hair salon within that will style hair, service manicures and pedicures.
The spa has 17 private treatment rooms and two private luxury "villas". The décor is what Disney calls a "calming palate of green, brown, and blue hues, accented with a tropical flower motif and rich wood finishes". We agree that the place looks great.
If you've booked a treatment, you can relax while you wait in the Rainforest Thermal Suite. This section is separated into three areas, the hamam (steam bath), the caldarium (steam room), and the laconicum (dry sauna).
There are an assortment of facials, like the 50-minute La Therapie HydraLift ($115), oxydermy facial, pro-collagen quartz lift, skin specific lift, face and body sensation, triple oxygen treatment, and the extra special 24-karat gold facial for $325(!).
You can get massages as well, from Swedish massage, to aroma stone therapy, bamboo, deep tissue, couples, castaway cabana massages and the 100-minute absolute spa ritual for $249 where they pamper the entire body (no gold though).
And there's more! Body wraps and firming treatments are offered, like a seaweed massage at $188 for 75 minutes, the chocolate indulgence body treatment for $141, cellulite reduction for $155, cheek lift for $125, lime and ginger salt glow treatment for $151, and a "sensory dry float experience upgrade" to any package for $20.
With all these couple's treatments, what to do with the kids? You can bring them too. There are special treatments just for the little ones. For a solo massage, the kids are charged $89, or for the parent/kid massage session its $195. That's quite a few weeks worth of allowance, so advise them to start saving well ahead of your trip.
At the salon you can get a conditioning hair and scalp ritual for $29, teeth whitening for $199, a mani-pedi from $11 for a nail fix or $27 for the traditional service. Waxing is available from $15 to $90, depending on the area you would like stripped of hair.
Fitness Center
Forward on deck 11 is a large exercise facility with gorgeous ocean views. Right between the salon and the rainforest spa, this gym is stocked with shiny and new equipment from the Dream's recent launch. The fitness center has all the latest cardio equipment, weight machines, classes in aerobics, yoga, and Pilates. All classes are free, which was a nice change on a cruise ship, but tipping is expected.
There is a small spinning area too, but not much space to put down your yoga mat should you want to work on your own. Some classes are held outside in the sun on one of the deck areas. When you reach Castaway Island, these classes travel to the beach.
Disney holds seminars in the fitness center too, like lectures on detox for health, weight loss, and acupuncture. Personal training is offered at $75/hour. Reservations for classes, seminars, and personal training are mandatory and can be made in the fitness center after 1pm.
A few bonus perks include showers, lockers, complimentary towels, complimentary water, and changing rooms. You must be 18 or older to use the fitness center.
Goofy's Sportsdeck
On deck 13, a wide world of sports awaits you on Goofy's Sportsdeck from basketball, to volleyball, mini-golf, and a virtual sports simulator. The sportsdeck is one of the highest accessible points on the ship and has some of the best views of the ocean.
The mini-golf course has many levels of difficulty. If you feel like a pro, you can try putting with purposefully crooked or bent club. You can putt from the Goofy or Max tee at each hole, each changing the course and adding to the difficulty. Don't be surprised if Goofy or Max stop by to offer some tips, or just to mess with your swing.
Looking to shoot hoops, spike a volleyball, or blast a goal during your cruise? Goofy's Sportsdeck includes a basketball court that can easily be converted into a mini-soccer pitch or a volley ball court. Games are organized by the staff to encourage rigorous competitive gaming.
You can also find some table sports, like foosball and ping pong here, fun for the whole family. And if you've slowed down a bit, there is a walking track that circles the entire sports deck with great views providing some low impact exercise.
Sports Court
Basketball, volleyball, and soccer can be played on this convertible sports court.
Goofy's Mini Golf
According to Disney, Goofy and his son Max designed this miniature golf course with nine Disney themed holes. Goofy has scrawled some golfing lessons on plaques hanging around the course, which are actually really funny.
Digital Sports Simulator
On either side of the sports deck, there are digital sports simulators with a variety of state-of-the-art virtual sports games, like soccer, golf, tennis, ice hockey, and basketball. Realistic graphics and sounds make this a fun afternoon activity, and you don't have to go searching for the ball if you hit it out of bounds.
Shuffle Boards
On both port and starboard sides of the Dream on the promenade, there are four total shuffleboard courts. The equipment sits right next to the courts making a pickup game quick and easy.
Mickey's Pool
There are deep and shallow parts to this pool shaped like Mickey's face. This is primarily a kids pool, so even the deep parts are not much more than waist high on an adult. There is a giant water slide that starts a few decks up and ends at one side of the pool. To ride the slide, kids must be at least 3'2'' and at most 5'4'' and aged between 4 and 14-years-old.
For kids, it looks like it's so much fun. This pool opens at 6am and closes at midnight, the slide from 9am to 6pm.
Donald's Pool
This is another family pool with loads of deck chairs and seating areas for parents. The deepest end of the pool has a depth of only five feet. The pool bottom has a picture of Donald Duck, so it is easy to distinguish. There are activities at this pool, including trivia and games for all ages.
Above Donald's Pool is a humungous LED screen, the Funnel Vision, that plays Disney features, major sporting and broadcast events. The size is spectacular and the glare isn't bad, even during the day.
There is also a stage and dance floor at one end of Donald's Pool. Here they hold daytime activities and nighttime parties, including the Sail-Away Celebration and the main performance on Pirate Night. On some of these event nights, Disney slides a floor that covers both pools to add more deck space and security.
This pool operates from 6am until midnight.
Nemo's Reef
This 1,500-square-foot water park, enclosed on deck 11 midships, adjacent to Mickey's Pool, has fountains bubblers and pop jets for the really young ones in your party. The area is decorated with characters from "Finding Nemo" that move and spray water at unsuspecting toddlers.
This mini-park is surrounded by a glass wall, covered to block out the intense sun, and floored with spongy padding to maximize the safety of the area. The park admits children up to eight years of age. There are deck chairs and tables right next to Nemo's Reef so parents can comfortably maintain visual contact with their romping children.
Nemo's Reef opens at 9am and closes at 7pm.
Quiet Cove Pool
The adults only (18+) pool located on deck 11 forward, is called the Quiet Cove Pool. It is attached to the Cove Bar, a watering hole for cocktails and other beverages to be drank poolside.
There is a waist high, four-foot "deep end" and a 6-inch sunbathing pool at the other end. On either side of the pool are two whirlpool hot tubs overlooking the ocean from a grand height. Surrounding the pool are cushioned lounge chairs, more comfortable than the seating options on the rest of the ship.
In the evening, the Quiet Cove is lit up with mood lights and there is a live musician playing guitar poolside. You can also book massages at this quieter topside deck area. Some activities include trivia and games. You can find times for all events in the Personal Navigator.
The Quiet Cove Pool is open from 6am till midnight.
Aquaduck Slide
This is the first ever water coaster at sea. You enter this water surging ride on deck 12 aft. The ride consists of an acrylic tube that blasts you along with high powered water on a journey up, down, around, and off the side of the ship, through the forward funnel, and on to a big drop into a river of water.
Developed by Disney Imagineers, this water coaster is 765-feet-long, with an overall 4-deck drop. It is open for adults and children 42'' or taller, single riders must be 54'' or taller.
The ride provides amazing views of the ocean below, that is if you can keep your eyes open. It is definitely a fun ride, recommended for roller coaster junkies.
The AquaDuck is open from 9am until midnight.
Deck 12
Around the funnels, there are hundreds of deck chairs. The Waves Bar aft of this deck is right by the AquaDuck. We don't recommend combining these activities. This is a good spot to get away from the crowds actually, as most people are right by the pools.
Deck 13
This deck area exists midships and forward of the Dream. There are loungers and a walkway that sometimes gets used by classes from the gym. Currents bar, forward on this deck, is one of a handful of smoking areas on the Dream.
Concierge Club Sundeck
A secluded area for those reserving Concierge level cabins, this sundeck has chairs and loungers away from the rest of the masses.
Atrium
This area is an inside deck with chairs and couches where many of the Disney character appearances happen.
D Lounge
This lounge is a family oriented nightclub on deck 4 midships, with a casual atmosphere and comfortable seating. Expect games and entertainment for the whole family, like karaoke, passenger participating game shows, dance parties, and contests. There is a small stage where most of the fun takes place, a DJ booth and a dance floor providing opportunities for a range of activities.
The seats are cushioned with red, orange, and purple themes, arranged around tables scattered around the lounge. Even though the ship is really new, we noticed that this nightclub has seen some heavy enjoyment. Some of the chairs and tables had seen their share of vandalism, intentional or not we could not tell.
This lounge is only open during show times. Check your itinerary for the next activity at the DLounge.
Vista Café
The Vista Café is a bar that serves light food and coffee throughout the day, midships on deck 4. It is a perfect place for a morning coffee or for an evening cocktail.
Decorated in the Art Deco style, this WiFi hotspot has a photo kiosk where you can sort through and print the pictures taken by professional photographers around the ship.
You can purchase different specialty coffees here, like a Frappe for $3.95, small and large lattes, cappuccinos, espresso, café mocha or a frozen cappuccino ranging between $3.25 and $4, as well as macchiatos starting at $2.25 and a chai latte for $2.95.
The Vista Café is open from 7:30am until 10pm.
Cove Café
An adults-only café, inspired by the luxury travels of the 1920s and 30s, placed forward on deck 11, this Art Deco lounge offers cocktails, gourmet coffees, wines, spirits, and snacks. Passengers can find magazines, books, large televisions with international news and access to the internet via WiFi.
The bar serves the same cocktails as the rest of the ship. The same specialty coffees from the Vista Café are on sale here also: A frappe for $3.95, small and large lattes, cappuccinos, espresso, café mocha or a frozen cappuccino ranging between $3.25 and $4, as well as macchiatos starting at $2.25 and a chai latte for $2.95.
Conference Rooms
There are three conference rooms on deck 4. They are rather small actually, but they can be combined into one larger room. All have a TV and the newest conference technology.
Movie Theater
In the Buena Vista Theater on deck 4 and 5, Disney shows first-run feature films in 3D and boring old 2D as well. You can also catch feature films on the mega LED screen Funnel Vision, hanging above Donald's Pool, topside, midships.
Arcade
There is a small arcade on deck 11 by the pools, next to Cabanas grill, with video games and some analog classics like pinball and air hockey. The arcade runs on a cashless system. Passengers purchase game credits with their Key to the World, which go onto a separate Play Card. You can purchase these credits at Guest Services or at the Arr-Cade.
Shows & Performances
In the Walt Disney Theater, vertically spanning decks 3 and 4, Disney puts on Broadway caliber performances. These numerous musicals are heavily laden with recognizable Disney characters. You could be lucky enough to see any of the following:
Disney's Believe
Disney Dreams – An Enchanted Classic
The Golden Mickeys
Villains tonight
Remember the Magic: A Final Farewell
There are also a couple of Comedy and Cabaret performances held in this theater that are just for the grown ups.
Character Appearances
Meet and greet Disney characters all over the ship. Take pictures with Donald, Minnie, Daisy, Mickey, Cinderella, Snow White, Sleeping Beauty and many other favorites.
Other than the adults-only spaces, the whole ship is really a children's area. Even so, there are a few extra designated areas just for kids, like the nursery, science lab, the Kids Club, and a kids-only deck space.
On deck 5 midships, the It's a Small World Nursery houses children from three months to three years of age. The design is inspired by the classic Disneyland attraction. Day care requires additional charges.
Disney's Oceaneer Club, also on deck 5 midship, is an activity center for kids just too old to be in the nursery. Here, they can dress up as a princess or a hero, play computer games, and take part in one of the many supervised theme activities.
Getting a bit older, tweens can meet other tweens in Edge on deck 13 inside the forward funnel. It's a place to watch television, listen to explicitly censored music, play some video games, surf the internet, and participate in meet and greet activities.
The pre-adults in your crew will need a place to hang out that isn't totally lame. Send them over to Vibe on deck 5 and they can be demure with other teenagers while they watch television, play video games, pump some jams, surf the web in the indoor and outdoor teen lounge.
Mickey's Mainsail
If you absolutely need a princess dress or a pirate costume, Disney has you covered at Mickey's Mainsail. You can purchase a whole bunch of Disney branded gear, including toys and stuffed animals, a sunk cost if you brought the kids.
Whitecaps
Luxury goods are sold at Whitecaps on a duty-free basis. Jewelry, leather goods, sunglasses, fragrances, deluxe brands and Disney fashion. You can also buy cigarettes and liquor, but you cannot drink the liquor on the ship, it will be delivered to your room on the last night of the cruise.
Seatreasures
Boring! You can buy some grown up attire here, but what does that have to do with Disney cartoons and constant fun?
Whozits & Whatzits
This is a great place to pick up an extra pair of flip flops, a bathing suit, suntan lotion or a magazine to read topside.
Vista Gallery
Frequent art auctions are held at Vistas Gallery, as well as art history lectures, and trivia sessions. There is quite a bit of Disney art here for the enthusiasts on board.
Shutters
This photo gallery sells photographs of your trip in CD photo packages, photo books, and has a schedule of the available character photo opportunities.
The staff were very pleasant and likable, one of the reasons we would go on another Disney cruise.
Laundry service can be done a number of different ways. You can have your clothes picked up from your room for a charge. You can do it yourself in the Guest Laundry Room with coin-operated washers and dryers at $2 per load, where they have ironing equipment and detergent which will cost an extra dollar.
Your voyage will bring you to Castaway Island, a piece of land surrounded by water and owned entirely by the Disney corporation. There are bars, shops, a post office, fitness classes, a handful of different beaches and a barbecue. It's a lot of fun.
Staff
The room steward was mostly invisible. This is a good thing. He always knew when we were not in the room to clean up a little. In the main dining rooms, the head waiter seemed a little distant; we didn't see him much. Our table's waiter was very personable, but sometimes a little bit behind schedule. Wait times at dinner were longer on the Dream than other cruise ships. In the specialty restaurants however, the waiters at Remy and Palo were extremely attentive, friendly and never forgot anything.
Tipping
For your dinner service, $16 per guest is expected for your server, $12 for your assistant server, and $4 for the head server per cruise. In addition, $16 for your stateroom host/hostess seems appropriate according to the Disney website. All of these gratuities can be paid up to three days before your vacation, otherwise they will be added to your onboard account.
For any liquor purchases, 15% additional gratuity will be added to your bill.
Dress Codes
Meals in the main dining room are cruise casual, meaning no shorts, swimwear, or tank tops. Disney, rather than having a
formal night like most cruises, has a pirate night, where instead of a tux you can dress like a pirate.
The specialty restaurants require a bit snazzier dressing. Palo asks that men wear dress pants and a shirt or jacket, a dress or pantsuit for women. Remy is more formal, requiring a a tux for the men, or at a minimum a sports jacket (ties apparently are optional, women should wear cocktail dresses or pants suits.
Loyalty Programs
If you've been on a Disney cruise, you automatically are enrolled in the Disney Cruise Line Castaway Club. The more you sail with Disney, the more benefits you get.
Castaway Club members enjoy:
Castaway Club Members Enjoy Great Benefits Including:
*Advance booking of shore excursions,
*Child care at Flounder's Reef Nursery,
*Fine dining at Palo and pampering at Vista Spa & Salon
*Welcome Back stateroom gift
*General Safety**
On embarkation day, there is a mandatory lifeboat drill that we find comforting. There is a second drill for the crew during the cruise; more comforting. Fire hoses and extinguishers all over the ship. Disney makes sure there are enough lifeboats on board for everyone, even if the ship is fully booked.
Clinics
There is a medical clinic on deck 1, open every day from 8-11am and 4:30-7pm. There is a fee if you would like to see the doctor.
Smoking Regulations
Smoking inside anywhere on the Dream is prohibited, this includes your staterooms, where smoking will incur a $250 fee. You are free to smoke on your balcony if you have one however. There are designated smoking areas outside on the Promenade on deck 4 on the starboard side from 6am to 6pm. The Meridian outside deck allows for smoking as well.
Meet the tester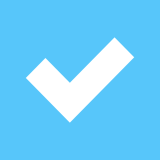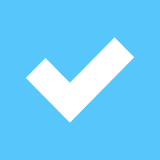 Anonymous Cruise Editor
Editor
@
Anonymous is a valued contributor to the Reviewed.com family of sites.
Checking our work.
We use standardized and scientific testing methods to scrutinize every product and provide you with objectively accurate results. If you've found different results in your own research, email us and we'll compare notes. If it looks substantial, we'll gladly re-test a product to try and reproduce these results. After all, peer reviews are a critical part of any scientific process.
Shoot us an email