The flagship liner, the Queen Mary 2, is the largest Cunarder on the ocean, carrying 2592 passengers at double occupancy. Named the world's Top Large Resort Ship by the 2012 Berlitz Complete Guide to Cruising, this cruise liner has the biggest ballroom at sea, the only planetarium on the ocean, a Todd English restaurant, two elegant main dining rooms, and one staff member for every two guests.
All of the 14 passenger decks are luxurious, with a huge variety of activities. There is a show every night, luxury boutiques, and so many places to grab a drink or a bite to eat. All events are clearly listed in the helpful "Daily Programme".
We noticed that the passengers tend to be older adults, or cultured couples. You won't find many kids or young professionals looking to let loose on this Cunard cruise liner. Keep this in mind, and you could have a great vacation on the Queen Mary 2.
If you have the time, and the extra money, there is no better way to make the transatlantic trip, than on the Queen Mary 2. The entertainment, activities, and food are spectacular, and considering there is no jet lag when you cruise across the ocean, you may never want to fly again.
Though there are lounges for the kiddies, we don't recommend that you bring them. This is a ship for an older crowd, or those of the finer sensibilities. Kids may draw frustrated attention from other guests looking for a fancy getaway. We are pretty sure the young ones would not have fun anyway.
We noticed the overall design of the ship was done with excellent foresight. The floor plans are open, beautiful, and the entire ship is easy to navigate.
The drink menu is innovative, and the dining was great, with the exception of the disappointing Todd English restaurant. The rooms are very comfortable, not too small like you see on some cruises, even though the bathroom could be a bit tight.
We cannot reiterate enough that the Queen Mary 2 is clearly meant for older adults. This luxurious ship constantly reminds one of times past (times when many of us weren't even alive) with pictures of 30s celebrities, bars and lounges dedicated to the exotic travelers of the 1920s, 30s, and 40s, and music from a different generation.
The service, the gourmet dining, the world-class entertainment, the elegance, and sheer space available on the Queen Mary 2 are some of the best on the sea. We highly recommend a voyage on this cruiser, with the caveat of knowing that you may be the youngest passengers on the ship.
This largest cruiser in the Cunard line has 1,296 cabins, most of which (78%) line the outside of the hull, the remainder are inside cabins. Most of these outside cabins have a balcony. A spacious room with outdoor access is easy to reserve on the Queen Mary 2.
There are some specialty rooms to consider. There are five duplex apartments, each two decks high, overlooking the ship's stern through a two-story glass wall. This is a rare treat of comfort on a cruise ship. The suites, forward on the Queen Mary 2, are not as large as the apartments, but they come bedecked in luxury, with marble bathrooms, a guest bath, and some with a private elevator entrance.
Traveling on the Queen Mary 2, whether in an Inside cabin or the best suite, means a sumptuous vacation for sure.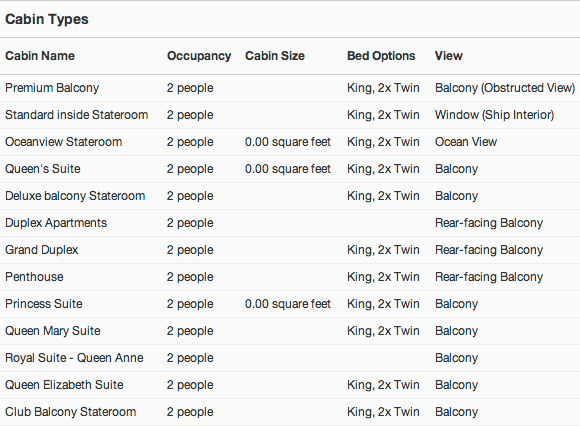 The Inside Stateroom was a bit smaller than we had hoped. This singular room was large enough for a king sized bed, convertible into two twins. On the right of the bed was the bathroom. To the left were the closets, leaving not much space for anything else.
The bedroom is the only room in this type of cabin. It was a bit tight in there, with just enough space for the bed and a small desk. We were on deck 6, just below the King's Court restaurant and our room got really loud in the morning, and we mean early: between 4am and 5am. We could hear the servers setting up the buffet in a rush to feed a couple thousand guests, but it drastically cut into our beauty sleep.
There are two closets to the left of the bed, one drawer, and a shelf. The desk has two small drawers for storage as well.
We did not stay in the rest of these cabins, but we have summaries here provided by Cunard Line. Note that any photos on this page may be provided directly by the cruise line and not our reviewer.
Duplex Apartments
_There are five duplex apartments, each two stories high, over-looking the ship's stern. Sea views come through a two-story glass wall. These rooms are between 1,566 and 2,249-square-feet. Each has an exercise area, balcony, two full marble bathrooms with bath tub and shower and a guest bathroom with shower.
Each duplex can be combined to all the rest to form a grand, 9,000-square-foot suite. Passengers in these suites are pampered by the services of a butler and room service prepared by chefs at the Queens Grill._
Royal Suites
There are four of these forward suites, overlooking the ship's bow, measuring between 796 and 1,194-square-feet. Each features a marble bathroom with bath tub and shower plus a guest bathroom with shower. These suites have a private elevator entrance and balcony. All four elegant Queen's Grill Royal Suites can be connected to create a stunning 3,980-square-foot suite.
Queen Suites
There are 81 Queens Suites positioned throughout decks 8, 9, 10 and 11 measuring 506-square-feet. Each features Frette linens, flat-screen televisions, state-of- the-art entertainment systems, walk-in closets, selected spirits or wine and soft drinks, plush terrycloth bathrobes, slippers, personalized stationery, a Bon Voyage bottle of champagne, and daily fresh fruit and pre-dinner canapés.
Princess Suites
There are 76 Princess Suites on Deck 10, measuring 381-square-feet. Highlights include a large private balcony, separate bar and full bathroom with bath tub and shower. Expect state-of-the-art entertainment systems, walk-in closets, plush terrycloth bathrobes, slippers, personalized stationery, a bottle of sparkling wine, and daily fresh fruit.
Britannia Balcony Staterooms
At any time of the day your luxury stateroom provides a welcome retreat of comfort and good taste in which to unwind. It would be impossible not to cherish the relaxing lounge area of your balcony stateroom with direct and private access to the ocean breeze with additional lovely details to make an extraordinary stay even better. Guests can choose from a la carte specialities as they dine in the intimate single-seating Britannia Club Restaurant.
Britannia Oceanview Staterooms
These luxurious staterooms provide spacious comfort in which to relax and marvel at the views from your Oceanview window. And they're beautifully decorated with fine prints on the walls, soft colours on the sofas and coverlets and turndown service when it's time to retire. Guests dine in the magnificent Britannia Restaurant with a choice of an early or late sitting.
Cabin Amenities by Cabin Type
The cabins all have Wi-Fi access (for a fee), individual AC, hair dryer, 110/220 volt outlets, nightly turn-down service, full bathrooms with a tub or shower depending on your stateroom level.
Each bathroom comes stocked with exclusive Cunard toiletries such as soap, shampoo, conditioner, lotion. Take advantage of the plush bathrobe provided for use during the cruise.
There is a phone bedside for ship-to-ship/ship-to-shore phone calls. You can also schedule a wake up call and phone for room service.
All cabins and suites have safes to lock your valuables that work by swiping your room's key card.
The main dining room, Britannia, can serve 1,351 passengers at any given time, with open seating for breakfast and lunch. There are plenty of extra dining options to spread out the crowd. The Britannia club offers semi-private dining for guests staying in deluxe balcony rooms, while the Princess Grill and the Queens Grill are for passengers in the luxurious suite level rooms.
A few specialty eateries, like Todd English, La Piazza, and Lotus are available with a reservation and an extra fee.
King's Court has food all day, with a buffet for breakfast and lunch. They serve an afternoon and late-night snack as well. You can eat there in the evening for dinner when they start to serve from an a la carte menu for a $10 cover charge.
Smaller venues also have food, like the Golden Lion Pub, Sir Samuel, and the Boardwalk Grill, all great for an unscheduled meal during the day.
The Waterford crystal and the Wedgewood china in most of the restaurants are just some of the elements of elegance that speak to the overall quality of a Cunard cruise.
The main dining room is huge, spanning two decks. Like a classic British banquet hall, Britannia has beautiful dark wood tables and chairs, white tablecloths and real silverware. At night, lights are set low to the point of darkness. The portions are just the right size, enough to satisfy without being gluttonous.
The food sets a high standard, but it takes forever to complete a meal here. Service is slow, depending when you are seated. If you get in early, service is faster. But on a ship with plenty of old timers, early means really early.
Breakfast is open seating, so you can show up at your leisure. The menu doesn't change, offering hot and cold cereal, juices, fresh fruits, yogurt and compote. There are of course pastries, pancakes, waffles, and eggs prepared as you like them. A selection of breakfast meats can be added to any order as side dishes.
The lunch menu changed every day, and we found it delicious, minus the cooked sushi; an area the Brits should avoid. Appetizers were incredibly diverse, from pineapple carpaccio to escargots and salads. For a main course, we enjoyed the bass and the braised oxtails.
Dinner was disappointing at times. Appetizers were often much better than entrees. Thankfully, the menu changed nightly. The best meal we had here was the Chateaubriand; medium rare and tender, the sauce buttery, and the white asparagus a nice change of pace. We also loved the mushroom and basil risotto. The rice was perfectly al dente, and the mushrooms and basil made it taste fresh and interesting.
There were many delicious options for dessert, like the cassis champagne mousse. The best though, was the vanilla lemon souffle; the right kind of fluffy, topped with an exquisite limoncello sauce, making a light and delicious end to a solid meal.
This buffet restaurant is broken into four sections. Breakfast is uniform, but at lunch and dinner, each section specializes. During dinner, the meal is seated and served a la carte with a $10 cover charge. Reservations for dinner are highly recommended.
For the most casual dining experience on the Queen Mary 2, you can eat breakfast, lunch, and late night buffets at your leisure in the King's Court.
At dinner, each section becomes a specialty restaurant: Lotus for Asian cuisine, the Carvery for British-style roasts, La Piazza for Italian, and the Chef's Galley, where guests can watch the chef reveal culinary secrets. We had fun at the Chef's Galley, as the head culinarian explained the starter as well as our delectable desserts.
Breakfast is extensive, with different kinds of eggs benedict, pancakes, waffles, salmon, herring, English breakfast, yogurt, and much more.
We do not usually expect much from a lunch buffet, but we were pleasantly surprised by the food served at King's Court. Sometimes we felt the food had been out for a little too long, but when we caught it fresh from the kitchen we were happy.
The prepared meals in the evening are some of the best on the ship. The veal chop from the Chef's Galley was too fatty, but cooked perfectly. The appetizers, a shrimp cocktail and a Caeser salad, were both light and great.
The late night buffet is a thoughtful treat. It is a little small, but we did not need a lavish buffet for our fourth meal of the day.
We were impressed by dessert: tiramisu, black forest cake, mousse, chocolate cakes, fresh fruits, tarts, pies and custards, all of which hit the mark perfectly.
Owner of The Olive Group, a conglomerate of more than a dozen branded U.S. restaurants, winner of the James Beard Award, and Bon Appetit's "Restauranteur of the Year", Todd English takes up yet another shop on the Queen Mary 2.
The highly sought-after restaurant requires reservations. There's a lot of hype around English and his many restaurants, but we don't get all the fuss. The Mediterranean-themed food came in American-sized portions, which means too much, and there seemed to be no creative twists, or extra spice, or unique thought put into the dishes.
The menu was small, with just enough options to eat something different every night. Appetizers sounded fancy, but were rather basic. Our favorite was tuna crudo with rice, avocado cream and jalapeño. The tuna was fresh, and delicious with avocado cream.
At dinner we had the eggplant ravioli bolognese. It tasted like something we'd make at home: good, but not special. The bolognese was a bit sweet, like something from a can. The ravioli had little taste to it; we did not get the flavor of eggplant.
We also had the tenderloin with quail egg, porcini mushrooms, potatoes and fava beans. The meat was great: medium rare, charred on the outside, tender on the inside, we loved this part. Not so much the single quail egg, sunny side up and a bit overcooked. The mushrooms and fava beans were good, but too salty. The side of pesto made no sense. It added nothing to the taste and just didn't belong.
Lunch was far better, starting with charred squid salad with spicy broccoli. The squid was tender and lemony. The broccoli wasn't as spicy as advertised, but still yummy.
For a second course, the chicken and beet salad with roasted beets, walnuts, and apples was delicious, though we'd have like more beets in our beet salad. The chicken wasn't quite warm when it arrived, but we enjoyed the flavor.
To top things off, we had the grilled sirloin cobb salad. The sirloin was served in halves, medium rare, on toast, sitting atop the salad. The avocado cream was sweet and succulent, but the tomato-mint salad was the best part. Overall a great lunch.
For dessert, we had a blackberry Maine tart with streusel. This sweet concoction came a la mode with vanilla ice cream and we enjoyed every bite of it.
Part of the main Britannia restaurant, but sectioned off into a VIP area, the Britannia club is reserved for guests staying in the Deluxe Oceanview Stateroom levels and above. The menu is slightly different, and the decoration a bit elevated. Don't forget to thumb your noses at the other passengers as you stroll past.
The first Grills restaurants were on the old Queen Mary in 1936. There, guests had to pay an extra fee for the venue. On the QM2, the Grills restaurants are exclusive to passengers staying in the Grills level suites, for no additional charge. Guests in the Deluxe Balcony cabins and the Princess Suites may dine at the Princess Grills for free. Guests claim the food is superb, but the venue is really small, and the options can get boring.
If you are staying in a Queens Grill room, such as the Queen Suites, the Royal Suites, or the Duplex Apartments, you will automatically be seated in the Queens Grill restaurant as your main dining room. You can also order from the full Grills menu into your cabin for room service.
The concept and decoration are the same as the Princess Grill, with a similar a la carte menu. Yet here, if you want something special, order like a movie star and they will have it prepared for you à la minute. Dinner is exceptionally sophisticated and elegant in the Queens Grill. They also serve afternoon tea for Grills guests daily.
The 24-hour room service is quick and punctual. Service takes between 30 and 45-minutes, often arriving in less time. The menu is kept short, probably to induce expedience.
For breakfast you can get cereal, eggs, bread, and pastries. Meat and vegetables can be ordered from the grill, such as hash browns, grilled tomatoes, and baked beans. For sides, there are preserves, spreads, fruits, yogurts, juices and other beverages.
The lunch and dinner selections from the room service menu are rather curt. There are cold and warm sandwiches, as well as a few salads. There is one soup: Tomato with basil cream; one pasta: Penne bolognaise with basil and creme fraiche. Their biggest selection is of warm sandwiches, all of which come with french fries and are more than enough food.
Desserts consisted of a warm apple pie, vanilla cheesecake, frozen chocolate bombe, creme caramel, and a mixed cheese platter.
You can order drinks from the bar menu, and they'll even deliver cigarettes for $7.50.
Breakfast can be ordered by making selections on the door tag, which must be hanging on your doorknob by 1 am the morning of. In addition to your food, you may also choose when your meal will be delivered. Cunard will try their hardest to accommodate special orders within reason.
The hot sandwiches and burgers we found to be quite tasty. It can be a bit much for a meal in between hours, but it's definitely satisfying. The egg salad sandwich was a noteworthy favorite, and the double burger was delicious.
Dessert seemed a little limited to us. The fruit and the cheese plate were high quality, though, and we really enjoyed the cheesecake.
The in-room mini-bar contains only water and ice, but you can order room service from the in-suite beverage menu. Champagne, wine, beer, cider and soft drinks are all on the list. You can also order liquor by the glass or the 1 liter bottle.
If you really want something else, most orders can be accommodated, if you are willing to pay a little more.
There is only one bar menu onboard, with the exception of the Commodore Club. All over the ship, Cunard offers many high quality liqueurs, like Żubrówka, a Polish bison grass-infused vodka. Ask the bartender for your preferred liquor when ordering, as many of the brands on offer aren't listed.
European law rules here, and the drinking age is 18. Wine can be brought onboard, but you'll be charged a corkage fee. Liquor will be held until the last day of the voyage.
Beer & Wine
The Cunard beer and wine list is extensive, over 23 pages long. Bottled beers and ciders from all over the world are on the list, for approximately $5.
The wine list also pulls from the entire globe. For champagne, the Queen Mary 2 seems to work primarily with Veuve Cliquot. A glass will run you $16 to $21. There are "cheaper" champagnes, but they must be ordered by the half bottle (375 ml) starting at $42. For a full bottle, the least you can expect to pay is $76, ranging up to $375 for a 1998 Veuve Cliquot La Grande Dame Rosé.
And the list goes on, featuring red and white wines from Argentina, Australia, Austria, Chile, different regions of France, Germany, Italy, New Zealand, South Africa, Spain, UK and the US of A. Wines start at $29, ranging all the way up to a premium 1994 Pétrus for $1,000 for a bottle. Enjoy.
There are rosé wines, dessert wines, and ports as well, at $10 to $50 a pour. Vintage port by the bottle can be as much as $560.
Mixed Drinks
Kirs, depending on the Champagne used, cost between $6.75 and $15.95. There are some more extraordinary sparkling cocktails to be had however, like the wild hibiscus royale and Harry's Bellini, for $6.75 and $15.95 respectively. Signature martinis are made all the time on the Queen Mary 2. Our favorite was the Shipwrecked, a vodka martini with a splash of pineapple, fresh mint, and a dash of sour.
The rest of the mixed drink menu is quite special, featuring drinks made with all of the main spirits, ranging between $5.50 for a Collins and $9.75 for a Royal Sapphire.
Drink Packages
For $5.25 per day, only on the first and second days of the trip, you are allowed unlimited fountain sodas and juices by the glass. There is a 15% service charge for all drinks purchased in this manner.
Non-alcoholic Options
For $3.50, you can have a non-alcoholic mixed drink. Juices, soda, and water cost between $2.25 and $4.25, unless you have purchased the unlimited package.
This cocktail lounge has a huge circular bar, with elegant decor done in blue and beige. There are comfortable armchairs, couches, wooden tables, and light carpeting throughout. The walls are lined with nautical information, such as maps and tide charts. Musically, they stick to classic Jazz in this bar. The Chart Room is a great place for pre-dinner conversations with a light tipple. Most of the trivia games on the ship takes place here.
This swanky observation lounge overlooks the bow, with an awesome panoramic view over the ocean. They have an extensive selection of martinis here, all masterfully concocted. The arm chairs are done in white leather and dark burgundy. The tables have maps on the top, continuing the sea theme from the rest of the ship. The walls are bedecked in dark wood paneling and red paint, where pictures of ships and navigational decoration hang. This bar is exceptionally clean and elegant.
Only the Commodore Club offers different drinks, with an upscale, exclusive collection of spirits, as well as exclusive drinks like Rhubarb Mule (vodka, homemade rhubarb puree, fresh lime, topped with ginger beer), French Twist (orange vodka, fresh raspberries, cranberry juice and orange juice), Secret Garden (gin, elderflower liqueur and apple juice, topped with ginger ale), and Bison Grass (Żubrówka bison grass vodka and lychee liqueur combined with apple juice and cucumber).
An exciting experience involves the "Molecular Martinis". This process is old news in the fine dining arena, but offers new horizons in mixology. Made as a regular martini, with one ingredient added as an infused foam, so you create the finished product in your mouth. Though it may seem strange, it is very yummy and definitely worth a try.
Inside the Empire Casino on deck 2, this small bar is only open on sea days. They serve from a full bar menu, the same one as the other bars. The casino bar is right by the atrium too, in case you need a quick break from a excruciating day of pampered vacationing.
This bar on deck 2, opposite Sir Samuel's, is modeled after an upscale, traditional English sports club, not like a common pub. The Golden Lion Pub has many leather bound books, and upscale sports memorabilia. There are dart boards, large televisions, a huge bar, red, green, and brown leather benches and chairs, as well as heavy oak tables.
Classic pub fare is offered daily at the Golden Lion. Dishes like shepherd's pie, fish and chips, and a ploughman's lunch are some of the traditional meals served here. We like all the food we had here, it comes highly recommended. Lunch is free with when you cruise with Cunard.
Being a pub however, there are a few more international beers: Bohemia, Hoegaarden, Staropramen, König Pilsner, King Fisher, and Tsingtao, priced $4.75 to $5.95.
There are trivia contests, a piano player, large televisions and two electronic dart boards at the Golden Lion. There is much to do, much to drink, and wonderful conversations to have.
The Grills Lounge is exclusive for Grills levels guests. This lounge is certainly elegant and quite intimate. In addition to cocktails, there is a tea sommelier hosting afternoon tea, served by white-gloved waiters. The design motif is done in a swatch of dark and light brown.
A very small lounge on deck 3 serves mostly Champagne drinks made with Vueve Cliquot. There are a few small chairs surrounding a marble topped bar with pictures of celebrities of the mid 20th century.
This bar is right by the shops, offering a great place drop once you've shopped. Champagne and luxury goods are an unbeatable combination for the top-tier conspicuous consumers out there.
Sturgeon caviar and the accouterments are the only food served at the Champagne Bar. Each order of caviar is paired with a glass of Champagne, starting at $53.50 going up to $275 for a bottle of La Grande Dame 1995 and the accompanying caviar.
Vueve Clicquot can be ordered in several levels, for a variety of prices by the glass and the bottle.
This place is made to loo like a garden on the inside of a ship, with green tones, garden furniture, iron fences, and many pictures of botany. Inspired by the Kew Botanical Garden, the designers added a waterfall, greenery and natural aromas (though unnatural on the inside of a cruise ship).
For entertainment, they hold art auctions and classical music concerts at a small performance stage inside. There is also the Senior Officer's Party here, where you can meet the captain and all the higher ups on the ship. This party is exclusive to platinum and diamond World Club members enrolled in the Cunard loyalty program.
In addition to art auctions and string quartets, the Royal Academy of Dramatic Art reads bed time stories in the evening. They were great readings of some of the best stories by renowned writers.
Sir Samuel Cunard, founder of the Cunard Cruise Line is remembered faithfully by this bar and lounge on the Queen Mary 2. This venue opens at 7am for coffee and pastries, serving the best coffee on the ship. In the afternoon there are quiches, and a tea time from 3pm to 5pm. Situated on deck 3, Sir Samuel's has a full bar an exclusive "wine by the glass" menu. Food is free of charge.
Light food is the main fare at Sir Samuel's. We had some excellent croissants here in the morning, our favorite was the almond. For lunch you can get fantastic quiches, like the Quiche Lorraine Tartlet. It tasted like our mothers made it. There are daily sandwiches, the contents are up to the chef's discretion. The strawberry tartlet for dessert needs to be had if you are going to go on the Queen Mary 2: light and fresh.
During the day, before acceptable drinking hours, Sir Samuel's is primarily a coffee bar. Coffee, hot and cold, can be ordered in or taken to go. Espresso drinks like an Americano or Café Mocha cost around $4. Later in the day, you can partake in liqueur coffees, like a Café Royal (coffe with cognac and Grand Marnier).
There is a martini selection and a full bar like you will find at the other bars. But at Sir Samuel's, you can order all of the wines on the menu by the glass from lunch until close.
By the Terrace Pool, there is a little bar. This bar does not offer anything special, but you can order from the full menu.
Under the retractable roof in the pavilion area by the pool is another small bar.
This small bar topside offers a mid-walk reprieve.
This casual bar on deck 12 offers fast food, snacks and the regular bar menu. Outside on the decks, the food menu serves grilled items like hotdogs, hamburgers, steak sandwiches and a daily special, like pork spareribs. Because of the excessive wind, this café was closed during our voyage. It was really windy and rainy the whole time, no fault of Cunard's though.
On deck 3, this largest sea traveling ballroom, where Cunard hots afternoon teas, dance classes, themed balls, dances, recitals, and cabaret acts is the center of all the excitement on the ship.
The dramatically high ceiling with beautiful crystal chandeliers is stunning. The walls and surrounding area are bedecked with sculptures and portraits of British royalty.
We had afternoon tea here, with traditional scones, clotted cream, cakes and delicate little sandwiches. The waiters all wore white gloves to really set the mood.
The nightclub on the QM2 has two floors. There is always someone playing music, be it a DJ or a party band. Themed nights include the 60s, 70s, and 80s, but you won't get much more modern than that. The upper level is an indoor smoking area.
Spa
The spa is run by the internationally famous Canyon Ranch. This 20,000-square-foot spa consumes two deck floors with 24 massage, body, and skin care treatment rooms. There is a juice bar as well as locker rooms for men and women.
At the SpaClub, Cunard offers a full range of Canyon Ranch services, treatments, and products. This partnership between Cunard and the number one spa company in North America is a first for both companies, and the merger seems to work very well.
Experience therapeutic bodywork, mud and aromatherapy, Ayurveda and seaweed treatments, facials, masks, conditioning body scrubs, therapeutic body cocoons, and of course a long list of massages.
The pool inside is a co-ed Aqua Therapy pool, with a whirlpool, herbal sauna, Finnish sauna, reflexology basins, aromatic steam room, and a relaxation lounge.
Gratuities of 12.5% are added to all services, but of course including an additional tip is the good thing to do. It is against company policy to take pictures here but we were sly, ever so sly.
In addition to bodywork, chiropractic services, various earth and organic therapies, Canyon Ranch provides some exotic treatments like a Rasul Ceremony, where the combination of medicinal mud and steam therapy takes place in an ornately tiled steam chamber, derived from an ancient Middle Eastern cleansing ritual. We have seen Rasul rooms on other cruise ships, but this was one definitely special.
Prices for treatments start at $138 for a 50-minute tension zone massage, and can get as high as $272 for a deep-tissue chiropractic work over. Waxing can be done starting at $51.
There is a full menu of beauty services for both men and women, including hair design, nail care, makeup consultations and makeovers. Prices start at $58 for a short hair cut, manicures from $58, pedicures from $79, and a file and polish for $28. Hair coloring and highlighting starts at $48.
The 30 by 15-foot co-ed Thalassotherapy Pool features airbed recliners, neck fountains, a deluge waterfall, air tub and body massage jet benches. It's so nice. Near the pool, there is a big Thermal Suite with an herbal sauna, Finnish sauna, reflexology basins, and an aromatic steam room.
You can buy a day pass for the pool, a SpaClub Passport, which costs $40 for the day, 5 days for $95. The Passport includes use of the whole aqua therapy center. You must be 18 or older to partake in this program.
The spa pools are complimentary on the day of a scheduled health and wellness service.
Fitness Center
The gymnasium and weight room have more than 50 pieces of cardio and nautilus equipment. There are group and private fitness classes, including yoga and tai chi.
Enjoy on-board lectures and workshops addressing lifestyle change, continuing health and medical issues, stress management, smoking cessation, healthy aging and disease prevention. They make it sound like if you spent enough money, you could live forever!
Personal training sessions for singles or couples include topics like body composition analysis, exercise for weight loss, fitness assessments. Such sessions must be purchased by scheduling with the reception desk at the front of the gym.
Sports Center
Up on deck 13, there are basketball and paddle tennis courts. Often, they set up a mini tee off mound so you can practice your golf drive here as well.
The Fairways
Behind the Pavilion Pool, there is a golf simulator. Reservations are required and can be made at the pursers office. The simulator has 18 holes and attempts to reproduce conditions of some of the most challenging courses in the world. Good luck! This service costs $40.
Table Tennis
There are two tables in the pavilion area near the pool and the golf simulator. Ping pong away from 10am to 7pm.
Shuffleboard
Shuffleboard courts can be found on deck 12 and 13, with the proper equipment stored next to the boards.
Darts
In the Golden Lion Pub, there are two electric dart boards with real darts, set up in a marked-off area.
There are five swimming pools and one spa pool on the Queen Mary 2. On various decks, some pools have retractable roofs, some are for adults only, one has a smoking area, and one is reserved for families. Aft of the QM2, there are exclusive hot tubs for Grills level passengers.
Pool towels are in stacks on all sides of each watery area. Surrounding these pools are sunning areas, with chairs and loungers.
Up high on deck 13, is a sports deck and an observation deck, rounding out the Cunard cruise experience.
The deck bars have slightly different menus, shorter than the bars inside, but more tropical in style. Mai tais, margaritas, and daiquiris are the special at these sunny spots, with a cost between $5.75 and $9.95. If you are ordering champagne outside, it will be $16.50 to $76 for a glass.
Pavilion Pool
On deck 13, this pool area has a retractable glass ceiling for days of less than perfect weather. Loungers and hot tubs surround this indoor/outdoor area. The pool is 5' 3'' deep and is open from 9am to 7pm. There is a changing area and a shower on one end, at the other, is the access to the golf simulator The Fairways, and table tennis. Every now and again, a band will strike up at the small stage in this area.
Terrace Pool & Bar
Right in front of the Todd English restaurant on deck 8, this adults-only pool has a couple of hot tubs and four showers. There are dinning tables around the pool, and a terrace bar, open from 10am to 10pm, weather permitting. On clear evenings, a band will be banging out some tunes.
Splash Pool
Right by the Regatta bar on deck 13 is the aptly named Splash Pool. This water attraction is only a few inches deep, it's best for throwing a lounger in and relaxing in the sun. There are two hot tubs on either end though, if you need to be more submerged. This whole area shuts down when the weather gets bad. Unfortunately, it was closed for the duration of our trip.
Minnows Pool
This is the family pool area. There is a splash zone, so kids can play and not bother other guests. The pool is only 3' 3'' deep, with futuristic, stationary, chrome water pistols. In the Playzone, an area around this pool, there are toys, a giant chess board and a small playground too. This area is reserved for families whose children also attend the children's lounge, The Zone, inside.
Promenade
One lap around the Promenade on deck 7 equals approximately 1/3 of a mile. Three laps is 1.1 miles. Cunard asks that you jog or walk between the hours of 8am and 8pm, so as not to disturb guest sleeping below. The bow part of the promenade is weather protected, allowing passengers to exercise without being blown away by severe weather. Behind the protected area are strange sculptures that look like dolphin or shark fins. All along this area are cushioned loungers that overlook the minnows pool.
Sun Deck
Behind the splash pool on deck 13 is the Sun Deck. There are many loungers here, but this area is mysteriously deserted on windy days. There are two shuffle board courts providing leisure entertainment to guests.
Grills Terrace
This exclusive area on deck 11, with finely cushioned loungers and a hot tub, is for Grills guests only.
Lookout
This lookout area located forward on deck 13 is accessible from the elevators. It is a protected area such that you can take in the views even on windy days. Unfortunately, this observation area is not wheelchair accessible.
Observation Deck
Hanging over the ship's bow is an open observation deck. It was closed for the duration of our trip due to wind.
Deck 2
Along one of the lowest parts of the ship there are chairs lining two corridors, one on either side. At the bow, there are several pictures detailing the history of the Cunard line, showing celebrities who traveled on the many ships. You can enter the Royal Court Theater from here, and by this entrance there are games like Scrabble, Backgammon, Chess, playing cards, and crossword puzzles.
With all the classes offered by the enrichment program and the various card tournaments going on, there need to be many lounges on the Queen Mary 2. We visited them all and were quite impressed by the variety, location, and capabilities of all these rooms.
Atlantic Room
Right on deck 8, forward, a variety of card games and tournaments take place in the Atlantic Room during sea days. Bridge is the main attraction here, with classes and bracketed tourneys. The room is pretty dark, with card tables throughout.
The Boardroom
The Boardroom is a multipurpose room used for a variety of functions and get togethers. Adjacent is the meeting room where business conferences are encouraged, with all of the conferencing and projecting technology necessary for a successful negotiation.
ConneXions
At ConneXions, there are two rooms. In the first room there are nine computer terminals ready to surf the internet. There are an additional 35 work stations in another ConneXions classroom for instructional computer classes on wide gamut of topics. ConneXions is located on deck 8 near the library.
Tender Lounges
These lounges are meant as waiting areas during embarking and debarking. There are four, named after beloved parts of England: Knightsbridge, Kensington, Belgravia, and Chelsea.
Grand Lobby
Spanning from deck 2 to deck 4, the Grand Lobby contains the pursers office, excursion and future cruise offices. There is a lounge here with a bar next to the casino with arm chairs and tables. The ships bell is on the middle level, deck 3, as well as all the shops. Cabins on deck 4 have a window into the grand atrium.
Churchill's
This small lounge is reserved for the smokers on board, especially cigar and pipe smokers. They sell an extensive selection of cigars, rare cognacs, single malt scotch whiskey, plantation rums, and vintage calvados. All of these items serve to enhance the refined and sophisticated surroundings of dark wood and soft leather. Drinks are ordered from the Commodore Club next door.
Concierge Floor / Club Floor
You can find the concierge on deck 9, but it is only for Queens Grill and Princess Grill guests. A full service concierge will help these passengers with any concerns, queries, or special requests.
Conference Rooms
There are seven possible conference rooms that can be combined in a number of ways for different sizes. These conference rooms are home to the ship's enrichment program. Guest instructors teach classes on topics from wine appreciation, to cooking, foreign languages, to art, both the creation and appreciation thereof. These rooms, being equipped with the latest technology can also be used for business conferences and other events as well.
Libraries
The Queen Mary 2 boasts one of the largest sailing libraries in the world with almost 10,000 books, current newspapers, periodicals, and a daily quiz. There is a full-time librarian, comfy leather sofas, armchairs, and a few internet stations.
Religious Services / Prayer Rooms
Religious services are held in one of the conference rooms.
Classy is the word for the recreational activities on the Queen Mary 2. From the Queens Room ballroom, with its crystal chandeliers, musicals, revues, and formal balls, to the Emprie Casino and G32 nightclub, with classic table games and jazz sets, you can partake in the leisure of the upper crust.
Continuing education is readily available in the form of well informed classes and lectures, documentary movies and a planetarium. Bridge classes and rousing tournaments get going in the card rooms as well as competitive trivia. Watch out.
There is also plenty for the kids to do. There is the Playzone and the regular Zone, both of which are open daily. The QM2 staff come qualified as nannies and youth coordinators to keep the little ones active and occupied. The older kids, not old enough to drink, old enough to be cynical, will have a hard time finding entertainment here.
All activities are detailed as to times and locations in Cunard's "Daily Programme" available in your cabin and with the concierge.
Movie Theater
There is a one-of-a-kind, full-sized planetarium on the Queen Mary 2, called Illuminations. There are a variety of constellation and virtual reality shows played here regularly. Illuminations also serves as the ships movie theater, showing 3D first run features, and a lecture hall with 500 total seats. As a planetarium, there are only 150 seats. Our favorite experience was the ghost story readings held here.
Lectures & Classes
The many lectures and classes on the Queen Mary 2 are held by Cunard Insights™, structured to introduce guests to stimulating experts and accomplished visionaries who reflect the line's heritage of adventure and prestige.
All voyages include a series of lectures, Q&As, debates, social gatherings, and workshops. All events are run by "personalities who have achieved notable distinction in areas including history, world affairs, science, politics, arts, and literature".
We found the workshops presented by the Royal Academy of Dramatic Art to be incredibly interesting, enabling guests to not only watch the stars of tomorrow in person, but actually study the skills of acting with them.
Other classes, held in ConneXions, are geared towards making techies out of Luddites, using mostly Apple equipment.
The subjects of the lecture series change regularly and all of them are pretty impressive. Your itinerary will delineate the topics and speakers, as well as the location for participation.
The Empire Casino is awesomely grand, spanning over 6,000-square-feet. There are slot machines, blackjack, roulette tables, craps, and poker. Tournaments are regularly scheduled so you can square off with other passengers and take them for all they've got. Looking for refreshment? You can wash away your sorrows, or drink to your good fortune at the Empire Casino Bar. No one under the age of 18 will be admitted, and there is no smoking inside the casino.
Kids have a lot to do in the Playzone and the Zone for older kids. Both are open daily and staffed by trained QM2 staff. A full program of entertainment and activities are planned for young passengers in these children's lounges. This kid's lounge has it all, a ball pool, X-Box, a kid's disco, a quiet sleeping area (there's a thought), and a private outdoor play zone.
The Playzone is intended for toddlers, while the Zone is ready for children 6 to 17-years-old. Really? 6-17? Does anyone want those age groups mixing?
Nursery service is available from 6pm to midnight, with a limited number of spaces. There are activities for older children starting nightly from 8pm to midnight.
Art Gallery
On deck 3L, starboard, accessible by stairway D, the Art Gallery sells paintings, sculptures, photographs and other forms of art and media done by contemporary artists. There are auctions throughout the voyage.
Images Photo Gallery
Just opposite the Art Gallery, is the Images Photo Gallery, where you can purchase pictures taken by professional photographers of you and your party. This shop is open from 9:30am to 11pm on sea days.
Mayfair Shops
The Mayfair Shops are luxury boutiques that sell everything including sundries, QM2 logo items, fine leather goods, and jewelery. Among the top brands sold are Hermes, Chopard, H. Stern and goods from Harrods. There is also a formal wear shop with tuxedos for sale and rent. On sea days, these shops are open from early to late.
Photo Shop
On deck 3, near stairway C, this Photo Shop has cameras, related equipment like SD cards and interchangeable batteries, as well as photo albums and other accessories.
QM2 Bookshop
This bookshop carries more than just the top sellers. You can grab nautically themed books, posters, videos, and souvenirs. The bookshop is located right next to the library, forward on deck 8, which you would think would hurt their book sales…
Super service is the standard on Cunard ships. The Cunard white star luggage service will transport your luggage directly from the QM2 to your home using DHL delivery service.
Laundry and cleaning facilities are available. You can send you clothes to be cleaned for you, or if you would like to do it yourself, you can go to one of the launderette and ironing stations on decks 4-8.
Have a few animals with you (and we're not talking about children)? QM2 offers a kennel service on all crossings between New York and Southampton in either direction. There is a full-time kennel master who takes care of responsibilities such as feeding, walking and cleaning the spacious kennels. Reservations for the kennels may be made at time of booking, and are based on space availability. Contact the Cunard Reservations Team for more details as well as information regarding bringing service animals on board.
Staff
Most of the staff were really likable and attentive, but not all of them were exactly friendly. We noticed this especially at the pursers office, where we were told different information by different members of the staff. Some where a little rude in their delivery. The inconsistency of open times was a little unsettling also. No one seemed to be able to help us when 10 minutes after open time, the tour office was still closed.
The bar tenders were especially nice however. They remembered our drink preferences and had interesting tales of the sea.
At Todd English, service was very slow. It took at least 20 minutes until we could even order our food.
Tipping
A 15% gratuity charge is automatically added to every bar tab and dining room drink, shared amongst all the bar staff. There is no included gratuity for casino and spa personnel, as not every passenger will utilize these services, so we encourage you to tip them generously if you do.
Dining and room charges vary by room category and will be included in your bill. Additional tips are greatly appreciated for all hotel and dining staff.
Dress Codes
The Queen Mary 2 is a dressy ship. During the day, casual sports and resort wear is expected. Shoes and coverups are required in all public areas. Bathrobes and bathing suits are not considered suitable attire for inside public areas.
In the evening, guidelines apply to all public rooms after 6pm. Depending on the evening, you may be expected to dress formal (Tuxedos or black suits for men, an evening gown or cocktail dress for women), semi-formal (Jacket and tie for men, dress, skirt, or trousers for women, no jeans whatsoever), or elegant casual (Jacket, no tie for men, dress, skirt, or trousers for women. Again, no jeans).
For the balls, there are additional dress codes, that often have to do with the theme, like the Black and White ball, and the Masquerade Ball.
Dress codes are strictly enforced in the Britannia and Grills restaurants.
Editor's Note: After our voyage, in March 2013 Cunard announced that it was loosening its dress code for its cruises going forward. Formal evenings remain, requiring "dinner jacket, tuxedo or dark suit with tie for gentlemen; evening or cocktail dress for ladies." Other nights are now designated as Informal—"jacket required, tie optional for gentlemen; cocktail dress, stylish separates or equivalent for ladies."
Loyalty Programs
As soon as you have completed your first voyage with Cunard you are automatically added to the Cunard World Club.
The members only program has four different membership levels:
*Silver – one voyage
*Gold – two voyages or 20 days
*Platinum – seven voyages or 70 days
*Diamond – fifteen voyages or 150 days
Once a member, you have access to the most recent developments at Cunard, including latest news and itineraries. You can view your sailing history online and update your profile and preferences.
Benefits include savings on early bookings, invitation to the Cunard World Club cocktail party and the board senior officers party. You will also be treated to a complimentary lunch at Todd English or The Verandah. The list of benefits goes on, you can read all about them here.
Clinics
There is a medical center on deck 1 starboard, accessible by stairway B, that Operates from 9am-11am and 4:30pm-6:30pm. To reach the clinic by phone for medical emergencies, dial 911 or 999 from your room phone.
Smoking Regulations
You may smoke in a limited number of areas. Upstairs at G32 and in Churchill's Cigar Lounge are the only two indoor venues for smoking. Outside, on the starboard side of the aft end of the ship, on deck 8 under a canopy, and on deck 7 aft, under the clock are the two designated outdoor smoking areas. You are also permitted to smoke on your balcony.
These limited areas are directly addressed by Cunard in the following statement:
"The safety, comfort and enjoyment of all our guests has always been a key
concern at Cunard. With this in mind, as a direct result of the feedback we
have received from our guests, we have amended our policy with regard to
smoking on board Cunard ships. Smoking is no longer permitted in any public
area with the exception of Churchill's Cigar Lounge (cigars only) and
designated areas on the open decks. Smoking is permitted on private
Meet the tester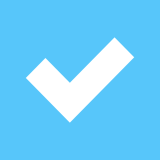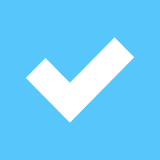 Anonymous Cruise Editor
Editor
@
Anonymous is a valued contributor to the Reviewed.com family of sites.
Checking our work.
We use standardized and scientific testing methods to scrutinize every product and provide you with objectively accurate results. If you've found different results in your own research, email us and we'll compare notes. If it looks substantial, we'll gladly re-test a product to try and reproduce these results. After all, peer reviews are a critical part of any scientific process.
Shoot us an email